If you are looking for inspiration for your New Year's Eve Appetizers, look no further. Here you will find 33 of my favorite appetizers that you can make or bring to celebrate with your family and friends.
From quick and easy dips that you can make and serve with crackers, chips or vegetables to bacon wrapped appetizers that are quite frankly addicting!
Among this list I am sure you will find your next favorite appetizer. However to make the recipes easy to review, I have put them various categories.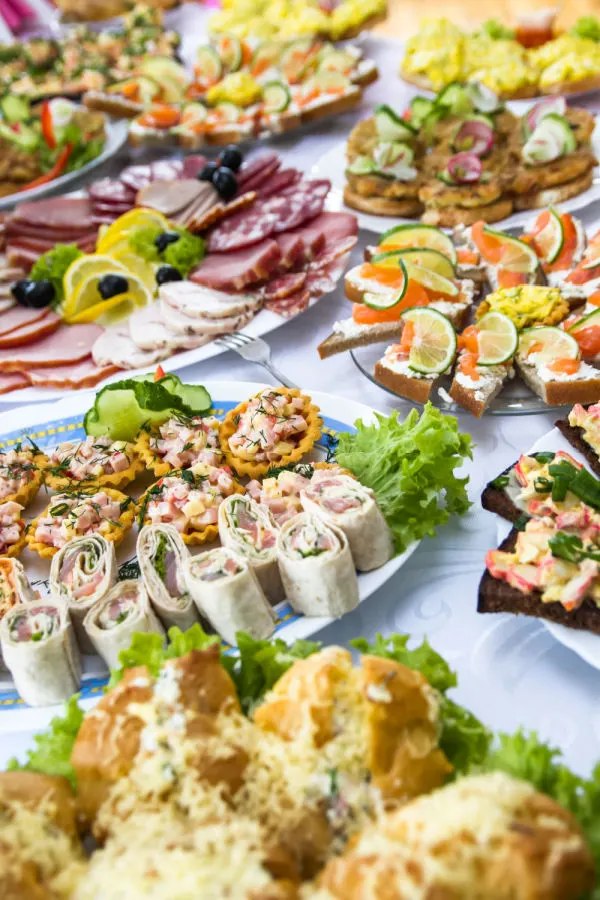 Starting off with general hand held appetizers that require no utensils. Although the bacon wrapped appetizers can also be eaten using our hands, I gave them their own category.
Why? Because bacon deserves its own category in my world!
Then there are the most common dips and spreads that are served at just about any gathering. Serve them with crackers, baguettes, or sliced vegetable slices for a low-carb option.
Finally because air fryers are so popular, I have a category of appetizers just for this appliance. From chicken wings to 'fried' ravioli, I am sure you will find something that you will want to try this year!
Hand Held Appetizers
Three varieties of cheese and cooked ground sausage are stuffed inside mushroom caps. Then they are put in the oven to bake. It is a classic appetizer ready to be enjoyed by all!
Homemade pizza rolls are a great way to enjoy all of the flavors of your favorite pizza ingredients, but in easy to eat, bite size appetizer pieces. The recipe couldn't be easier because it uses refrigerator pizza dough as the base.
Leftover, shredded, rotisserie chicken is transformed into an easy to make appetizer that is filled with a burst of flavor in every bite.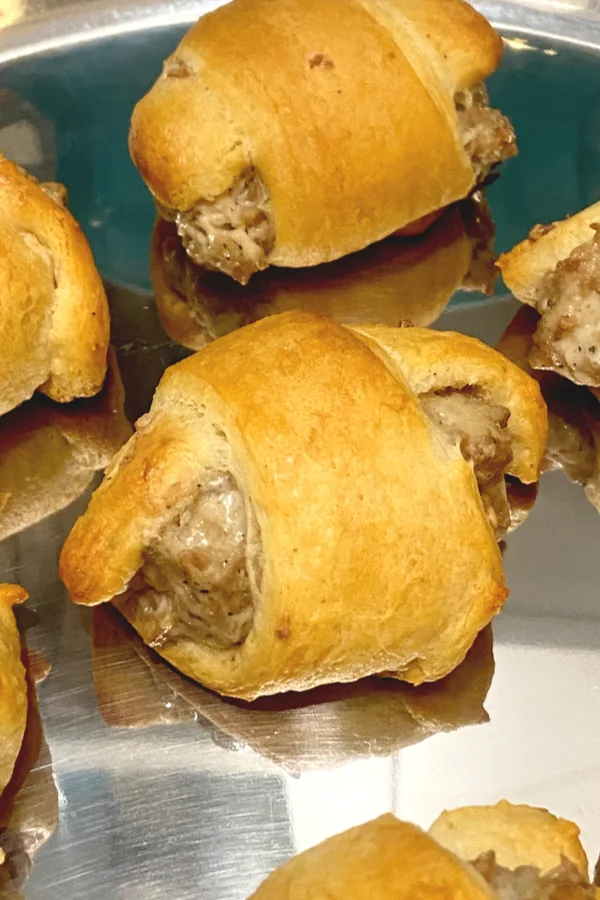 This recipe requires only 3 basic, easy to find ingredients. Sausage, cream cheese, and of course crescent roll dough is all that is needed! Therefore, the reason that this is one of my favorite New Year's Eve Appetizers.
A delicious, low-carb appetizer recipe with cream cheese and shredded cheddar cheese stuffed into a half of a jalapeno pepper. Then they are put in the oven and baked until the cheese is hot and bubbly.
Kid's Choice
Frozen tater tots that are baked in a muffin pan and then pressed into the form of a cup. The cups are then filled with all of your favorite loaded baked potato toppings, including cheese, sour cream, bacon and diced green onions.
All the flavors of homemade macaroni and cheese in an easy to eat, bite size treat that requires no utensils.
This easy 3 ingredient recipe will make the most delicious appetizer meatballs that you have ever had. Best of all, just throw everything in the pot and then walk away!
Bacon Wrapped New Year's Eve Appetizers
A classic New Year's Eve appetizer made with marinated whole water chestnuts. They are then wrapped in brown sugar and bacon. Recipe includes the key to making the bacon cook perfectly every time.
Sweet & Spicy Bacon Wrapped Shrimp
Strips of bacon nestled around extra large shrimp and flavored with a simple, yet delicious glaze that is both sweet and a little bit spicy, all at the same time.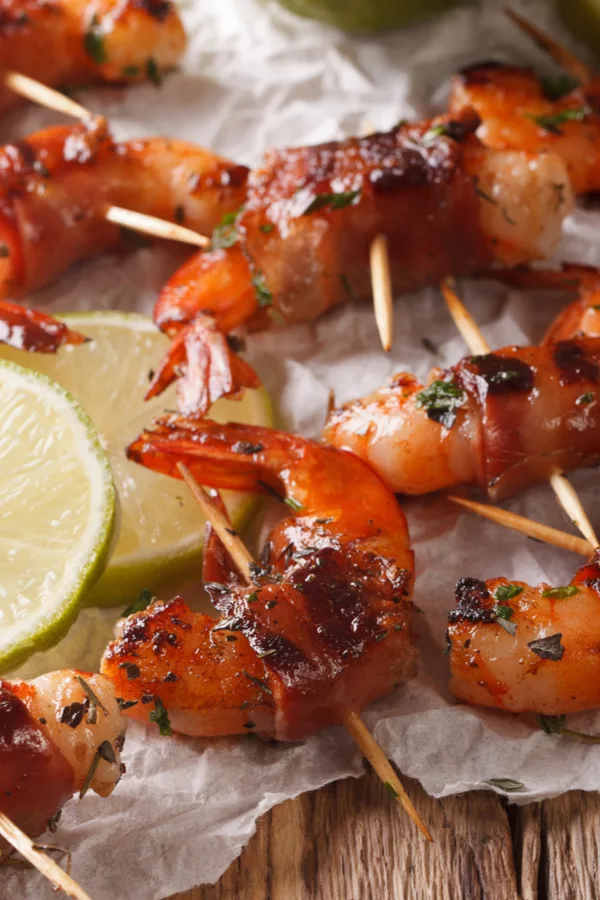 Little sausages wrapped in bacon and topped with seasoned brown sugar. The sweet and salty flavors blend perfectly together in this easy to eat appetizer.
Bacon Wrapped Chicken Skewers have become a favorite low-carb, Keto friendly recipe. Chunks of seasoned chicken breasts wrapped in bacon and baked to perfection.
Chicken Wing Recipes
With this simple and easy recipe you will be making wings that turn out nice and crispy without ever turning on the broiler.
This recipe uses both a simple Caribbean jerk marinade and sauce to coat the wings. Therefore the wings have the perfect balance of being slightly sweet with a little bit of spicy heat.
Both oven and grilling instructions included.
If you want to use your smoker to make your New Year's Eve Appetizers, then try this chicken wings recipe. They are not only extremely flavorful, but the meat literally falls off of the bone.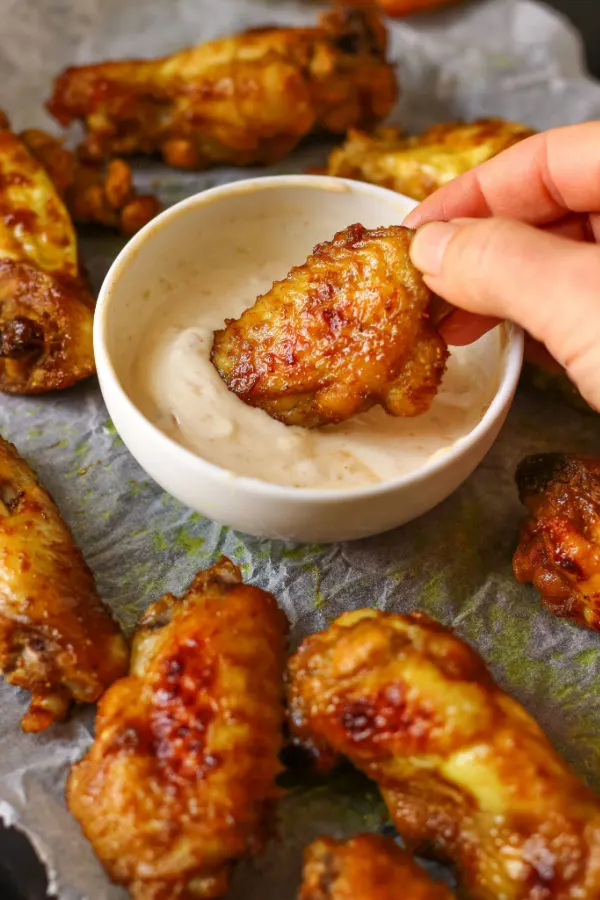 Dip & Spreads
Shrimp marinates in lime juice and is tossed with diced vegetables and served with tortilla chips or baguettes.
Sounds pretty easy, right? There is no cooking or steaming of the shrimp. Just dice everything together and you have a delicious, and addicting appetizer to share with family and friends.
The tangy flavor of Buffalo sauce is mixed with cream cheese and then dry Ranch dressing. Then toss in shredded chicken and you have a favorite New Year's Eve appetizer for many!
Crock Pot Philly Cheesesteak Dip
All the flavors of a classic cheesesteak but instead of serving it as a sandwich, it is made into a creamy dip.
A thick and creamy dip that is full of seasoned ground sausage and flavored with diced green chiles. One of the easiest appetizers to make.
A delicious combination of melted cream cheese flavored with dry Ranch dressing mix, bacon, and cheddar cheese. Then it is thinned out with a little milk to make it easy to scoop with tortilla chips.
A super easy, 15 minute dip. Flavored with Italian seasoning, marinara sauce and of course, your favorite pizza toppings.
Vegetarian Dips
One of my favorite low-carb New Year's Eve appetizers to make is this Easy Spinach Dip Recipe. A cool, creamy and refreshing dip that can be served with crackers, baguettes, bread cubes and/or vegetable slices.
Slow Cooker Spinach Artichoke Dip
A creamy and delicious spinach artichoke dip made in your crock pot for a fantastic appetizer for any occasion. Yet it is fancy enough to serve at a glamorous New Year's Eve party.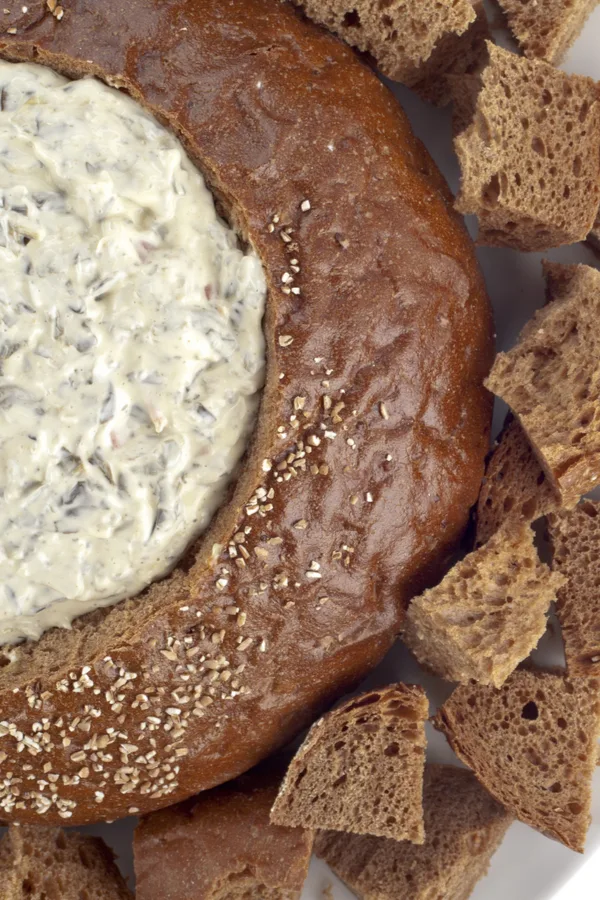 With just 4 basic, easy to find ingredients you will have this dip made and then chilling in the refrigerator in only 5 minutes! An easy make ahead dip recipe.
Serve this Beer Cheese Dip with pretzels or homemade soft pretzel bites. However, you can also serve it with toasted baguettes slices, tortilla chips, potato chips and even vegetable slices for a low-carb treat.
A bar of cream cheese seasoned with a dry rub and then cooked in a smoker with wood chips. Once it is heated through it turns into an easy, spreadable dip that you can serve with crackers, tortilla chips or sliced vegetables.
No need to wait until you head to your favorite Greek restaurant to enjoy the taste of Tzatziki Sauce. Instead make Homemade Tzatziki sauce with just a few ingredients right in your own kitchen.
Then serve it with crackers, vegetable slices or pita bread for a light and refreshing dip.
Air Fryer

New Year's Eve Appetizers

One of my favorite New Year's Eve Appetizers to make in my Air Fryer are Chicken Wings. Best of all you can even make them right out of the freezer! They turn out nice and crispy on the outside and tender and juicy on the inside.

An easy way to make Buffalo Chicken Wings is in the Air Fryer. The exterior of the wings turn out nice and crisp and gives you that desired crunch when you take a bite. And the meat is always nice and juicy on the inside.

Breaded shrimp cooked to perfect and then a special sauce is drizzled on top or served on the side. A classic New Year's Eve appetizer recipe!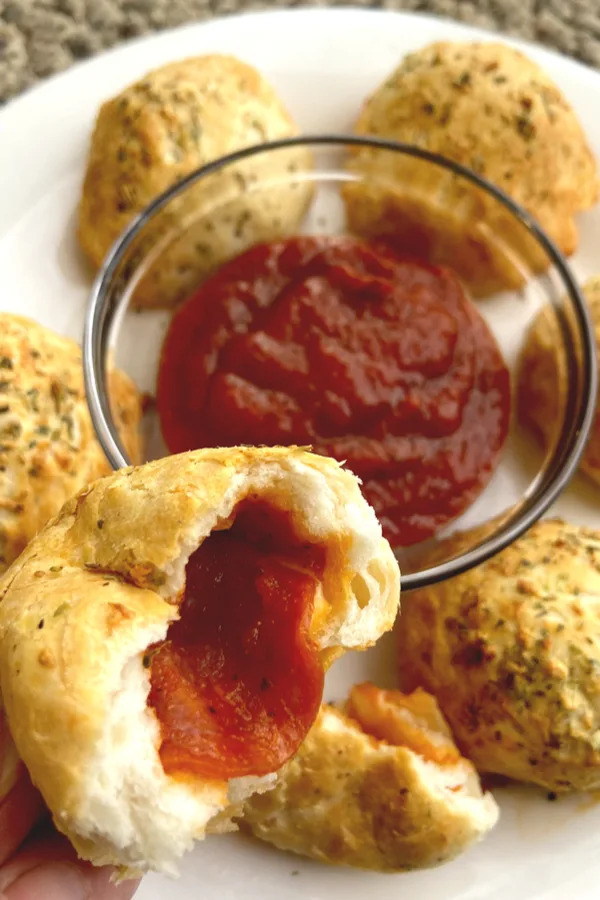 Little balls of biscuit dough filled with marinara sauce, then your favorite pizza toppings including pepperoni and cheese. Then they are topped with a garlic buttery spread and cooked in the air fryer for a delicious snack or appetizer that everyone will love!
Instead of cooking the mushrooms in the oven, this low-carb snack gets time cooking in an air fryer. Best of all it is ready to eat in a fraction of the time!
Large ravioli pieces filled with cheese and put in the air fryer to crisp up. A great appetizer to serve with warm marinara sauce.
So there you have it! 33 appetizers that are perfect to serve for your New Year's Eve celebration. Be sure to keep this list handy as many of these appetizers are also great to serve on Super Bowl Sunday!
Enjoy! Mary

To receive our 3 Recipe Articles in your inbox each week, sign up for our free email list located in the middle of each recipe or email me at contact@makeyourmeals.com. You can also follow us on Facebook and Pinterest. This article may contain affiliate links where a small commission is paid if you purchase a product at no additional cost to you.