Whenever I am asked to bring an appetizer to share with family and friends at a party or holiday gathering one of the first recipes that comes to my mind are Bacon Wrapped Water Chestnuts.
A delicious and easy to make appetizer that requires only 4 basic and easy to find ingredients. And it all starts with a can of whole water chestnuts.
The little round balls are drained and then soaked in soy sauce so that they can absorb the flavor. Then they are coated in brown sugar and wrapped in bacon.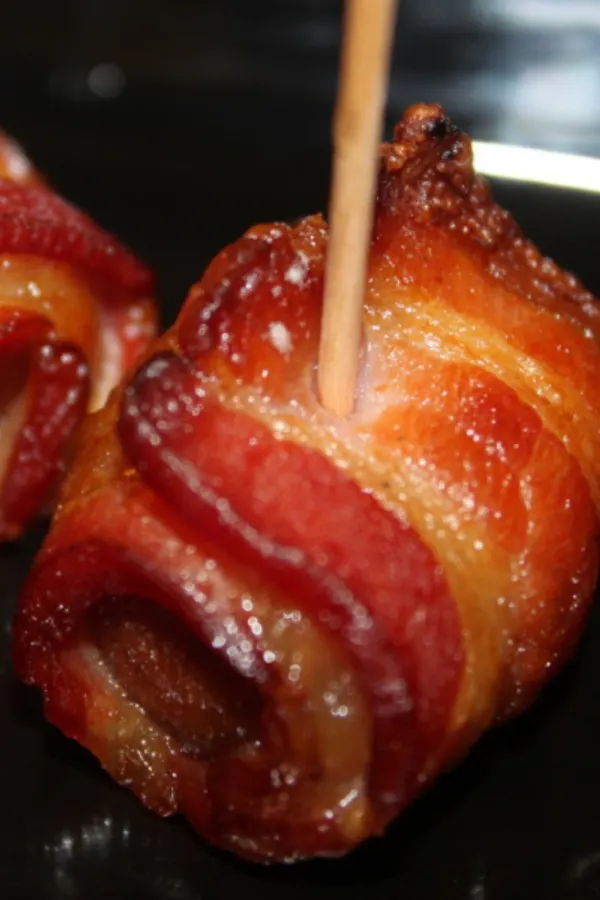 Then it is time to get them in the oven! Once the bacon is nice and crisp, take them out of the oven and your appetizer is ready!
Best of all you can serve them warm or at room temperature. Therefore, they make for a great appetizer when you are traveling.
They are not only delicious, but they are also easy to eat. Just like when I serve my Sausage and Cheese Stuffed Mushrooms, there is no need for utensils.
That is because a toothpick keeps the bacon in place. Then the toothpick becomes the handle that allows your guest to easily pick them up for a hand held appetizer that won't get their hands sticky.
What Are Water Chestnuts
Despite its name, water chestnuts are not nuts at all. You may be surprised to learn that these little round, crunchy balls are actually a vegetable. What???
That is correct. They come from a grass-like plant that is native to many Asian countries, Australia, and in tropical areas in Africa and various islands.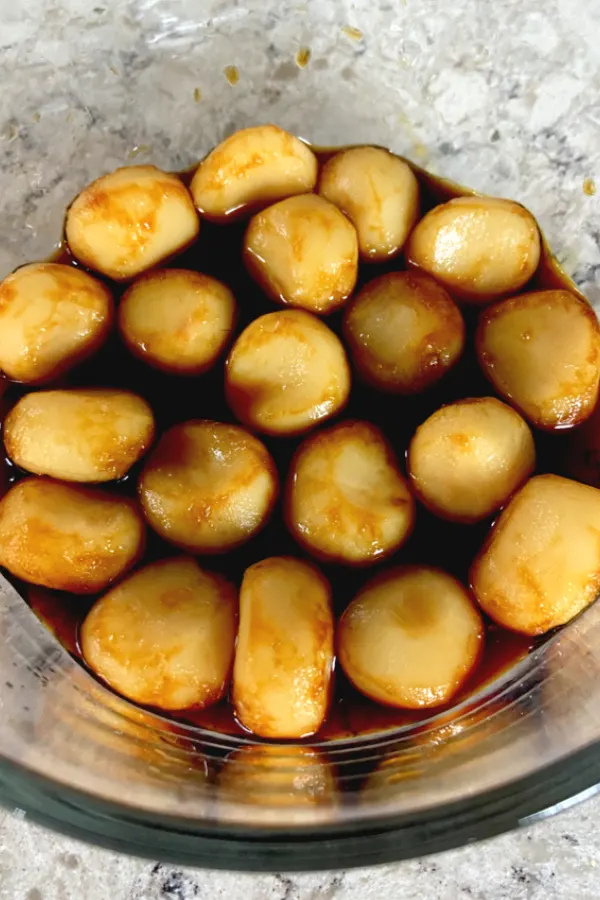 Although the term water chestnut refers to the entire plant, most people refer to the small, round corms that grow from the plant as the water chestnut.
They can be consumed raw or cooked in various dishes. In America, you can find them in several American-Chinese dishes, including stir fry and chop suey.
Health Benefits of Water Chestnuts
Just like many vegetables water chestnuts carry many health benefits. In fact, they are full of antioxidants that can help ward off chronic disease and help prevent cancer.
In addition, they are also high in potassium which lowers the risk of stroke, heart attacks and help prevent heart disease.
Because they are low in calories and have zero fat content, they make a great addition to those who are looking to lose weight. Not to mention that they are high in fiber which helps you feel full and aids in digestion.
Although wrapping the water chestnuts in bacon isn't necessarily a healthy appetizer, it is a healthier alternative than Candied Bacon Wrapped Smokies.
However, as always it is best to consult with your physician before changing or adding items your diet.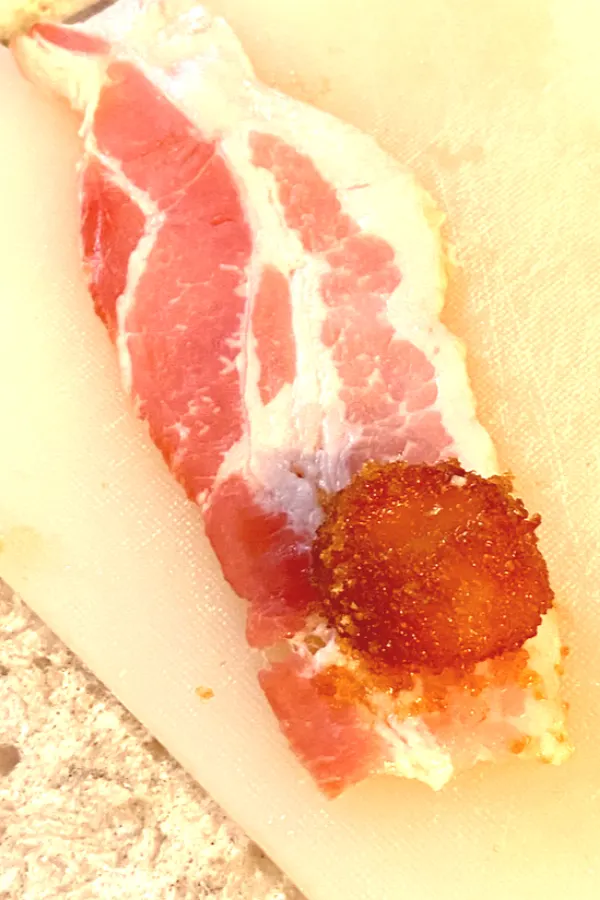 Where To Find Water Chestnuts At The Grocery
So now that you are excited to make this recipe, it is time to get shopping.
However, you may find yourself wandering in the produce section of the grocery looking for this unique vegetable with no luck. That is because most of us won't have access to fresh water chestnuts at our neighborhood store.
Instead, you will need to look for a small can of water chestnuts in the International Food aisle. They will be located in the Asian food section.
Look for a can that is shorter than a can of soup. However, it is a little taller than a can of tuna fish.
Once you find the cans, be sure to check the label carefully. Water chestnuts are sold as whole or sliced.
Although you would typically buy them in slices to add to your stir fry or chop suey, for this recipe you want whole chestnuts. Now that you have the chestnuts, it is time to get this delicious appetizer ready!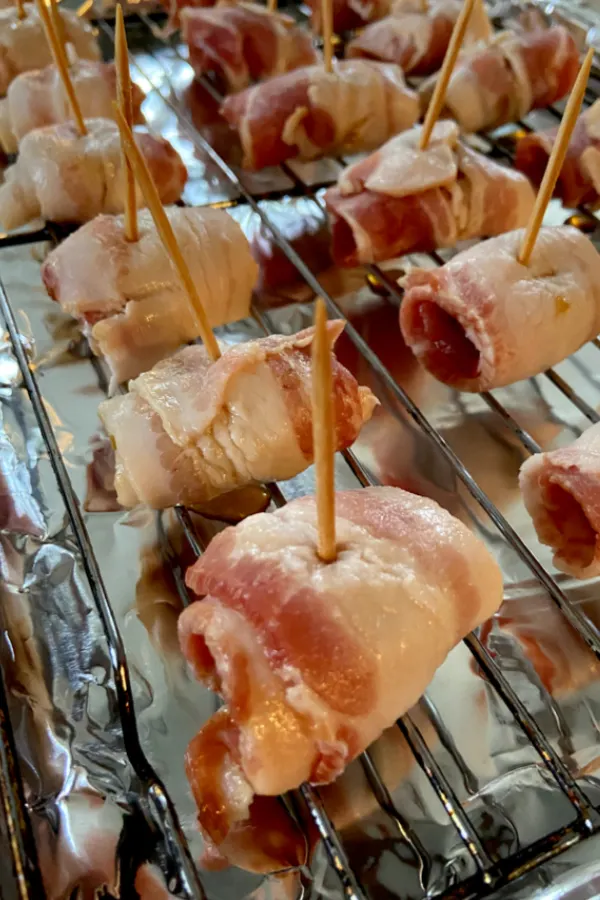 Bacon Wrapped Water Chestnuts Recipe
*Specific measurements and complete recipe instructions are located in a printable recipe card at the bottom of this article. However, be sure to continue to read the tips and tricks to making this recipe below.
INGREDIENTS
8 ounce can whole water chestnuts, drained
1/4 cup soy sauce
1/4 cup brown sugar
8 slices bacon, cut in half
The first thing you need to do is to drain the can of water chestnuts. Simply open the can and pour them in a colander until all of the liquid has drained.
Then place the water chestnut in a small bowl and add the soy sauce. It is okay if they are not completely covered, however you want enough soy sauce to cover half of them.
Let them soak in soy sauce for at least an hour. Be sure to flip them at the 30 minute mark to allow the top of the chestnuts time to soak in the soy sauce as well.
While the water chestnuts are soaking, soak your toothpicks in water. This will prevent them from burning during the baking process.
Next, cut the bacon pieces in half, across the middle. This will give you 16 short bacon pieces. Set the bacon aside.
When you are ready to make the bacon wrapped water chestnuts, preheat the oven to 375°F. Then prepare an assembly station.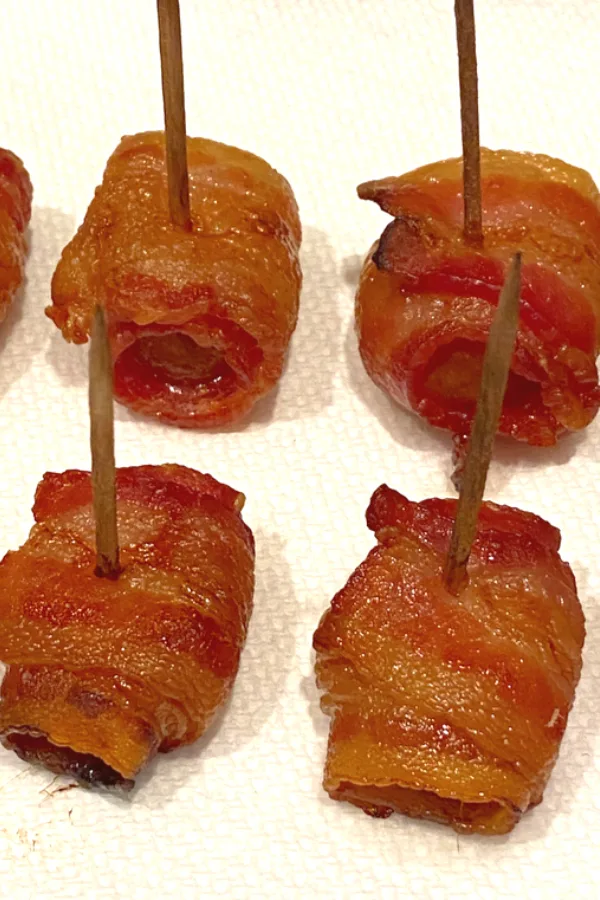 First you will have your bowl of marinated water chestnuts. The next shallow bowl will be filled with brown sugar. Then place your bacon next to the brown sugar.
Finally, place a metal backing rack inside a rimmed baking sheet that has been lined with foil. Now you are ready to prepare the chestnuts.
Assembly Instructions
Working one at a time, roll the saturated water chestnut in brown sugar. Be sure to coat all sides. Then place the coated chestnuts on the edge of a piece of bacon.
Wrap the bacon around the water chestnut. Then use a toothpick to secure the end of the bacon and poking it so that it goes to the center of the chestnut.
Place it on the baking rack that is inside the rimmed baking sheet. Repeat until all of the chestnuts are wrapped.
Bake Time
Place the baking sheet in the preheated oven for 25 minutes, or until the bacon is cooked through. Remove the pan from the oven.
Using the toothpicks, pick up the water chestnuts and place on a paper towel to absorb some of the bacon grease. Then place them on a serving tray.
Serve warm or at room temperature.
Enjoy! Mary

To receive our 3 Recipe Articles in your inbox each week, sign up for our free email list located in the middle of each recipe or email me at contact@makeyourmeals.com. You can also follow us on Facebook and Pinterest. This article may contain affiliate links where a small commission is paid if you purchase a product at no additional cost to you.
Bacon Wrapped Water Chestnuts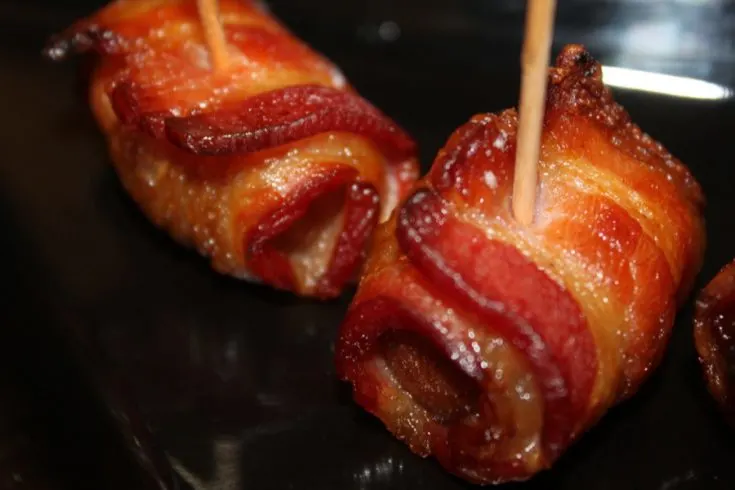 Marinated water chestnuts that are wrapped and baked with bacon. The perfect appetizer for any party!
Ingredients
8 ounce can whole water chestnuts, drained
1/4 cup soy sauce
1/4 cup brown sugar
8 slices bacon, cut in half
Instructions
One hour before making, marinate the water chestnuts in soy sauce for 1 hour and place toothpicks in a bowl of water to prevent burning when baking. Cut each piece of bacon in half across the middle section to make a total of 16 pieces of short bacon.
Preheat oven to 375°F (190°C). Drain the marinade from the chestnuts and discard.
Add the brown sugar to a shallow bowl. Then roll each soaked chestnut in the brown sugar.
Working one at a time place a covered chestnut at the end of a piece of bacon. Roll the bacon around the water chestnut.
Secure the ends of the bacon with a toothpick by placing the toothpick through one end and piercing it through the water chestnut.
Place the bacon wrapped water chestnut on a metal cooking rack that is placed in a shallow baking pan. Repeat.
Bake the baking rack in the preheated oven for 25 minutes or until the bacon is cooked.
Remove the pan from the oven and drain the bacon wrapped water chestnuts on paper towels for a few minutes. Then place on a serving tray.
Notes
HELPFUL HINTS: Place a little water in the bottom of the baking pan to prevent the dripping bacon grease from burning during the cooking process.
Recipe provided by Make Your Meals
Nutrition Information:
Yield:
8
Serving Size:
1 grams
Amount Per Serving:
Calories:

107
Total Fat:

4g
Saturated Fat:

1g
Trans Fat:

0g
Unsaturated Fat:

3g
Cholesterol:

11mg
Sodium:

637mg
Carbohydrates:

13g
Fiber:

1g
Sugar:

7g
Protein:

5g
Nutritional Information is to be used as a general guideline only . Nutritional calculations will vary from the types and brands of the products used.