When it comes to New Year's Eve, or any party for that matter, we absolutely love to serve Bacon Wrapped Water Chestnuts.
A delicious appetizer made with marinated water chestnuts wrapped in bacon and then baked to perfection.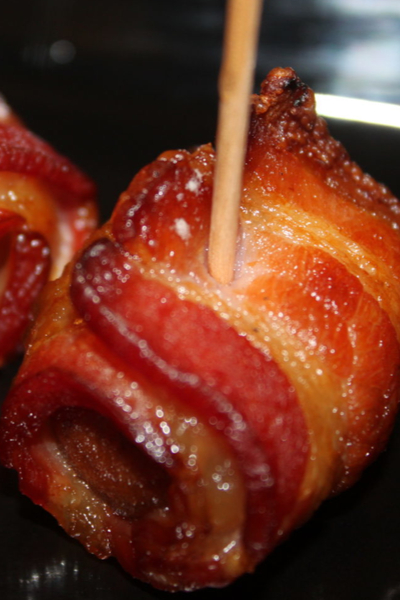 They are not only delicious, but they are also easy to eat. Just like our Sausage and Cheese Stuffed Mushrooms, no utensils are required. That is because they are baked with a toothpick that holds the bacon in place.
Then the toothpick becomes the handle that allows your guest to easily pick them up for a hand held appetizer.
However, they do take a little preparation before you can bake them.
How to make Bacon Wrapped Water Chestnuts
The first thing you need to do is to drain the can of water chestnuts. In most grocery stores water chestnuts are found in the International/Asian aisle.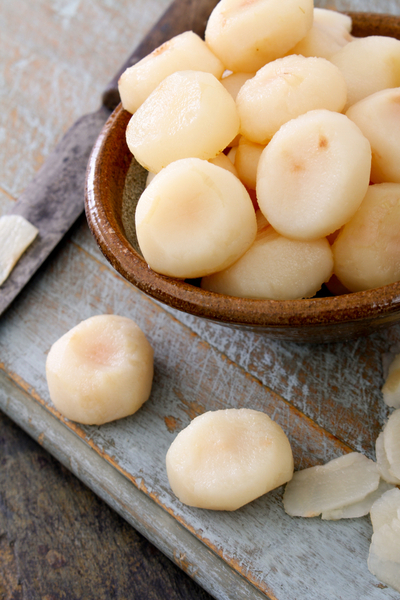 Simply open the can and drain them in a colander. Then soak them in a bowl with soy sauce for at least an hour.
While the water chestnuts are soaking, soak your toothpicks in water. This will prevent them from burning during the baking process.
Cut your bacon pieces in half and set aside.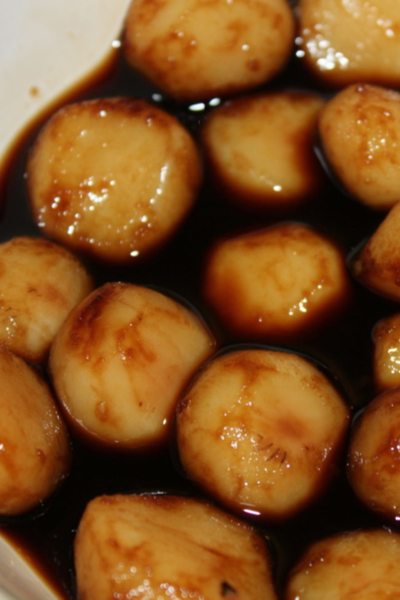 When you are ready to make your appetizer, prepare an assembly station.
First you will have your bowl of marinated water chestnuts. The next bowl will be filled with brown sugar. Then place your bacon next to the brown sugar.
Finally, place a metal backing rack inside a rimmed baking sheet.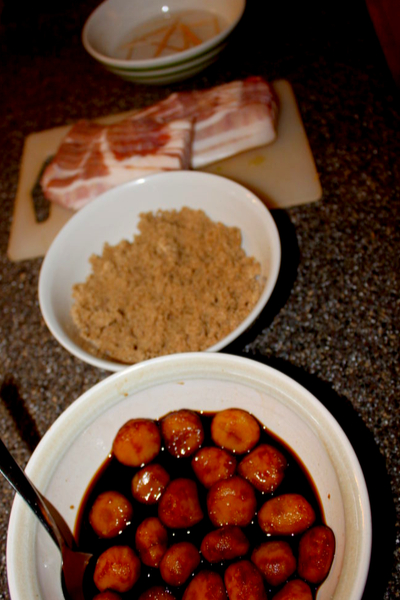 Now assemble your bacon wrapped water chestnuts using the following method.
Roll one water chestnut in brown sugar
Place the coated water chestnut on a half piece of bacon and wrap the bacon around it.
Secure the bacon end with a toothpick – poke it through to the center of the water chestnut.
Place on the baking rack that is inside the rimmed baking sheet. Repeat.
Bake in a preheated oven for 25 minutes, or until the bacon is cooked through.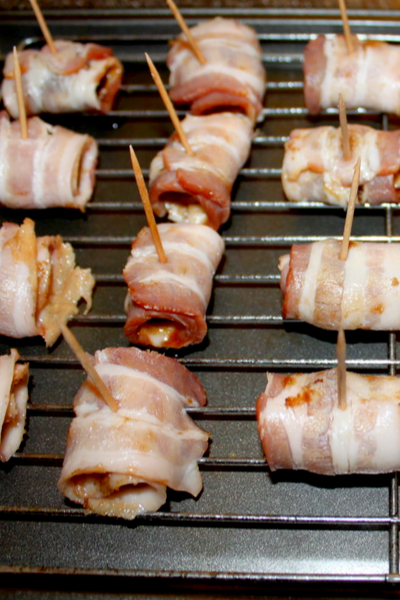 Using the toothpicks, pick up the water chestnuts and place on a serving tray.
Enjoy!
Check out some of our other favorite appetizers by clicking on our Appetizers page.
To receive our 3 Recipe Articles in your inbox each week, sign up for our free email list located on the side and bottom of each recipe. You can also follow us on Facebook and Pinterest. This article may contain affiliate links where a small commission is paid if you purchase a product at no additional cost to you.
Bacon Wrapped Water Chestnuts
Marinated water chestnuts that are wrapped and baked with bacon. The perfect appetizer for any party!
Ingredients
1 8 ounce can water chestnuts, drained
1/4 cup soy sauce
1/4 cup brown sugar
8 slices bacon cut in half width wise
Instructions
One hour before making, Marinate the water chestnuts in soy sauce for 1 hour and place toothpicks in a bowl of water to prevent burning when baking
Drain.
Preheat oven to 375 degrees F.
Roll each chestnut in the brown sugar.
Wrap each chestnut with a piece of bacon (half of a full piece of bacon).
Secure bacon with a toothpick by placing the toothpick towards the end of the bacon and piercing it through the water chestnut.
Place a metal cooking rack in a shallow baking pan and place bacon wrapped chestnuts on the rack.
Bake in the preheated oven for 25 minutes or until bacon is cooked.
Drain on paper towels.
Notes
HELPFUL HINTS: Place a little water in the bottom of the baking pan to prevent the dripping bacon grease from burning. Recipe provided by Make Your Meals
Nutrition Information:
Serving Size:
1 grams
Amount Per Serving:
Unsaturated Fat:

0g