I was first introduced to candied bacon wrapped smokies at a New Year's Eve party many years ago. And with just one taste, I knew I had found a new favorite appetizer recipe!
Little Smokies sausages wrapped in bacon and topped with seasoned brown sugar. The sweet and salty flavors blended perfectly together in this easy to eat, hand held appetizer.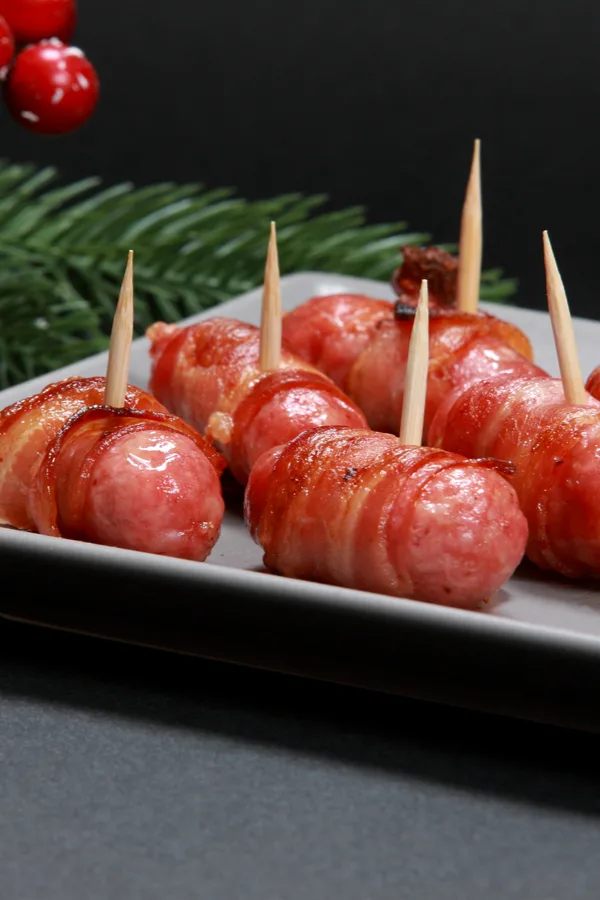 Although I have made Barbecue Little Red Smokies and Little Smokies Pigs in a Blanket many times before, I had never had them wrapped in bacon. Let alone wrapped in Candied Bacon!
What is Candied Bacon?
If you have never had candied bacon, you are in for a treat! Imagine thick strips of bacon coated with brown sugar or maple syrup and baked until it caramelizes.
You end up with crispy strips of bacon that have sweet and crunchy crust on top, which tastes like candy. In fact, candied bacon has been served as a stand alone appetizer at many parties that I have attended.
Therefore, what could be better than combining mini sausages known as Little Smokies with candied bacon? It turns out to be the perfect New Year's Eve or game day appetizer!
Candied Bacon Wrapped Smokies
The best part about this recipe is that it takes little time to prepare and it only includes 5 ingredients! Plus you can serve them warm or at room temperature, which is important when you have a busy night planned!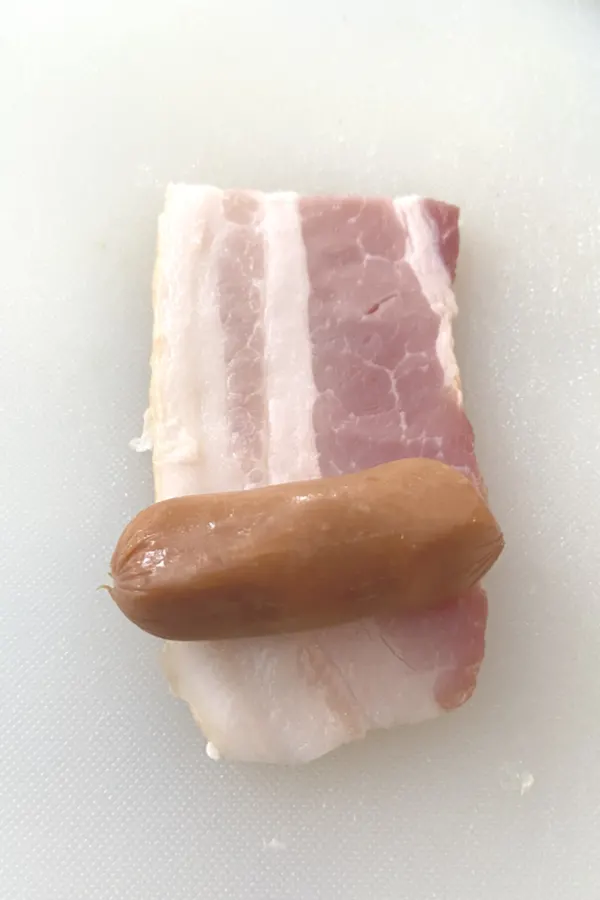 Ingredients Required
Little Smokies Sausages
Bacon
Brown Sugar
Garlic Powder
Cayenne Pepper Powder
*Even if you don't like spicy food, do not skip out on the cayenne pepper in this recipe. The Candied Bacon Wrapped Smokies would be very sweet if you didn't included the pepper powder.
Although cayenne powder alone is spicy, I promise this is not a spicy appetizer recipe! The pepper simply helps to balance the sweet and salty flavors.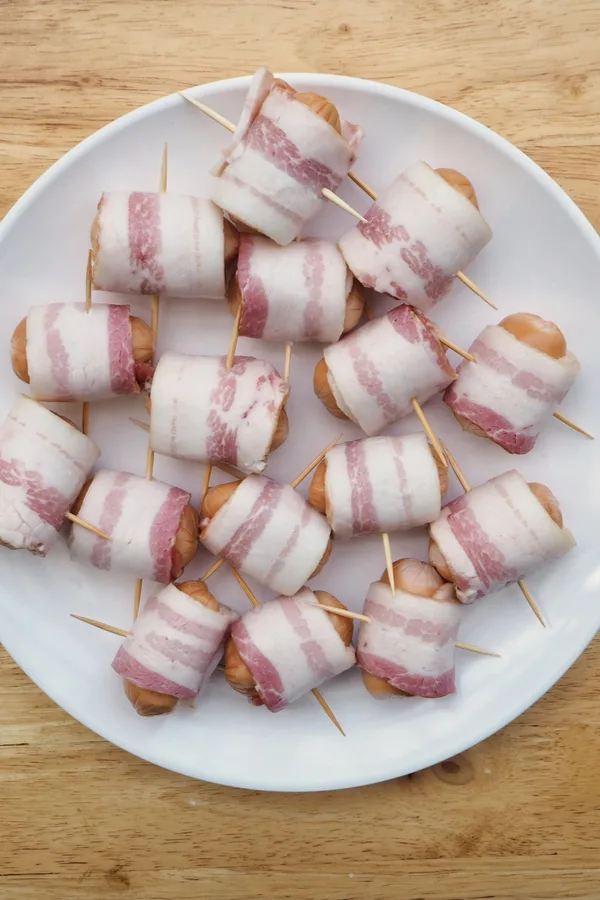 Instructions
The first step in making this recipe is to cut each strip of bacon into three equal size sections. Although you could do this for each individual piece, I prefer to cut the entire pound of bacon at once.
Then place one Little Smokies sausage at the end of each piece of bacon, roll and wrap the bacon around the sausage. Use a tooth pick to secure the end of the bacon.
I prefer to push the toothpick through both sides so that there is less wood exposed. This will help prevent the toothpick from burning during the baking process.
Repeat until all of the sausages are wrapped in bacon. Set aside and preheat your oven to 400°F.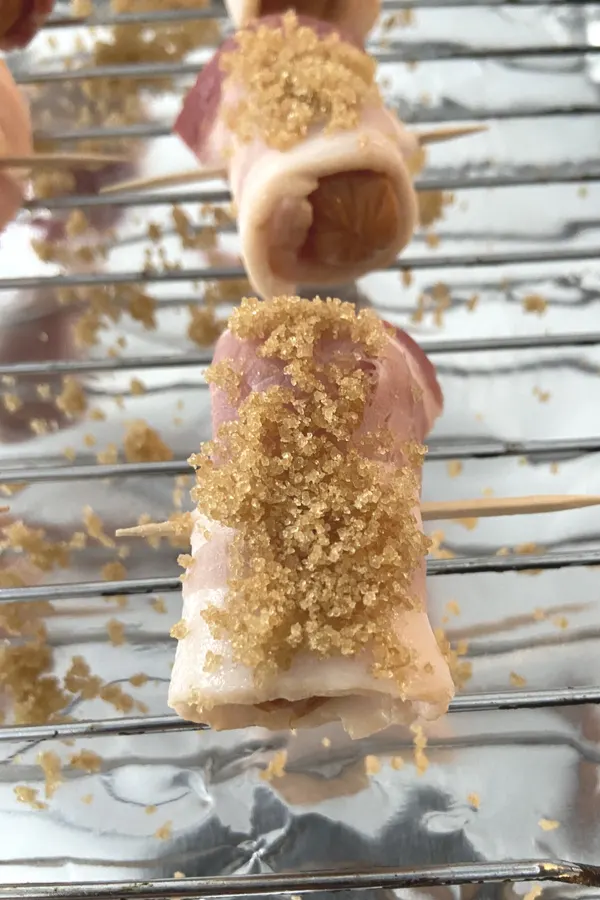 Now it is time to mix together the brown sugar, garlic powder and cayenne pepper which will become the candied glaze on the bacon.
Cover a rimmed baking sheet with aluminum foil and place a baking rack in the center. Then place the bacon wrapped smokies on the rack.
Sprinkle the tops with the brown sugar mixture, lightly patting the tops so that it adheres to the surface.
Bake until the bacon is cooked through, approximately 25-30 minutes.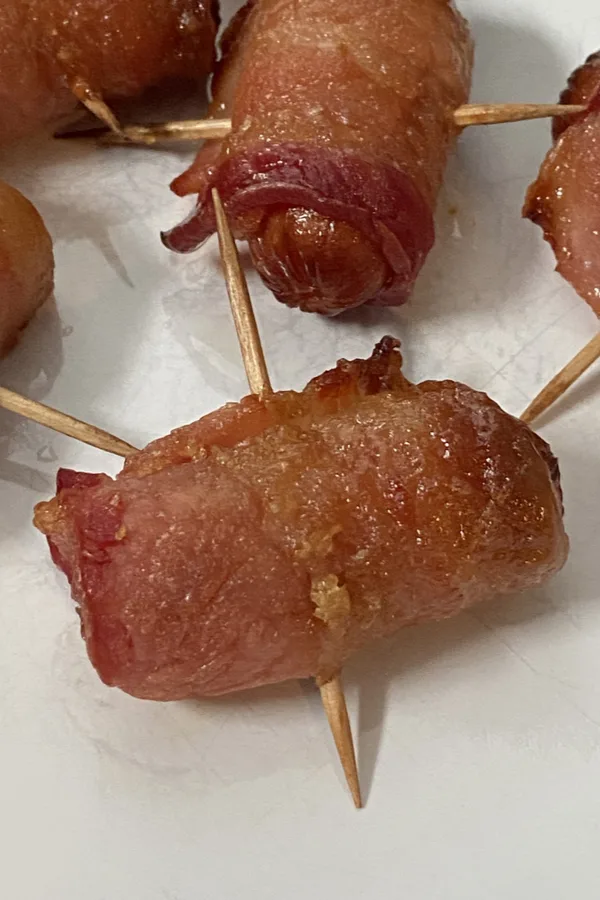 Once the bacon is nice and crispy, remove the tray from the oven and let them cool slightly. Using tongs, transfer the Candied Bacon Wrapped Smokies to a serving tray.
Serve warm or serve at room temperature with or without the toothpicks. *I take no responsibility on how many of these that you eat! I warn you, they are addictive!
Enjoy!

To receive our 3 Recipe Articles in your inbox each week, sign up for our free email list located in the middle of each recipe or email me at contact@makeyourmeals.com. You can also follow us on Facebook and Pinterest. This article may contain affiliate links where a small commission is paid if you purchase a product at no additional cost to you.
Yield: 30
Candied Bacon Wrapped Smokies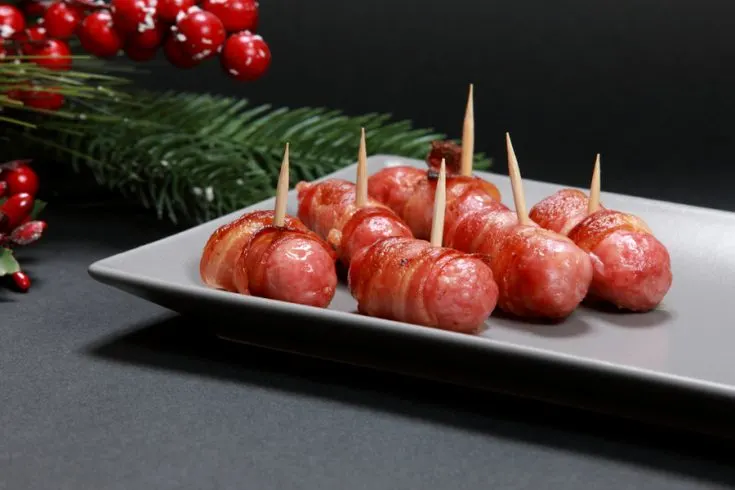 Bacon wrapped smokies sausages that have been coated in a brown sugar mixture that makes for the perfect, and addicting appetizer.
Ingredients
1 12 ounce little smokies sausages
1 lb. bacon
1/2 c. packed brown sugar
1/2 tsp. garlic powder
1/4 tsp. cayenne pepper
Instructions
Preheat oven to 400° and line a large baking sheet with aluminum foil and place a baking rack in the center of the pan.
Cut each piece of bacon into 3 pieces. Wrap each little smokies sausage with a piece of bacon and secure with a toothpick. Place on the baking sheet.
In a small bowl, mix together brown sugar, garlic powder, and cayenne. Sprinkle over the bacon wrapped smokies.
Bake until bacon is crisp, 25 to 30 minutes.
Notes
Recipe provided by Make Your Meals
Nutrition Information:
Yield:
30
Serving Size:
1 grams
Amount Per Serving:
Calories:

151
Total Fat:

15g
Saturated Fat:

6g
Unsaturated Fat:

0g
Cholesterol:

14mg
Sodium:

24mg
Carbohydrates:

4g
Fiber:

1g
Sugar:

4g
Protein:

1g