If you are looking for a great snack or appetizer recipe that everyone will love, then these Mini Mac and Cheese Bites are it! All the flavors of homemade macaroni and cheese in an easy to eat, bite size treat that requires no utensils.
Although when you think about this appetizer, you may imagine noodles and cheese that are smashed together and rolled in breading and then deep-fried. However, that is not the case with this recipe.
Instead of adding the massive amount of extra fat and calories from the deep frying process, these little bites are baked in the oven instead. Not to mention, we will not be adding more carbohydrates by rolling the macaroni in breadcrumbs either.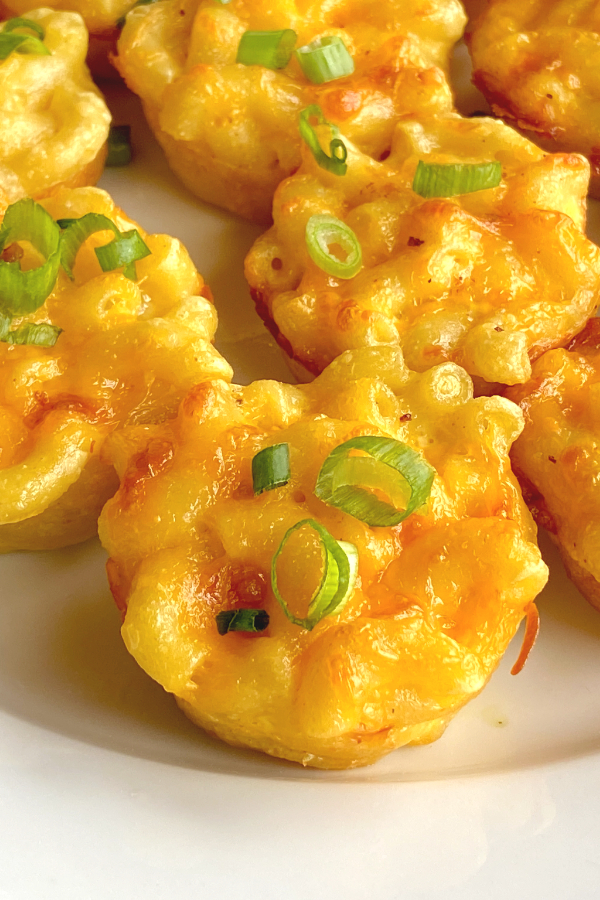 Instead, just like when I make Mini Corn Dog Muffins, the bites will be formed and baked in a mini-muffin pan. Although this isn't considered a low-calorie recipe, every little bit helps!
And it all starts with an easy to make, homemade macaroni and cheese recipe. A simple combination of cooked elbow noodles mixed with a simple Cheddar cheese sauce.
Then add a little seasoning and mix the noodles with an egg and they are ready to be put in the pan. Although the egg will be the primary binder this recipe, a little extra shredded Cheddar cheese on top will help as well.
Throw the pan in the oven, and within 20 minutes, your delicious snack or appetizer is ready to be served! But don't stop there!
Make them even more delicious by topping them with a little crumbled bacon and diced green onion for even more crunch and flavor! They will definitely be an appetizer that you make for your next party!
Mini Mac and Cheese Bites Recipe
*Specific measurements and complete recipe instructions are located in a printable recipe card at the bottom of this article. However, be sure to continue to read the tips and tricks to making this recipe below.
INGREDIENTS
Elbow macaroni pasta
Unsalted butter
Flour
Milk
Shredded Sharp Cheddar cheese*
Cream cheese
Dry mustard
Salt
Pepper
Egg
Optional Ingredient
Hot sauce
Ground cayenne pepper
Crumbled bacon
Diced green onions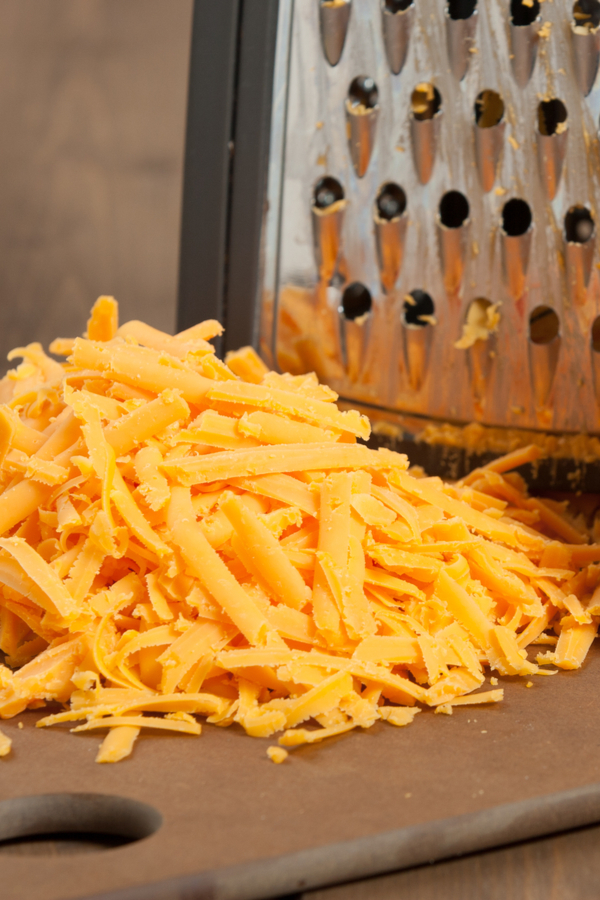 *It is best to use freshly shredded Cheddar cheese instead of packaged shredded cheese. This is because the shredded cheese that you find hanging in a plastic bag at the grocery store has an anti-caking agent on the surface of the cheese.
Although this expands the shelf life of the cheese and prevents it from clumping together, it also makes it difficult to melt properly when heated.
Therefore, you will get better results with this recipe when you purchase a block of sharp cheddar cheese and shred it yourself. I use my Hamilton Beach Food Processor that has a grating blade and it only takes a minute to shred.
COOKING INSTRUCTIONS
The first step in making this mac and cheese bites recipe is to preheat the oven and spray a mini muffin pan with non-stick cooking spray. Set the pan aside while you prepare the noodles.
Then fill a large pot with water, about 3/4ths full. Let the water come to a boil and cook the elbow noodles according to the directions on the package for al' dente consistency. You don't want the noodles to be overcooked, as they will be too soft and won't hold up once they are baked.
Once they are cooked, pour the noodles in a colander and let them drain. Set the noodles aside while you prepare the homemade cheese sauce.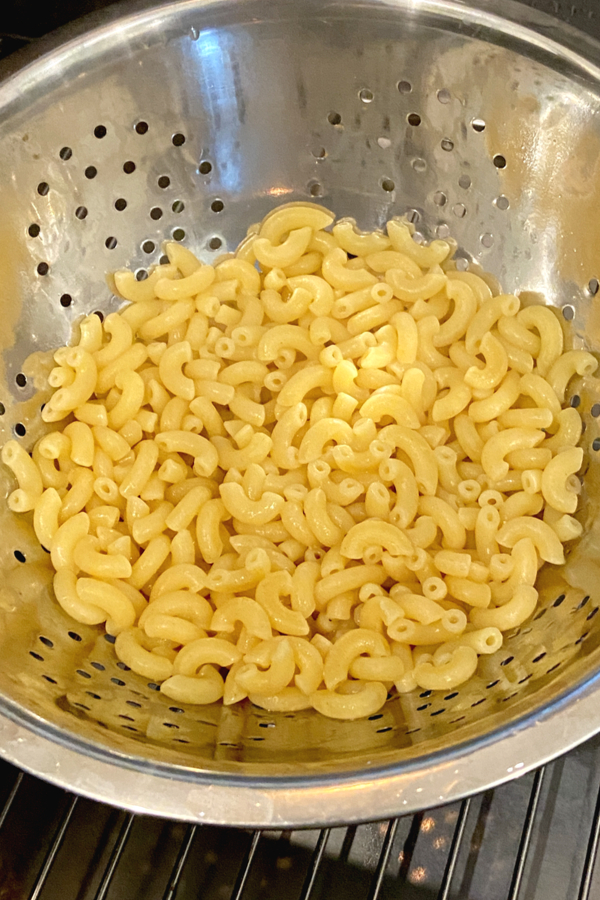 Homemade Cheese Sauce
In a medium size pot add the butter and when it melts add the flour and whisk until the mixture is smooth. Then slowly pour the milk into the pot and continue to whisk.
Bring the mixture to a low simmer, but don't allow it to boil as the milk will scald and taste awful! Let it simmer, stirring frequently until the liquid thickens and reduces by about half.
Next, add 1 1/2 cups of the fresh grated Cheddar cheese, cream cheese, dry mustard, salt and pepper. If you want to add more flavor, add a dash or two of hot sauce and/or a pinch of cayenne pepper.
A little bit of hot sauce and cayenne pepper will not add heat. Instead, it enhances the flavor of the other ingredients.
Stir the mac and cheese until smooth and creamy and then remove it from the heat source. Add the cooked and drained elbow pasta noodles in a large mixing bowl. Then pour the cheese sauce over top and toss.
Now it is time to add the binder so that the mac and cheese bites will form together during the baking process. Pour the whisked egg over the noodles and cheese and mix until the pasta is evenly coated.
Then place the macaroni and cheese into the prepared mini muffin cups. Then top each cup with a little sprinkle of the freshly shredded Cheddar cheese.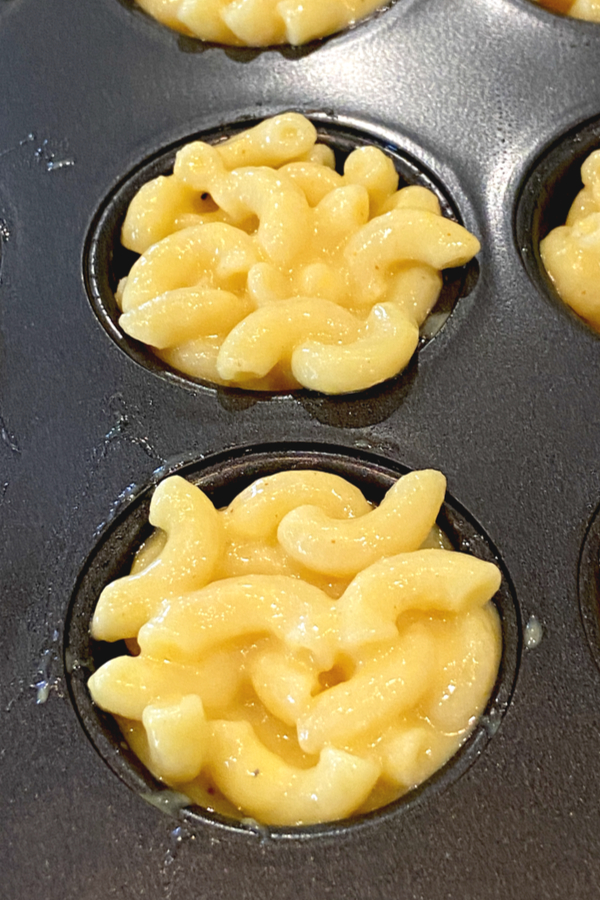 Cook Time
Place the pan in the preheated oven and bake for 15 minutes. The top of the bites will be just starting to turn golden brown in color.
Remove the pan from the oven and allow them to cool 5-10 minutes. Then carefully run a plastic knife or toothpick around the outside of each mini muffin cup.
Then carefully remove the mac and cheese bites and put them on a serving plate or tray. Sprinkle the tops with cooked chopped bacon and/or diced green onions.
Serve warm for best flavor.
Frequently Asked Questions
1. Can I Make These Ahead Of Time?
If you are like me and like to plan ahead so that you can enjoy the company of your friends and family, you may want to make these in advance. And you can certainly do that.
Prepare the recipe as instructed, up until the the baking process. The cover the filled mini muffin pan with plastic wrap and place in the refrigerator for up to 6 hours.
Then remove the pan from the refrigerator and bake as instructed. However, you may need to plan on increasing the cook time by 5 minutes if you put the cold pan directly in the oven.
2. How To Store And Reheat The Leftovers?
If you have any leftovers, which isn't likely, you can store them in a closed container in the refrigerator for up to 3 days.
To reheat, place the mac and cheese bites in the microwave for 20 seconds. You want them warm, but not melted.
You can also enjoy them at cold or at room temperature for a quick snack as well.
Enjoy! Mary

To receive our 3 Recipe Articles in your inbox each week, sign up for our free email list located in the middle of each recipe or email me at contact@makeyourmeals.com. You can also follow us on Facebook and Pinterest. This article may contain affiliate links where a small commission is paid if you purchase a product at no additional cost to you.
Mini Mac and Cheese Bites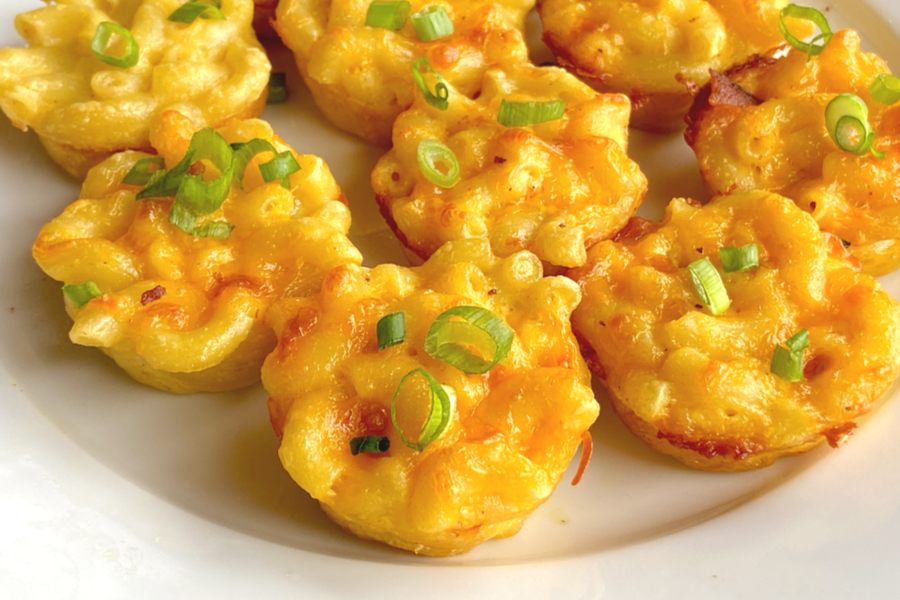 Homemade macaroni and cheese made into mini mac and cheese bites for the perfect appetizer or snack for both kids and adults.
Additional Time
5 minutes
Ingredients
½ pound elbow macaroni pasta
2 TBSP unsalted butter
2 TBSP flour
1 1/2 cups milk
2 cups shredded Sharp Cheddar cheese
2 ounces cream cheese
1/2 teaspoon dry mustard
1/2 teaspoon salt
1/4 teaspoon pepper
1 large egg, beaten
Optional Ingredients
hot pepper sauce
cayenne pepper
diced green onions
bacon crumbles
Instructions
Preheat oven to 400° F (200°C) and spray mini muffin pan with cooking spray.
Cook pasta according to packaged directions for al dente and set aside.
In a medium size pot add the butter and when melted add flour and whisk until the mixture is smooth.
Slowly add milk to the pot and bring to a simmer. Let the liquid reduce by half, stirring frequently.
Add 1 1/2 cups of the cheese, cream cheese, dry mustard, salt and pepper. Stir until smooth and creamy. Remove from heat.
In a large mixing bowl, add the cooked and drained pasta, cheese sauce, and whisked egg until evenly mixed and pasta is evenly coated. Add optional ingredients as desired.
Place the macaroni and cheese into the mini muffin cups and top each with a little shredded Cheddar cheese.
Bake in the preheated oven for 15 minutes or until the tops begin to turn golden brown.
Remove the pan from the oven and allow them to cool 5 minutes before carefully removing the bites.

Serve warm garnished with crumbled bacon and/or diced green onions
Notes
It is best to use fresh grated Cheddar cheese in this recipe as it will melt better than store-bought shredded cheese.
Store leftovers in a closed container in the refrigerator for up to 3 days.
Recipe provided by Make Your Meals
Nutrition Information:
Yield:
36
Amount Per Serving:
Calories:

81
Total Fat:

6g
Saturated Fat:

3g
Trans Fat:

0g
Unsaturated Fat:

2g
Cholesterol:

22mg
Sodium:

127mg
Carbohydrates:

3g
Fiber:

0g
Sugar:

1g
Protein:

4g
Nutritional Information is to be used as a general guideline only . Nutritional calculations will vary from the types and brands of the products used.