Air Fryer Chicken Wings are a great way to enjoy the taste and flavor of classic chicken wings without the guilt of eating deep-fried food!
When I finally took the plunge and bought my air fryer I didn't realize how much I would love it! We have the BCP 5.5 quart air fryer and we use it all of the time.
I knew that the primary purpose of cooking with an air fryer was to eat healthier but still enjoy the taste of 'fried' foods.
Little did I know that the food would actually taste better than when cooked using traditional methods.
Not only have we used it to replace our deep-fryer, but we also use it constantly for foods that are typically cooked on the grill or in the oven.
When it was raining outside and I wasn't able to use the grill to make hamburgers one weekend, I turned to the air fryer.
I honestly have never had a more juicy, perfectly cooked hamburger! And as an added bonus I didn't have to stand over a hot grill to make them!
And when it comes to Air Fryer Chicken Wings, the taste and texture is even better than deep-fried wings!
First of all the skin becomes nice and crisp. And the meat inside is tender and juicy.
But best of all, there are no worries of biting into a pocket of hot grease that is waiting there to burn the roof of your mouth!
The Secret To Perfectly Cooked Air Fryer Chicken Wings
However, there is a trick to getting the wings perfectly cooked.
The initial cooking temperature needs to be lower than the final cooking temperature. This will allow the wings to have enough time to adequately cook without burning the skin.
During the last few minutes of cooking, the temperature is increased to brown and crisp the skin to achieve that deep-fried taste.
Some recipes will call for coating the air fryer chicken wings in baking powder or a breading to make them extra crispy. This simply is not necessary.
With the cooking method stated above, the wings come out perfectly crisp each and every time!
How To Cook Frozen Air Fryer Chicken Wings
Yes, just like when you make Instant Pot Chicken Wings, you can make your wings from frozen. In fact, I never remember to thaw them out on the day that I want to cook them.
All you have to do is increase the initial cooking time by 5 minutes. It's that simple!
How To Season Air Fryer Chicken Wings
The beauty of making wings in the air fryer is that you can season them however you prefer. When using a dry rub seasoning, apply it when you turn your wings over during the initial cooking phase.
If you like your wings coated in your favorite Buffalo or barbecue sauce, this is done after the wings have been completely cooked.
Our favorite sauce is from the Anchor Bar in Buffalo, N.Y. They claim that this is the original establishment that 'invented' Buffalo Chicken Wings. See affiliate link to the Anchor Bar Sauce.
Just toss the cooked wings in a bowl and add your favorite sauce. Toss them until well coated.
The best part of all, you use multiple sauces to please everyone.
And if you are wanting an even healthier version – try our Air Fryer Buffalo Cauliflower Wings.
Or how about our Air Fryer Chicken Kabobs – a favorite family meal in our house!
Check out the printable recipe below and all of our recipes and let me know what you think!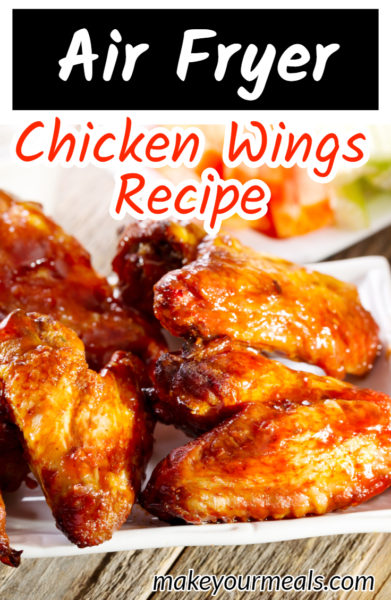 To receive our 3 Recipe Articles in your inbox each week, sign up for our free email list. You can also follow us on Facebook, Twitter, Pinterest, and Instagram. This article may contain affiliate links.
Air Fryer Chicken Wings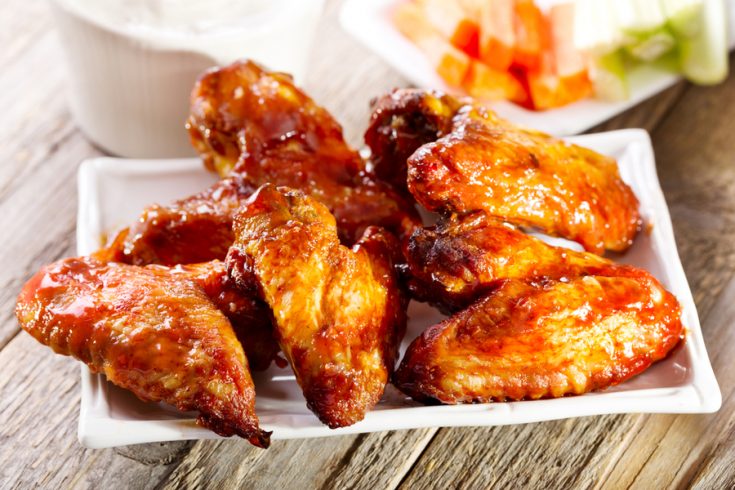 Crispy chicken wings cooked in the air fryer with absolutely no oil! Season with your favorite dry rub or wing sauce for a great appetizer or meal.
Ingredients
2-3 lbs chicken wings and/or drumettes
dry rub or wing sauce
Instructions
Place the chicken wings in the basket and close the air fryer.
Cook for 25 minutes at 380°F . Turn the wings over at the 15 minute mark. If using frozen wings, increase cooking time to 30 minutes. If using a dry rub, sprinkle the seasoning on the wings before and after you turn them.
When the time is up, increase the air fryer temperature to 400°F and cook for 5 more minutes until the skin becomes brown and crisp.
Transfer to a bowl, add toss with your favorite wing sauce
Notes
Recipe provided by Make Your Meals
Nutrition Information:
Serving Size:
1 grams
Amount Per Serving:
Unsaturated Fat:

0g