When I was asked to sign up to bring something to a lunch time work party, I quickly wrote down Instant Pot Appetizer Meatballs.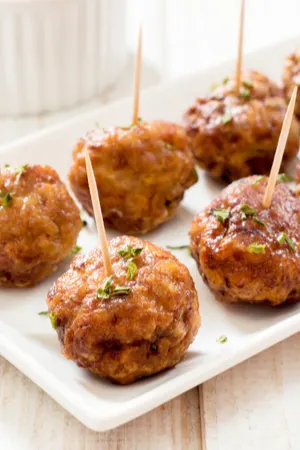 These sweet and spicy meatballs are always a huge hit at every get together. And I didn't want anyone else to claim the rights to bring them.
In fact, they are so popular I always get requests from friends and family for the recipe during the party.
I am a little embarrassed to give them the ingredients list. Besides the meatballs themselves, you only need grape jelly and chili sauce.
Seriously, that is it!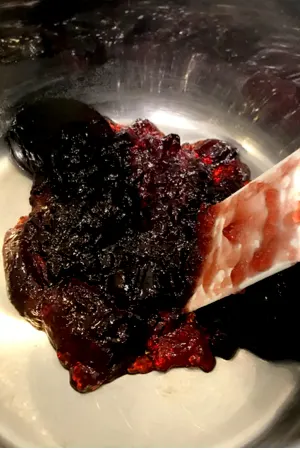 The only thing easier to make is Candied Almonds and BBQ Little Red Smokies.
I used to make the meatballs in my slow cooker. They always turned out good – but I always had to guess when they would be done and ready to eat.
Then I would forget to turn the slow cooker down to the keep warm setting and the edges of the meatball sauce would burn.
Instant Pot Appetizer Meatballs
So when I decided that I would bring the meatballs to work, I knew right away that I would make them in my Instant Pot instead.
I have to admit, I was a little nervous.
I had made dinner meatballs in the Instant Pot before and had good success. The meatballs were cooked with the marinara sauce on top.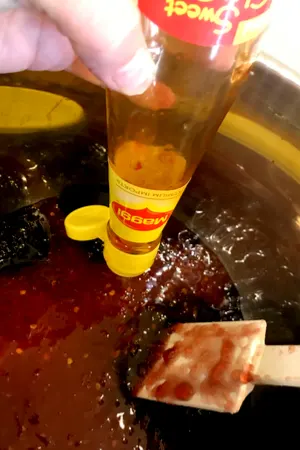 I didn't stir the meatballs, just poured the contents of the jar on top. And they came out perfect!
However, with this Instant Pot Appetizer Meatballs recipe, I knew that getting the dreaded BURN notice might be an issue.
Avoiding The Burn Notice
If you aren't familiar with how an Instant Pot pressure cooker works, you might be wondering what I mean.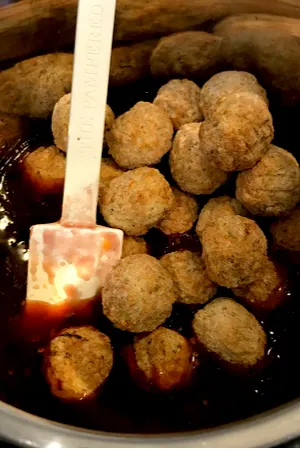 In order for the Instant Pot to work there must be thin liquid in the pot of the pressure cooker. This is essential because it allows the pot to pressurize and begin the cooking process.
However, because the unit only heats from the bottom, any liquid that is too thick will burn to the bottom of the pot.
The Instant Pot will give a display warning of BURN and now you have to depressurize the pot and become an investigator to save the recipe.
There is no time for a burn warning on party day! Especially after bragging about how wonderful the Instant Pot is to anyone and everyone who will listen!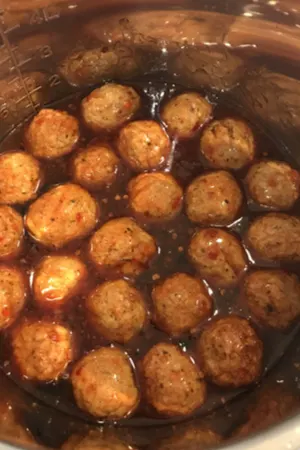 So when I was trying to convert my slow cooker recipe to the Instant Pot I had to take a hard look at the sauce ingredients.
Grape jelly – yes, that is pretty thick. Chili sauce – a very sticky sauce. How in the world was I going to make this happen?
I decided to add in a little water to thin the sauce out a bit. Once all mixed together, the grape jelly clumps broke down and the chili sauce blended well into a smooth, thin sauce.
It was then that I had more confidence that this would work!
The Result……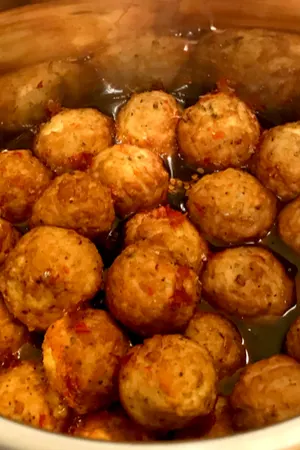 I grabbed my precooked appetizer size meatballs from the freezer and kept my fingers crossed.
With a watchful eye on the pot, I waited. I kept looking at the display hoping the only thing that I would see is the cook time.
It took 7 minutes for the pot to come to pressure. The cook time countdown started, and we were on our way!
I was ecstatic! My absolute favorite recipe to bring to a party was now converted to Instant Pot Appetizer Meatballs.
They cooked perfectly! And I was able to keep them on the Keep Warm function so everyone had time to enjoy them no matter when they were able to attend the party.
Now I can add this recipe to my go to Instant Pot appetizer recipes along with our other favorites including Nacho Dip.
Check out the printable recipe below and all of our recipes and let me know what you think!
To receive our 3 Recipe Articles in your inbox each week, sign up for our free email list. You can also follow us on Facebook, Twitter, Pinterest, and Instagram. This article may contain affiliate links.
Yield: 20
Instant Pot Appetizer Meatballs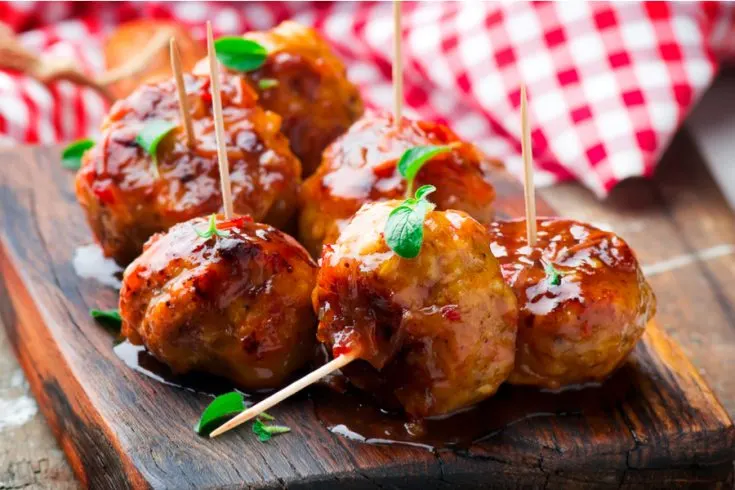 The classic party meatball appetizer with a simple sauce made with grape jelly and chili sauce.
Ingredients
1 12 oz jar chili sauce
1 16-18 oz jar grape jelly
1/2 cup of water
1 2 lb package cooked frozen meatballs, appetizer size
Instructions
To the liner of the Instant Pot, add jelly, chili sauce, and water in the Instant Pot and stir until smooth.
Add meatballs and mix well. Pressure cook/manual on HIGH pressure for 7 minutes.
Perform a quick pressure release. Gently coat the meatballs with the sauce and serve with toothpicks
Notes
Recipe provided by Make Your Meals
Nutrition Information:
Yield:
20
Serving Size:
1 grams
Amount Per Serving:
Unsaturated Fat:

0g