You will not believe how delicious and easy this Tailgate Dip recipe is to make. With just 4 basic, easy to find ingredients you will have this dip made and in the refrigerator in only 5 minutes!
It is the perfect recipe when you are planning to watch the big game because you actually make it the day ahead of time. That is because it tastes best when chilled for 24 hours.
The time required for it to chill in the refrigerator allows the ingredients to meld the flavors together. Thus, in turn, produces a cold and creamy dip that your family and friends will devour.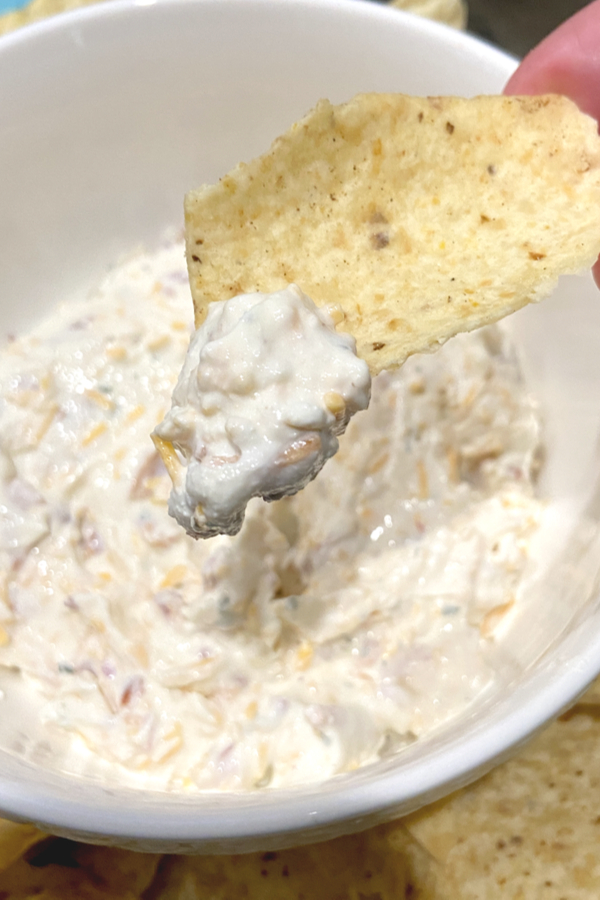 Serve this dip as part of your game day spread with tortilla chips, crackers, toasted baguette slices, pita and/or pretzel chips. Although if you know that you have guests that are coming that are on a low-carb diet, serve it with sliced vegetables as well.
However, be sure to have plenty of vegetable slices on hand because they won't be able to stop eating this dip. Some of my favorite vegetables slices to include are: celery sticks, cucumber slices, broccoli florets, carrots and bell pepper slices.
Is This Tailgate Dip Also Called Crack Dip?
Over the past decade there have been many recipes that have been labeled as crack recipes. The original dip recipe was made with a combination of cream cheese, dried ranch dressing, sour cream, bacon bits, shredded cheese and diced green onions.
It was then baked in the oven and served as a warm, gooey, cheesy dip that no one could resist. In fact, the term 'crack' came out of the comparison that it was so addicting that once you took a bite you wouldn't be able to stop eating it.
However, ever since that original recipe went viral and ended up in almost ever household in America, the trend to label other recipes as 'crack' recipes exploded.
You can find a variety of recipes titled as crack chicken, crack potatoes, crack cookies and even Christmas crack and Christmas crack Chex mix.
I think by now we all understand that the term crack is not meant to be derogatory. Instead, it is an indication that the recipe is absolutely delicious and irresistible.
However, although this recipe is just as addicting as the others, I prefer to call it Easy Tailgate Dip instead of Crack Dip. Although you could also call it Football Dip, TV Dip, Easy Dip, Overnight Dip or even 5 Minute Dip.
Regardless of the name, this dip that you can serve with crackers, tortilla chips, pita chips or veggies will sure to be one that you will make over and over again.
In fact, why don't you change the name to Make it Again Dip or My Favorite Dip instead! Check out the recipe below to see how easy it is to get this prepared for your next event.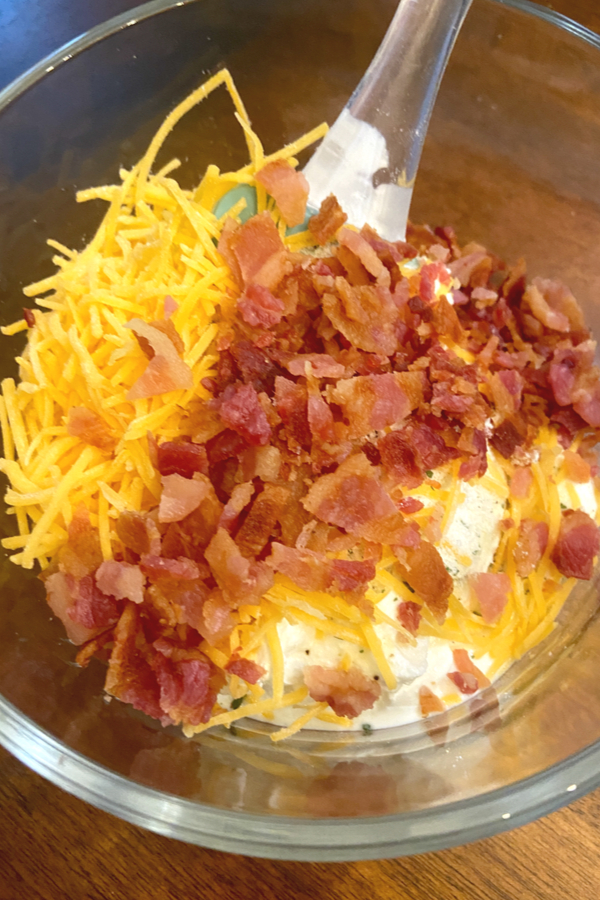 Easy Tailgate Dip Recipe
INGREDIENTS
1. Sour Cream – You can use any type of sour cream that you prefer. Full fat, reduce-fat, or even no fat sour cream will work just fine. However, the texture may be a little thinner if using a low-fat sour cream.
2. Ranch Dressing Mix – The packets of dry ranch dressing mix can be found in the dressing aisle at the grocery store. However, you can also find a bulk shaker of dry Ranch dressing mix in the spice aisle as well.
And if you are super motivated, and would rather make Homemade Ranch Dressing Mix you can do that as well with just a few common spices that you most likely already have in your spice cabinet.
3. Chopped Cooked Bacon – Although I prefer to use to fry up some bacon, or make Air Fryer Bacon, to make my bacon crumbles, you could also use bacon bits instead of fresh bacon. In addition, feel free to use turkey or chicken bacon strips instead of classic pork bacon.
4. Shredded Extra Sharp Cheddar Cheese – There is no need to shred your own cheese for this recipe. Because this easy tailgate dip is served a cold dip, you don't have to worry about how well the cheese will melt. Although I do recommend using a finely shredded cheese so that it mixes in better with the other ingredients and it will be easier to scoop as well.
INSTRUCTIONS
The instructions for this easy tailgate recipe couldn't be easier. Grab a medium size mixing bowl and add all the ingredients to the bowl.
Then use a silicone spatula to mix and blend the ingredients until they are well incorporated. Then transfer the dip to a serving bowl.
Cover the dish and chill in the refrigerator for 24 hours before serving. However, if you made this dip first thing in the morning and wanted to serve it for an evening game, go ahead. The taste will still be delicious.
Serve cold with tortilla chips, crackers, toasted baguettes, pita chips, pretzel chips or sliced veggies.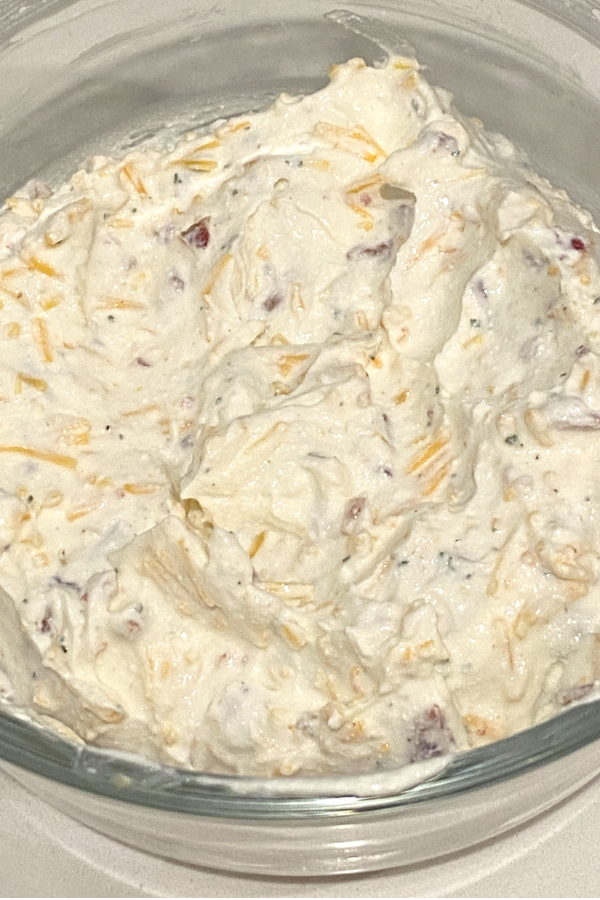 Possible Ingredient Additions
Now that you have the base recipe to make tailgate dip, feel free to adjust the ingredients to your preference. Here are some of the most common ingredient substitutions and/or additions:
1. Greek Yogurt – Make this recipe a little healthier by substituting Greek yogurt for the sour cream. You will still get that familiar tang but with less calories.
2. Add More Protein – If you want to make this a hearty dip, add your favorite protein. Some great additions would be cooked ground hamburger, sausage, or shredded chicken.
3. Add Veggies – Want to sneak something a little healthier in your dip without sacrificing the flavor? Add in a little diced onion, red bell pepper, jalapeños and top with diced green onions.
4. Spice It Up – Speaking of jalapeños, you can make this dip a little on the spicy side. Add those diced jalapeños and stir in a little hot or Sriracha sauce.
Storing Instructions
Store this tailgate dip recipe in a covered container for up to 5 days in the refrigerator. Do not leave the dip out on the counter or table for greater than 2 hours when serving.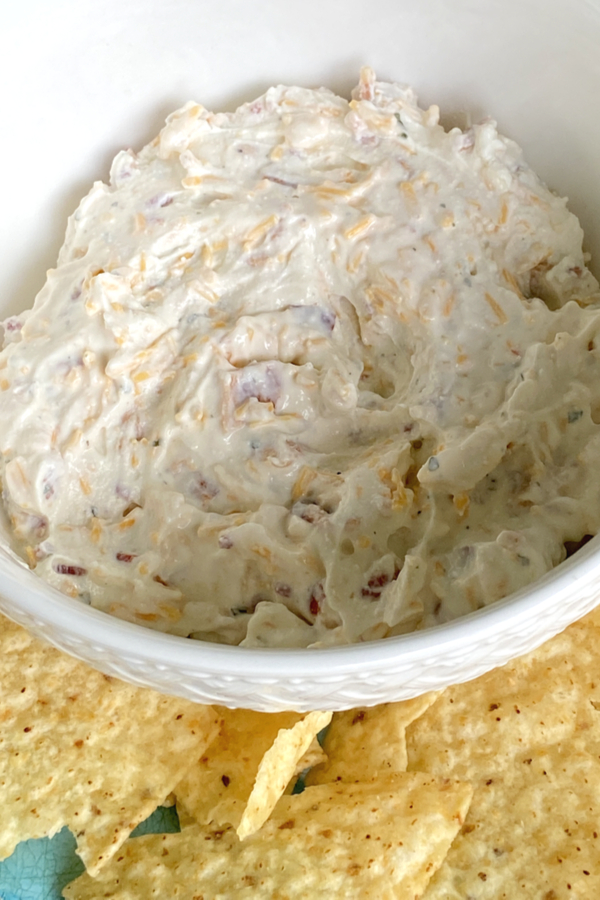 Other Great Dips
Now that you have made this delicious, 5 minute tailgate dip, you may need to fill your table with other dip recipes perfect for a party. Below I have listed some of my favorites, that I am sure that you will enjoy as well!
Enjoy! Mary

To receive our 3 Recipe Articles in your inbox each week, sign up for our free email list located in the middle of each recipe or email me at contact@makeyourmeals.com. You can also follow us on Facebook and Pinterest. This article may contain affiliate links where a small commission is paid if you purchase a product at no additional cost to you.
Easy Tailgate Dip Recipe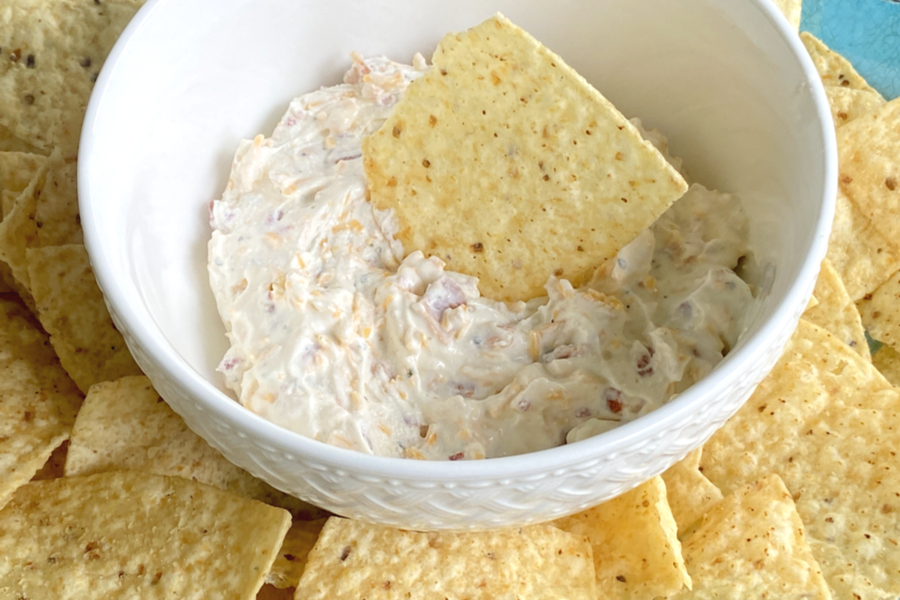 An easy dip recipe that requires just 4 basic ingredients and just 5 minutes to prepare! The perfect addition to any party!
Ingredients
16- oz sour cream
1 packet Ranch dressing mix
¾ cup chopped cooked bacon
1 cup finely shredded cheddar cheese
Instructions
In a medium bowl mix the ingredients together until well incorporated. Then place the dip in a serving bowl and place in the refrigerator for 24 hours before serving.
Serve with chips, tortilla chips, pretzels, toasted baguettes, or sliced vegetables.
Notes
Recipe provided by Make Your Meals
Nutrition Information:
Yield:
8
Amount Per Serving:
Calories:

214
Total Fat:

18g
Saturated Fat:

9g
Trans Fat:

1g
Unsaturated Fat:

6g
Cholesterol:

55mg
Sodium:

515mg
Carbohydrates:

5g
Fiber:

0g
Sugar:

3g
Protein:

8g
Nutritional Information is to be used as a general guideline only . Nutritional calculations will vary from the types and brands of the products used.