When I first tried Fried Ravioli as an appetizer, my mind immediately went to thinking about how I could make them in my Air Fryer. I mean who could resist large pieces of ravioli filled with cheese and then breaded, deep fried, and served with marinara sauce for dipping?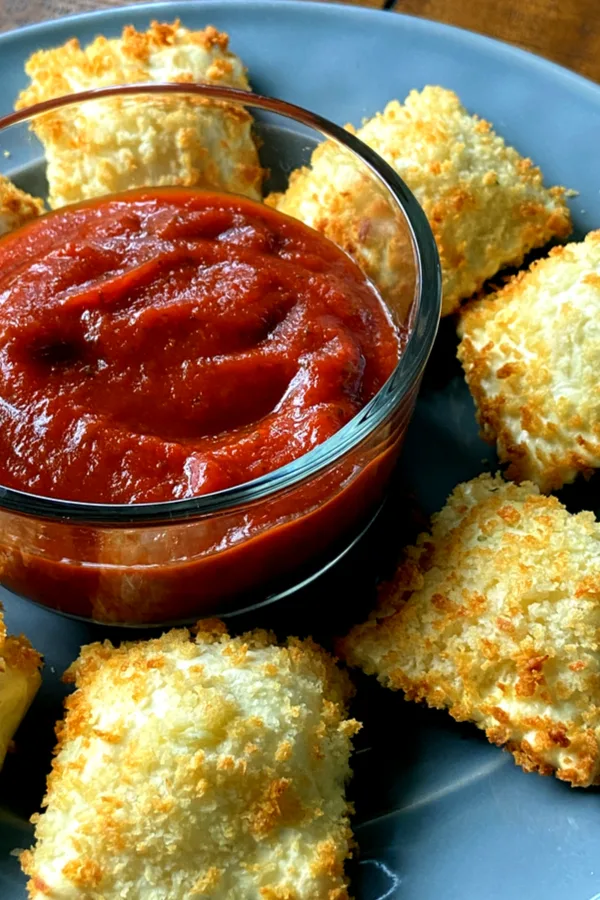 Not me! But I knew that to make it a little healthier, that I would have to find a way to make it without deep frying the delicious pockets of pasta. So that is when I turned to my Air Fryer!
I have made several air fryer appetizers that my family absolutely loves. And for me, it gives me a great sense of relief that they aren't cooked in oil or grease.
Some of our favorite Air Fryer Appetizers include:
And because I wasn't going to be making homemade ravioli, I knew that this recipe would be super easy to make!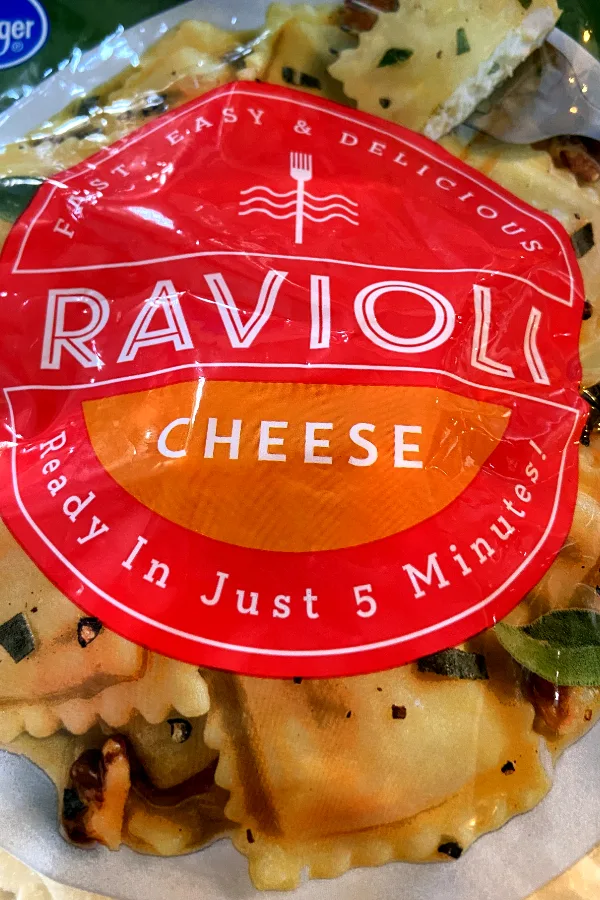 How to Make Air Fryer Fried Ravioli
Ingredients
Frozen Ravioli – any variety
Buttermilk
Panko Breadcrumbs
Olive Oil
Marinara Sauce, for dipping
Instructions
The first step in making Fried Ravioli is to preheat the Air Fryer. Although I know that many varieties don't require this preheating step in general, it is important to do it for this recipe.
That is because you want the basket to be nice and hot when adding the frozen ravioli. This will help prevent the pasta from slowly heating up and sticking to the surface. Instead, the frozen pasta will be seared when it first touches the hot basket.
While the air fryer preheats prepare a dredging station. In a shallow bowl add the buttermilk. Then add breadcrumbs to another shallow bowl and set them side by side.
Buttermilk Substitute
If you are like me, unless I am baking a lot, I rarely have buttermilk in my refrigerator. No worries! You can make your own buttermilk with just a few ingredients.
In a liquid measuring cup, add 1 1/2 teaspoons of lemon juice or white vinegar. Then pour milk into the cup until it reaches the 1/2 cup marker. Stir and let the mixture sit for 5 minutes.
You will notice a little curdling at the top of the cup. Stir and now you have made your own buttermilk that you can use to make Air Fryer Fried Ravioli!
Breading and Cooking
Now that you have the dredging station set up, dip each piece of frozen ravioli in the buttermilk, or buttermilk substitute, and then in the breadcrumbs. I found that it works best if I let the ravioli sit in the buttermilk for a few seconds before transferring it to the breadcrumb bowl.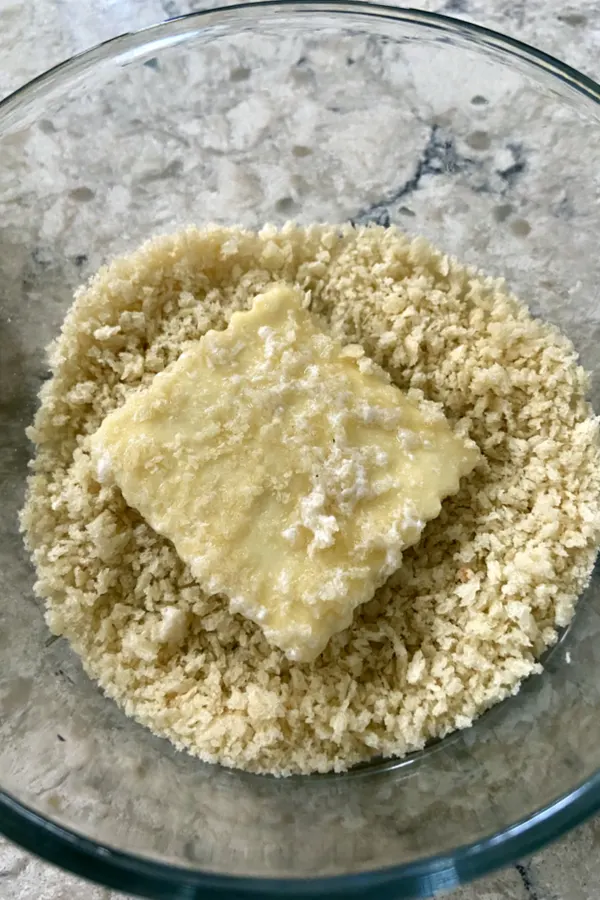 Lightly pat the breadcrumbs onto each piece of the ravioli so that it sticks. Then place the breaded ravioli into the basket of the air fryer in a single layer. Cook for 4 minutes. Then spritz the tops of the ravioli with olive oil. Then continue to cook for 2-3 more minutes.
*Each Air Fryer brand cooks at different rates, so be sure to check the Fried Ravioli frequently so that you can remove them when they are golden brown in color. However, be aware that this may occur at different rates, depending on how even your air fryer cooks.
Serving Options
Once the Fried Ravioli are done, line them on a serving plate as an appetizer and serve with marinara sauce or Ranch dressing for dipping. We make our own homemade marinara sauce, however any store bought variety would work too.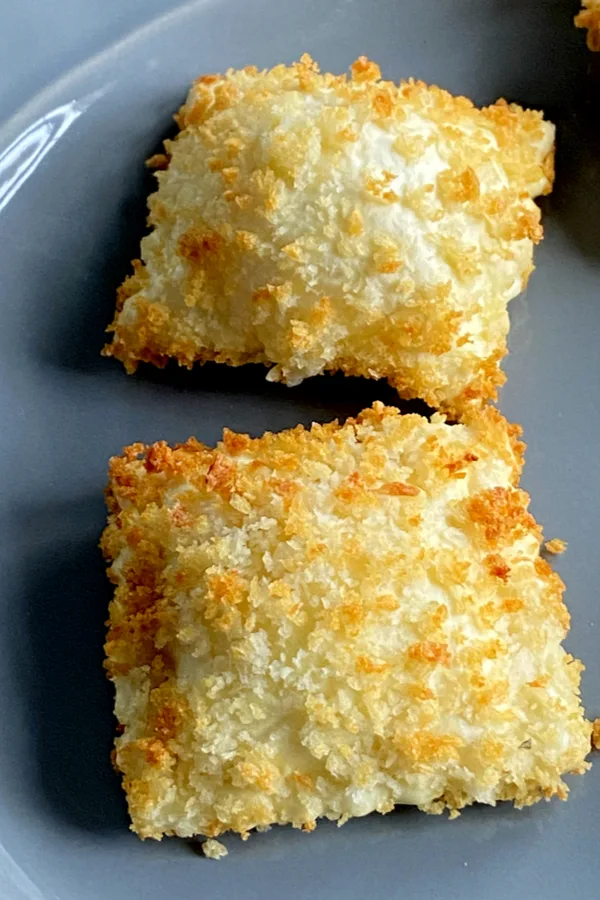 You can also serve the Fried Ravioli as a main dish as well. Serve it over a bed of pasta with marinara sauce drizzled on top.
What pairs well with Air Fryer Fried Ravioli as the main dish:
Spring Salad
Garlic Bread
Grilled or Steamed Broccoli

To receive our 3 Recipe Articles in your inbox each week, sign up for our free email list located in the middle of each recipe or email me at contact@makeyourmeals.com. You can also follow us on Facebook and Pinterest. This article may contain affiliate links where a small commission is paid if you purchase a product at no additional cost to you.
Yield: 4
Air Fryer Fried Ravioli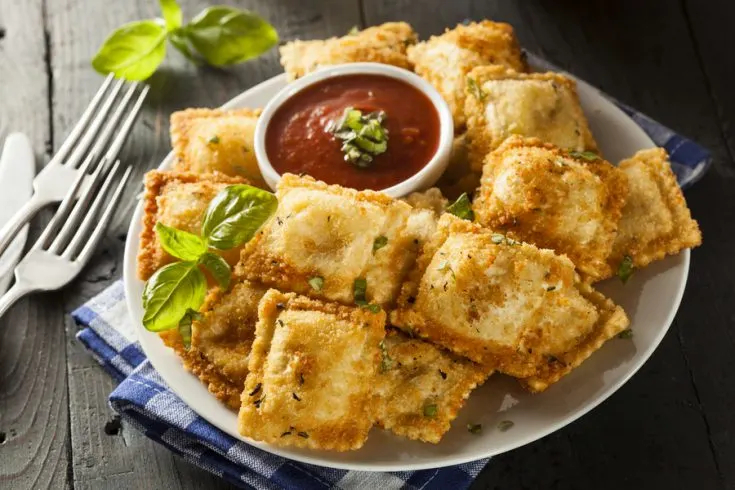 Frozen Ravioli coated with crispy breadcrumb mixture and then cooked in the air fryer for the perfect Toasted Ravioli that tastes like it was deep fried!
Ingredients
16 frozen ravioli
1/2 cup buttermilk
1/2 cup Italian breadcrumbs
olive oil
Marinara Sauce, for dipping
Instructions
Preheat air fryer to 400°F (200°C) for 5 minutes.
Place the buttermilk in a small, shallow bowl and in another shallow bowl add the breadcrumbs.
Dip each piece of frozen ravioli into the buttermilk and then in the breadcrumbs, patting them lightly to make sure the breadcrumbs adhere to the surface.
Place each breaded ravioli into the air fryer in one single layer and cook for 6-7 minutes, spritzing the tops with oil halfway through.
Serve warm with marinara sauce for dipping.
Notes
*substitute buttermilk by filling a large measuring cup with 1 1/2 teaspoons of lemon juice or white vinegar and filling it up with milk to the 1/2 cup line. Stir, then wait 5 minutes.
Recipe provided by Make Your Meals
Nutrition Information:
Yield:
4
Serving Size:
1
Amount Per Serving:
Calories:

281
Total Fat:

11g
Saturated Fat:

5g
Trans Fat:

0g
Unsaturated Fat:

6g
Cholesterol:

24mg
Sodium:

645mg
Carbohydrates:

32g
Fiber:

2g
Sugar:

4g
Protein:

12g
Nutritional Information is to be used as a general guideline only . Nutritional calculations will vary from the types and brands of the products used.