One of our very favorite things to make for a party or get together is Smoked Chicken Wings.
After being in the smoker, they are not only extremely flavorful, but the meat literally falls off of the bone.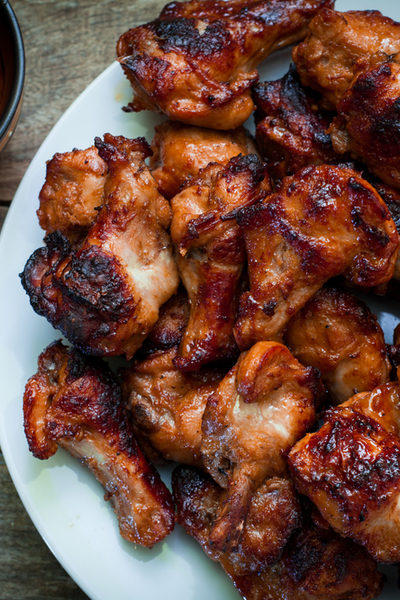 In fact, they have become a crowd favorite among our family and friends.
Every time that we host a backyard barbecue, tailgate party or just an impromptu gathering of friends, we always get asked if we will be making our famous smoked chicken wings.
And although it does take a little time to make them, it is well worth it!
The Keys To Smoking Chicken Wings
However, there are a few tips that will help make them perfect.
First of all, you must start with thawed out chicken wings. If your wings are frozen, the smoke will not be able to penetrate through the skin as well.
Also, if you put the wings in the smoker frozen, the cooking times required for the wings to reach a safe temperature will vary widely.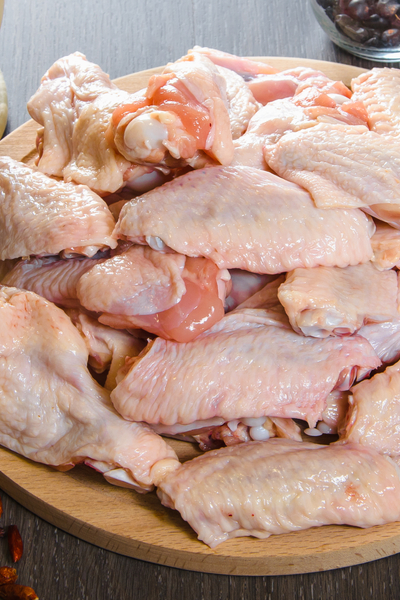 Some wings will get done before others and you will be spending all of your time checking every wing with a digital thermometer. And that may take all afternoon.
It just isn't worth the hassle! Simply make sure that your wings are thawed out before getting them ready to head into the smoker.
Dry Rub Ingredients
Whether you chose to brush your wings in your favorite barbecue sauce or not, you will want to add a light dry rub mixture to your wings.
The addition of the seasonings adds great flavor to the skin of your wings and allows them to crispy up beautifully.
The dry rub mixture that is used in this recipe is our standard, go-to dry rub that we use for various recipes. In fact, we will quadruple the ingredients and store the remainder in a sealed mason jar.
That way it is ready to use at a moment's notice.
We use it not only on our wings, but also when we cook whole chickens and we sprinkle them on our Instant Pot Chicken Legs as well.
However, if you already have a favorite dry rub, such as Applewood Smoked Dry Rub, feel free to use that instead.
The flavor of the dry rub is totally based on your preference.
What type of Wood Chips To Use When Smoking Chicken Wings
Now that you know what type of dry rub to use, the next decision comes when you are deciding what type of wood chips to use to smoke your chicken wings.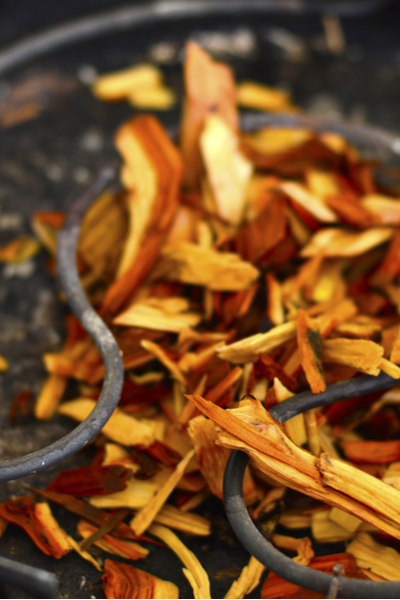 You can purchase a variety of wood chips at your local hardware store that sells grills. And during the grilling season, you can often find them at your local grocery store.
Hickory, Mesquite and Apple wood are the most common varieties that you will find.
However, we prefer to smoke our chicken wings with hickory chips. They provide a deep smoky flavor that compliments the tender chicken wings perfectly.
Although you can also use apple or pecan wood if you are looking for a milder, smoked flavor.
To Soak or Not To Soak
Beyond popular belief, when it comes to putting the wood chips in the smoker you don't have to soak them in water.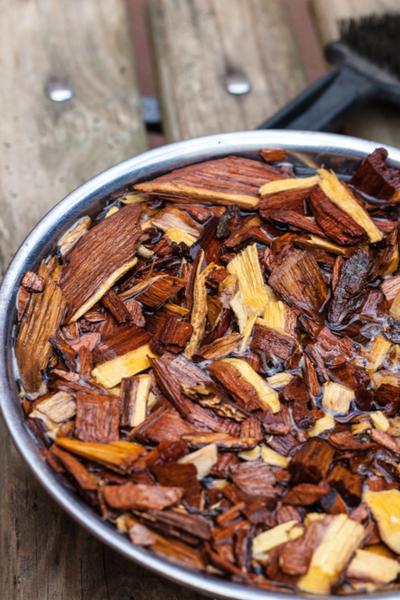 However, it has been my experience that soaking them at least an hour before hand allows the smoke to flow much quicker and more freely.
This is important point to consider since your wings require a relatively short cooking time as compared to larger items like Smoked Brisket.
But the choice is really up to you. Either way, the addition of the wood chips at the beginning of the cooking process will allow enough smoke to be released to make your smoked wings delicious!
When To Add The Barbecue Sauce To Your Smoked Chicken Wings
Before we let you know when to add your barbecue sauce, it is important to note that barbecue sauce is totally optional.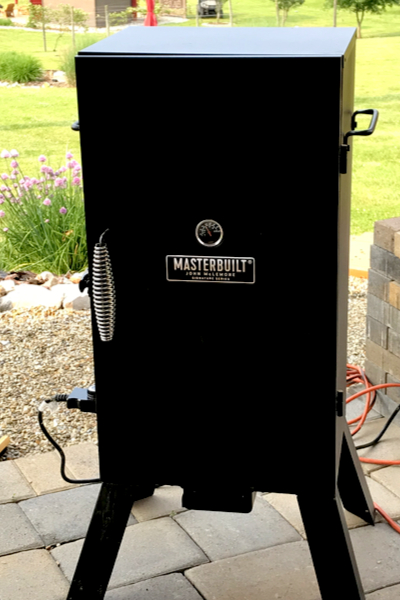 Between the flavor of the wood chips and the dry rub seasoning, you may find that you smoked chicken wings are perfect without adding any sauce at all.
However, if you want to add your favorite barbecue sauce, you surely can!
Brush NOT Toss
Fried chicken wings are thrown into a large bowl after they have been cooked and tossed with the barbecue sauce.
But because smoked wings literally fall apart when you cook them in the smoker, it is best to brush the barbecue sauce on the wings using a pastry brush.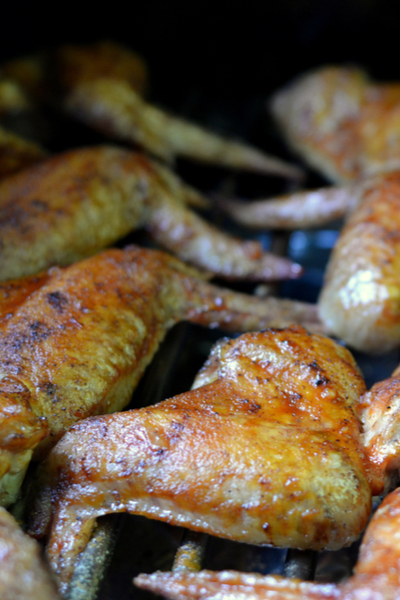 The addition of the sauce should be completed about 20-30 minutes before the cooking time expires. This is also when you are going to crank up the heat to crisp up the skin.
The caramelization of the sauce will adhere perfectly to the wings and will leave you with great flavor, without all of the mess of eating traditional wings tossed in sauce.
Now that is a win-win situation!
What To Serve With Smoked Chicken Wings
So now that you have the star of the show, it is time to determine what side dishes that you will serve with your smoked chicken wings?
Just like any barbecue, we love to serve the following side dishes with our wings: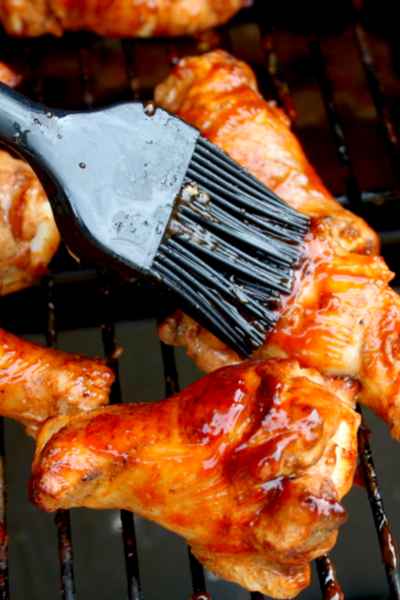 And of course, you can't forget to wash it down with a nice cold beverage of your choice!


To receive our 3 Recipe Articles in your inbox each week, sign up for our free email list located in the middle of each recipe or email me at contact@makeyourmeals.com. You can also follow us on Facebook and Pinterest. This article may contain affiliate links where a small commission is paid if you purchase a product at no additional cost to you.
Smoked Chicken Wings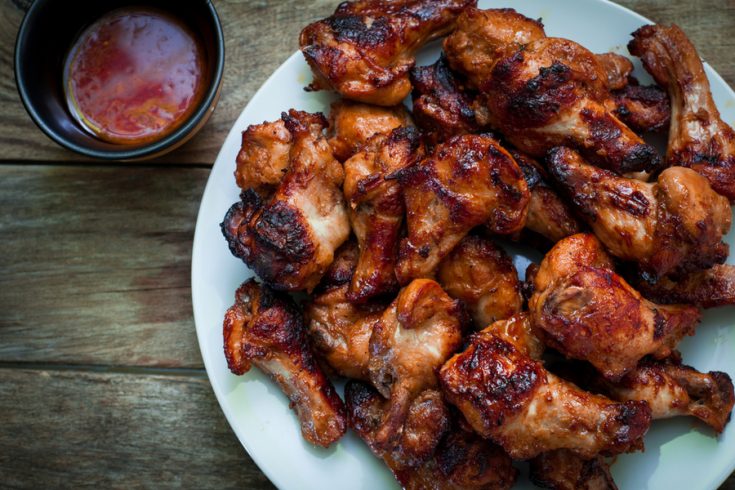 Fall apart, tender chicken wings that are coated in a light and flavorful dry rub and smoked to perfection then coated in barbecue sauce for an award winning recipe.
Ingredients
3 pounds chicken wings, thawed
1 tablespoon olive oil
1 tablespoon chili powder
1 tablespoon sweet smoked paprika
1 1/2 teaspoons ground cumin
1 1/2 teaspoons garlic powder
1 1/2 teaspoons onion powder
1 1/2 teaspoons kosher salt
1 1/2 teaspoons black pepper
1 teaspoon ground cayenne pepper
Instructions
Place approximately 3 cups of wood chips in a large bowl and cover with water. Let sit for at least one hour prior to smoking your wings.
Rinse wings with water and pat dry with paper towels to remove excess liquid, let air dry for at least 10 minutes.
Place wings in a large bowl and rub olive oil evenly into each piece.
In a small bowl combine the remaining ingredients.
Sprinkle half of the season mix onto the chicken wings. Flip wings and sprinkle remaining half onto wings.
Let the dry rub sit on the wings for at least 30 minutes.
Preheat smoker to 250 degrees.
Place chicken wings on the racks, placing the largest pieces (usually the legclosest to the heat source.
Add water-soaked wood chips to the box/tray on your smoker.
Smoke wings maintaining a 250 degree temperature for 45-60 minutes.
Flip wings and add more chips if desired. Smoke an additional 30 minutes.
Check internal temperature of wings. Once they reach 155 degrees increase temperature to 375 degrees F and crisp the outer edge for approximately 20-30 minutes. If desired, brush barbecue sauce on each side of the wings before increasing the temperature.
Remove from heat and cover until served.
Notes
Recipe provided by Make Your Meals
Nutrition Information:
Serving Size:
1 grams
Amount Per Serving:
Unsaturated Fat:

0g