Whenever we have a casual gathering of family or friends you can bet that someone will be making a delicious Hot Pizza Dip Recipe to share. A creamy dip flavored with Italian seasoning, marinara sauce and of course, your favorite pizza toppings.
As much as I love Pepperoni Dip, there are times when I want a hot, cheesy dip instead. A delicious appetizer that I can easily dip a breadstick or tortilla chip in, and with just one bite it reminds me of my favorite pizza.
Best of all, with a little planning this recipe can be made from start to finish in under 15 minutes! It is the perfect game day recipe, or a quick and easy appetizer when your friends make an unexpected visit.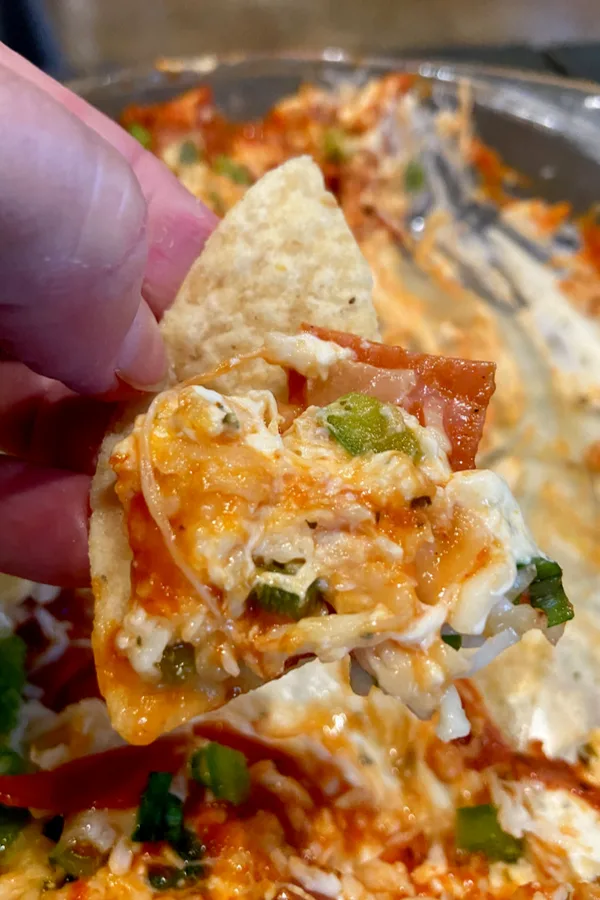 Because I almost always have all the ingredients stocked in my kitchen, it is my go-to, last minute, appetizer recipe. Everyone loves pizza, so I never have to worry about storing any leftovers at the end of the evening.
Customize The Ingredients
However, the absolute best part about this recipe is that it can be customized with your favorite ingredients. For instance, if your favorite pizza toppings are ground sausage, mushrooms, and onions, but all means, add them to the dip!
The key to this hot pizza dip recipe is to have a base layer of seasoned cream cheese spread in the bottom of a glass pie plate, or another microwave safe, shallow dish. Then top the cream cheese with Italian blend or Mozzarella shredded cheese.
Add in a few toppings and pour your favorite pizza sauce over top. The next two layers will consist of more shredded cheese and then your favorite toppings.
All that is left to do is put it in the microwave until the cheese is melted and the dip is nice and hot. Of course, if you don't want to use the microwave, you can heat the dip in the oven.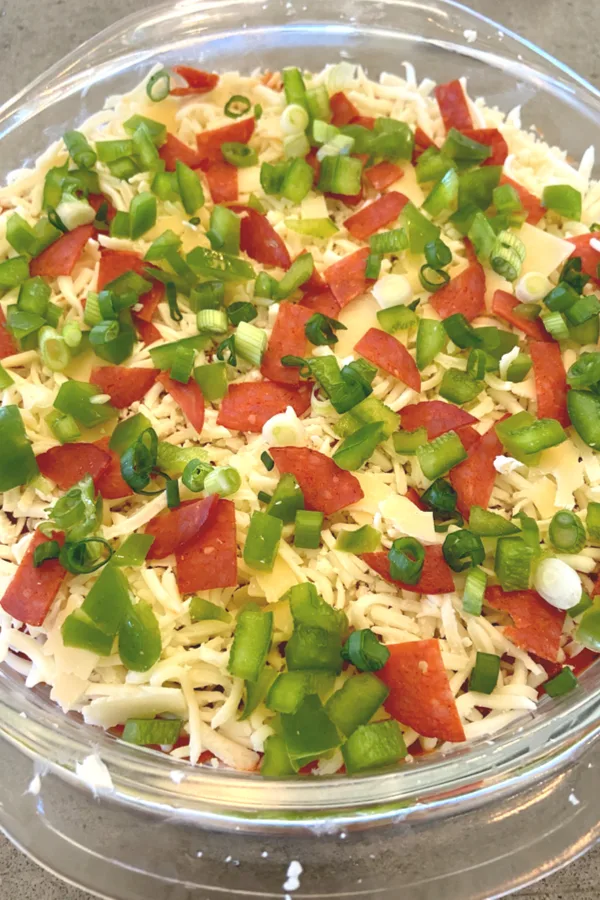 Simply place the dish in a preheated oven and let it cook until the cheese has completely melted and the dip is bubbling around the inside edge of the pan. Although the oven method will take longer, it will still taste delicious!
So now that you know the basics of this recipe, I will walk you through how to make it, step by step. Although this recipe is delicious as written, and the way I make it 90 percent of the time, feel free to customize the ingredients to your liking.
Hot Pizza Dip Recipe
*Specific measurements and complete recipe instructions are located in a printable recipe card at the bottom of this article. However, be sure to continue to read the tips and tricks to making this recipe below.
INGREDIENTS
Cream cheese, softened
Italian seasoning
Italian blend shredded cheese
Pepperoni, diced
Pizza sauce
Chopped green pepper
Thinly sliced green onion
Breadsticks or tortilla chips, for serving
INSTRUCTIONS
The instructions to make this hot pizza dip recipe are pretty simple and straight forward. And it all begins with softening the cream cheese.
Although many recipes require the block of cream cheese to be softened to room temperature, this is not the case for this recipe. Because we are making a hot dip, we don't have to worry about it being super soft.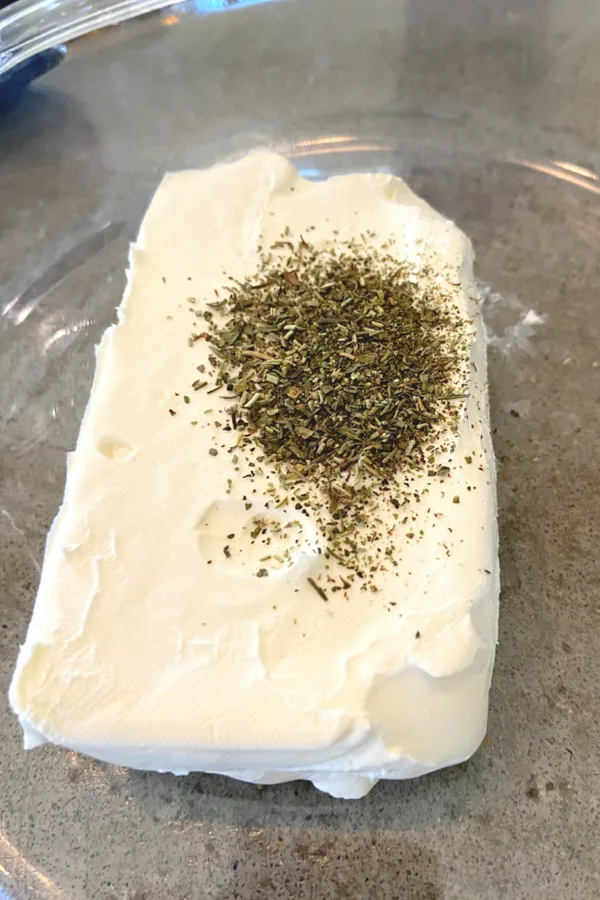 In fact, because I most often make this dip as a spur of the moment, last minute recipe, I never have the time to set the block of cream cheese on the counter to soften. Instead, I open up both the cardboard and foil packaging and place the block on a plate.
How To Soften Cream Cheese
Then place the cream cheese in the microwave for 10 seconds. You want the cream cheese to be just a little soft, but not mushy. Therefore, if you need to microwave it a little more, do so in 5 second increments.
Next, place the 'softened' cream cheese in a medium size mixing bowl. Then sprinkle the dry Italian seasoning on top.
The extra layer of flavor added to the cream cheese will really give you that authentic pizza taste. However, be sure that you blend the cream cheese and seasoning long enough so that it is well incorporated.
You want every bite of the hot pizza dip to have that amazing flavor. Therefore, blend it for at least 2-3 minutes before proceeding with the next step.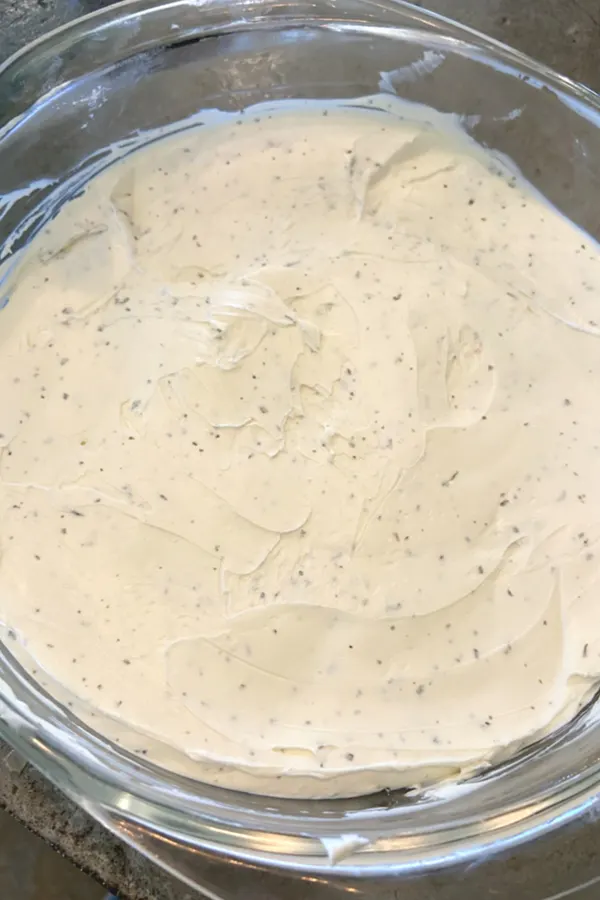 Gather a 9-inch, microwavable safe glass pie pan. Although it is ideal to use the shape of a pie pan for this recipe, if you don't have one you can use any other shallow, 8-9 inch microwavable dish that you have.
Layer The Ingredients
Now that you have your pan ready to go, spread the cream cheese mixture in the bottom of the pan. The pan does not need to be sprayed with non-stick cooking spray or greased before spreading the cream cheese inside.
Then sprinkle half the Italian blend shredded cheese over top of the seasoned cream cheese mixture. If you don't have Italian blend shredded cheese, you can use shredded Mozzarella, Parmesan, and/or Provolone cheese as a substitute.
Once the shredded cheese has been added, sprinkle half of the diced pepperoni on top. This extra layer of pepperoni will increase the risk of you getting a piece in every bite.
Next, pour your favorite pizza sauce on top. Then sprinkle the sauce with the remaining cheese and pepperoni.
Now add some diced green pepper and onion on top. If you want to use any additional toppings, feel free to do so!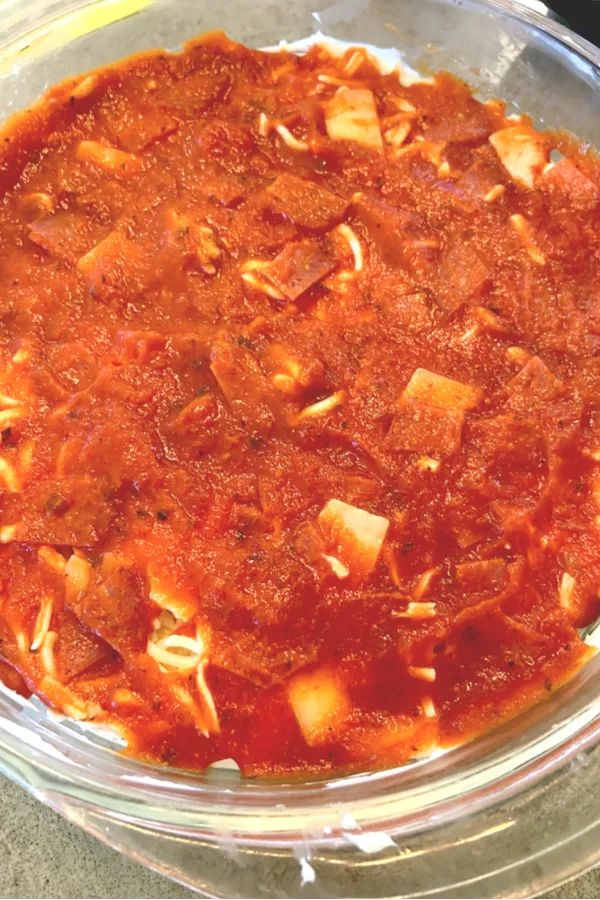 However, if you are wanting to add mushrooms as one of the toppings, I highly suggest you saute them for a few minutes before placing them on top. Because this dip heats up quickly in the microwave, the mushrooms will taste better if they have been sautéed.
Cook Time
Once you have everything assembled, place the dish in the microwave, and cook the hot pizza dip, uncovered on HIGH power for 2-3 minutes. The dip will be done when the cheese is melted.
If your microwave does not have a rotating base, turn the dish a few times during the heating process. Then carefully remove the dish from the microwave and let it stand for 1-2 minutes before serving.
This is the hard part! The dip looks so good that you want to eat it right away. However, we all know how hot cheese can get when it is melted in the microwave.
Therefore, to prevent burning the inside of your mouth, let it sit just a couple minutes before serving. Serve with tortilla chips, toasted baguettes or breadsticks.
Other Pizza Inspired Recipes
If you enjoy all things Pizza, you might be interested in some other pizza inspired recipes.
Enjoy! Mary

To receive our 3 Recipe Articles in your inbox each week, sign up for our free email list located in the middle of each recipe or email me at contact@makeyourmeals.com. You can also follow us on Facebook and Pinterest. This article may contain affiliate links where a small commission is paid if you purchase a product at no additional cost to you.
Easy Hot Pizza Dip Recipe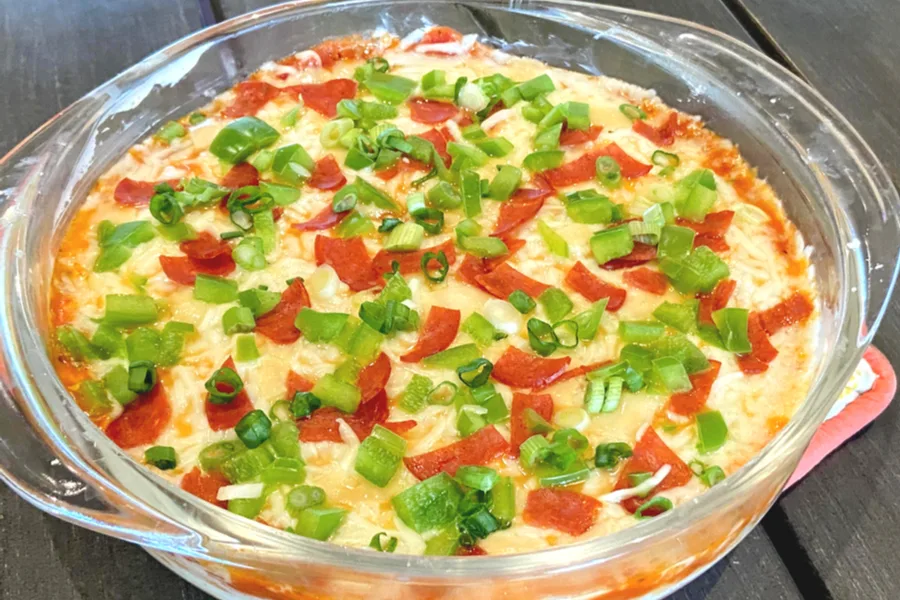 A super easy cream cheese based pizza dip that is cooked in the microwave. An easy party dip recipe that is ready to eat in under 15 minutes!
Ingredients
1 package (8 ounces) cream cheese, softened
1 teaspoon Italian seasoning
1 3/4 cup Italian blend shredded cheese
1/4 cup pepperoni, diced
1 can (8 ounces) pizza sauce
2 tablespoons chopped green pepper
2 tablespoons thinly sliced green onion
Breadsticks or tortilla chips
Instructions
In a medium bowl, beat the room temperature cream cheese and Italian seasoning together until well blended. Spread the mixture in an ungreased 9-in. microwave-safe pie plate.
Sprinkle half the Italian blend shredded cheese over top of the cream cheese mixture. Add 1/2 of the diced pepperoni on top.
Pour the pizza sauce on top and then with the remaining cheese and pepperoni. Sprinkle green pepper and onion on top.
Place the dish in the microwave, and cook uncovered on high for 2-3 minutes or until cheese is almost melted, rotating a half-turn several times if your microwave doesn't have a spin carousel. Let stand for 1-2 minutes.
Serve with tortilla chips, toasted baguettes or breadsticks.
Notes
Recipe provided by Make Your Meals
Nutrition Information:
Yield:
10
Amount Per Serving:
Calories:

120
Total Fat:

9g
Saturated Fat:

5g
Trans Fat:

0g
Unsaturated Fat:

4g
Cholesterol:

26mg
Sodium:

265mg
Carbohydrates:

3g
Fiber:

0g
Sugar:

1g
Protein:

6g
Nutritional Information is to be used as a general guideline only . Nutritional calculations will vary from the types and brands of the products used.