Homemade pizza rolls are a great way to enjoy all of the flavors of your favorite pizza, but in easy to eat, bite size pieces.
We began making pizza rolls as a way to make pizza night a little more casual and fun. The kids always loved to help us in the kitchen on pizza night and we wanted to make sure they continued to enjoy cooking.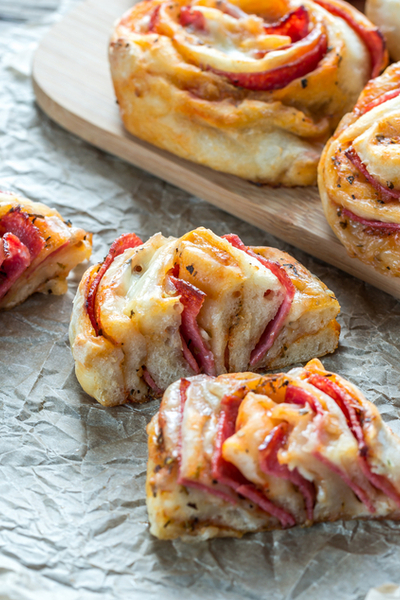 So we decided to mix things up and see how many creations we could make using their favorite pizza ingredients.
Pizza casserole was a huge hit. This recipe combines all of the flavors of traditional pizza, but instead of using dough it uses pasta as it's base. See Recipe HERE
It is the perfect meal for a sit down family dinner. Even the pickiest eaters love pizza casserole.
And another family favorite – pizza muffin bites and air fryer calzones.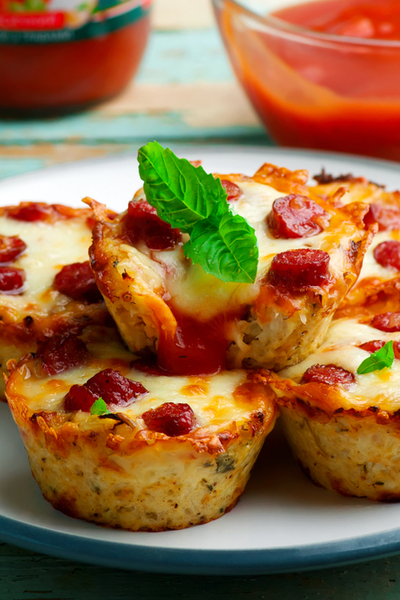 But on the night that we made pizza rolls we had other plans. Our favorite football team was playing at the same time as dinner. So that meant that we had to create something quick and easy to eat.
Homemade pizza rolls were the perfect answer!
Because we had other typical tailgate foods already prepared for the game, such as our Cheesy Bacon Ranch Pull Apart Bread, we knew that we didn't need a make a full meal. So we decided to turn this pizza night into an appetizer night.
How To Make Pizza Rolls
The first step in making pizza rolls is to prepare the pizza dough. Although you could take the time to make Homemade Pizza Dough, we most often use refrigerated pizza dough.
You can find this product next to the biscuits and crescent rolls in the refrigerated case. It comes in a long tube and you can often find it with both brand and generic names.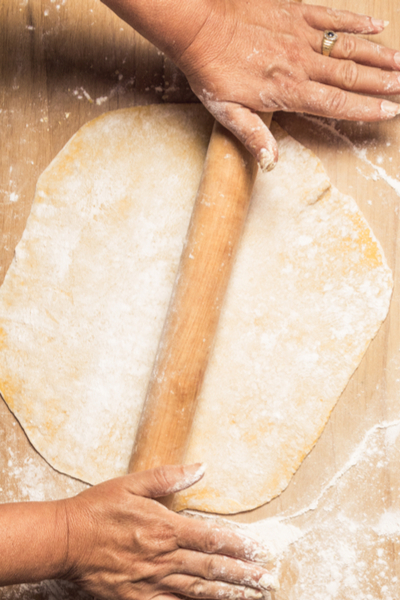 When you are ready to make your pizza rolls, flour a clean work surface. then roll out the pizza dough. Then you need to decide if you are going to add a little bit of pizza sauce to the dough.
However, when I say little, I mean a tiny bit. Just enough for the cheese and pepperoni to adhere to the crust. This step is not necessary, but an option.
Next, sprinkle garlic salt and dried Italian season over the top of the crust. Then add the Mozzarella and Parmesan cheese on top. Finally, add your pepperoni.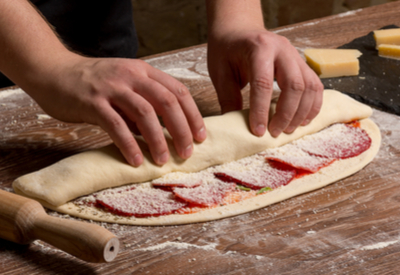 I find that diced pepperoni makes it easier to cut the pizza rolls, but if you are in a hurry, you can use whole pieces of pepperoni as well.
Now it is time to roll up the dough. Start at the short end and tightly roll the dough until it forms a log. Pinch the seam together to seal.
Cutting Tips
Now it is time to slice your pizza rolls into bite size, individual pieces.
It is best to use a serrated knife when cutting through the dough. A standard kitchen knife tends to compress the dough rather than saw through the ingredients.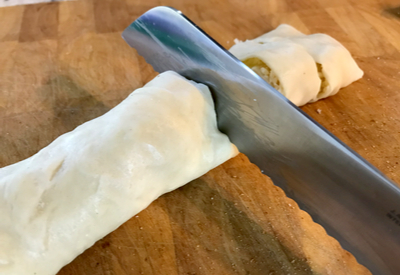 Place each piece, face side up on a lightly greased, rimmed baking sheet. Bake in a preheated oven for10 minutes, until light golden brown. Remove them from the oven and transfer to a large platter with a small bowl of marinara sauce in the center for serving.
They were the perfect addition for pizza and game night!
We have made these several times to take to parties, eat as an afternoon snack or for a quick and easy light dinner meal.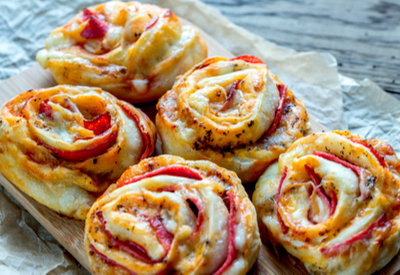 Check out the printable recipe below and all of our recipes and let me know what you think!
To receive our 3 Recipe Articles in your inbox each week, sign up for our free email list. You can also follow us on Facebook, Twitter, Pinterest, and Instagram. This article may contain affiliate links.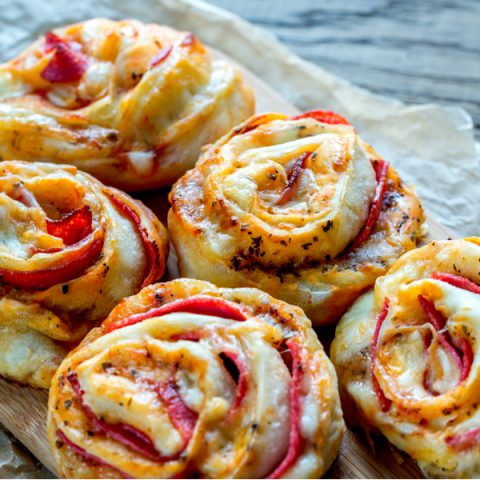 Pizza Rolls
A pizza inspired snack or appetizer that is easy to eat and is a fantastic addition to any party!
2 tubes of refrigerated pizza crust
Ingredients
2 tubes of refrigerated pizza crust
garlic salt
Italian seasoning, to taste
1 cup shredded mozzarella cheese, to taste
1/2 cup Parmesan cheese
1 cup sliced and chopped pepperoni
marinara sauce
Instructions
Preheat oven to 425 degrees F
Dust a large surface with flour and roll out each pizza crust.
Sprinkle garlic salt and Italian seasoning directly on each crust.
Add the Mozzarella and Parmesan cheeses and diced pepperoni, spreading it within ½ inch of the edges of the crust.
Starting with a short end, carefully roll crust into a tight log.
Using a serrated knife, slice each roll into 1-inch sections.
Place pizza rolls on a lightly greased pan and bake for 10-12 mins or until golden brown.
Serve immediately with marinara sauce for dipping.
Notes
Recipe provided by Make Your meals
Nutrition Information:
Serving Size:

1 grams
Amount Per Serving:
Unsaturated Fat:

0g