On New Year's Eve, we always have one shrimp appetizer, and this year we will be serving my favorite Shrimp Ceviche recipe.
As much as I love shrimp cocktail, Air Fryer Bang Bang Shrimp, and Bacon Wrapped Shrimp, there is just something refreshing about taking a bite into what the kids like to call 'shrimp salsa'.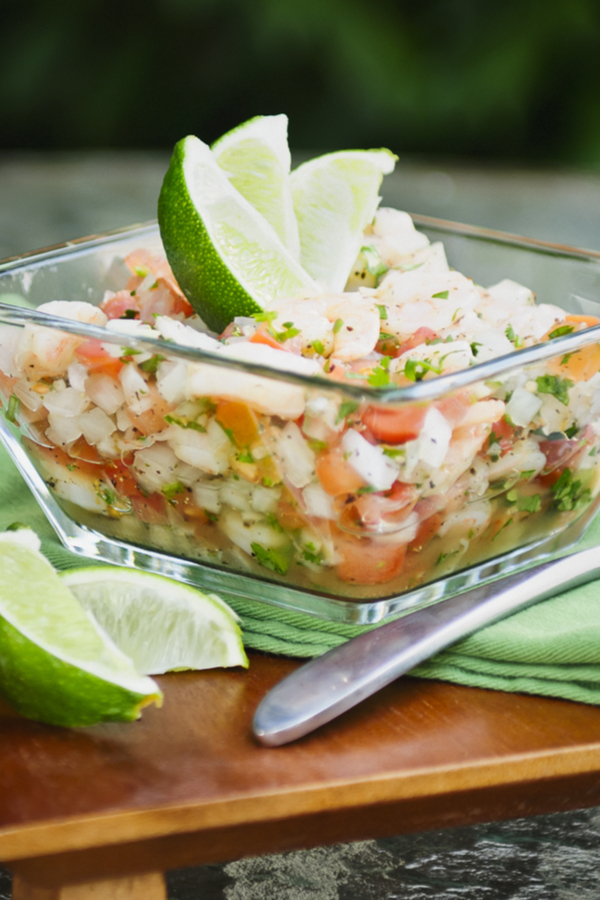 And I would have to agree with them, that it is like a fresh salsa recipe. If you have never heard of this dish, let me explain. Shrimp is marinated in lime juice and tossed with diced vegetables and served with tortilla chips or baguettes.
Sounds pretty easy, right? There is no cooking or steaming of the shrimp. Just dice everything together and you have a delicious, and addicting appetizer to share with family and friends.
How to Make Shrimp Ceviche
Ingredients
Shrimp
Lime Juice
Roma Tomatoes
Avocado
Jalapeno Pepper
Cucumber
Red Onion
Cilantro
Salt and Pepper
The first question that I always get asked when I share this recipe is about the shrimp. This recipe 'requires' you to use a pound of raw shrimp. That is because the shrimp gets cooked when it soaks in the acidic lime juice.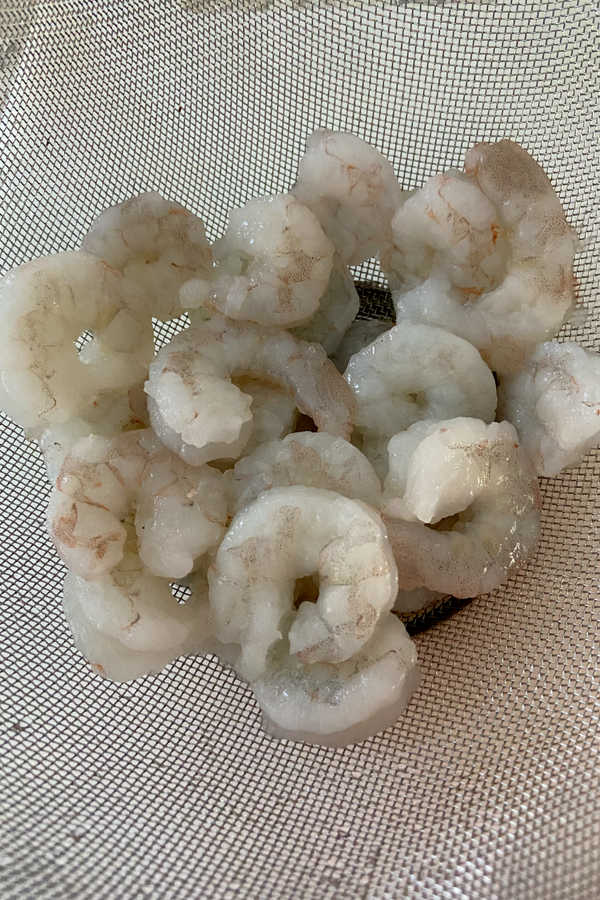 This method will make for the best, most tender Shrimp Ceviche. However, with that being said, if you prefer to use pre-cooked shrimp, by all means, do so!
I have used leftover shrimp from a shrimp cocktail tray to make this recipe the next day. And although the pieces of shrimp weren't as tender, it was still absolutely delicious.
And the next question that comes is about the jalapeno pepper. If you don't like a little spice in your recipes, be sure to remove the ribs and seeds before dicing the pepper. On the contrary, if you enjoy a little heat, keep them in or use Serrano peppers instead.
Instructions
If you are going to use raw shrimp, make sure to peel and devein them. You can purchase fresh shrimp at the Seafood counter and sometimes they will already be peeled and deveined.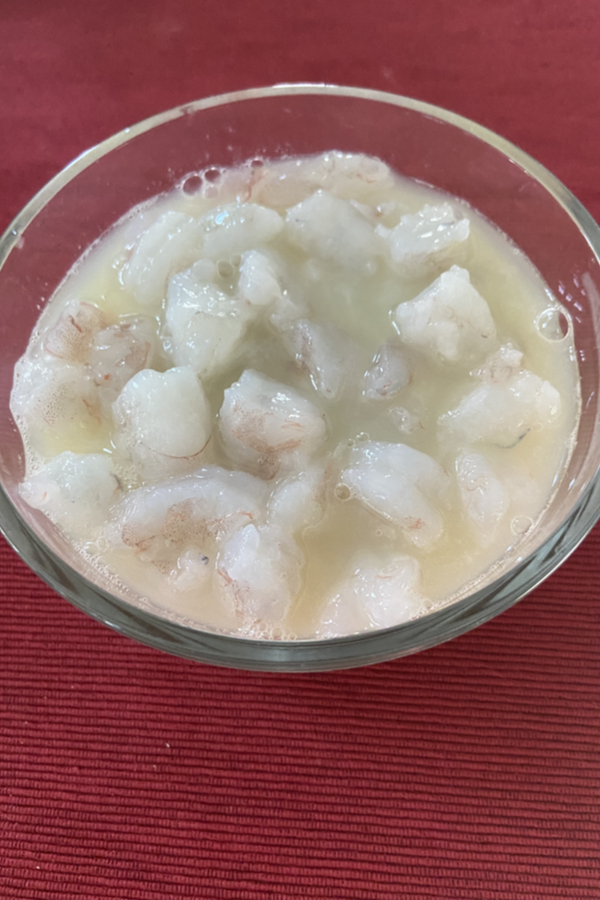 However, I typically buy a bag of frozen, wild caught shrimp in the Seafood freezer section at the grocery store. They are raw, peeled and deveined. They only thing that I have to do is thaw and cut into bite size pieces.
Speaking of cutting the shrimp, some people to prefer to leave them whole in a Shrimp Ceviche recipe. Although the presentation looks stunning, I find it more practical to cut them into pieces so that I can scoop them up with a tortilla chip.
Now that your shrimp is ready, it is time to soak them in lime juice. As mentioned above, the acid from the citrus juice will 'cook' the shrimp while it marinades. You will notice that the shrimp will turn opaque and slightly pink in color after soaking for 30 minutes to an hour.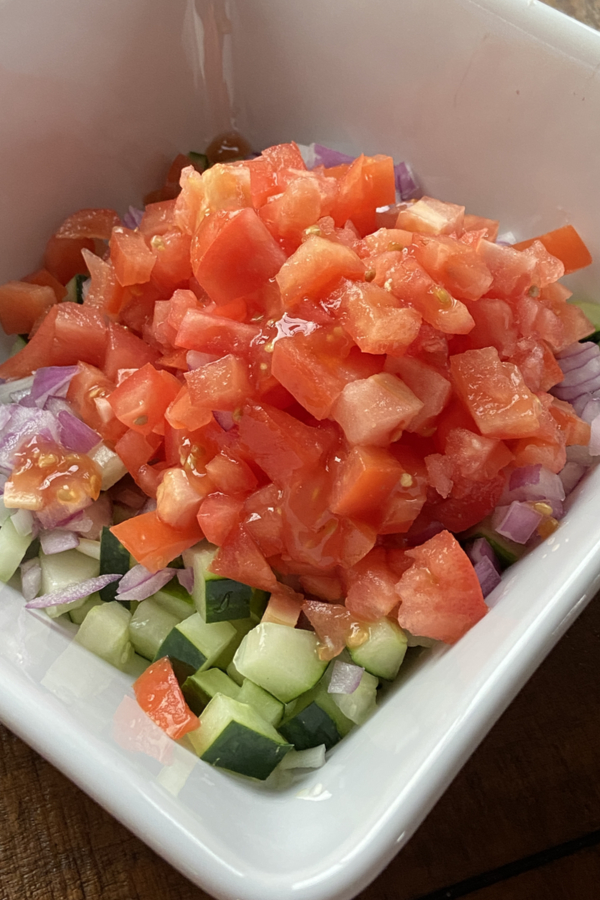 While you wait, chop the vegetables into finely diced pieces and add them to a large serving bowl.
How to Dice An Avocado
Remember that it is easiest to dice an avocado while still in the skin. Cut the avocado in half and cut each half in a criss-cross pattern. Then use a large spoon to remove the diced pieces into the bowl.
Once all your vegetables are in the bowl, salt and pepper to taste and gently toss the mixture. Then add the shrimp and lime juice and toss again.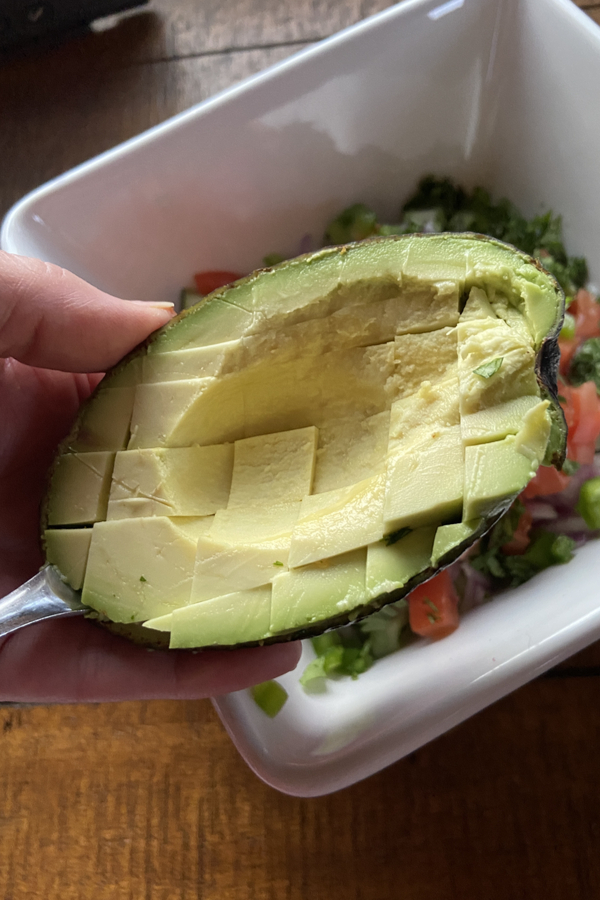 Now you are ready to serve the Shrimp Ceviche with tortilla chips or baguette slices.
Can You Make This Ahead Of Time?
Although this is best to serve fresh, you can make this recipe a few hours before you are ready to serve. However, don't cut and add the avocados until serving time to prevent them from browning.
This recipe does not store well, so it is best eaten the day that you make it.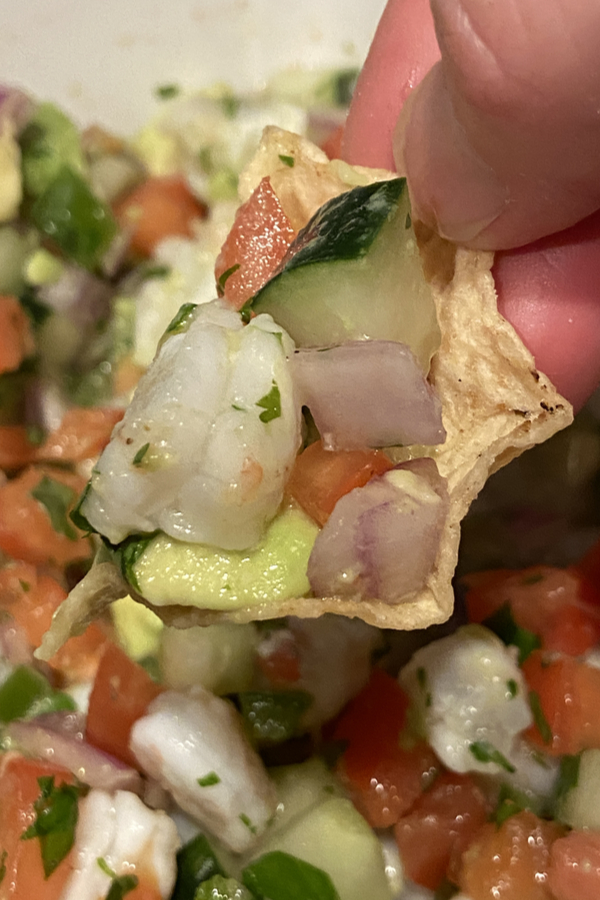 Enjoy!

To receive our 3 Recipe Articles in your inbox each week, sign up for our free email list located in the middle of each recipe or email me at contact@makeyourmeals.com. You can also follow us on Facebook and Pinterest. This article may contain affiliate links where a small commission is paid if you purchase a product at no additional cost to you.
Yield: 8 servings
Shrimp Ceviche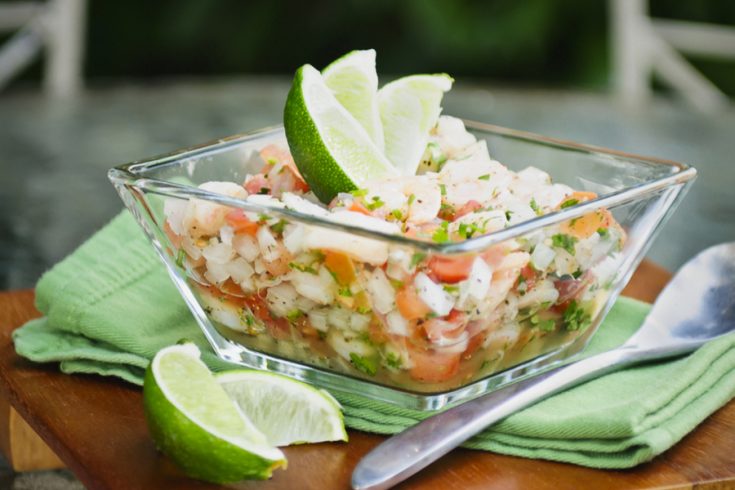 A light and refreshing appetizer recipe that takes only 30 minutes to prepare. Perfect to serve with tortilla ships, baguettes or as a side dish.
Ingredients
1 pound raw shrimp, shelled and deveined
1/2 cup freshly squeezed lime juice
2 Roma tomatoes, finely diced
1 medium avocado, finely diced
1 jalapeno pepper, finely diced
1/2 cucumber, seeds removed and diced small
1/2 red onion, finely diced
1/3 cup fresh cilantro, finely diced
1 to 2 teaspoons kosher salt, more or less to taste
1 teaspoon freshly ground black pepper, more or less to taste
For Serving
tortilla chips or baguette slices
Instructions
Dice the thawed shrimp in small, bite size pieces.
In a medium, shallow bowl, add the cleaned shrimp and lime juice and sprinkle with a little salt. Place in a refrigerator for 30 to 60 minutes, or until the shrimp turn opaque in color.
In a large bowl, add the diced tomatoes, avocado, jalapeno, cucumber, red onion, cilantro, salt and pepper, and gently toss to combine.
Add the shrimp and lime juice to the bowl and stir to combine. Add additional salt, pepper or lime juice as desired to taste.
Serve immediately with tortilla chips, baguette slices, or serve as a stand alone side dish.
Notes
This recipe is best eaten fresh, although can stay in the refrigerator in a covered, air-tight container for up to one day.
Nutrition information is to be used as a guideline only. Exact values will vary from product to product. Tortilla chips and baguette slices are not calculated into the nutritional values.
Recipe provided by Make Your Meals
Nutrition Information:
Yield:
8
Serving Size:
1 grams
Amount Per Serving:
Calories:

110
Total Fat:

5g
Saturated Fat:

1g
Unsaturated Fat:

0g
Cholesterol:

143mg
Sodium:

735mg
Carbohydrates:

5g
Fiber:

2g
Sugar:

1g
Protein:

13g