Crock Pot Beer Cheese Dip is one of my favorite recipes to make on game day.
Not only is it easy to make, it can stay warm for hours because it is prepared and cooked in a slow cooker.
And that means that we can eat it before, during or at half time of the big game and it will still be nice and warm.
I love to serve it with pretzels or homemade soft pretzel bites. But you can also serve it with toasted baguettes slices, tortilla chips, potato chips and even vegetable slices for a low-carb treat.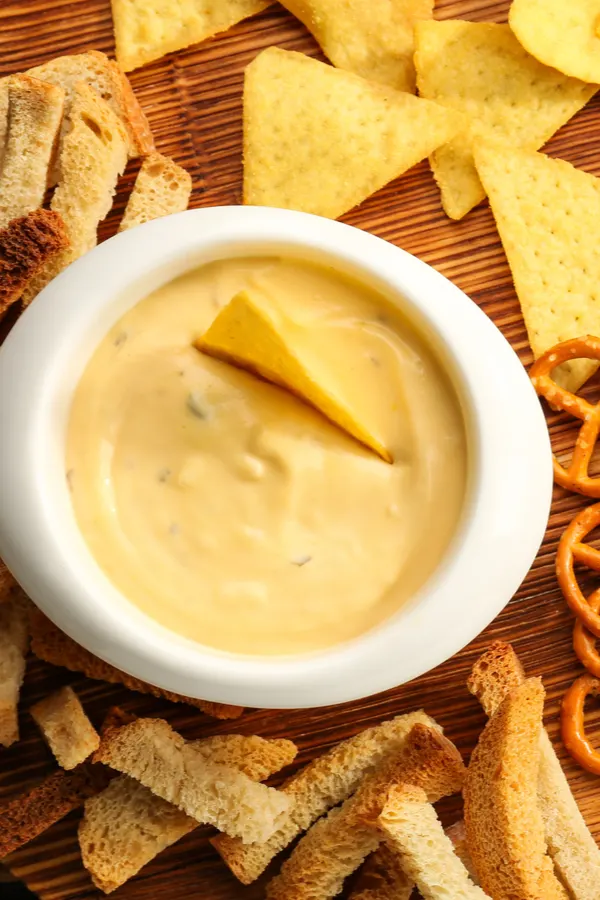 Crock Pot Bacon Cheddar Beer Dip
INGREDIENTS
1. Cream cheese
A standard bar of cream cheese is used for this recipe. You can use full fat, low fat or no fat cream cheese. The less the fat, the thinner you dip will be.
2. Butter
Unsalted butter is always the preference for this, and most of my recipes. The reason, because you can always add more salt, but you can't take it away.
3. Garlic
Although fresh garlic provides more flavor and intensity, jarred minced garlic will work as a substitute. 1 medium clove of garlic equals 1 teaspoon of jarred minced garlic.
However, if all you have on hand is garlic powder, use only 1/8 of teaspoon. That is because dried herbs are more intense in flavor than fresh.
4. Beer
Most people prefer a light beer for this Crock Pot Beer Cheese Dip recipe. Therefore, a lager or pilsner would be your best bet.
However, if you are looking for a more intense flavor, feel free to use a stout or porter beer. Just be aware that the beer flavor will be much stronger.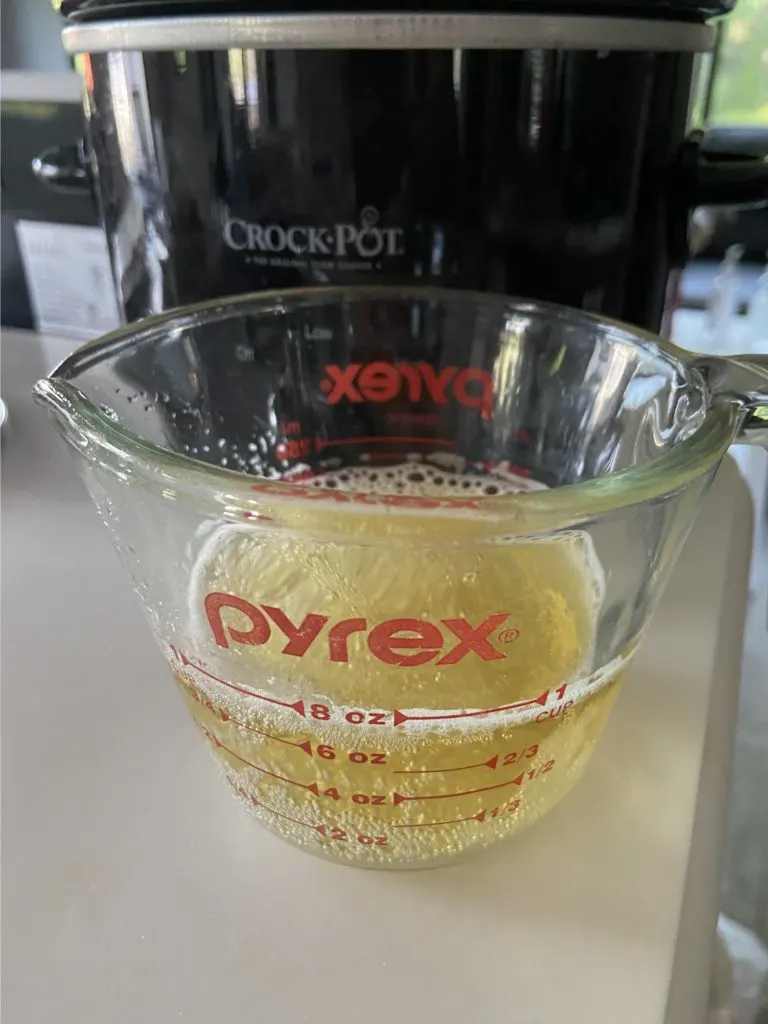 5. Milk
Just like the cream cheese choices, you can use whole milk, low fat milk, or even skim milk if you prefer. And by all means, if you use a non-dairy milk you can substitute that as well.
The purpose of the milk is to add a little creaminess to the dip, but also to thin it out a bit.
6. Bacon
One of the highlights to this recipe is the bacon bits that are scattered throughout the dip. Of course, this isn't a must have ingredient.
However, the salty and crisp flavor of the bacon really puts this dip over the top! I highly recommend cooking and using pork bacon rather than using dried bacon bits.
It is easy to make Air Fryer Bacon while you prepare your other ingredients. Or of course, you could make it on the stove or in the oven as well.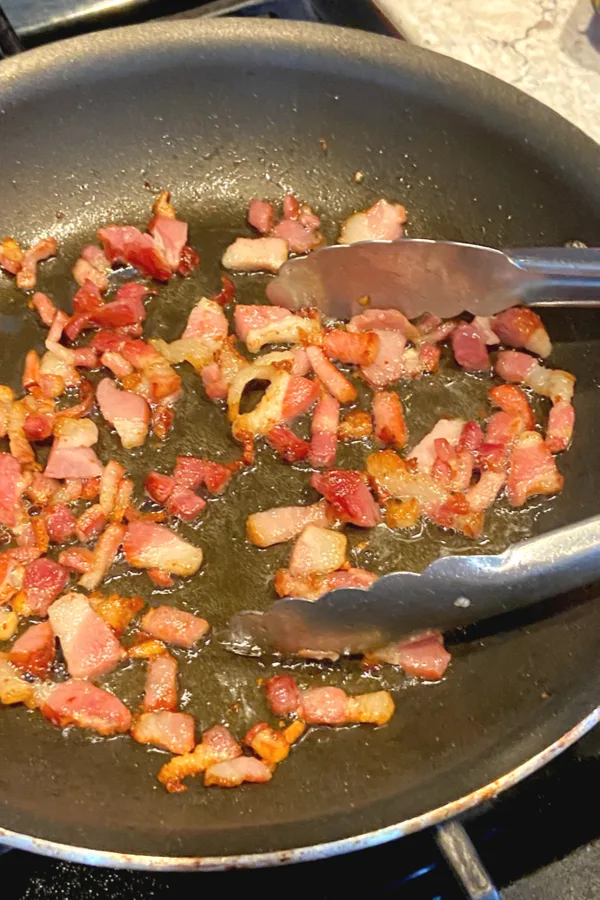 7. Shredded Sharp Cheddar Cheese
As always, it is best to use fresh grated Sharp Cheddar Cheese for this Beer Cheese Dip recipe. That is because pre-packaged shredded cheese has an anti-caking agent added to the cheese to prevent it from clumping.
However, I am a realist and know that most of use will buy pre-packaged shredded cheese for this recipe. And the dip will turn out just fine.
Although it may need to be stirred a little more than if you used fresh grated cheese.
8. Salt and Ground Black Pepper
Add salt and black pepper at the end of the recipe to your preference. And if you like things a little hot, feel free to add some crushed red pepper flakes as well.
Optional Garnish Ingredients
If you prefer, you can top your dip with additional cooked and crumbled bacon and diced green onion. Not only do these garnish ingredients add a little more flavor, they also add some nice texture to the dip.
INSTRUCTIONS
The first step in making this Crock Pot Beer Cheese Dip is to gather a small, 3 quart crock pot. You could use a larger slow cooker, however the smaller version is perfect for dips.
I use the smaller slow cooker whenever I make my Enchilada Dip and a small batch of Buffalo Chicken Dip as well.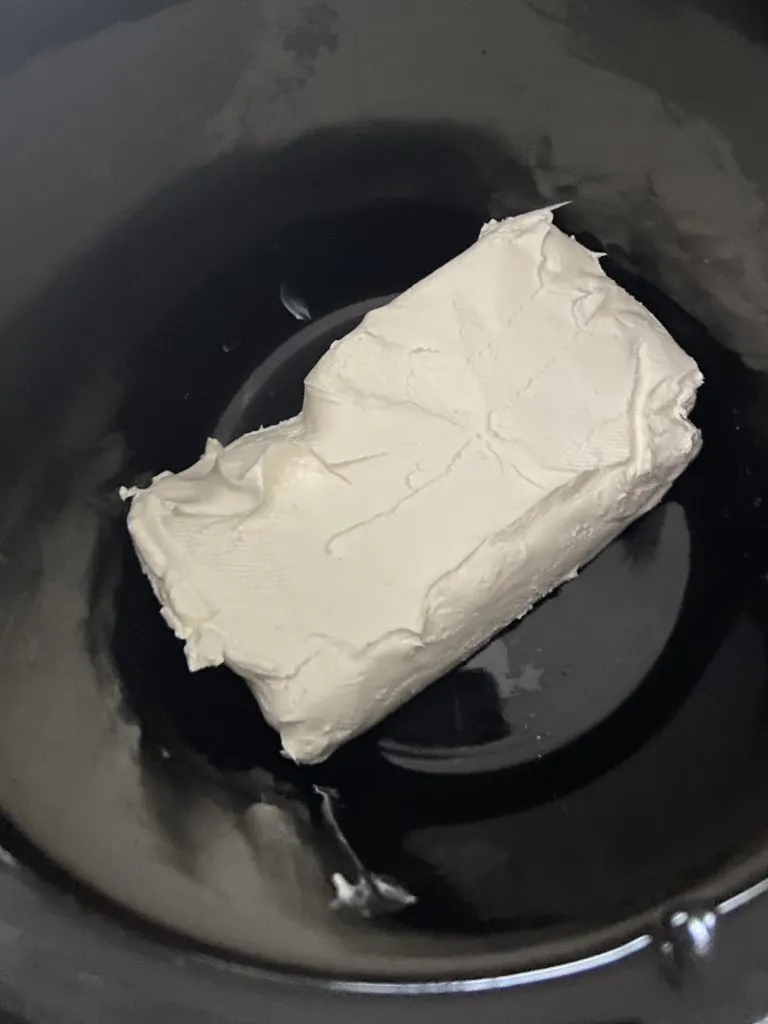 Once you have your slow cooker ready, add the bar of cream cheese. Although the cream cheese does not need to be softened to room temperature, it would help your dip cook faster.
However, I rarely plan ahead enough to set it out. Therefore, I typically add it to the crock pot straight out of the refrigerator.
Then add the melted butter, garlic, beer, milk and half of the crumbled bacon to the crock.
Next add half of the shredded cheddar cheese on top. But do not stir. This will help prevent the cheese from sticking and burning to the sides of the crock pot.
Cook Time
Turn the crock pot on HIGH and cook the Beer Cheese Dip for one hour. Then stir the mixture until the cream cheese and shredded cheese have melted.
You may need to use a silicone spatula to press the clumps of cream cheese against the side of the slow cooker so that it breaks down and melts.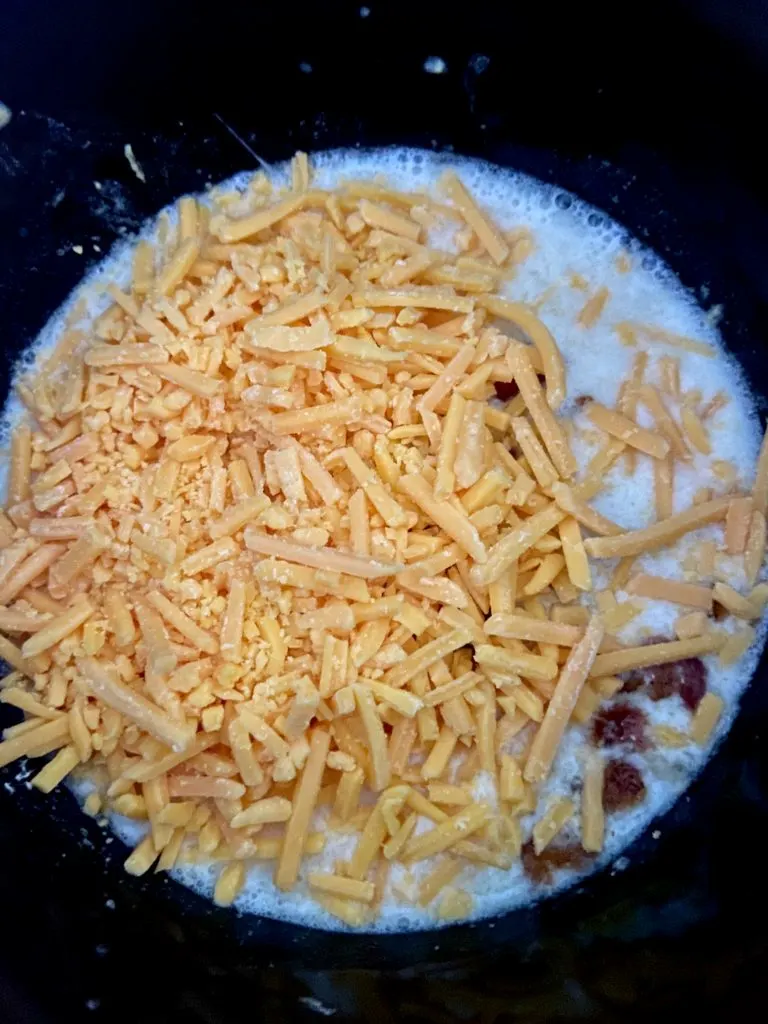 Then stir in the remaining shredded cheese and reduce the heat to LOW. Continue to cook on low for 2 hours. Stir again.
If everything is melted together and the sides are at a light bubble, the dip is almost ready to serve.
Season with salt and pepper to taste. Then sprinkle the top with the remaining cooked crumbled bacon and sliced green onions.
Serve warm with pretzels, soft pretzel bites, tortilla chips, baguettes or veggies. If you are going to keep the Beer Cheese Dip in the crock pot for serving, decrease the temperature to Keep Warm.
Stir frequently to prevent the cheese from burning on the edges of the pot.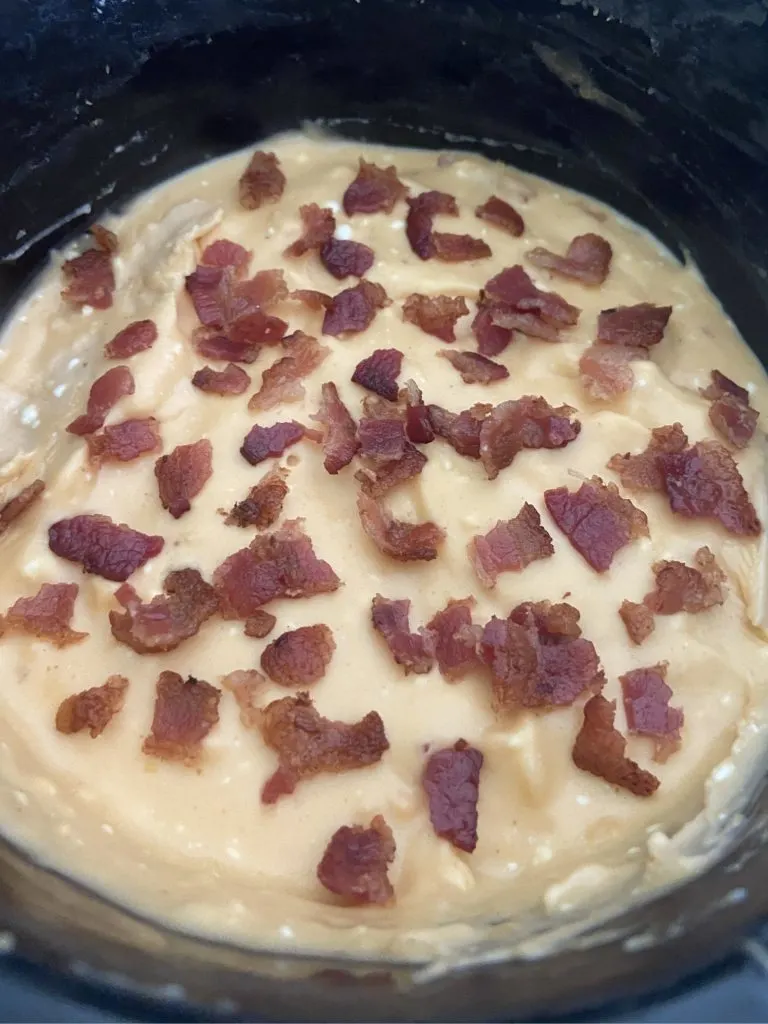 Enjoy! Mary

To receive our 3 Recipe Articles in your inbox each week, sign up for our free email list located in the middle of each recipe or email me at contact@makeyourmeals.com. You can also follow us on Facebook and Pinterest. This article may contain affiliate links where a small commission is paid if you purchase a product at no additional cost to you.
Yield: 16 servings
Slow Cooker Beer Cheese Dip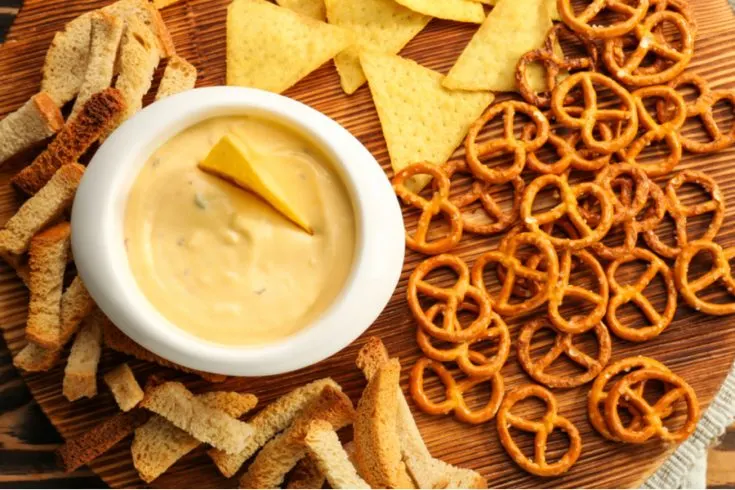 Creamy Beer Cheese Dip that is perfect for your next tailgate or party. Serve with pretzels, chips, baguettes or veggies.
Total Time
3 hours
5 minutes
Ingredients
8 ounces cream cheese, cut into cubes
2 tablespoons butter, unsalted and melted
1 medium clove garlic, minced
6 ounces beer
6 ounces milk
4 slices bacon, cooked and crumbled, divided
2 cups shredded cheddar cheese
salt, to taste
pepper, to taste
Optional
green onions, sliced for garnish
Instructions
In a small crockpot add the cream cheese.
Then add the melted butter, garlic, beer, milk and half of the bacon crumbles. Reserve the other half of the bacon for garnish.
Add 1 cup of the shredded cheddar cheese on top. Do not stir.
Cook on HIGH for 1 hour, stir until the cream cheese and shredded cheese have melted. Stir in the remaining shredded cheese.
Reduce heat and cook on LOW for 2 hours. Season with salt and pepper to taste.
Sprinkle the top with cooked crumbled bacon and sliced green onions (optional).
Serve with pretzels, soft pretzel bites, tortilla chips, baguettes or veggies.
Notes
Recipe provided by Make Your Meals
Nutrition Information:
Yield:
16
Serving Size:
1
Amount Per Serving:
Calories:

144
Total Fat:

12g
Saturated Fat:

7g
Trans Fat:

0g
Unsaturated Fat:

4g
Cholesterol:

36mg
Sodium:

228mg
Carbohydrates:

2g
Fiber:

0g
Sugar:

1g
Protein:

6g
Nutritional Information is to be used as a general guideline only . Nutritional calculations will vary from the types and brands of the products used.