Every time that I make these Sausage and Cheese Stuffed Mushrooms, they disappear from the plate in seconds. And with just one bite you will understand why.
I mean who can resist the warm center filling made up of three types of cheese and cooked ground sausage? Pile the mixture in the center of hollowed out mushroom caps and bake them until the mushrooms are tender and the filling is warm and gooey.
They make for the perfect appetizer for any occasion! I serve them at every holiday party and special occasion get-together that we have.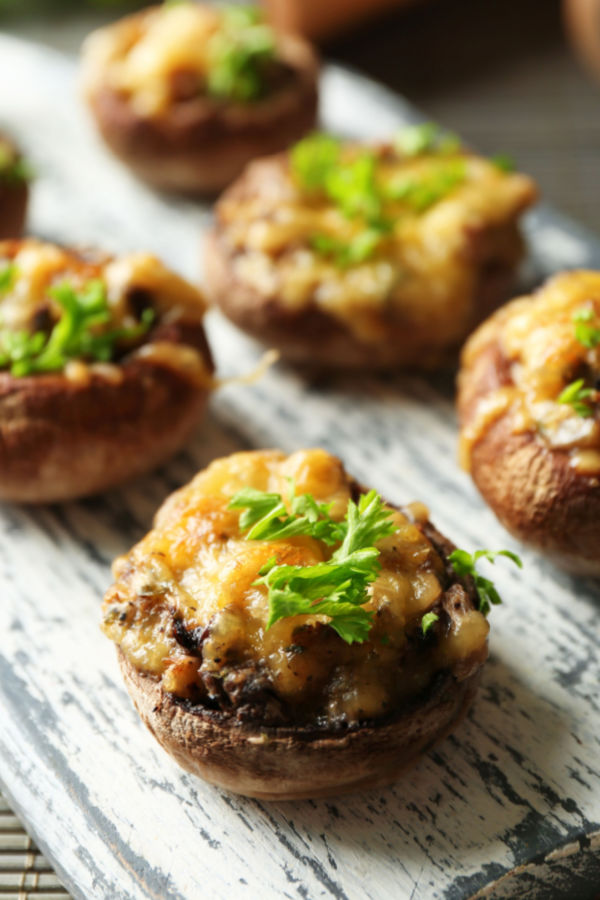 Not to mention I always get asked if I am going to be making a tray of them at every tailgate party we attend. And they have now become a tradition to make and serve on card night as well.
Best of all, they require only 7 ingredients and are easy to prepare. Simply mix the filling ingredients together and then fill the mushroom caps.
Place them in the oven and within 30 minutes you will have a delicious appetizer that you can share with your family and friends!
Why You Will Love This Recipe
As much as I love Buffalo Chicken Dip, Chicken Wings and Nachos, there are times that I want an easy to eat appetizer. And that is why I love these Sausage and Cheese Stuffed Mushrooms.
1. Hand Held Appetizer
Although you could choose to eat this popular appetizer with a fork and knife, the original intent is that they are a hand held appetizer.
Pick one up with your hand and pop it in your mouth. Of course, if the mushroom caps are large, a couple bites may be required to finish it off.
Hand held appetizers are desirable for several reasons. First, the amount of utensil required for the occasion is minimal.
Less utensils means less dishes and/or waste. Second, the appetizer can be eaten while standing or on the go.
Pick up one off of the serving tray and move on to mingle with family and friends. And finally, another reason why hand held appetizers are preferred among many is the opportunity to try several different appetizers with very little mess or worry.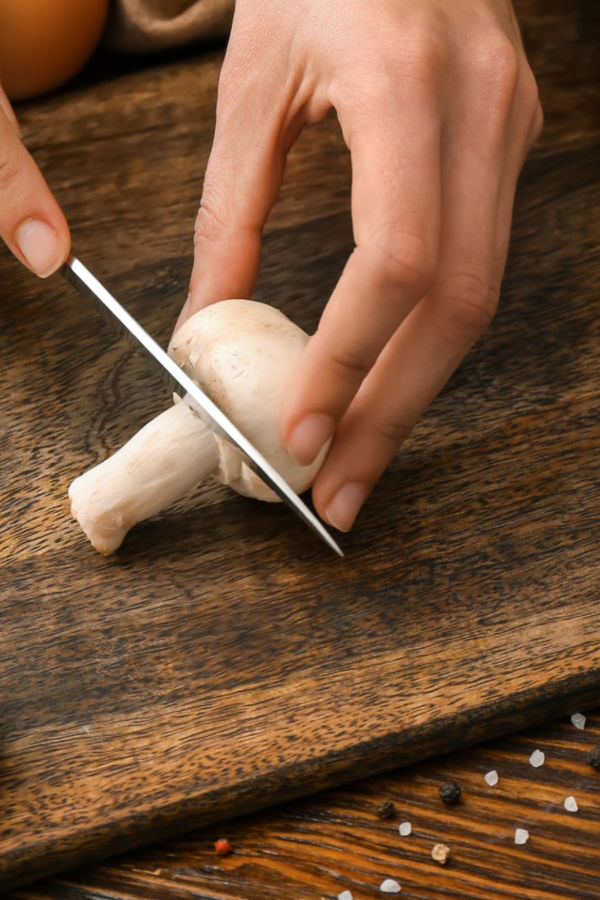 2. Make A Few Or Make A Lot
When it comes time to making Sausage and Cheese Stuffed Peppers, you can make just a few for date night or make several trays of them to serve at your holiday party.
This recipe can be cut in half or tripled in quantity and the cook time remains the same.
And because the ingredients are commonly found, and most likely some of them you already have in your kitchen, this recipe comes together in no time.
3. Make Ahead Appetizer
Better yet, how about making a several extra and freezing them so that you have an appetizer on hand whenever you need one.
Just be sure to freeze them prior to them baking. Uncooked stuffed mushrooms will freeze well, however cooked ones don't.
Simply follow the recipe and instead of putting them in the oven, let them flash freeze on a baking sheet. Then once they are frozen, store 6 or 12 of them in a Food Saver bag.
This way when you want to have a few for date night, or if you need more for game night, all you have to do is put them in the oven. However, plan for a few extra minutes in the oven to allow them to cook all the way through.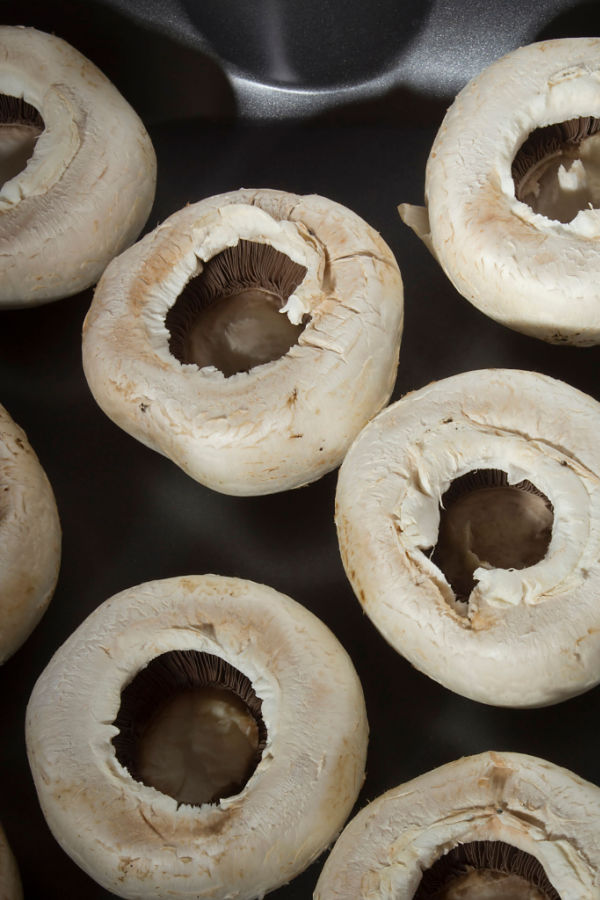 4. Can Be Served Warm Or At Room Temperature
Sausage and Cheese Stuffed Mushrooms can be served warm or at room temperature. They will taste great either way.
However, because they have both meat and cheese in the filling, do not let them sit out at room temperature longer than 2 hours.
5. Easily Adaptable
You can easily adapt this recipe to meet your likes and preferences. For instance, instead of using standard ground pork sausage, use spicy sausage or chorizo to kick the flavor up a notch.
If you want the appetizer to be a little healthier, use ground chicken or turkey sausage instead. And for those who choose to eat a meatless diet, you can add plant based sausage crumbles instead.
But don't stop there when it comes to this recipe. Choose whatever spices and cheese that you want to add to the mix.
The possibilities are endless with this easy to make appetizer.
Sausage and Cheese Stuffed Mushrooms Recipe
*Specific measurements and complete recipe instructions are located in a printable recipe card at the bottom of this article. However, be sure to continue to read the tips and tricks to making this recipe below.
INGREDIENTS
1 pound ground pork sausage
8 oz cream cheese, softened to room temperature
1/4 cup grated Parmesan cheese
1/4 teaspoon ground sage
1 tablespoon chopped fresh parsley
16 ounces button mushrooms
3/4 cup shredded Mozzarella cheese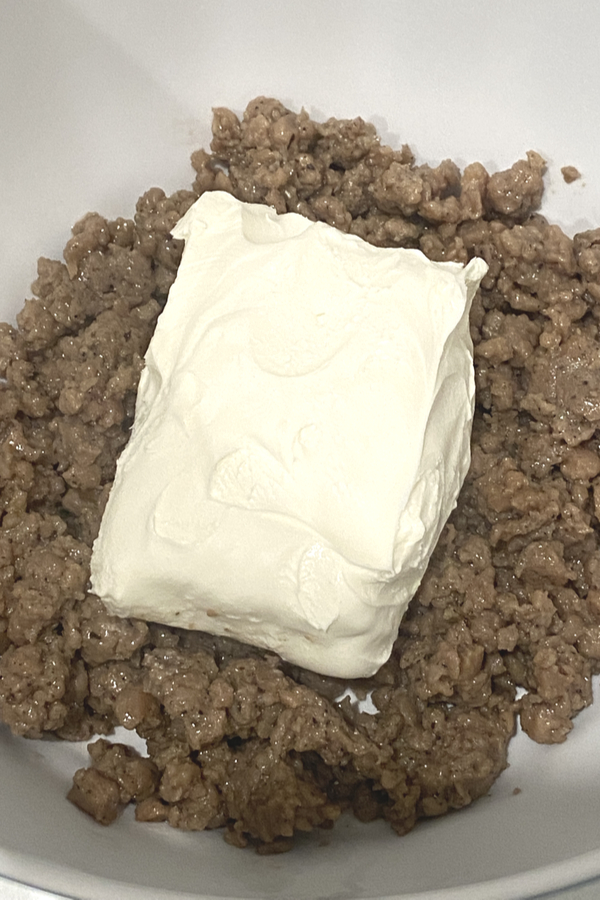 INSTRUCTIONS
So how do you make these delicious Sausage and Cheese Stuffed Mushrooms? It is really easy to make this delicious appetizer. Even the novice chef can whip this up in no time!
First clean and remove the stems of your mushrooms. You want to purchase medium to large mushrooms so that there is enough space in the cap of the mushroom to hold the filling.
Next, dice up the stems and set aside. You will be using half of them in your Sausage and Cheese Stuffed Mushroom filling.
In a large skillet, brown your sausage until it is no longer pink. Once cooked, turn off the heat and set aside.
However, do not drain the grease! You will be using it as the liquid for your filling.
Make The Filling
In a large bowl, mix together the softened cream cheese, Parmesan cheese, sage and parsley. Then add in the cooked sausage, grease and half of the diced mushroom stems and mix well.
Then spoon the mixture inside the well of each mushroom. It is perfectly okay for the filling to mound over top of each the mushroom.
Place each filled mushroom cap in a large baking dish or a rimmed baking sheet lined with parchment paper or a silicone baking mat. Depending on how many mushrooms that you have, you may need two dishes or pans.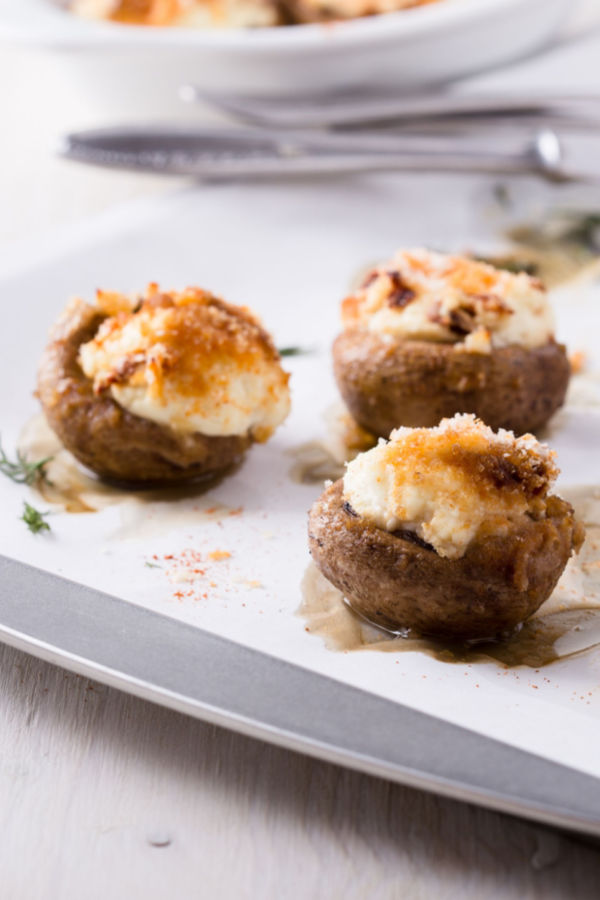 Place the pan in the preheated oven for approximately 30 minutes. Then top the sausage and cheese stuffed mushrooms with shredded Mozzarella cheese and continue to bake until the cheese is melted and the mushrooms are tender.
Take the Sausage and Cheese Stuffed Mushrooms out of the oven, but allow the mushrooms to sit for at least 5 minutes before serving. This will help them absorb some of the liquid that they expelled during the baking process.
Enjoy! Mary

To receive our 3 Recipe Articles in your inbox each week, sign up for our free email list located in the middle of each recipe or email me at contact@makeyourmeals.com. You can also follow us on Facebook and Pinterest. This article may contain affiliate links where a small commission is paid if you purchase a product at no additional cost to you.
Sausage and Cream Cheese Stuffed Mushrooms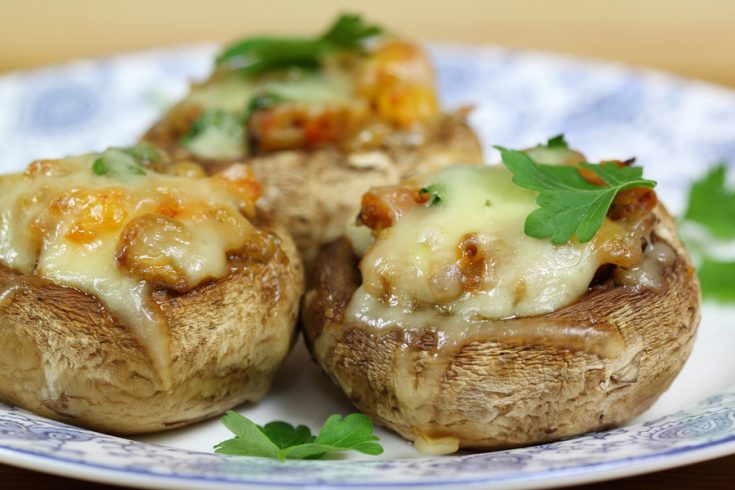 Fresh mushroom caps stuffed with sausage and cream cheese and cooked to perfection for a perfect appetizer any time of the year!
Ingredients
1 pound ground pork sausage
8 oz cream cheese, softened to room temperature
1/4 cup grated Parmesan cheese
1/4 teaspoon ground sage
1 tablespoon chopped fresh parsley
2 lbs mushrooms
3/4 cup shredded Mozzarella cheese
Instructions
Preheat the oven to 400ºF.
Clean the mushrooms. Remove the stems and dice the stems only and set aside.
In a medium skillet, cook the ground sausage until it is browned and cooked through, breaking it up into tiny crumbles as it cooks. Do not drain.
In a medium bowl combine the cream cheese, Parmesan, parsley and sage using a hand mixer. Add the cooked sausage, grease, and 1/2 of the diced mushroom stems and mix until combined.
Place the mushrooms, top side down, in a 9x13 baking dish or a large rimmed baking sheet lined with parchment paper.
Fill the center of each mushroom with a large scoop of the sausage mixture.
Bake in the preheated oven for 30-35 minutes and then add the shredded cheese to the tops of the stuffed mushrooms.
Continue to cook for an additional 10-15 minutes until the mushroom caps are softened and the filling is lightly browned on the edges.
Let the mushrooms sit in the baking dish for 5-10 minutes before serving.
Notes
Recipe provided by Make Your Meals
Nutrition Information:
Yield:
12
Serving Size:
1 grams
Amount Per Serving:
Calories:

235
Total Fat:

19g
Saturated Fat:

8g
Trans Fat:

0g
Unsaturated Fat:

9g
Cholesterol:

57mg
Sodium:

443mg
Carbohydrates:

6g
Fiber:

2g
Sugar:

3g
Protein:

12g
Nutritional Information is to be used as a general guideline only . Nutritional calculations will vary from the types and brands of the products used.