Congratulations on being a brand new owner of an Air Fryer and welcome to the beginner Air Fryer Recipes club! Anyone that owns an air fryer has been in your shoes and has felt both excitement and maybe a slight nervousness with this popular cooking appliance.
But have no fear! With a few helpful tips to get you started you will be on your way to cooking delicious and healthier meals in no time.
However, before we get started let me explain how an air fryer cooks. Basically an air fryer is a small, counter top convection oven.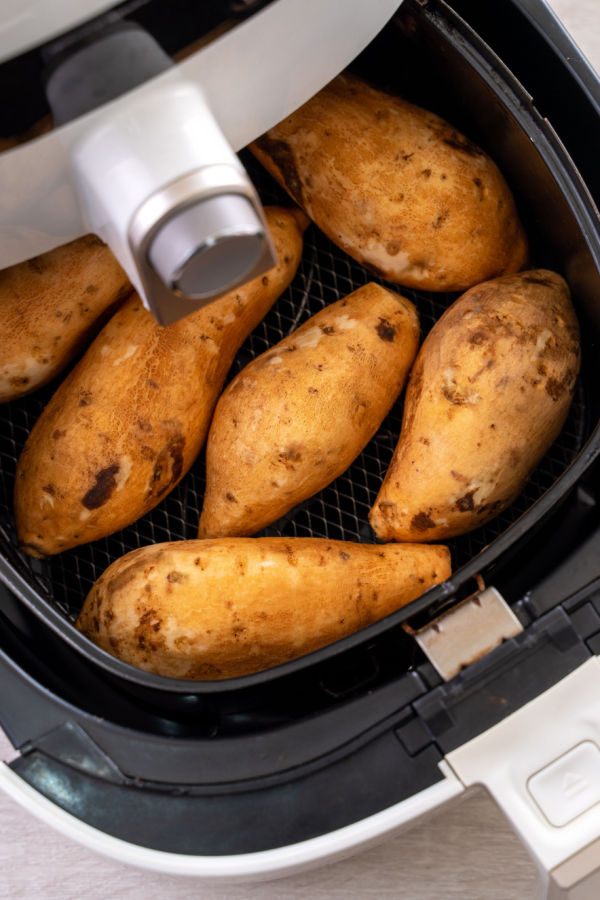 It cooks by combining using a heating element and forced air that circulates around the food. This allows the food to crisp up nicely on the outside, while remaining moist and juicy on the inside.
It is a much healthier way to cook foods that are typically deep fried in oil. However, in order to get the foods nice and crisp you may need to spritz the food with a little oil.
However, don't just limit your use of an air fryer to making fried foods. You can make chicken breasts, steak, pizza and even dessert in this magical cooking appliance.
Now that you know the basics behind how an air fryer cooks, let's get you started!
Beginner Tips For Using Your Air Fryer
1. Start Cooking Today!
One of the biggest mistakes that people make when they get a new kitchen appliance is to not use it right away. Many people are intimidated by a new device and don't know where to begin.
For example, when some people receive an Instant Pot they don't even take it out of the box. Or it sits in the cupboard because they aren't sure how to use it.
Although an air fryer is a little less intimidating, it is just as important to cook with it within the first week. This will allow you to gain the experience to feel confident to use it more often.
The easiest way to do this is to start with an easy, fail-proof recipe. As much as you may want to make homemade French fries or potato chips, start with the frozen varieties instead.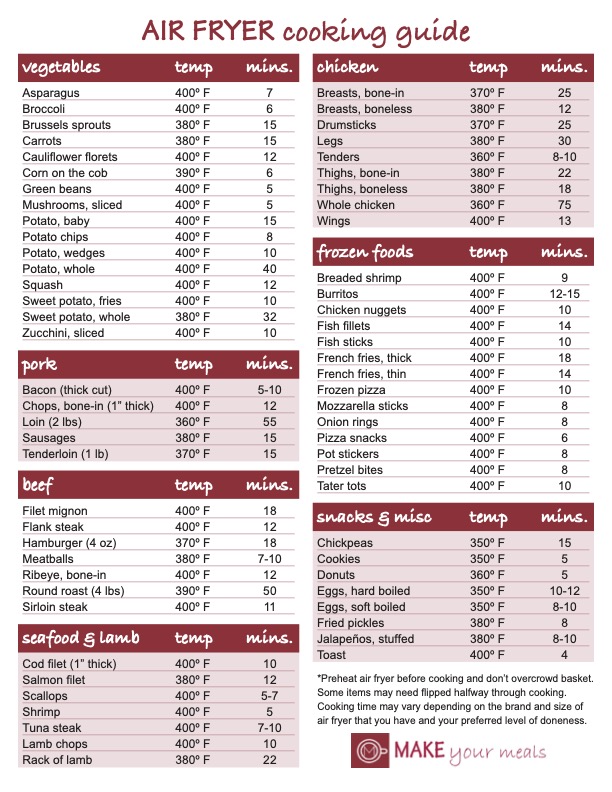 Then once you get comfortable in how your air fryer heats and cooks, you can move on to other recipes. However, before taking your favorite oven baked recipe and making it in the air fryer, start with a recipe that is specifically designed for an air fryer.
However, keep in mind that all air fryers cook at different rates. Because there are so many brands, sizes and varieties of air fryers you may need to adjust the cook time for your specific air fryer.
For example, my Ninja Foodi Pressure Cooker/Air Fryer cooks food faster than my larger, NuWave oven style air fryer. However, as a beginner you will quickly learn which air fryer recipes work for you.
2. Preheat The Air Fryer
Before you start cooking I highly recommend that you preheat your air fryer. Although your specific brand may say that no preheating is necessary, your food will crisp up better if you do so.
Some air fryers have a preheat setting, and some don't. If your brand of air fryer does not, simply start the air fryer at the recommended cooking temperature and then allow it to heat for 4-5 minutes.
This will allow enough time for the air fryer basket to heat up before adding the food. Just be carefully placing the food inside as the basket will be hot.
3. Flip Your Food Half Way Through Cooking
Although the air circulating around the basket is what cooks the food, most of the heat comes from the top of the appliance. Therefore it is important to flip the food half way through the cooking process.
Luckily it is easy to stop the cooking process to do so. Then close the basket or door and continue cooking. Just be sure to check for desired doneness a couple of minutes before the cook time expires.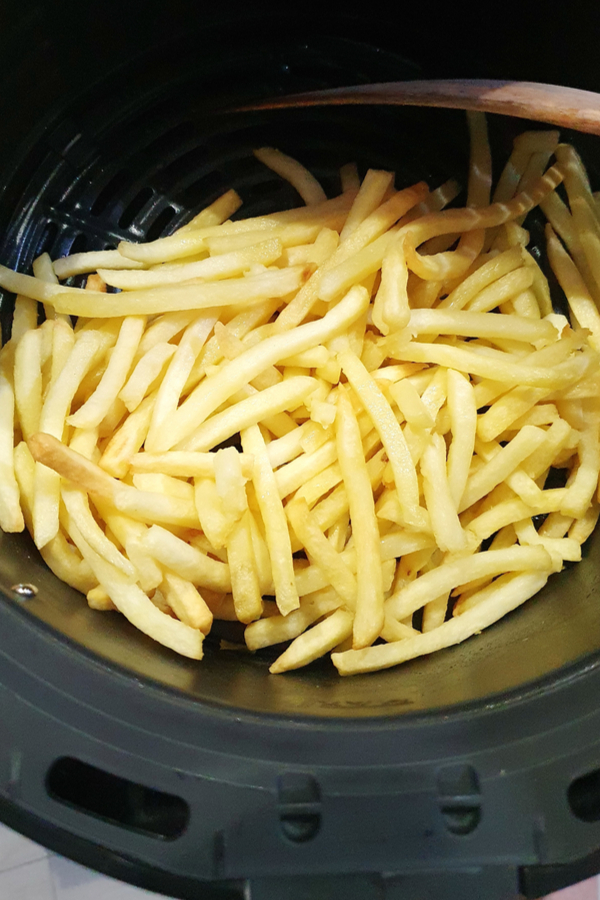 4. Use An Instant Read Digital Thermometer
Some air fryers have a digital thermometer probe that you can use to check the internal temperature of meat for doneness. However, if yours didn't come with one you do yourself a favor and purchase an Instant Read Digital Thermometer.
This is one kitchen gadget that I recommend everyone have. With this simple tool you will be able to cook your meat perfectly!
Therefore, that means no more rubbery chicken or overcooked steaks.
5. How To Adjust Oven Baked Recipes
Once you get the hang of how your air fryer cooks, you may want to experiment with your own recipes. This will take some practice, but even the beginner air fryer cook can master oven based recipes.
As a general guideline to adapt an oven recipe to an air fryer recipe decrease the temperature by 25°F and decrease the cooking time by 20%. Of course, continue to check the food during the last several minutes of cook time to check for doneness.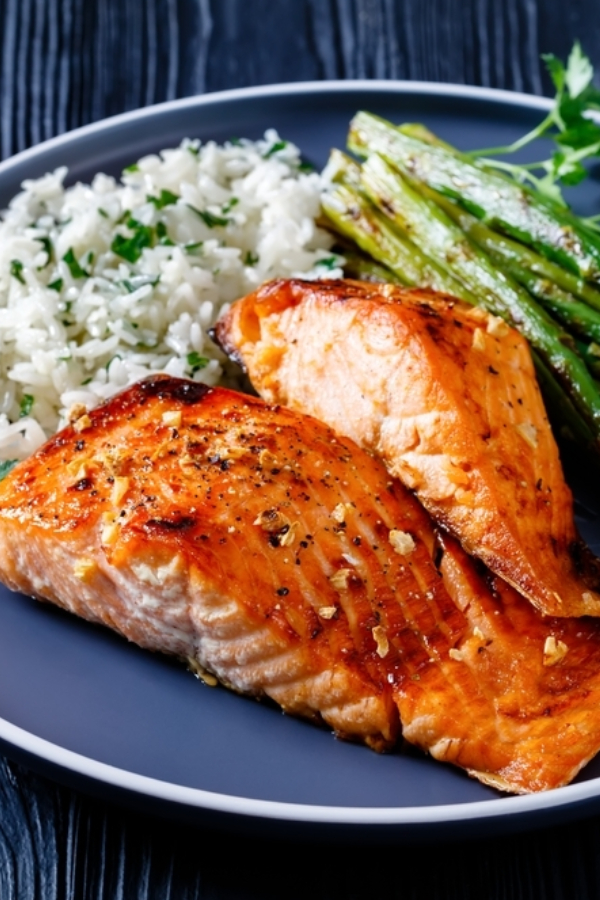 Print Off The Beginner Air Fryer Cooking Guide Here
Air Fryer Recipes For Beginners
Below I have included some of my favorite recipes that beginners can master with very little effort. From breakfast, lunch, dinner, snacks and desserts you are sure to find your next favorite recipe!
Breakfast
Main Dish
Side Dish
Snacks
Desserts
There you have it! Some beginner air fryer recipes to get you started. Be sure to sign up to receive more recipes every week, including air fryer recipes!
Find all my Air Fryer Recipes on the Recipe Index Tab at the top of this article.
Enjoy! Mary

To receive our 3 Recipe Articles in your inbox each week, sign up for our free email list located in the middle of each recipe or email me at contact@makeyourmeals.com. You can also follow us on Facebook and Pinterest. This article may contain affiliate links where a small commission is paid if you purchase a product at no additional cost to you.