When I first purchased my air fryer, I never imagined making Chicken Parmesan in it. I had always made Oven Baked Chicken Parmesan.
And I originally purchased it to decrease the amount of deep-fried foods that we ate.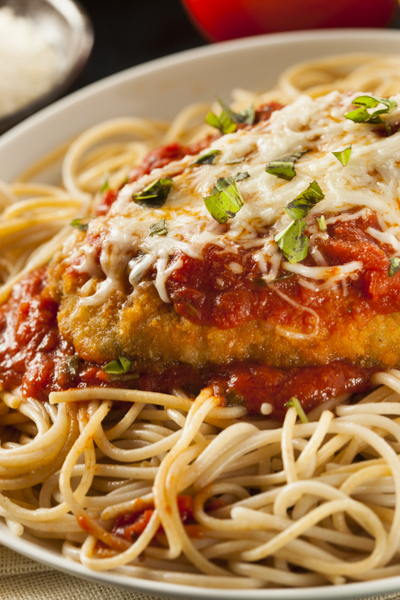 So when I received my BCP 5.5 quart Air Fryer, I immediately began making French Fries and Chicken Tenders.
I never even gave a second thought about making Air Fryer Chicken Parmesan.
But that all changed when my husband and I were planning out our dinner menu for the week and he suggested Chicken Parmesan.
It had been a long time since we made it at home so I thought it was a great choice to add to our dinner menu for the week.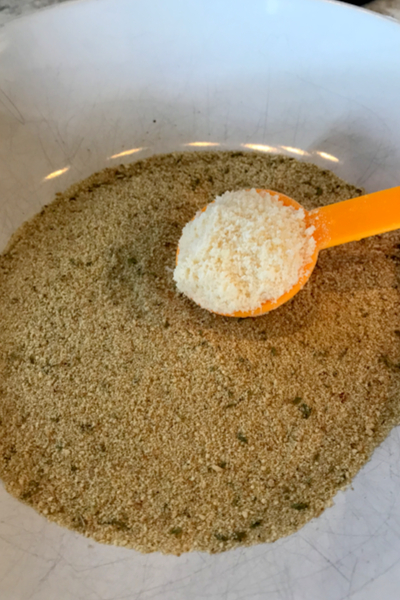 However, there was one issue. The meal had to be ready, start to finish, in less than 20 minutes.
Our nightly schedules were packed and that meant we had little time to prepare meals once we got home in the evening.
And my typical Chicken Parmesan recipe was one that I baked for at least 40 minutes before it was ready to eat.
So that is when I turned to my Air Fryer and thought I would give it a try.
And yes, I have made Instant Pot Chicken Parmesan, but I really wanted that crispy taste that only the Air Fryer could provide.
Chicken Breast Size
In order to cook this recipe in the required 20 minutes or less, I knew that I would have to use thin cutlets.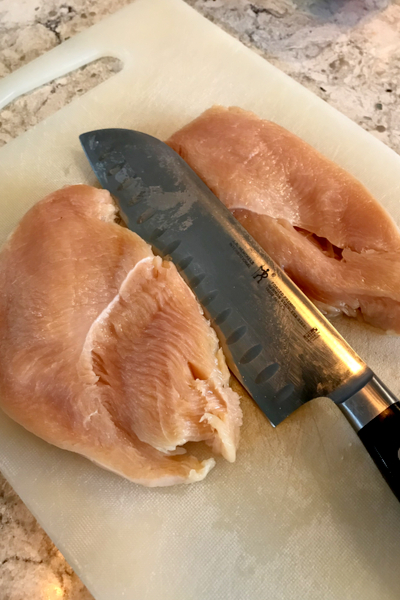 In my efforts to meal prep for the week, I had already bought a large package of chicken breasts that probably weighed at least a half pound each.
Knowing that these would take too long to cook, I decided to cut each one in half horizontally to make two cutlets from each one.
They were the perfect size to cook quickly in the Air Fryer.
Breading The Chicken
Next came the task of breading the chicken.
Although some people use baked chicken, most Chicken Parmesan recipes call for breaded chicken as the main ingredient.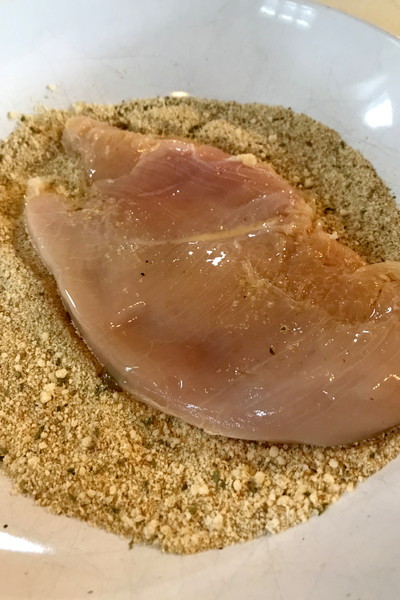 Trying to keep our meals a little healthier, but still have that classic taste, I decided that instead of purchasing chicken that was already breaded, I would bread my own chicken breasts.
I also opted to not use the typical egg, milk and breadcrumb ingredients.
Instead, I used a little bit of olive oil to coat the chicken breasts and then dredged them with seasoned breadcrumbs.
This was the perfect amount of breading for this recipe – not too little and not too much.
Air Fryer Chicken Parmesan
All that was left to do was to cook the chicken in the air fryer.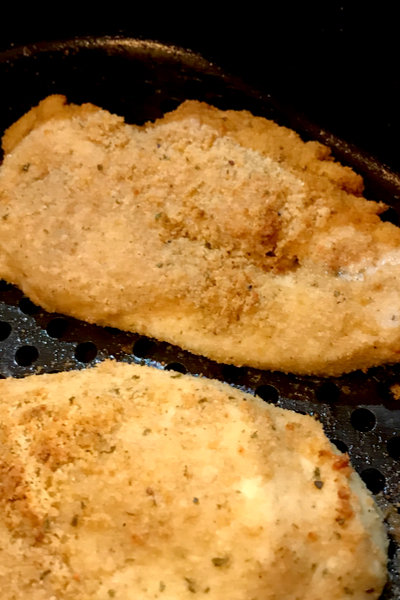 In the basket they went!
In 7 minutes they were ready to be flipped. Then the marinara sauce and cheese was added during the last few minutes of cooking.
While the chicken was cooking in the air fryer we made thin spaghetti pasta on the stovetop.
And by the time the pasta was done, the chicken was ready!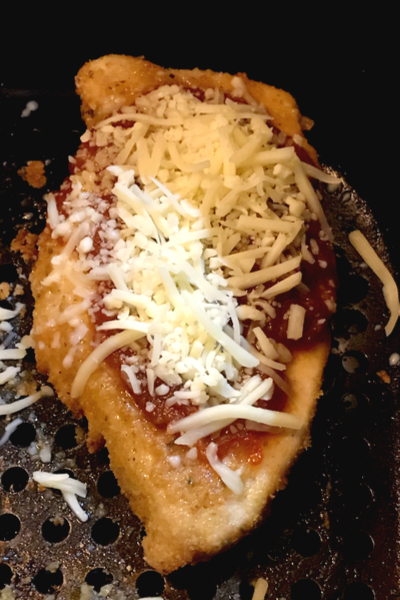 A delicious dinner ready in less than 20 minutes!
To receive our 3 Recipe Articles in your inbox each week, sign up for our free email list located on the side and bottom of each recipe. You can also follow us on Facebook and Pinterest. This article may contain affiliate links where a small commission is paid if you purchase a product at no additional cost to you.
Air Fryer Chicken Parmesan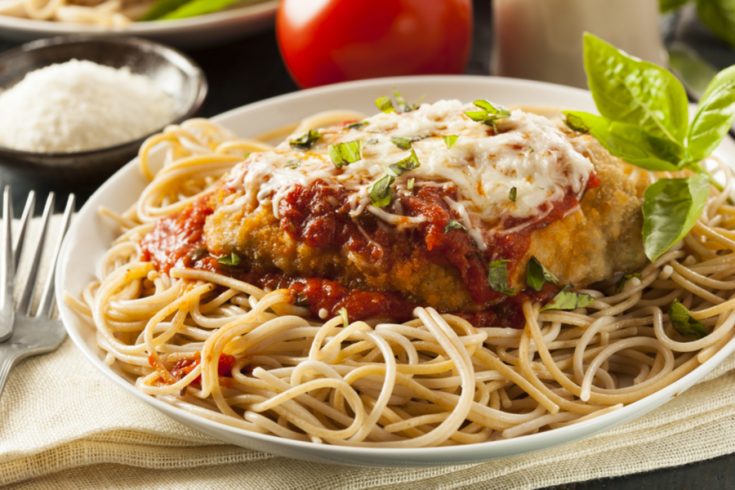 Thin chicken breasts lightly breaded and baked in the air fryer and then topped with marinara sauce and cheese and served on a bed of pasta or with a side salad.
Ingredients
2 boneless chicken breasts
1/3 cup + 1 Tbsp seasoned breadcrumbs
2 Tbsp grated Parmesan cheese
1 Tbsp olive oil
1/2 cup Mozzarella cheese
1/2 cup marinara sauce
Instructions
Preheat the air fryer 360F° for 3 minutes.
Combine breadcrumbs and parmesan cheese in a low rimmed baking dish.
Slice the chicken breasts in half horizontally to make 4 thin chicken cutlets.
Brush the oil onto both sides of the chicken and then dip them, one at a time, into the breadcrumb mixture.
Spray the basket/grate with avocado oil (or preferred non-stick cooking spraand place 2 breaded chicken breasts in the basket and spray the top of each lightly with oil.
Cook for 7 minutes, flip and top each with 2 Tbsp marinara sauce and 2 Tbsp of shredded mozzarella cheese.
Continue to cook for 3 more minutes or until cheese is melted.
Set aside and keep warm, repeat with the remaining 2 pieces of chicken.
Notes
Serve on a bed of pasta, spaghetti squash, zucchini noodles or with a side salad.
Recipe provided by Make Your Meals
Nutrition Information:
Serving Size:
1 grams
Amount Per Serving:
Unsaturated Fat:

0g