Ever since I started making chicken legs in the air fryer, I get asked every week by my family to make them again and again.
The drumsticks are cooked to perfection with fall off the bone, tender and juicy meat on the inside, yet crisp and flavorful skin on the outside.
And with just a few simple ingredients, this recipe couldn't be easier to make! Not to mention that it is a true, budget friendly recipe as well.
You can find large family packs of chicken legs/drumsticks for under 10 dollars at most grocery stores. And because they freeze well, you can buy them on sale and have an easy to prepare meal waiting for your freezer whenever you need one.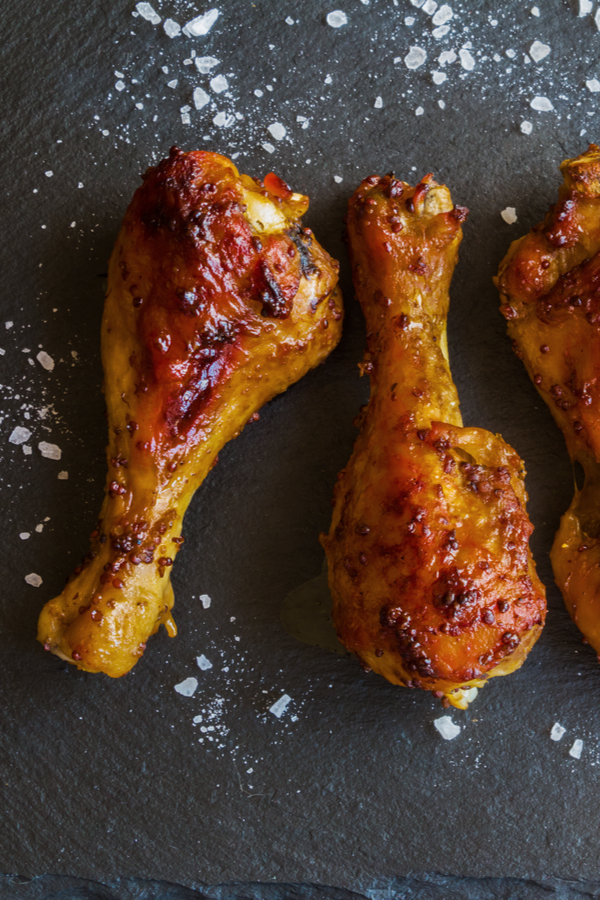 Air Fryer Chicken Legs Recipe
INGREDIENTS
Chicken legs*
Brown sugar
Kosher salt
Black pepper
Garlic powder
Onion powder
Ground mustard
Smoked paprika
Cayenne pepper
Olive oil
*Just to clarify, the chicken legs that we are talking about in this recipe are the large size drumsticks. They are not the drummettes that are sometimes included when you order chicken wings at your favorite restaurant.
And they are also not part of the larger, chicken leg quarter that you can also find in the grocery store. For this recipe I am simply referring to the large, individual chicken legs themselves.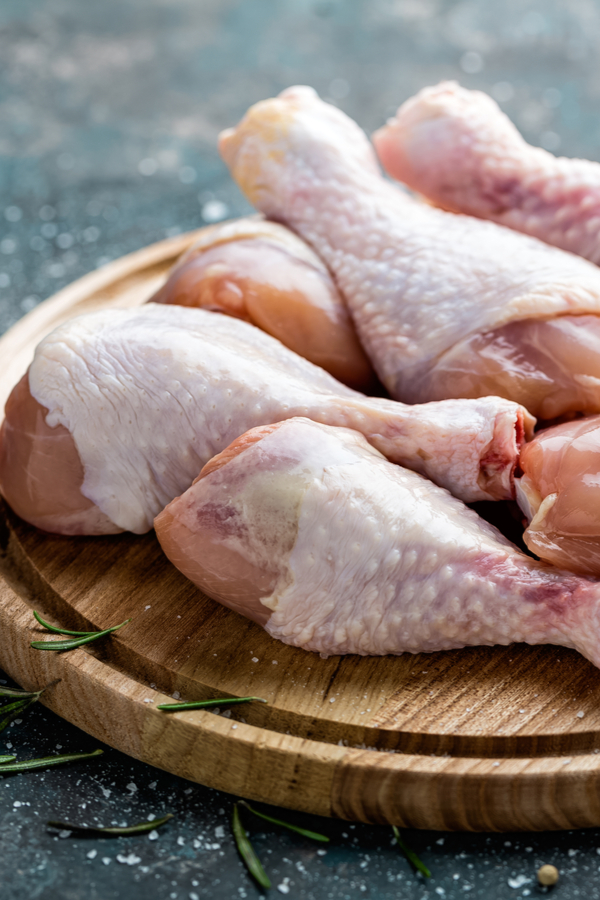 INSTRUCTIONS
Before you turn on your air fryer, there are a few things that need to be done to prepare the chicken legs. First, trim off any excessive skin that is hanging.
You don't want to remove the entire skin fold around the leg. Instead, there is sometimes a flap of skin that is dangling by the lower section of the bone.
Use kitchen shears or a sharp knife to remove this skin flap and discard. Set the chicken aside and prepare the dry rub.
Add all of the spices and dry ingredients to a large resealable bag and seal. Then squeeze the mixture and shake the bag until it is well blended.
Next, add the chicken to the bag and then pour the olive oil on top of the drumsticks. Seal the bag and shake until all the chicken is evenly coated.
Place the chicken in the refrigerator for at least one hour. However, the longer that you can let it marinate, the better.
In fact, I prefer to toss the chicken legs in the dry rub in the morning and let it refrigerate until dinner time. Although, if you are a great planner you can also let it marinate overnight.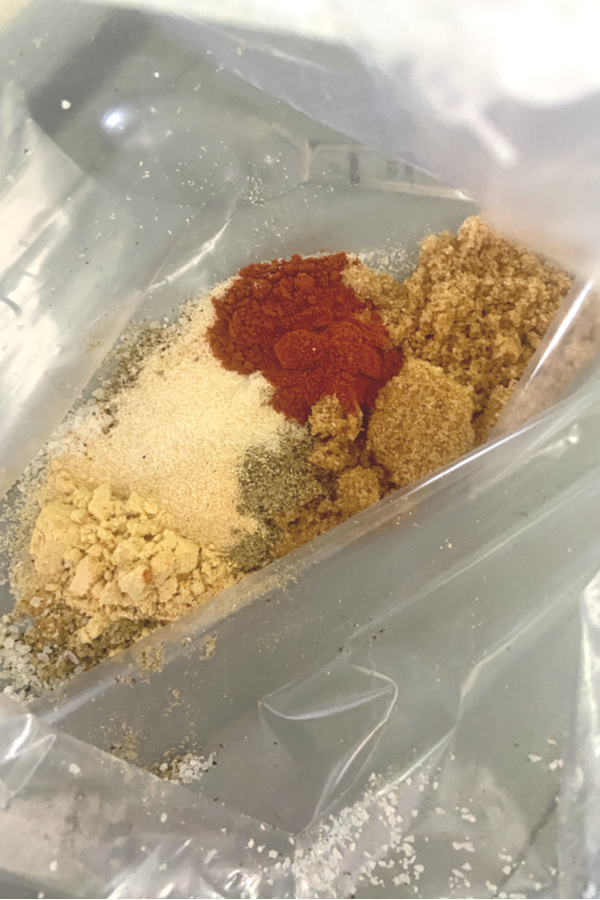 Cooking Instructions
When you are ready to cook your chicken legs, preheat your air fryer at 400°F. Do this even if your air fryer brand doesn't require preheating prior to cooking.
Although placing the chicken in a warm basket will help the chicken to not stick, I still recommend spraying or brushing the basket with a high heat oil such as olive or avocado oil.
Place the chicken in a single layer in the bottom of the basket and set the cook time for 25 minutes. Flip the chicken half way through the cooking process.
Because all air fryers cook at different rates, begin to check for doneness around the 18 minute mark. Historically, my 6.5 quart Ninja Foodi Pressure Cooker/Air Crisper cooks a few minutes faster than my Power Air Fryer 360 Oven.
The chicken is safe to eat when the thickest part of the meat reaches an internal temperature of 165°F. However, I prefer to let it cook to 180°F so that the meat is super tender and it falls off the bone.
Tips and Hints
1. Use A Digital Food Thermometer
I highly recommend using an instant read, digital food thermometer, not only for this recipe, but for when you cook any type of meat.
It makes a huge difference in knowing not only when it is at a safe temperature for consumption, but it also helps to prevent your meat from getting overdone and dried out.
This is especially true when cooking chicken. It is very easy to overcook chicken and then you end up with chewy, dried out meat.
I always use my digital thermometer to know when to take the chicken out of the oven, air fryer, and also when I use my smoker to make Smoked Chicken Wings.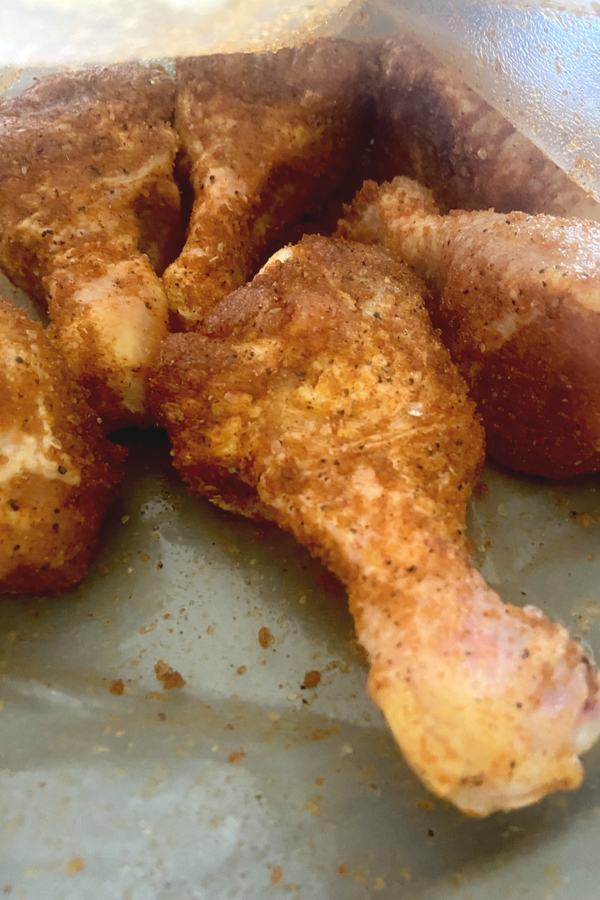 2. Cook The Chicken Legs Longer Than Required
As stated above, I always cook chicken that is on the bone to an internal temperature of 180°F. This temperature will allow the meat to separate from the bone easily.
That means there is no tugging to rip the meat off with your teeth. However, if you prefer the meat to be a little tighter on the bone, you can certainly remove the chicken legs from the air fryer once the internal temperature reaches 165°F.
3. Let The Chicken Marinate As Long As Possible Before Cooking
All of the flavor in this recipe is in the dry rub marinade. It is important, if not crucial, to let the dry rub penetrate into the chicken before putting them in the air fryer.
At the very minimum, they need at least one hour in the dry rub. I have tried to speed up the process, and although the chicken gets cooked, the flavor just isn't there.
However, it is even better if you can let them marinate several hours or even overnight.
And if you are like me and wait until the family pack of chicken legs go on sale, you can even freeze half of the batch in the marinade.
Therefore, when it is time to make the Air Fryer Chicken Legs, all you have to do is thaw them out before cooking them.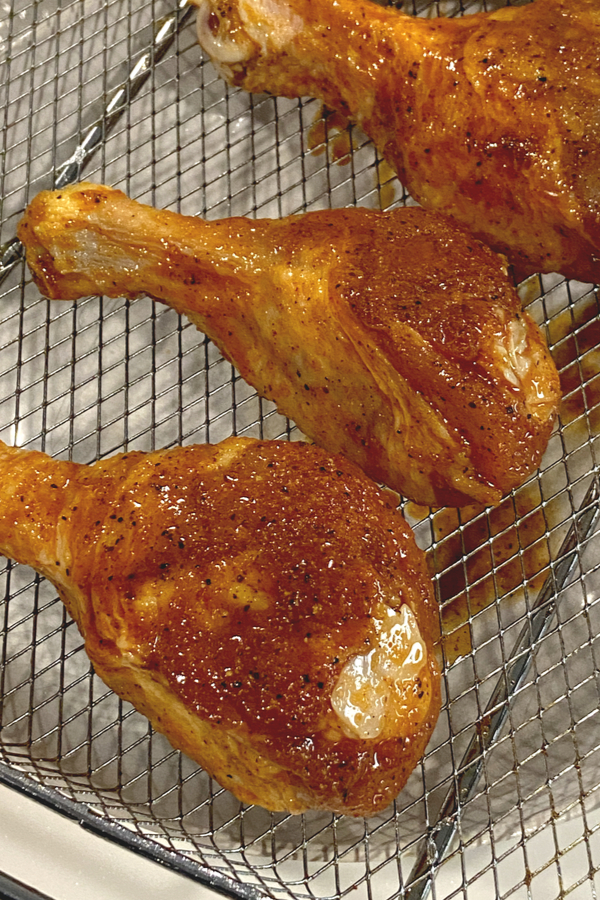 4. Cook In A Flat, Even Layer
When you put the chicken legs in the basket, be sure to lay them flat and allow a little space between each one so that they cook evenly.
Depending on the size of your air fryer basket, this may require you to cook in batches.
Although, as much as I would like to say that you could stack the chicken legs on their top end in the air fryer basket to cook more at the same time, this does not work.
I have tried this and it was a disaster. In fact, it resulted with the ends being overcooked and the center of the chicken still raw on the inside.
Therefore, if you are trying to make a large batch, it is going to have to be done in batches. Once the first batch is done cooking, place them in an oven-safe dish. Then cover and place in an oven set at 200°F until the others are ready to eat.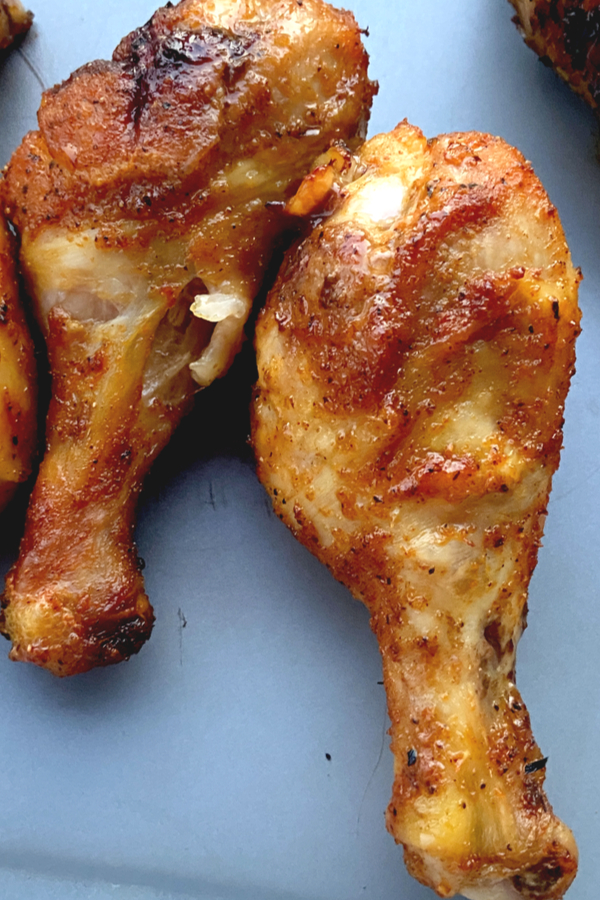 Enjoy! Mary

To receive our 3 Recipe Articles in your inbox each week, sign up for our free email list located in the middle of each recipe or email me at contact@makeyourmeals.com. You can also follow us on Facebook and Pinterest. This article may contain affiliate links where a small commission is paid if you purchase a product at no additional cost to you.
Yield: 8
Air Fryer Chicken Legs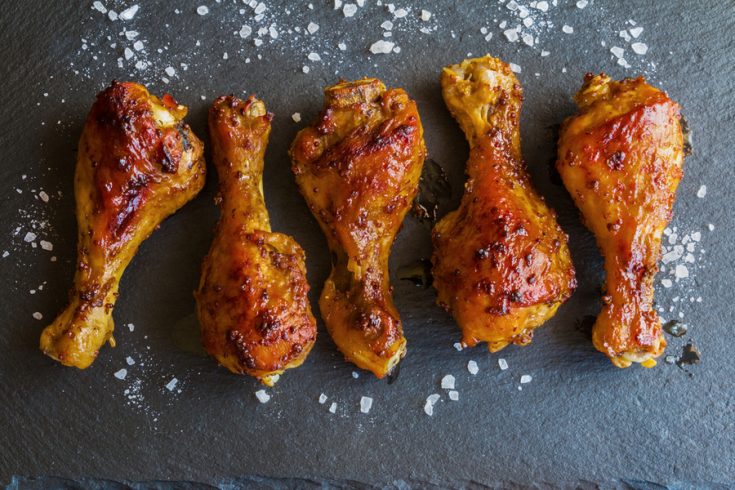 Crispy on the outside, tender and juicy on the inside, chicken legs made without breading and cooked in the air fryer.
Total Time
1 hour
30 minutes
Ingredients
8 chicken legs
¼ cup brown sugar
2 tsp kosher salt
1 tsp black pepper
1 tsp garlic powder
1 tsp onion powder
1 tsp ground mustard
1 tsp smoked paprika
½ tsp cayenne pepper
1 tbs olive oil
Instructions
Add all dry ingredients to a large zip top bag and squeeze and shake to mix well.
Add chicken to bag and pour in the olive oil and shake until all the chicken in coated. Refrigerate for at least one hour.
Preheat air fryer at 400°F (200°C) for 5 minutes. Spray the basket with olive oil spray then place chicken in the air fryer basket and set cook time for 25 minutes. Turn the chicken legs at the half way point.

**Although the chicken is safe to eat when it reaches an Internal temperature of 165°F (75°C), I prefer to let it cook to 180°F (82°C) so that the meat is super tender and it falls off the bone.
Notes
Because all air fryers cook at different rates, begin to check for doneness beginning at the 18 minute mark.
Recipe provided by Make Your Meals
Nutrition Information:
Yield:
8
Serving Size:
1
Amount Per Serving:
Calories:

517
Total Fat:

25g
Saturated Fat:

7g
Trans Fat:

0g
Unsaturated Fat:

16g
Cholesterol:

328mg
Sodium:

570mg
Carbohydrates:

7g
Fiber:

0g
Sugar:

6g
Protein:

62g
Nutritional Information is to be used as a general guideline only . Nutritional calculations will vary from the types and brands of the products used.