Air Fryer Baked Potatoes – restaurant quality baked potatoes that are light and fluffy on the inside and crispy on the outside.
I have to admit that I have not made baked potatoes in the oven for over 3 years. Instead I either use the quick method and make them in my microwave or I cook them in my pressure cooker.
In fact, ever since I started using my Instant Pot, I have barely used the oven at all. And that includes making Instant Pot baked potatoes.
I love the fact that the potatoes cook in a fraction of the time in the Instant Pot or microwave as compared to when they are cooked in the oven.
However, there is one problem. They turn out more like steamed potatoes. Although the potatoes are fork tender, the skins do not crisp up at all.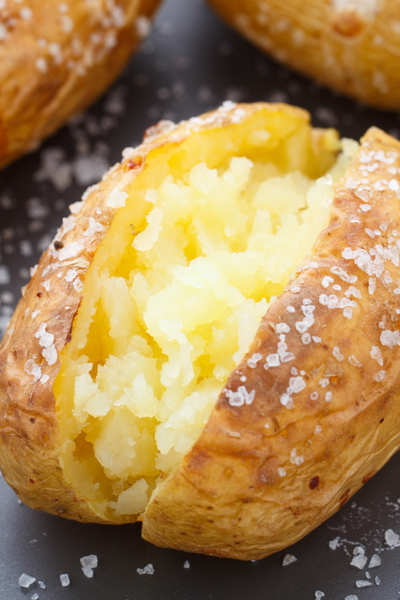 In fact, they are almost on the soggy side to be quite frank. Although this is fine when I am in a hurry when dinner needs to be on the table quickly, I often miss the crispy skin of a traditional baked potato.
However, in the middle of summer the last thing that I want to do is to increase the temperature of the house just to have perfectly baked potatoes that are crisp on the outside and soft and tender on the inside.
So that is when I decided to try cook them in my Air Fryer. And the results were amazing!
Air Fryer Baked Potatoes
1.
The Type of Potato To Use

:

Although I most often use Yukon gold potatoes in most of my recipes, this is not the time to pull them out of the pantry.

Instead, Russet potatoes make the best baked potatoes. They are firm and have a thicker skin than their yellow or red counterparts.

And they hold up well to the high cooking temperature that is required to achieve that iconic light and fluffy inside and a crispy outside potato.

However, if you only have Yukon gold potatoes on hand you can still cook them in an air fryer. Although just be aware that the texture will be different than if you used Russet potatoes.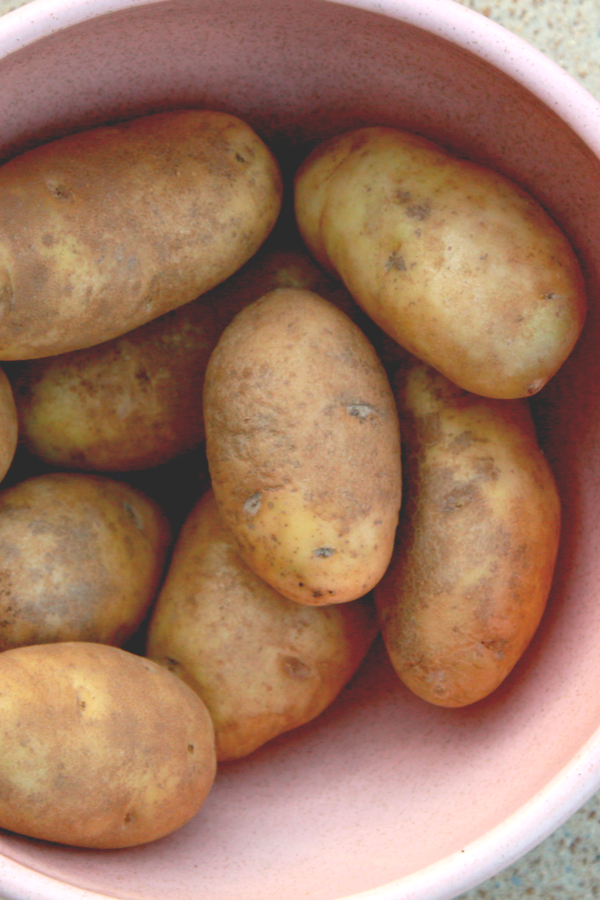 2.
The Size of the Potatoes

:

Size does matter. This recipe was written with the intention of cooking medium size potatoes.

So you now may be wondering what defines a medium size potato. Some people define a medium potato as one that weighs around 7-8 ounces.

However, for this recipe it is more important to refer to the center diameter rather than the overall weight in order to determine the appropriate cooking time.

Medium potatoes will have a diameter of 2.25 – 3.25 inches at its thickest location. Although you could get out a flexible tape measure to determine the size, the important thing to remember is that it is best to cook potatoes that are all about the same size in thickness.

And by all means, you can definitely make larger potatoes in the air fryer. You will just need to increase the cooking time accordingly.

Likewise, if you have smaller potatoes, the required cooking time will be less.

The best part about using an Air Fryer is that it is easy to check if they are done in the middle of the cooking process by simply opening the basket and checking doneness with a fork.

Which isn't so easy to do when you are making them in an Instant Pot.
3.
To Poke or Not To Poke

: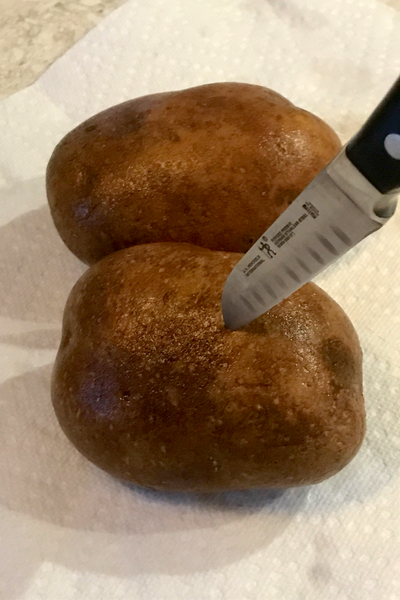 I have always, I repeat ALWAYS poked my potatoes with a fork or knife before baking them.
My mother warned me that if I didn't do this than the potatoes would explode while baking.
And I was especially careful to do so while making baked potatoes in the Instant Pot. The last thing I wanted was a pressure cooker to explode because I failed to vent my potatoes.
However, I am here to tell you, that when making Air Fryer Baked Potatoes, it is not necessary.
And yes, I found this out by accident.
I was in a hurry to make dinner and forgot to poke the potatoes. And I didn't realize it until the potatoes had been in the air fryer for over 30 minutes.
So I let them go, and guess what? The Air Fryer Baked Potatoes turned out perfect!
Although to this day, mostly out of habit I think, I still poke my uncooked potatoes. However it is a relief knowing that it isn't absolutely necessary.
4.
Oil the Potatoes

: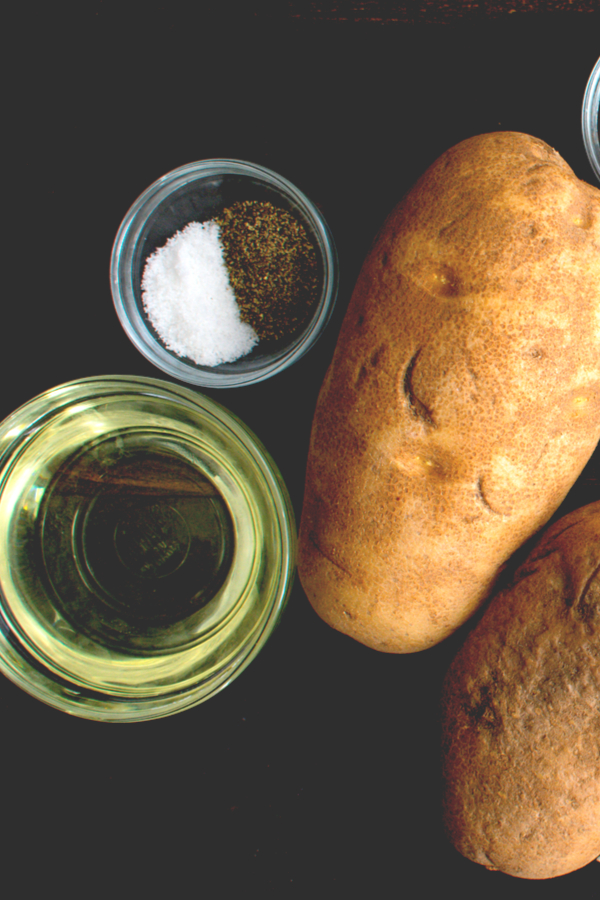 The secret to crispy skin on baked potatoes is to apply oil to the skin of your potato prior to baking them.
But, be sure to use a high heat oil. We prefer to use avocado oil but olive oil or grapeseed oil will also work just as well.
Although refrain from using extra virgin olive oil. It has a lower smoke point and may cause a lot of smoke to pour out of your air fryer during the cooking process.
5.
Season The Potatoes
When it comes to seasoning, keep it simple. After the potatoes have been rubbed with oil add coarse sea salt to the exterior of your potatoes.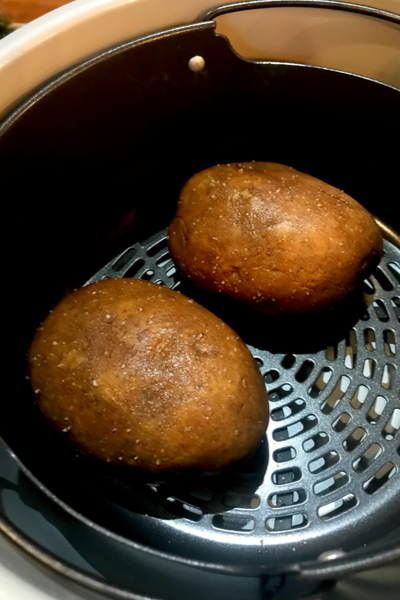 Then when they are finished cooking, add butter, salt, pepper and any other seasonings that you desire.
My husband likes to add a little garlic salt to his potato, but I prefer to stick to the basics of salt and pepper.
And if you want loaded Air Fryer Baked Potatoes, add some sour cream, cheese, bacon and chives! The choices are endless.
I sometimes will even make a full meal out of one potato by filling it with a variety of ingredients. Here are some of my favorite combinations:
Shredded Sharp Cheddar Cheese, Shredded Chicken, Cooked Broccoli
Taco Meat, Shredded Cheese, Salsa, Sour Cream, Cilantro
Sloppy Joe Meat, Shredded Cheese, Diced Onions
BBQ Pulled Pork, Cabbage Slaw
Barbecue Sauce, Shredded Cheddar Cheese, Bacon Bits, Green Onion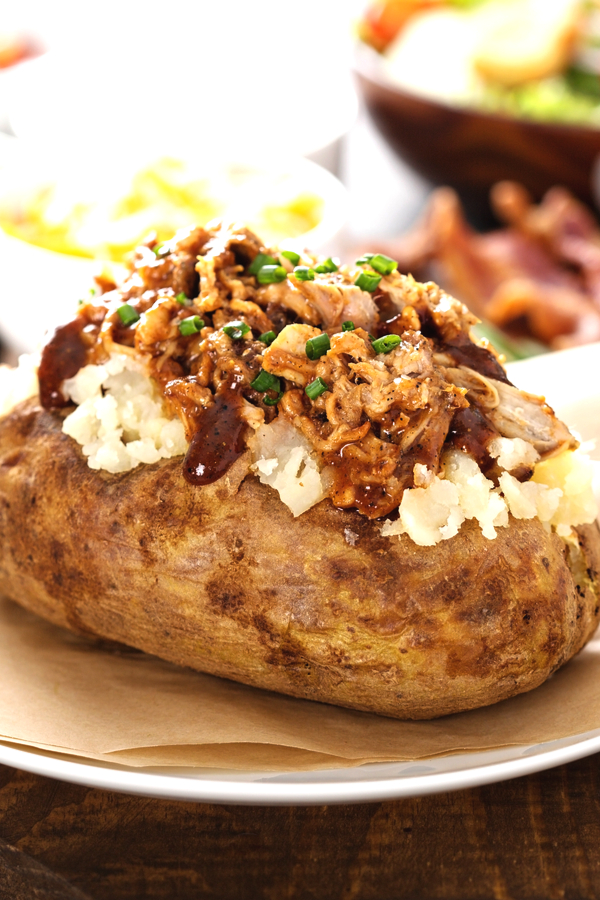 And don't forget to make an extra baked potato for breakfast tomorrow morning. They make the best home fries. Simply peel off most of the skin, dice the potatoes and cook them in a skillet with a little extra virgin olive oil.
Finally, if you don't mind using your oven, be sure to try this Twice Baked Potatoes recipe. It is one of our favorite side dishes in the cooler months!
For other delicious air fryer recipes, be sure to scroll through our Air Fryer Recipe Page for inspiration.
Enjoy! Mary

To receive our 3 Recipe Articles in your inbox each week, sign up for our free email list located in the middle of each recipe or email me at contact@makeyourmeals.com. You can also follow us on Facebook and Pinterest. This article may contain affiliate links where a small commission is paid if you purchase a product at no additional cost to you.
Yield: 4
Air Fryer Baked Potatoes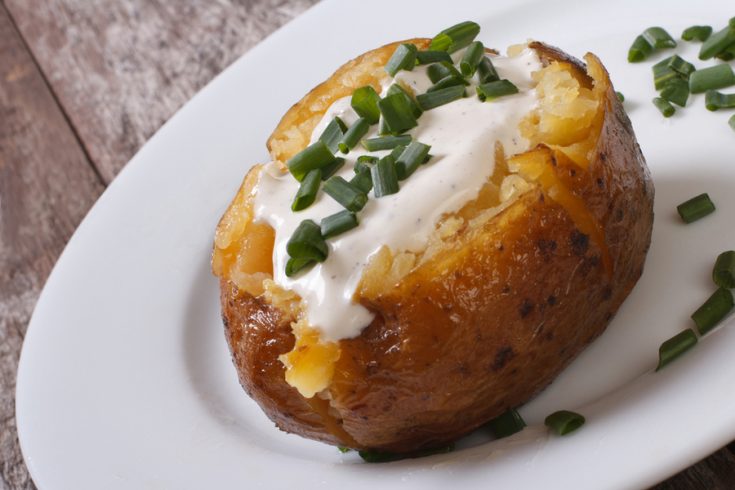 Make restaurant quality baked potatoes in an air fryer. Light and fluffy on the inside and crispy on the outside.
Ingredients
4 medium Russet potatoes, washed
1 teaspoon avocado, olive or grapeseed Oil
1/2 teaspoon coarse sea salt
Instructions
Rub the washed potatoes with the oil and place them in the Air Fryer basket.
Sprinkle sea salt on all sides.
Cook in the Air Fryer on 400°F (205°C) for approximately 40 to 50 minutes, flipping half-way through. Cook time will vary depending on the diamter of the potatoes. Check to see if they are fork tender by piercing them with a fork in the thickest part of the potato.
Remove from the air fryer and slice it down the center, lengthwise to within 1/2 inch of each end. Squeeze open the potato and sprinkle with salt and pepper to taste. Top with butter and add other toppings as desired.
Notes
Medium size potatoes are approximately 2.25-3.25 inches in diameter.
Increase cook time for larger potatoes. Check for doneness with a fork.
Suggested Toppings: chives, sour cream, bacon, cheese, green onions.
Recipe provided by Make Your Meals
Nutrition Information:
Yield:
4
Serving Size:
1 grams
Amount Per Serving:
Calories:

200
Total Fat:

4g
Saturated Fat:

0g
Trans Fat:

0g
Unsaturated Fat:

3g
Cholesterol:

0mg
Sodium:

296mg
Carbohydrates:

37g
Fiber:

4g
Sugar:

2g
Protein:

5g
Nutritional Information is to be used as a general guideline only . Nutritional calculations will vary from the types and brands of the products used.