Air Fryer Baked Potatoes – restaurant quality baked potatoes that are light and fluffy on the inside and crispy on the outside.
I have to admit that I have not made baked potatoes in the oven for over 3 years.
In fact, ever since I started using my Instant Pot, I have barely used the oven at all.
And that includes making Instant Pot baked potatoes. I love the fact that traditional baked potatoes cook in a fraction of the time in the Instant Pot.
However, there is one problem. Because they are cooked using the pressure cooker function, the skins do not crisp up at all.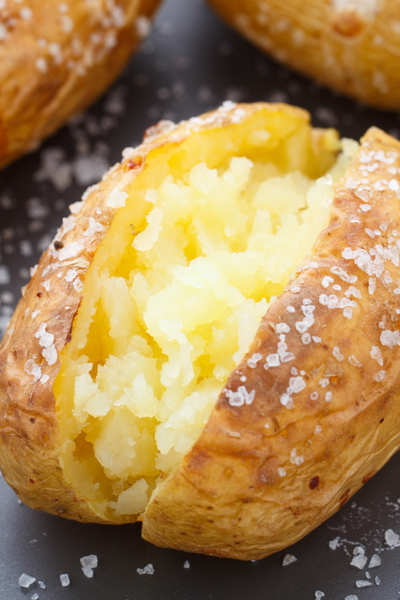 In fact, they are fairly soggy to be quite frank.
Although the potatoes cook up nicely when time is limited and dinner needs to get on the table, I sometimes miss the crispy skin of a traditionally baked potato.
Air Fryer Baked Potatoes
However, I didn't want to bake them in the oven. In the middle of summer the last thing that I wanted to do was to increase the temperature just to have perfectly baked potatoes.
So that is when I decided to try them in my Air Fryer.
Type of Potato
Russet potatoes make the best baked potatoes. They are firm and have a thicker skin than their red or yellow counterparts.
They hold up well to the high temperature that is required to achieve a light and fluffy inside and a crispy outside.
Although you can use whatever variety of potato that you have available, just be aware that the cooking time may be different.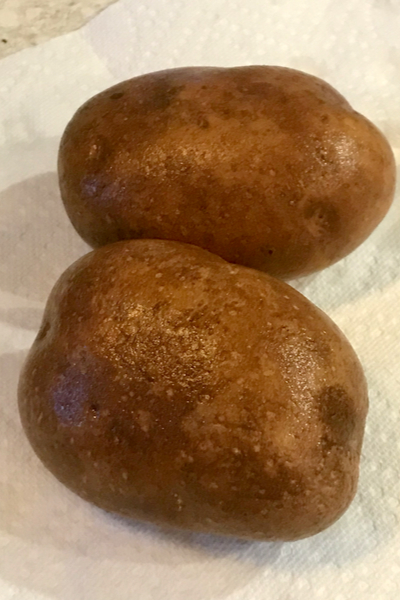 The Size of the Potatoes
Size does matter. This recipe was written for medium size potatoes.
If you have extra large potatoes, you are going to need to increase the cooking time.
Likewise, if you have smaller potatoes, the required cooking time will be less.
The best part about using an Air Fryer is that it is easy to check if they are done in the middle of the cooking process.
Which isn't so easy to do with an Instant Pot.
To Poke or Not To Poke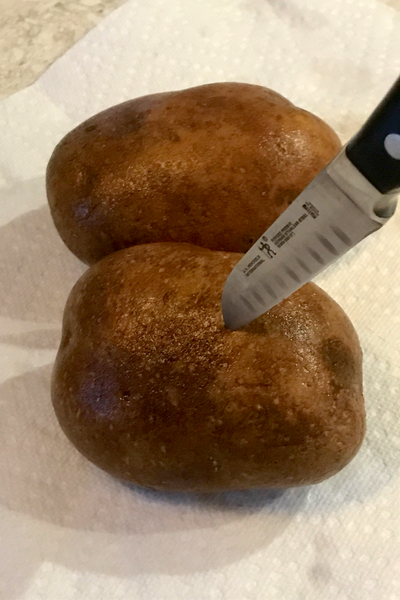 I have always, I repeat ALWAYS poked my potatoes with a fork or knife before baking them.
My mother warned me that if I didn't do this than the potatoes would explode while baking.
And I was especially careful to do so while making baked potatoes in the Instant Pot. The last thing I wanted was a pressure cooker to explode because I failed to vent my potatoes.
However, I am here to tell you, that when making Air Fryer Baked Potatoes, it is not necessary.
And yes, I found this out by accident.
I was in a hurry to make dinner and forgot to poke the potatoes. And I didn't realize it until the potatoes had been in the air fryer for over 30 minutes.
So I let them go, and guess what? The Air Fryer Baked Potatoes turned out perfect!
Although to this day, mostly out of habit I think, I still poke my uncooked potatoes. However it is a relief knowing that it isn't absolutely necessary.
Oil the Potatoes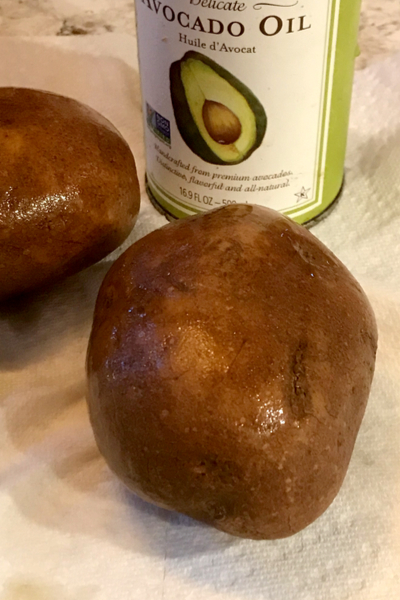 The secret to crispy skin on baked potatoes is to apply oil to the skin of your potato prior to baking them.
But, be sure to use a high heat oil. We prefer to use Avocado oil but olive oil will also work.
Just don't use extra virgin olive oil. It has a lower smoke point and will cause a lot of smoke to pour out of your air fryer during the cooking process.
Seasoning
When it comes to seasoning, keep it simple. Add coarse sea salt to the exterior of your potatoes before baking them.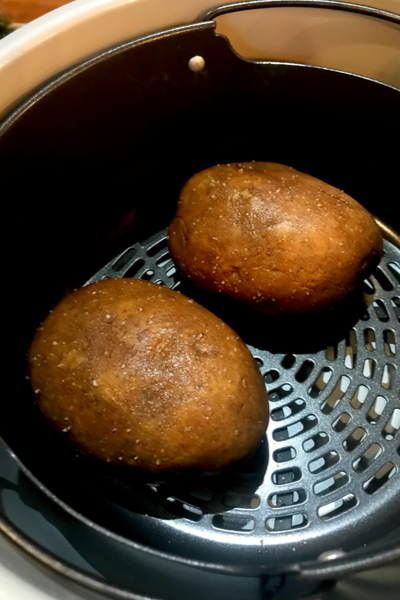 And then after they are finished cooking, add butter, salt, pepper and any other seasonings that you desire.
My husband likes to add a little garlic salt to his potato, but I prefer to stick to the basics of salt and pepper.
And if you want loaded Air Fryer Baked Potatoes, add some sour cream, cheese, bacon and chives!
But if you still like to use the oven, try this Twice Baked Potatoes recipe. They are absolutely delicious!
To receive our 3 Recipe Articles in your inbox each week, sign up for our free email list located on the side and bottom of each recipe. You can also follow us on Facebook and Pinterest. This article may contain affiliate links where a small commission is paid if you purchase a product at no additional cost to you.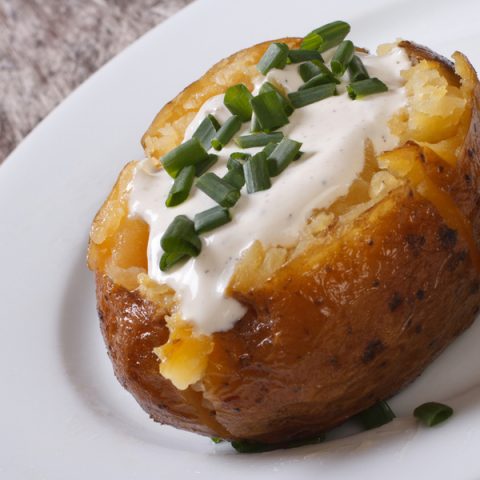 Air Fryer Baked Potatoes
Make restaurant quality baked potatoes in an air fryer. Light and fluffy on the inside and crispy on the outside.
Ingredients
4 medium Russet potatoes, washed
1 teaspoon Avocado oil
1/2 teaspoon sea salt
Instructions
Rub the washed potatoes with avocado oil and place them in the Air Fryer basket.
Sprinkle sea salt on all sides.
Cook in the Air Fryer on 400°F for about 40 to 50 minutes, flipping half-way through. Check to see if they are fork tender by piercing them with a fork down the lengthwise down the center of potato.
Squeeze open the potato and sprinkle with salt and pepper to taste. Top with butter and add other toppings as desired.
Notes
Suggested Toppings: chives, sour cream, bacon, cheese, green onions. Recipe provided by Make Your Meals
Nutrition Information:
Yield:

4
Serving Size:

1 grams
Amount Per Serving:
Unsaturated Fat:

0g