Once you cook bacon in the air fryer you will never want to cook bacon any other way! Crispy strips of bacon that are perfectly straight and ready to eat in only 10 minutes!
Best of all this is an easy recipe that even the novice air fryer cook can master. In fact, it is a recipe that I have included on my Air Fryer Beginner Recipe list.
However, this recipe isn't just for the new air fryer user. Many people who have this small appliance haven't tried to make bacon in it, YET!
However with a few quick tips and tricks, this recipe might just become your new favorite!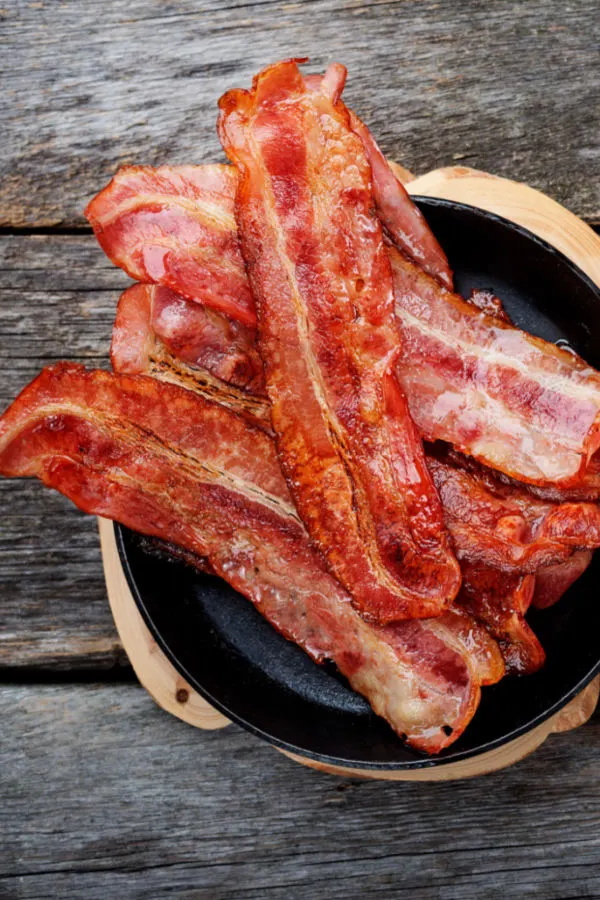 WHY YOU WILL LOVE COOKING BACON IN AN AIR FRYER
1. The Bacon Doesn't Curl
When cooked at the correct temperature bacon will crisp up and not curl on the ends or in the middle. Therefore there is no need for a bacon press.
Although flat bacon is mostly for aesthetics, there is also a difference in taste and texture. When the bacon cooks it is actually the fat that curls. This happens when the fat pulls away from the heat source.
Unfortunately this causes the fat to not cook down and render. Therefore you are left with a strip of bacon with large bits of fat.
However, when you cook it in the air fryer, the fat is able to melt and the bacon is perfectly flavored. Not to mention that the texture is more appealing to many.
2. Bacon is Crispy and Not Greasy
Another benefit of the fat cooking down is that the bacon turns out nice and crisp There are no chewy fat pieces on the ends.
As the bacon cooks in the air fryer the grease drips down below the air fryer basket. Therefore, the slices don't sit in the grease as it cooks.
The result, crispy bacon that is flat and delicious!
3. No Grease Splatter
Although cooking bacon in a skillet or flat top griddle takes under 10 minutes, there is always the risk of the bacon grease splattering out of the pan.
I can't even begin to count the amount of times that my forearm got hit with grease popping out of the pan when I flipped the bacon. However that is not the case with this cooking method.
The grease melts down and sits at the bottom of the air fryer. Therefore, there is no risk of the grease splattering when you flip the bacon.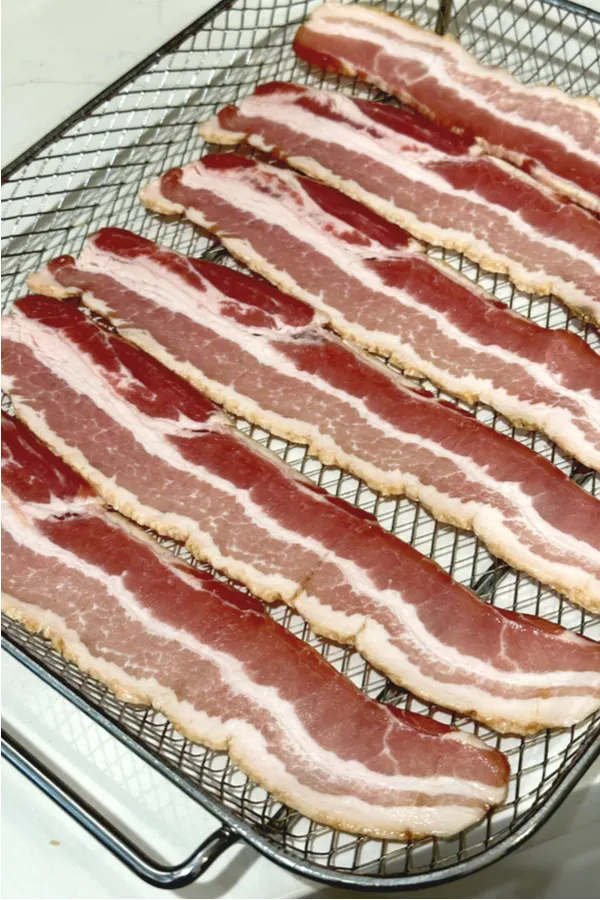 4. Less Time Than Oven Baked Bacon
Instead of dealing with splattering grease when making bacon in a skillet, your preferred method of cooking bacon may be in the oven.
Whether you put the bacon down inside a baking sheet or on a baking rack that is inside a baking sheet, you don't have to deal with the grease splatter. However, there are a couple of disadvantages for cooking bacon in the oven.
First, you have to remove the baking sheet that is full of grease out of the oven to transfer the bacon to a paper towel lined plate. In addition, it takes twice as long then if you make it in the air fryer.
WHAT YOU NEED TO MAKE BACON IN AN AIR FRYER
Air Fryer Basket (or two)
Depending on the style of air fryer that you have you may be able to cook a few strips or bacon, or the entire package at once. If you have a small basket style air fryer you can increase the amount of bacon you can cook at once if you have a small Air Fryer Baking Rack.
And if you have a larger, oven style air fryer like a Nuwave Brio or Power Air Fryer 360 you can cook on multiple racks of bacon at once. In fact, you may be able to cook the entire package!
Long Kitchen Tongs
Because you will be working with a hot appliance, it is best to have a long pair of tongs to prevent you from burning your hand or forearm.
In fact, I will take extra precaution and put an oven mitt on my hand and then use the long tongs when I flip the bacon.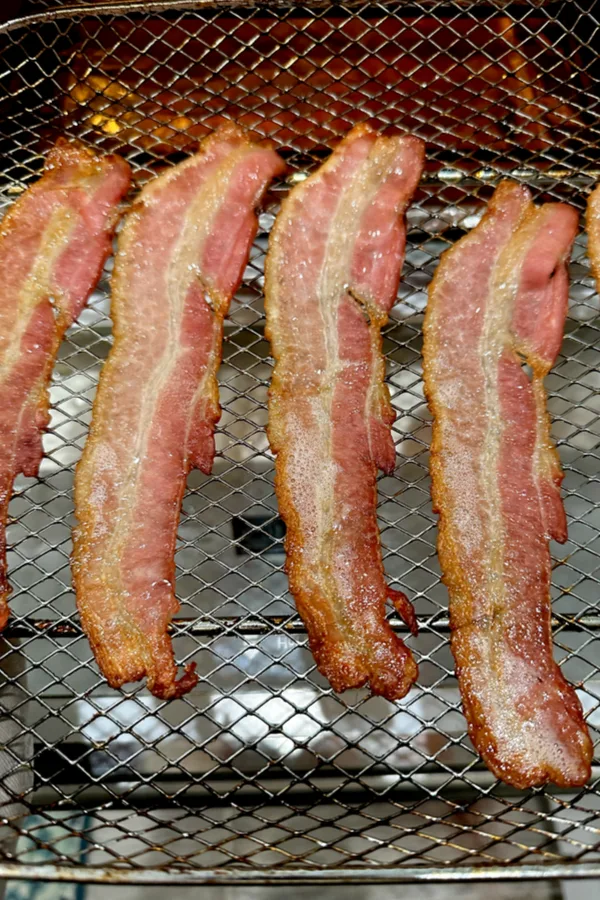 Plate
Once the bacon comes out of the oven you will want to place it on a plate. Although most of your strips will be done at the same time, you may have a thinner piece or two that gets finished cooking before the others.
Therefore, be sure to have your plate ready and near the air fryer right after the bacon goes into the air fryer.
Paper Towels
Although there will not be as much bacon grease when compared to other cooking methods, it is best to place the bacon on a paper towel lined plate. This will help absorb any residual grease on the surface of the bacon.
I also recommend dabbing the top of the bacon pieces with a paper towel as well.
HOW MUCH TIME DOES IT TAKE TO COOK AIR FRYER BACON
Regular Cut Bacon: For crispy bacon, cook for 8-9 minutes. However, if you like bacon that is a little more pliable decrease the cook time to 7 minutes.
Thick Bacon: For crispy bacon cook thick bacon for 10-12 minutes. For more pliable bacon slices decrease the cook time to 9 minutes.
Although you could put the bacon in the basket and forget it, the crispiest bacon requires you to flip the pieces half way through the cook time. However, the choice is up to you!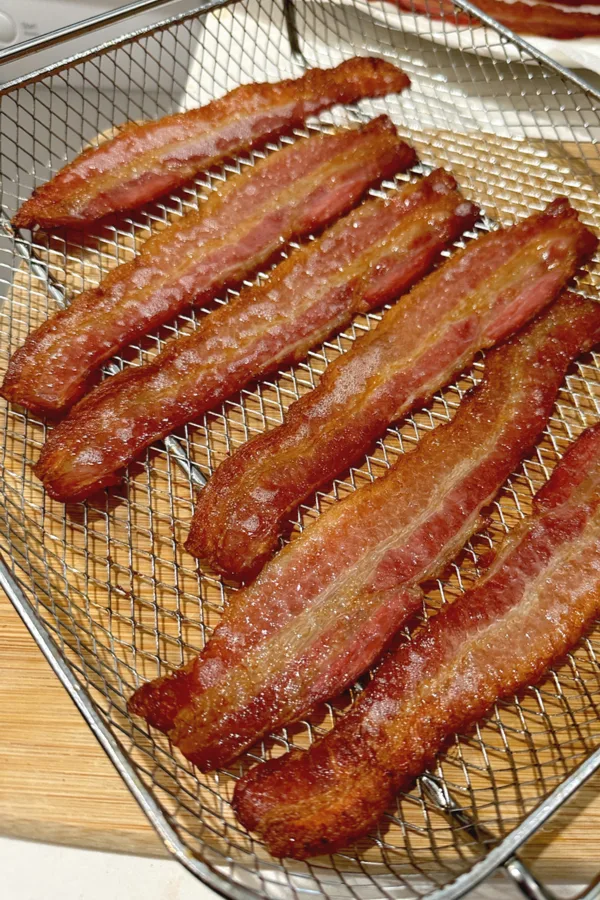 HOW TO PREVENT THE BACON GREASE FROM SMOKING
The biggest concern when cooking bacon in an air fryer is that the grease that has collected in the bottom begins to smoke. However, this is easily preventable when using the correct cook temperature and a few quick cooking tips.
First, make sure the cook temperature is set at 350°F. This will allow the bacon to crisp up without causing it to smoke.
Second, if you have to cook bacon in more than one batch, be sure to drain the grease from the bottom in between each batch. Otherwise the residual grease will begin to smoke while the second batch cooks.
However, there are two other methods to help prevent the grease from smoking.
1. Place 1-2 pieces of bread underneath your air fryer basket. The bread will absorb the grease and prevent it from sitting on the hot bottom surface.
2. Put a small amount of water in the bottom of the air fryer or drip tray. I find it best to do this when I flip the bacon pieces rather than at the beginning of the cooking process.
However, be careful not to use too much water as the bacon can absorb the liquid, making it soggy.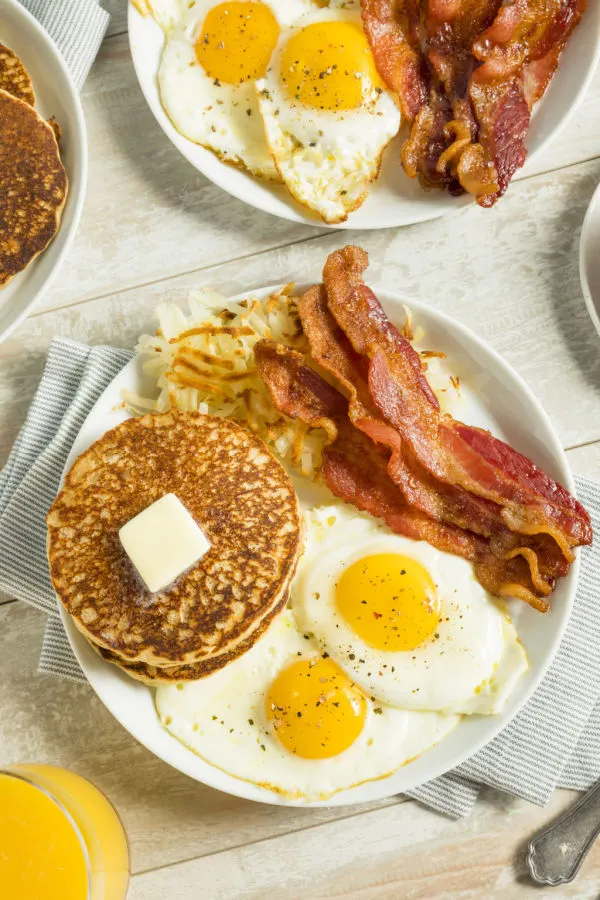 Air Fryer Bacon
*Specific measurements and complete recipe instructions are located in a printable recipe card at the bottom of this article. However, be sure to continue to read the tips and tricks to making this recipe below.
INGREDIENTS
12-16 ounce package bacon, uncooked
INSTRUCTIONS
Preheat air fryer to 350°F (177°C). Even if your brand of air fryer doesn't require you to preheat the air fryer, it is best to do so to get crisp bacon.
Line the bacon slices in the basket of the air fryer in a single layer. Cook for 8-10 minutes for thin to medium thickness bacon and 10-12 minutes for thick bacon.
To get the crispest bacon it is best to flip the bacon strips over at the halfway point. Then continue to cook for additional time to get desired crispness.
Enjoy! Mary

To receive our 3 Recipe Articles in your inbox each week, sign up for our free email list located in the middle of each recipe or email me at contact@makeyourmeals.com. You can also follow us on Facebook and Pinterest. This article may contain affiliate links where a small commission is paid if you purchase a product at no additional cost to you.
Air Fryer Bacon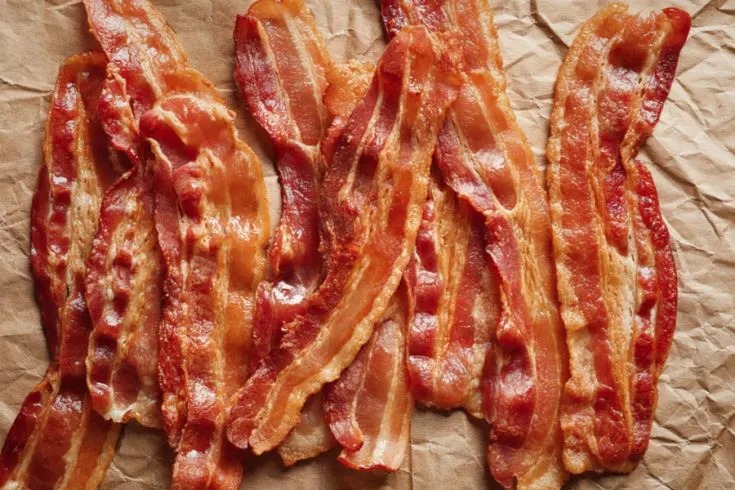 Perfectly crisp bacon that is cooked in the air fryer. Flat strips of bacon that don't curl up when cooked.
Ingredients
12 ounces bacon, uncooked
Instructions
Preheat air fryer to 350°F. Even if your brand of air fryer doesn't require you to preheat the air fryer, it is best to do so to get crisp bacon.
Line bacon in the basket of the air fryer in a single layer. Cook in batches if needed.
Cook for 8-10 minutes, flipping the bacon over at the halfway point.
Cook for additional time to get desired crispness.
Remove the bacon from the air fryer to drain any grease.
Notes
*All Air Fryers cook differently. Adjust cook time based on your air fryer model.
The thickness of bacon will determine length of cook time. For thick bacon plan on 10-12 minutes of cook time.
To prevent the bacon grease from smoking, drain it after each batch. Or place a couple pieces of bread or a tablespoon of water in the drip pan/tray.
Recipe provided by Make Your Meals
Nutrition Information:
Yield:
6
Amount Per Serving:
Calories:

236
Total Fat:

23g
Saturated Fat:

8g
Trans Fat:

0g
Unsaturated Fat:

14g
Cholesterol:

37mg
Sodium:

375mg
Carbohydrates:

1g
Fiber:

0g
Sugar:

1g
Protein:

7g
Nutritional Information is to be used as a general guideline only . Nutritional calculations will vary from the types and brands of the products used.