These delicious Air Fryer Apple Hand Pies are a great way to get a taste of classic apple pie without using any utensils!
So what exactly is a hand pie?
Think of the Hostess brand fruit pies that are sold at nearly every grocery and convenience store? You know the ones that sit at the end of the junk food aisle along with the donuts.
You have your choice of apple, cherry, and even lemon pies. They come in individual servings and all you have to do is peel back the wrapper and take a bite.
I haven't looked for them in a while, so I am not sure if they are even still available.
But I started thinking about them one evening after dinner when we were thinking about making a dessert. We had no pre-made desserts in the house so I opened the fridge and pantry to see what we make.
I opened the cupboard and saw we had chocolate chips, brownie mix, peanut butter and apple pie filling.
Sometimes a spoonful of peanut butter or Instant Pot Caramel will satisfy the sweet tooth, but not on this particular day. The craving for sweets was much more prominent after we had a classic comfort meal for dinner.
But because it was already well into the evening, we knew it had to be something quick. Brownies, cookies, and a traditional apple pie would simply take too long to make.
So I popped open the refrigerator door to see if anything jumped out at me. On the top shelf sat a box of pre-made pie crust.
That is when the hand pies idea came about. I had just purchased my BCP 5.5 quart air fryer and was frequently using it to cook several things.
So I thought to myself, why not use the pie crust and apple pie filling to make Air Fryer Apple Hand Pies?
How To Make Air Fryer Apple Hand Pies
I pulled the crust out the fridge and the apple pie filling from the pantry and got to work.
Because the pie crusts were already circular, I decided to make the hand pies into half-moon shapes. There was no time to go searching for my biscuit cutter so I grabbed a small bowl and started cutting out circles in the dough.
I added the apple pie filling into the center of the dough and folded them in half. A little spritz of grapeseed oil and a sprinkle of cinnamon sugar mixture and in the air fryer they went!
Then in a little over 10 minutes, the Air Fryer Apple Hand Pies were ready!
A quick and easy dessert was literally in our hands in less than 20 minutes from start to finish! That made a good evening even better!
And for another quick and easy dessert try our Instant Pot Apple Crisp recipe.
However, if you are in the mood and have the time to make a homemade pie try our Muffin Tin Apple Pies or our Cherry pie recipe.
Check out the printable recipe below and all of our recipes and let me know what you think!
To receive our 3 Recipe Articles in your inbox each week, sign up for our free email list. You can also follow us
on Facebook, Twitter, Pinterest, and Instagram. This article may contain affiliate links.
Yield: 8
Air Fryer Apple Hand Pies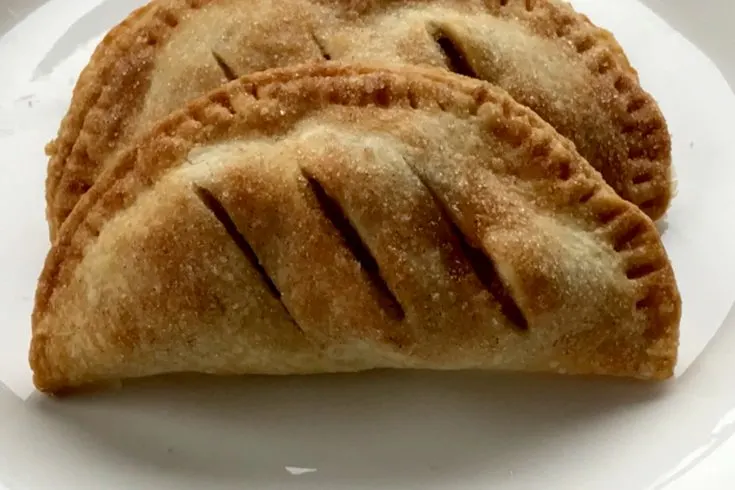 Individual apple pies that are easy to eat, using no utensil and are perfectly cooked in the air fryer.
Ingredients
1 package package of 2 refrigerator pie crusts, 9 inches each
1 can apple pie filling
1/8 cup granulated white sugar
1 1/2 teaspoon cinnamon
Instructions
Unroll each room temperature pie crust and using a 4.5 inch biscuit/cookie cutter cut out 4 holes in each pie crust.
Moisten the outside edge of each circle with water.
Place 1 ½ tablespoons of pie filling in the center of each circle.
Fold the circles in half and press the two seams together using your fingers.
Use a fork to seal the edges.
Use a sharp knife to score the top of the crust three times.
In a small bowl, mix together the cinnamon and sugar. Set aside.
Lightly spray each hand pie with grapeseed oil. Sprinkle each pie with the cinnamon/sugar mixture.
Pre-heat air fryer at 350°F.
Lightly spray your air fryer basket with grapeseed oil. Place the hand pies in a single layer in the air fryer and cook for 11 minutes or until the pie crust is nice and golden.
Repeat with remaining hand pies.
Notes
Recipe provided by Make Your Meals.
Nutrition Information:
Yield:
8
Serving Size:
1 grams
Amount Per Serving:
Unsaturated Fat:

0g