Whether you are looking to eat a little healthier or our looking for a quick and easy meal that requires little preparation, this Air Fryer Tilapia recipe will become one of your favorites!
Tilapia is a type of white-fish that has a very mild flavor. It is easy to find in your local grocery stores and is reasonably priced.
In fact, it is the 4th most common fish consumed in the United States.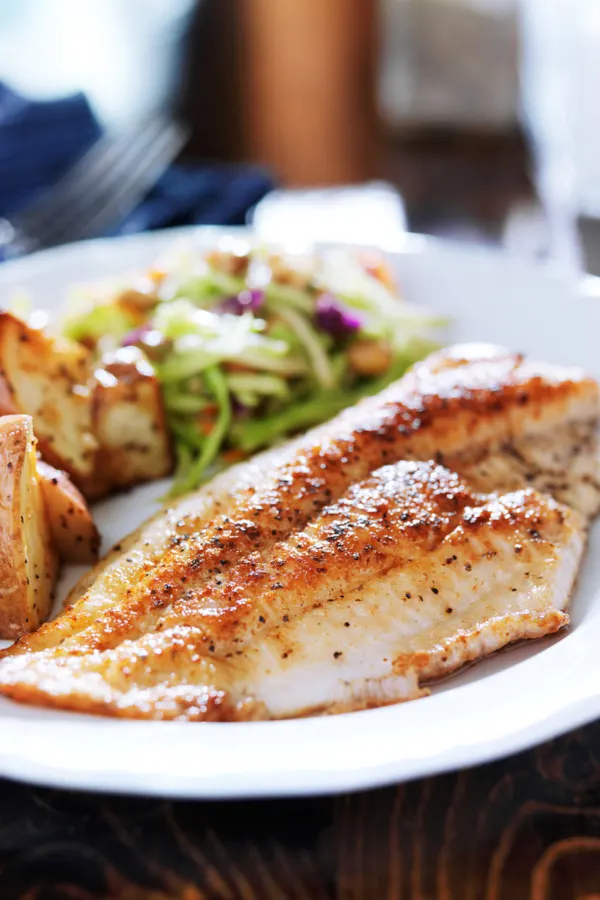 However, you must be very careful where the fish you purchase originates from.
This is because Tilapia is primarily farm-raised. And depending on where your fish was raised, it might not be considered healthy at all.
Although there are a few US based fish farms, most of the Tilapia farms are located over-seas. And many of the tanks are overcrowded and the fish are fed both antibiotics and pesticides.
Therefore, before you purchase your Tilapia for the Air Fryer, be sure that it comes from a sustainable farm.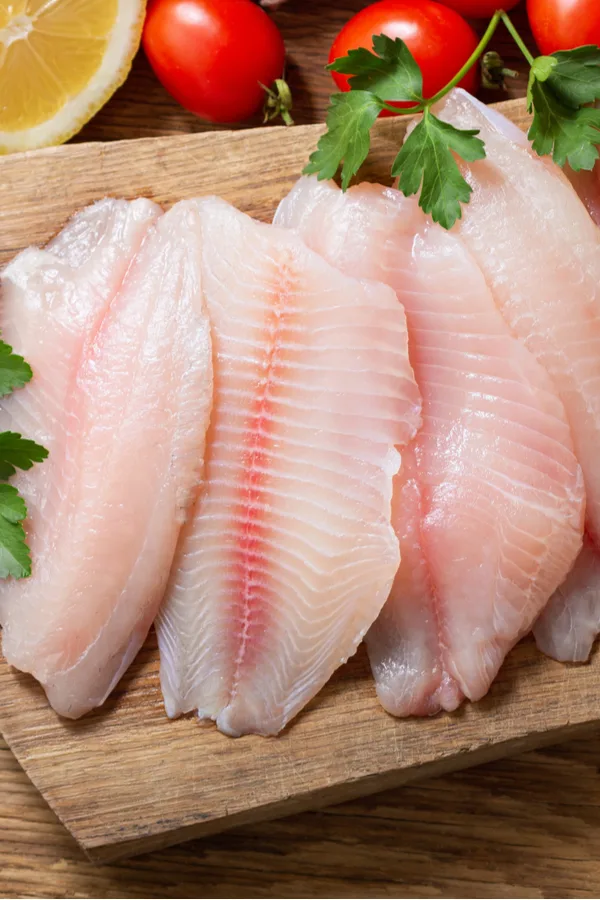 The sustainable farms make every effort to raise healthy fish and take care not to cause damage to local, natural ecosystems. Therefore they avoid using harmful things like additives, chemicals, hormones, or antibiotics.
So when you go to purchase this commonly found fish, be sure to look for tilapia that's been eco-certified by the Aquaculture Stewardship Council (ASC), Best Aquaculture Practices (BAP) and Naturland.
It is best to purchase tilapia that has been raised in Peru in raceways and in Ecuador in ponds. As a general guideline, you want to stay away from purchasing any farm raised fish from China.
So now that you know what type of Tilapia to buy, let's get cooking!
How To Make Tilapia In The Air Fryer
As stated above, Tilapia is a very mild fish. So you are going to need to add some seasoning to give it some flavor.
First, pat your tilapia filets dry with a paper towel. Then brush or spray both sides with olive oil spray.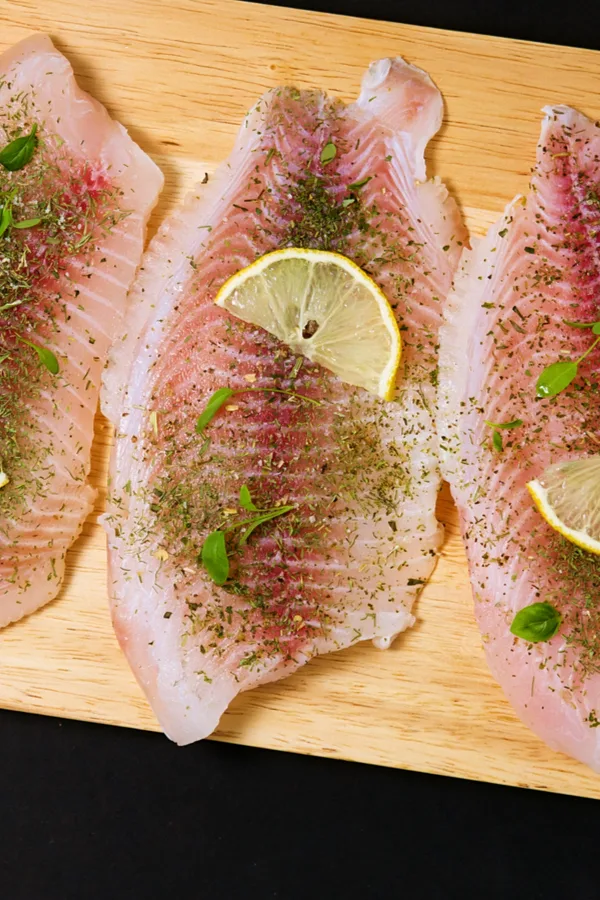 Next sprinkle on your favorite seasonings. We like to season our Tilapia using the same spices that we use on our Air Fryer Salmon recipe.
But sometimes we like to spice things up a bit and add a Cajun seasoning. But we also enjoy the low-sodium options as well, including Mrs. Dash Garlic Herb spice.
The choice is up to you. I suggest experimenting with various seasoning blends to see what you like the best.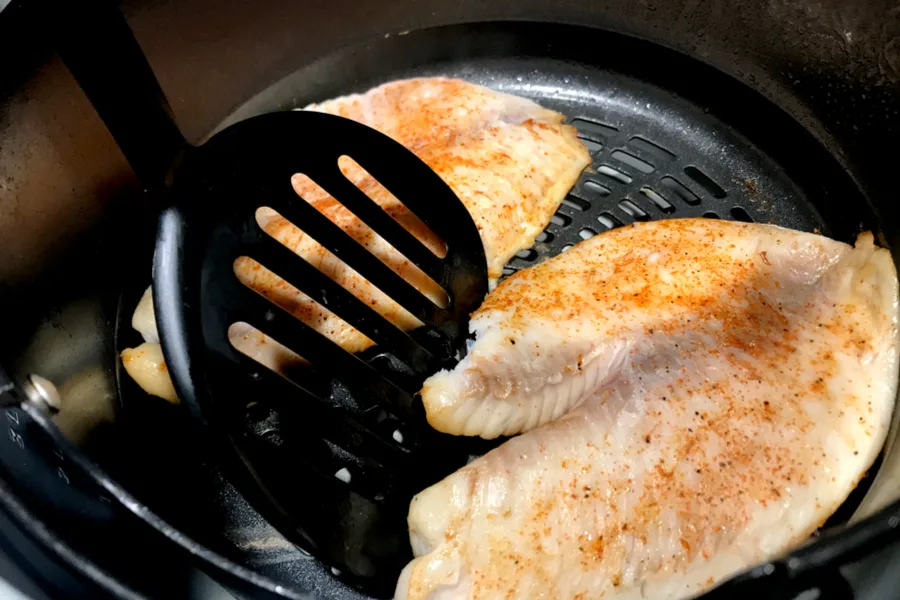 Preheat the Air Fryer
Next, preheat your Air Fryer. I know not all air fryer brands require this step.
However, you want your fish to be put in on a preheated basket or rack. This will help the fish from sticking to the bottom of the basket during the cooking process.
Because we are cooking our Tilapia at high heat, be sure to spray the basket with olive oil spray (not extra virgin olive oil). Or you could also use another high heat oil such as Grapeseed, Avocado or Canola oil.
Place the Tilapia in the Air Fryer basket and cook for 8-12 minutes, depending on the thickness of your filets.
At the 4 minute mark, carefully flip the fish over using a silicone spatula.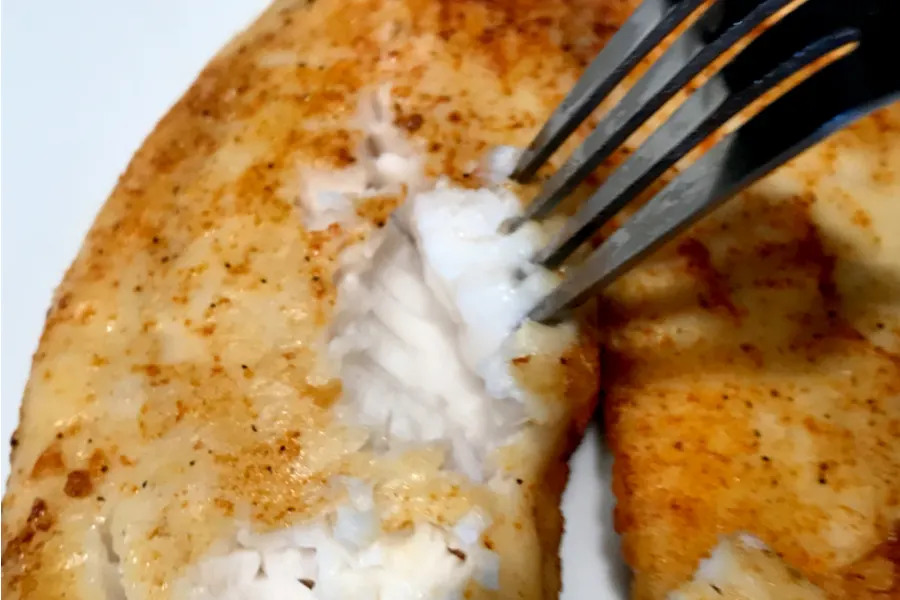 Then continue to cook until the fish is flaky. Because all Air Fryers cook differently, it is best to check your Tilapia around the 6-7 minute mark for doneness. This is especially true when you are cooking thin filets.
Then remove the Tilapia, squeeze a little fresh lemon juice on top and enjoy!
Enjoy! Mary
What To Serve With Tilapia

To receive our 3 Recipe Articles in your inbox each week, sign up for our free email list located in the middle of each recipe or email me at contact@makeyourmeals.com. You can also follow us on Facebook and Pinterest. This article may contain affiliate links where a small commission is paid if you purchase a product at no additional cost to you.
Yield: 4
Air Fryer Tilapia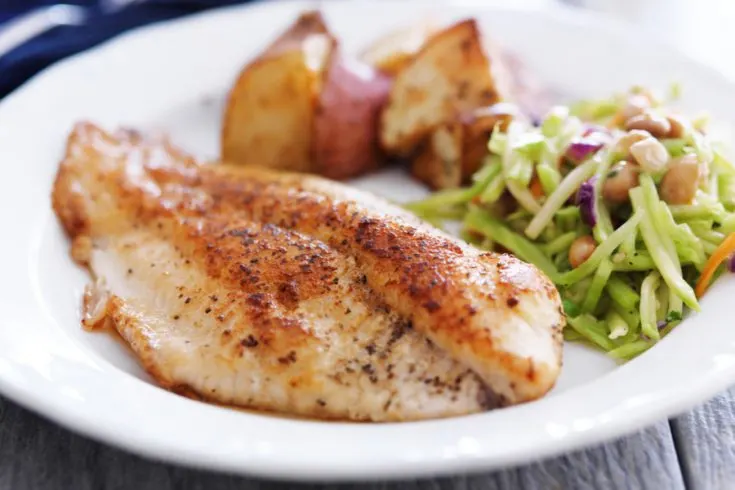 How to make 'baked' Tilapia in the Air Fryer - a healthy meal for everyone to enjoy!
Ingredients
4 Tilapia filets
1 Tbsp. of your favorite seasoning, ex. garlic herb, cajun, fish seasoning blend
1 Tbsp olive oil or olive oil spray
1/2 lemon, cut in 4 wedges
Instructions
Brush or spray both sides of the tilapia with olive oil.
Sprinkle filets with your favorite seasonings.
Preheat your Air Fryer at 400°F
Spray the basket of your air fryer with olive oil cooking spray
Cook the tilapia at 400°F for 8-12 minutes, turning once at the halfway point.
Squeeze lemon juice over the top and serve immediately.
Notes
All Air Fryers cook at different rates. Check the Tilapia at the 6-7 minute mark for doneness.
Recipe provided by Make Your Meals
Nutrition Information:
Yield:
4
Serving Size:
1 grams
Amount Per Serving:
Unsaturated Fat:

0g