There is nothing easier to make in the Air Fryer than these Donuts. In fact, they were the very first thing that I made when I purchased my first air fryer years ago.
Since then, I have made these donuts and air fryer cinnamon rolls at least a dozen times in my Ninja Foodi . And now I also make Breakfast Egg Rolls and Bacon in my Air Fryer.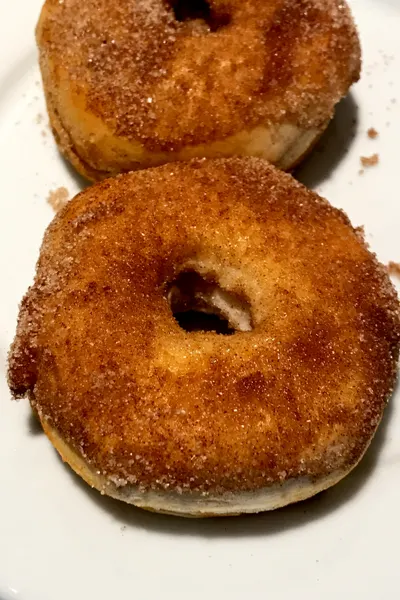 They take 5 minutes to make from start to finish. And they make for a fantastic quick and easy breakfast treat or a snack any day of the week!
Biscuit Donuts
When I was a kid, we would have these donuts on Saturday mornings. That is the day that was dedicated to having a large family breakfast.
There would be pancakes, waffles, eggs, hash browns, and bacon on the table. And there would always be biscuit donuts as well.
However, that was after we all had a chance to make our own.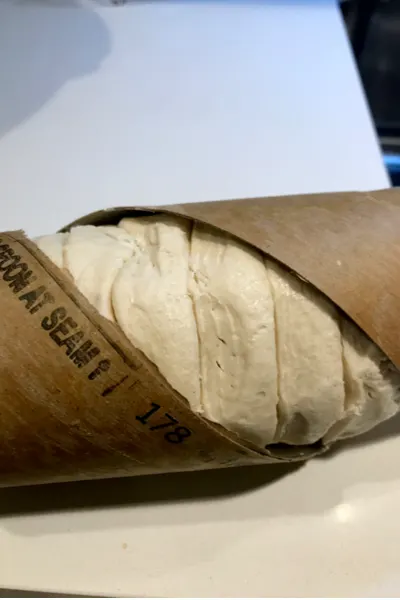 My mother would go to the refrigerator and pull out one or two tubes of refrigerator biscuit dough.
My siblings and I would then have the chore of cutting the hole out of the center to make each biscuit look like a donut.
I was very methodical and would use an apple corer to make the perfectly centered hole.
However, my brother would just tear a hole in the center with his hands and shape it.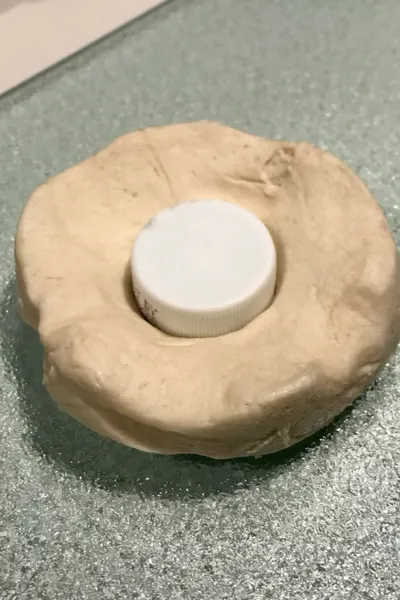 Either way, each one worked perfectly to make our favorite donuts.
However, back in the day, the donuts were not air fryer donuts. They were cooked in vegetable oil in the deep fryer.
After my mother would pull them out of the oil, it was our job as kids to shake them in whatever topping that we preferred.
We had brown paper bags filled with a cinnamon sugar mixture and others filled with powdered sugar.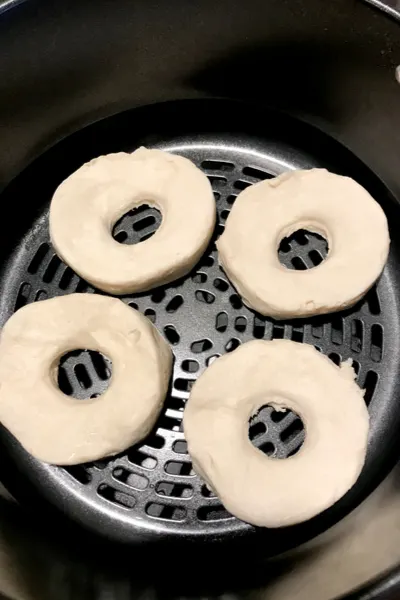 And if we felt creative, we would combine milk and powdered sugar in a bowl to make icing.
Then we would either shake the hot donuts in the bags, or drizzle the icing on top. They were absolutely delicious, and we looked forward to making them every weekend.
Easy Air Fryer Donuts – donuts made a little healthier
Although we all know that donuts are not the healthiest choice for breakfast, we have made them a little healthier by cooking them in the air fryer.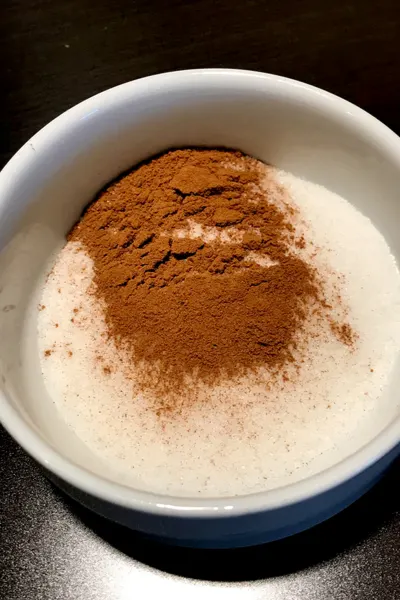 However, we use the same concept as when we made them in my younger years.
We purchase refrigerator biscuit dough from the grocery store. Then when we are ready to make them, we pop them open and cut out a center hole.
Although most of the time I still use an apple corer, I have found other methods to work just as well.
A bottle cap, bottle opening, or a shot glass will work in a pinch if that is all that there is available. And of course, you can always do what my brother did and simply tear a hole in the center and shape the biscuit into a donut shape.
Cooking Air Fryer Donuts
Now comes the easy part. Spray your air fryer basket with olive oil spray and place your donuts inside in a single layer.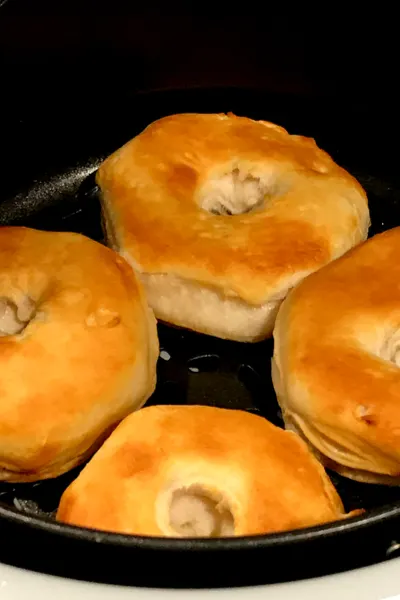 Then cook for 5 minutes. Yes, it only takes 5 minutes!
Once the donuts are cooked, remove them from the air fryer and either dip them in butter or spritz them with olive oil.
Then it is time to add the cinnamon sugar topping. To this day, I still prefer to shake them in a brown paper bag to coat them evenly.
However, you can also just use your fingers or spoon to sprinkle the donuts by hand.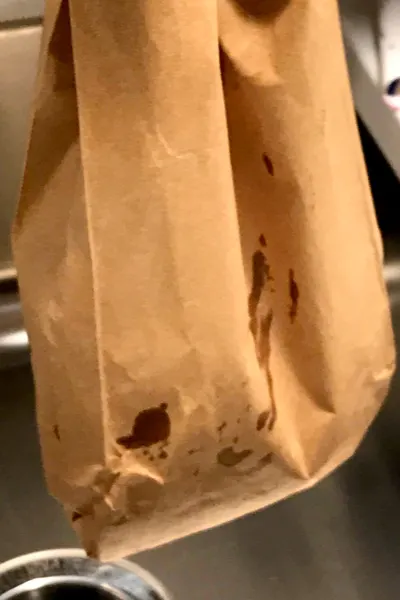 Either way, you are going to fall in love with these Easy Air Fryer Donuts!

To receive our 3 Recipe Articles in your inbox each week, sign up for our free email list located in the middle of each recipe or email me at contact@makeyourmeals.com. You can also follow us on Facebook and Pinterest. This article may contain affiliate links where a small commission is paid if you purchase a product at no additional cost to you.
Easy Air Fryer Donuts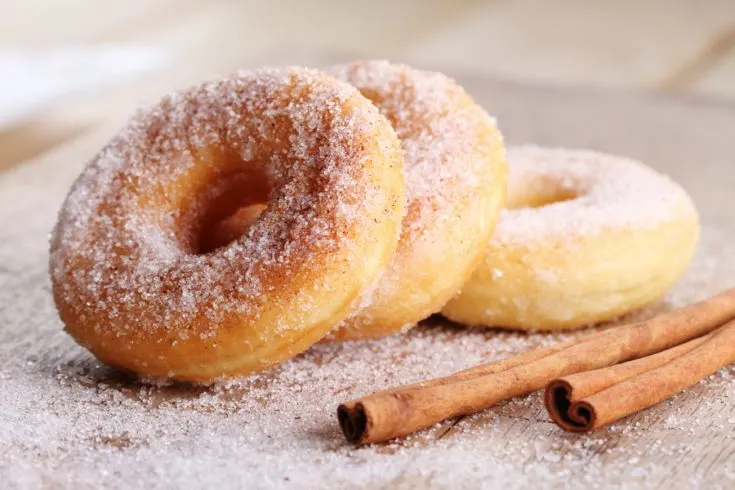 Make these quick and easy air fryer donuts from a can of refrigerator biscuit dough. Shake in a sugar/cinnamon mixture for the perfect breakfast treat or a snack.
Ingredients
16 oz refrigerated flaky jumbo biscuits
1/2 cup granulated white sugar
2 tsp ground cinnamon
4 Tbsp butter melted, optional
olive oil spray
Instructions
Place sugar and cinnamon sugar in a brown paper bag, shake and set aside.
Remove the biscuits from the can, separate them and place them on a cutting board. Use a 1-inch round biscuit cutter to cut holes out of the center of each biscuit. You can also use an apple corer or bottle opening to cut open the hole if you don't have a small biscuit cutter.
Lightly coat air fryer basket with olive oil spray.
Place 4 donuts in a single layer in the air fryer basket, being sure that they do not touch.
Bake at 360 degrees F for 5 minutes or until lightly browned.
Remove donuts from Air Fryer, dip in melted butter or spray both sides with olive oil spray, then shake in the cinnamon sugar mixture to coat.
Serve immediately.
Notes
Recipe provided by Make Your Meals
Nutrition Information:
Serving Size:
1 grams
Amount Per Serving:
Unsaturated Fat:

0g