These Air Fryer Breakfast Bombs have become a huge hit in our house! Light and flaky biscuit dough wrapped around your favorite breakfast items and baked until golden brown in the air fryer.
The best part about this recipe is that you can customize each one with the fillings that you prefer. For instance, the recipe below uses scrambled eggs, sausage and cheese as the filling.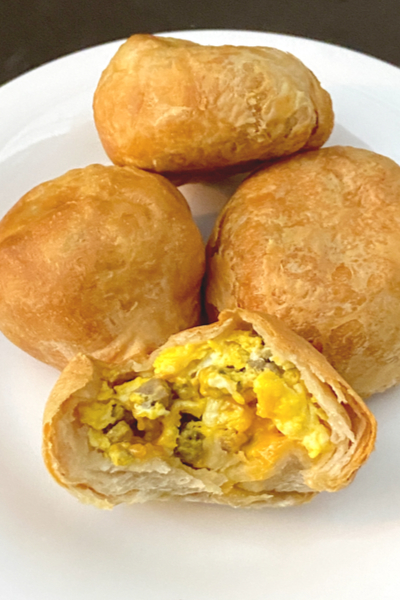 However, if you don't like sausage, you can substitute bacon, ham, or leave the meat out all together. On the contrary, you can also add in a few additional items as well.
We will often use diced onions, green and red peppers or even mushrooms if we have them on hand. And this is the exact reason why this recipe has become a staple in our house!
It is easy to make and everyone is happy. Plus, you can put leftovers in your refrigerator or freezer for whenever you need a quick and easy breakfast meal without any additional work.
Truly a win-win, easy breakfast recipe!
Air Fryer Breakfast Bombs
As I mentioned above, and just like with our Overnight Breakfast Casserole recipe, the ingredient list can be variable based on your preferences. However, I have included a general guideline of ingredients that you can use for this recipe.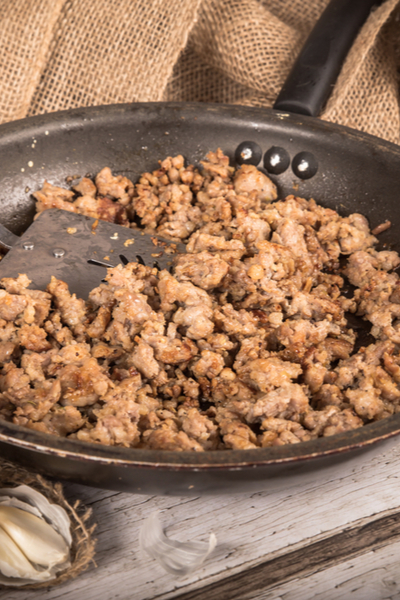 Ingredients
Extra Virgin Olive Oil
Ground Sausage
Eggs
Shredded Cheese
Salt and Pepper
Grands Biscuit Dough
Instructions
The first step in making these Air Fryer Breakfast Bombs is to brown your sausage. Of course, if you substitute a different type of meat, that will need to be pre-cooked as well.
If you are adding any raw vegetables, such as onions, peppers or mushrooms, cook them with the sausage as it is browning. This will allow the vegetables to become nice and tender.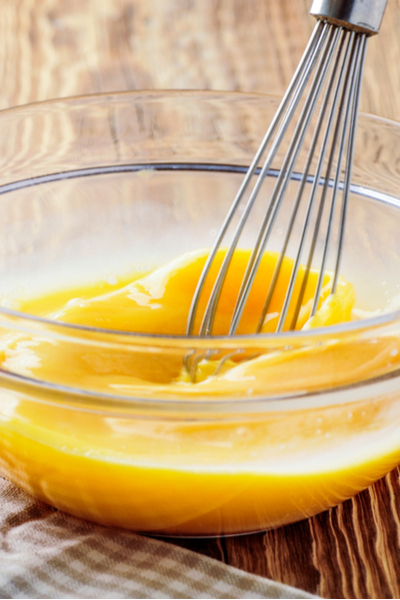 Once the sausage is no longer pink, drain and then set aside in a medium size bowl.
Now decrease the heat on the stove and place the whisked eggs into the same skillet that you cooked the sausage. Add salt and pepper to taste.
Continue to slowly cook the eggs until they are just barely done. You don't want to overcook the eggs. They are done when there is just a smidge of wetness still on the surface.
Next combine the eggs with the sausage mixture and stir. Let this sit for 5 minutes while you prepare your biscuit dough.
Use Grand Biscuits
It is best to use the large refrigerator biscuits for this recipe. This will allow more space for the breakfast bomb filling.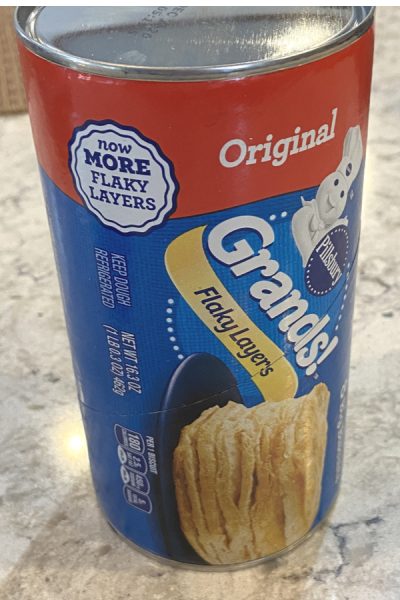 Depending on the variety that you use, you will find them called large, or Grand biscuits. And typically, they will have 5-8 biscuits in each roll.
Open the package and place the biscuits on a cutting board. Then, working one at a time, pull apart each biscuit to make two. Therefore, you should have a total of 10-16 biscuit circles in front of you.
Using your hand or a rolling pin, compress each circle so that it expands wider. Then place a heaping tablespoon of the filling in the center.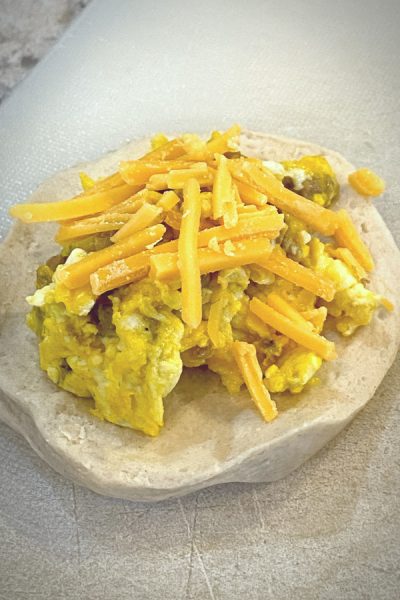 Now evenly sprinkle the cheese over the top of each one.
Folding Technique
Now comes the fun part! Take the sides of the biscuits and pull them up and over the top of the filling. Pinch the seams to seal. Then continue to work around the breakfast bomb until the entire thing is closed.
Be sure to pinch and seal the seams. Repeat until each one has been closed and sealed. Then use a pastry brush to spread an egg wash on top of the dough.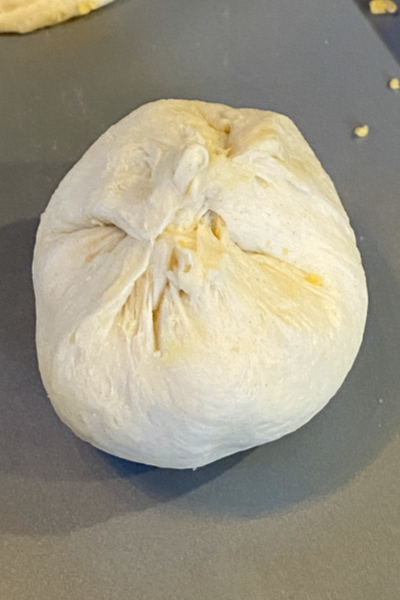 Although this is not absolutely necessary, it gives the dough a nice golden brown color.
Now it is time to preheat your Air Fryer if required by your manufacturer. I use the Power Air Fryer 360 XL which does require preheating. Once preheated, place a piece of parchment paper in the bottom of the air fryer basket before placing the breakfast bombs inside.
Be sure to place the dough balls, seam side down so that the filling does not leak out. Depending on the size of your Air Fryer, you may have to work in batches. Be sure to leave enough room around each one so that the air can circulate and cook them evenly.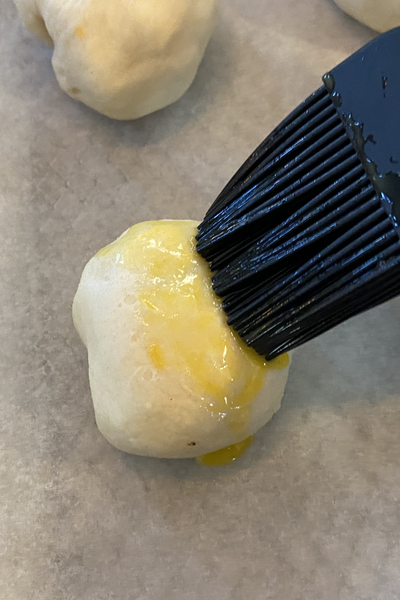 Cooking Time
Once you have them in the basket, cook for 8 minutes. Using tongs, carefully flip each one over, and continue to cook for an additional 4-6 minutes or until the biscuits are cooked through.
*The exact cooking time will depend on the brand of your air fryer. It is best to check the internal temperature with a digital food thermometer. They are cooked when the internal reading of the biscuit dough is at 165°F.
Remove from the Air Fryer and let rest for 5 minutes before serving, as the breakfast bomb filling will be extremely hot!
Store in an air-tight container in the refrigerator or freezer.
Enjoy!

To receive our 3 Recipe Articles in your inbox each week, sign up for our free email list located in the middle of each recipe or email me at contact@makeyourmeals.com. You can also follow us on Facebook and Pinterest. This article may contain affiliate links where a small commission is paid if you purchase a product at no additional cost to you.
Yield: 6
Air Fryer Breakfast Bombs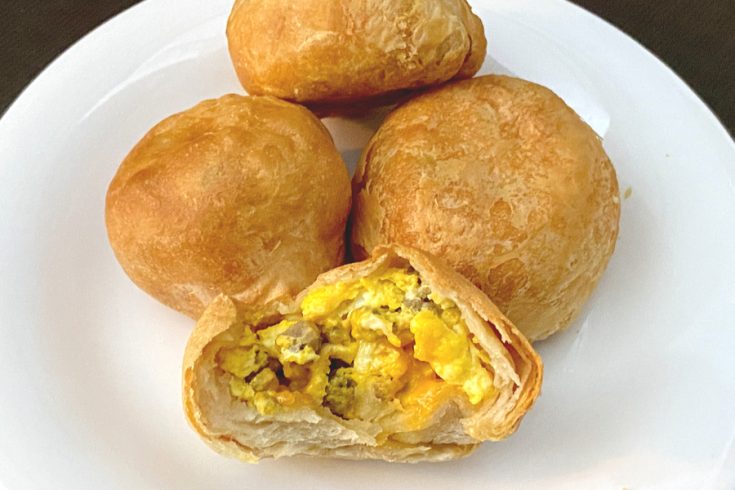 Egg, sausage and cheese stuffed inside biscuit dough and baked to perfection in an air fryer. An easy to make breakfast recipe that is also perfect when you need a 'to-go' breakfast.
Ingredients
1 tablespoon extra virgin olive oil
1/2 lb bulk breakfast sausage
3 large eggs, beaten
1/4 teaspoon salt
1/4 teaspoon pepper
1 can refrigerator Grand Biscuits
1/3 cup sharp cheddar cheese, shredded
Egg Wash
Instructions
Cut parchment paper to fit the basket of your air fryer. Set aside.
Add oil to medium skillet and heat over medium-high heat. Add the sausage and brown until no longer pink, breaking up into small sections as it cooks. Remove from the skillet, drain and set aside.
Using the same skillet, reduce heat to medium-low. Add beaten eggs, salt and pepper to the pan and cook until eggs are just cooked through. Do not overcook. Add eggs to the sausage bowl and stir to combine. Allow the mixture to cool for 5 minutes.
Remove the biscuits from the package and separate each biscuit into 2 layers. Press each biscuit half into a 4-inch round circle. Add 1 large tablespoonful of the egg mixture onto center of each round. Lightly sprinkle the top with shredded cheese.
Gently fold edges up and over filling and pinch to seal at the top.
In small bowl, beat remaining egg and water. Using a pastry brush, apply the egg was on all sides of the biscuits.
Preheat Air Fryer at 325°F per your manufacturer's instructions. Place the biscuit bombs, seam sides down, on the parchment paper in the air fryer basket.
Cook for 8 minutes. Turn the biscuit bombs and continue to cook for 4 to 6 minutes longer or until the biscuits are cooked through at an internal temperature of 165°F.
Remove from the air fryer and let cool for 5 minutes before serving, as the insides will be HOT!
Notes
Can be refrigerated or frozen for a quick breakfast meal whenever you need one.
Because all air fryers cook at different rates, cook time may need to be adjusted based on your specific brand and model.
Nutrition information is for a general guide only. Specific nutritional information will vary based on brands and variety of food products used.
Recipe provided by Make Your Meals
Nutrition Information:
Yield:
6
Serving Size:
1 grams
Amount Per Serving:
Calories:

156
Total Fat:

13g
Saturated Fat:

4g
Unsaturated Fat:

0g
Cholesterol:

120mg
Sodium:

275mg
Carbohydrates:

1g
Sugar:

1g
Protein:

8g