When it comes to cooking asparagus in an air fryer, it couldn't be easier. With just a few simple ingredients and a couple of simple steps, you will have perfectly cooked asparagus each and every time.
Although there are so many ways to cook asparagus, this one is my absolute favorite. It takes little time to prepare and just a few minutes to cook.
Not to mention that this recipe is extremely versatile as you can switch up the seasonings that you use. However, I have included my favorite way to season asparagus in the recipe below.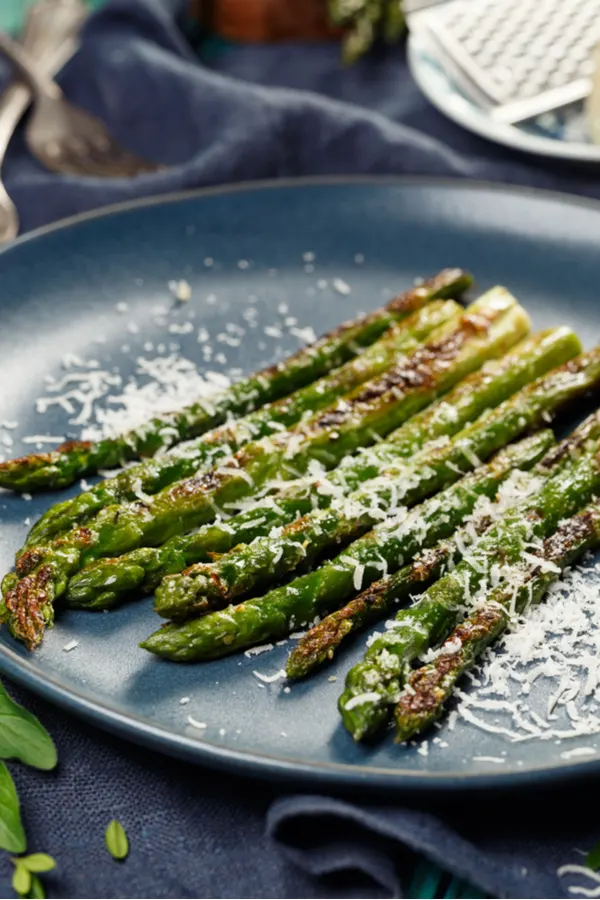 But in order for your asparagus to turn out perfect, there are a few things that you need to consider before jumping right to the recipe.
Be sure to take a look at these important tips so that the asparagus turns out just how you like it, each and every time!
Important Tips For Air Fryer Asparagus
1. Size Matters
The size of the asparagus is going to play an important role in the cooking time required. First, look for asparagus that are approximately the same size in diameter.
If you have a few large spears mixed in with some tiny ones, they will not cook at the same rate. Therefore, you are going to be spending a lot of time, opening the air fryer basket checking for doneness.
Instead, purchase or cook asparagus that are all similar size in diameter. For the cook time in this recipe, I recommend the asparagus to be about the same thickness as a pencil.
2. Know Your Air Fryer
There are so many different brands and styles of air fryers on the market. From the traditional countertop basket type of air fryer to ones that are considered air fryer ovens, there are many to choose from.
Just like when you make Air Fryer Green Beans, the cooking temperature and time may need to be adjusted for your specific make and model.
For example, my Ninja Foodi Pressure Cooker and Air Crisper combo unit cooks items faster than my Power 360 Air Fryer Oven. Therefore, it is important to know your air fryer so that you can adjust the cook time so that the asparagus will cook until tender, but not end up mushy.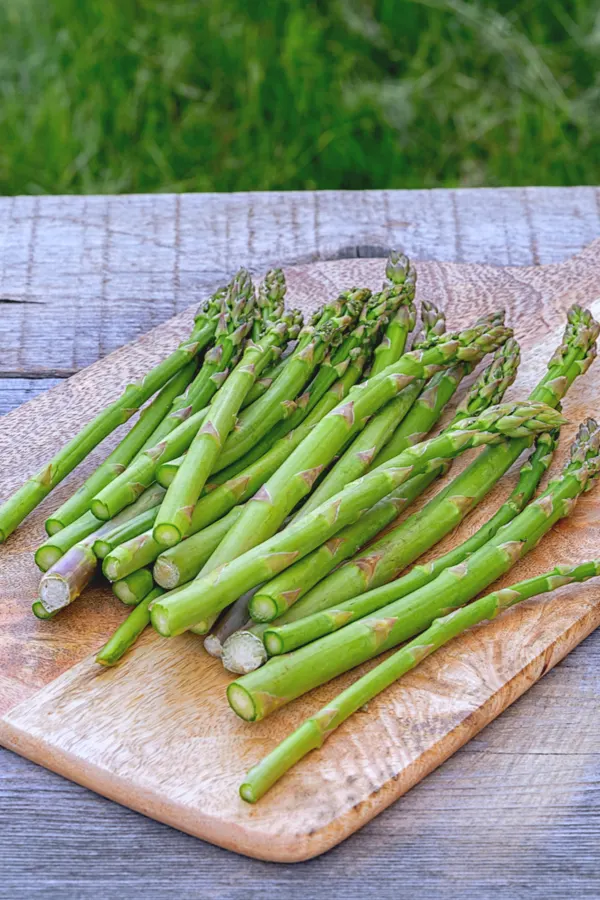 3. Texture Preference
If you ask 10 people how they prefer the texture of cooked asparagus, you are likely to get several different answers. Some people like asparagus to be nice and soft so that it easy to eat.
However, others like it barely warm and nearly raw. However, the recipe below is designed for pencil size asparagus to be cooked in that in between stage.
Hot asparagus spears cooked so that they are just fork tender, yet still slightly crispy. This is the preference of texture that my family prefers when eating asparagus.
Therefore, if you like asparagus to be completely tender, you will need to increase the time that it spends cooking. On the contrary, for barely done asparagus, set the cook time for a lower amount.
Now that you know these important tips let's get to the actual ingredients and instructions for making perfectly cooked asparagus.
Air Fryer Asparagus Recipe
*Specific measurements and complete recipe instructions are located in a printable recipe card at the bottom of this article. However, be sure to continue to read the tips and tricks to making this recipe below.
INGREDIENTS
Approximately 1 lb. bunch of Asparagus Spears
1 teaspoon Garlic Salt, adjust to taste
1 teaspoon Extra Light Olive Oil
1/4 cup Parmesan Cheese
INSTRUCTIONS
Start by rinsing the asparagus under cold running water. Then pat the spears dry with paper towels or a cloth tea towel.
Then cut off the wood ends of the asparagus. You can do this by holding the middle and bottom of each spear and snapping off the ends.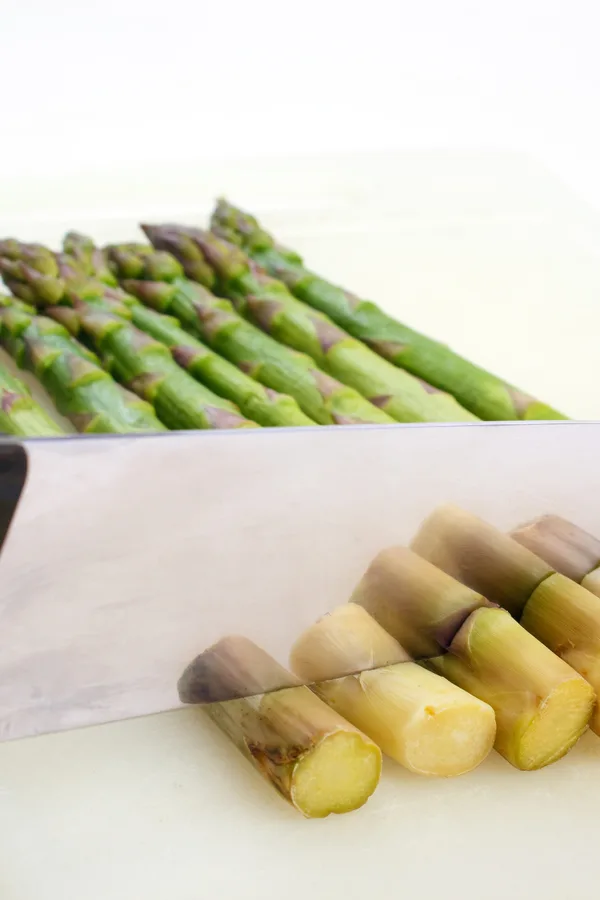 Or you can simply use a knife where the spears begin to change colors and cut off and discard the bottom portion. This will leave you with the most tender portion to cook without wasting some edible portions that the snap method removes.
Once the asparagus ends have been trimmed, place them on a sheet pan or in a large, shallow bowl. Then pour the extra light olive oil on top.
Use Extra Light Olive Oil
Be sure to use extra light, not extra virgin olive oil for this recipe. Extra virgin olive oil has a lower smoke point and should not be used in air fryer recipes that are cooked at high heat.
Therefore, in order to avoid the taste of standard olive oil, it is best to use extra light olive oil instead. Although, you may also use another high heat oil, such as Grapeseed or Avocado oil if you have that one hand as well.
Once the spears are drizzled with oil, sprinkle them with garlic salt and toss to coat. Next place the coated asparagus in a single layer inside your air fryer basket.
Don't worry if a couple of them overlap. You just don't want two or more full layers because they would not cook evenly.
Top the asparagus with Parmesan cheese. Close the basket or door and set the air fryer to 400°F (200°C) with the cook time set to 7 minutes.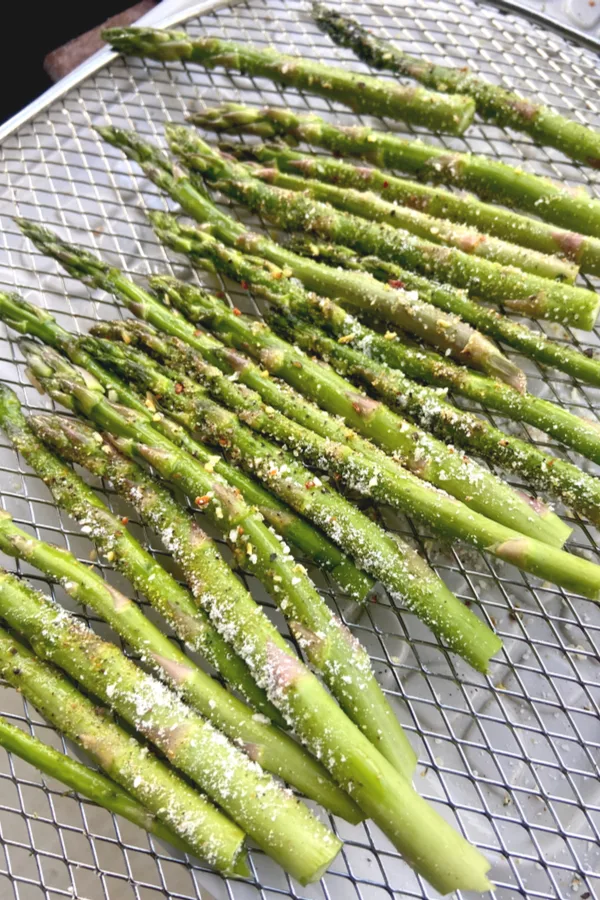 Although not absolutely required, I prefer to toss the asparagus after they have been cooking for 4 minutes. Not only will this ensure that that asparagus browns evenly, it also gives me the chance to check for doneness.
Continue to cook until they are just turning golden brown in spots and they are done to your preferred level of crispness. Open the air fryer and remove the spears onto a serving plate.
For added flavor, top with additional Parmesan cheese and squeeze a little fresh lemon juice on top.
Frequently Asked Questions
1. What other seasonings do you recommend for asparagus?
Although the best seasonings for asparagus included a combination of garlic, salt, lemon and Parmesan cheese, you can season your asparagus with a lot of different spices.
Mrs. Dash has a low-sodium Garlic Herb Seasoning. And Kinder's Buttery Steakhouse Seasoning is good to flavor all sorts of vegetables.
However, you can also season asparagus with basic ingredients from your pantry including: dill, lemon balm, tarragon, and chives. Or simply add minced garlic and drizzle balsamic vinegar over top before placing the asparagus in the air fryer.
2. How do I store fresh asparagus?
If you purchase or pick fresh asparagus but don't want to cook it right away, it can last for several days in the refrigerator when stored correctly.
Dampen a paper towel and wrap the woody ends of the asparagus in the moist towel. Then place the wrapped ends in a resealable plastic bag and place in the produce drawer of the refrigerator.
Or, my preferred method is to place the asparagus in a wide mason jar filled with water. Then store upright in the refrigerator until you are ready to cook it.
3. How do I store leftovers?
If you have any leftovers, store in an air-tight container in the refrigerator for up to 4 days. You can reheat the leftovers as whole spears or slice then into bite size sections.
The leftover asparagus is great to add to your breakfast omelet or frittata as the flavor of asparagus pairs very well with eggs.
4. How do I cook asparagus without an air fryer?
Asparagus can be cooked using a variety of methods. Here are some other common ways to cook asparagus:
Boil – Place in boiling water for 2-3 minutes, or until the spears turn bright green. Season after they come out of the boiling water. If not eating right away, place them in an ice water bath to prevent the cooking process.
Steam – Place in steamer basket and once steam appears cook for 2-4 minutes.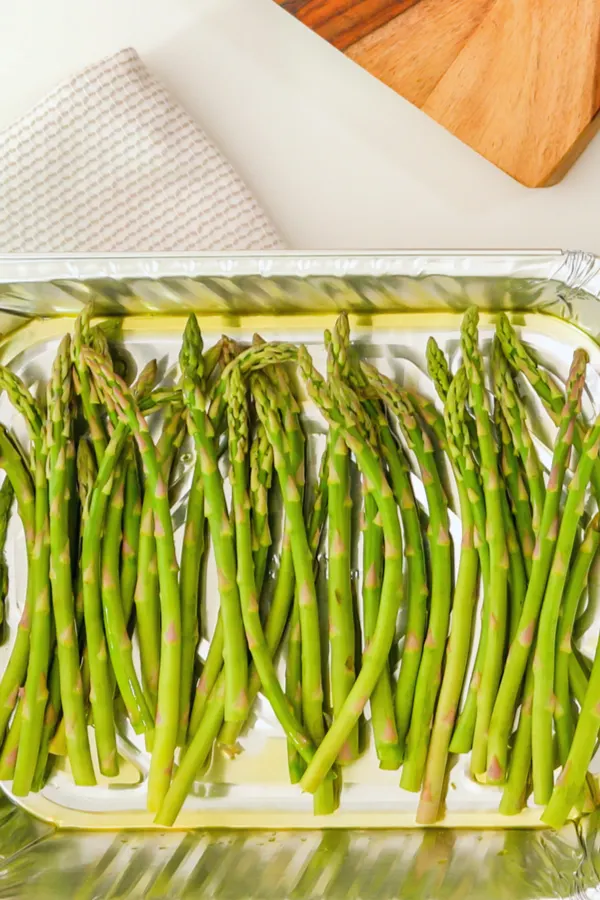 Roasted – Coat the asparagus in olive oil and season. Place spears on a sheet pan and bake for 400°F for 10 minutes.
Saute – Place oil coated asparagus in a large skillet over medium high heat for 4-6 minutes or until desired tenderness has been reached.
Grilled – If you are already out grilling, go ahead and throw your asparagus on the grill to cook. It will take approximately 4-6 minutes for them to become perfectly tender at medium-high heat.
Enjoy! Mary

To receive our 3 Recipe Articles in your inbox each week, sign up for our free email list located in the middle of each recipe or email me at contact@makeyourmeals.com. You can also follow us on Facebook and Pinterest. This article may contain affiliate links where a small commission is paid if you purchase a product at no additional cost to you.
Air Fryer Asparagus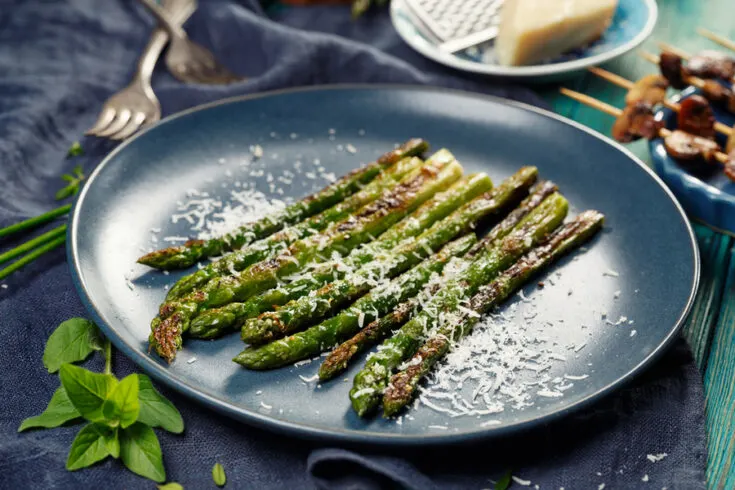 Ingredients
1 lb asparagus
1 teaspoon garlic salt, adjust to taste
1 teaspoon oil
1/4 cup Parmesan cheese
Instructions
Cut off the ends of asparagus. Place them on a sheet pan or in a bowl. Pour the oil on top and sprinkle with garlic salt and toss.
Place them in a single layer inside your air fryer basket. Top them with Parmesan cheese.
Air fry at 400°F (200°C) for 7 minutes, tossing at the 4 minute mark. Continue to cook until they are just turning golden brown in spots.
Optional: Add additional Parmesan cheese on top and a little fresh squeezed lemon juice.