Air Fryer Soft Pretzel Bites are an amazing snack that are perfect for almost any occasion. Although you can purchase a box of frozen bites and heat them in the microwave, they couldn't be easier to make at home with a simple can of refrigerator biscuits.
It's not a secret that many snacks which can be bought in the store contain unnecessary ingredients. They often contain preservatives or added sugars and fats used to make them last longer on the shelf at the grocery store.
Not to mention, they may have already been partially cooked and deep-fried before being packaged. So when you think you are just reheating certain snacks, they still may have been cooked in a lot of unhealthy oil.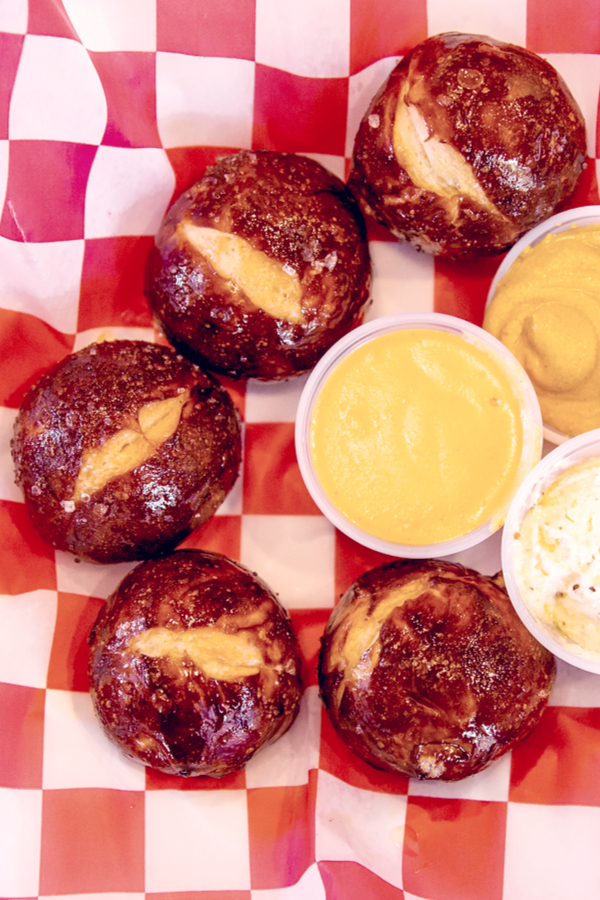 However, when made at home, the whole game changes. Not that I am saying that this is a healthy snack. Although, it is much healthier than what you can purchase at a store or at your favorite sporting event.
As much as I love making Homemade Pretzel Bites from scratch, sometimes I need this snack on the table much quicker. That is when I turn to a can of refrigerator biscuits and the air fryer to do the work for me!
Air fryers work by circulating hot air around the food, which is placed in a wire basket inside the device. This quick circulation of heat causes the food to crisp up, similar to the effects of deep-frying but without the oil, and in a fraction of the time as compared to other cooking methods.
So, are you ready to make these amazing, pretzel bites at home? Read on to find the detailed recipe below!
How to Make Air Fryer Soft Pretzel Bites
You will be happy to find out that to make this amazing snack at home, you don't need that many ingredients. Better yet, you might already have them all at home! They are common, and if needed, easily found in any supermarket.
*Specific measurements and complete recipe instructions are located in a printable recipe card at the bottom of this article. However, be sure to continue to read the tips and tricks to making this recipe below.
INGREDIENTS
Refrigerator Biscuit Dough
Baking Soda
Butter
Kosher Salt
Not much right? Just as the ingredients are simple, so is the preparation. So, let's start making our pretzel bites!
INSTRUCTIONS
Although not all brands of air fryers need to be preheated, I highly recommend doing so for this recipe. Even if your brand doesn't do it automatically turn the device on at least about five minutes before you plan to use it.
If you have air fryer parchment paper or a silicone air fryer cooking mat it would be best to use that so that the dough doesn't stick to the basket. However, if you don't have any, you can generously spray or brush the basket with olive oil or avocado oil instead.
The next step is to prepare the dough. Open the can biscuits and cut each one into four parts with a knife or kitchen scissors. The dough can then be reshaped into rounder bites. Once the bites are formed, set aside.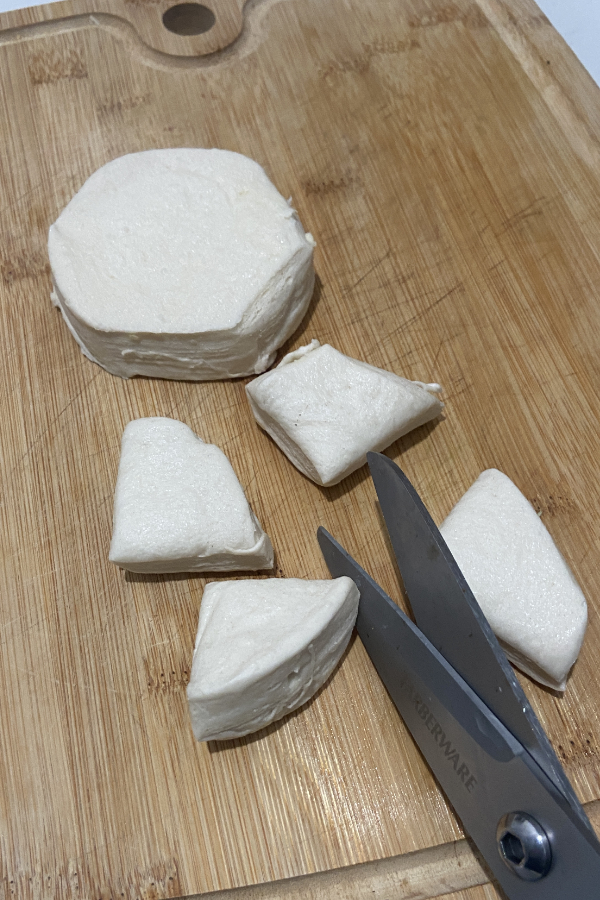 The pretzel dough bites need to boiled with baking soda before being put in the air fryer. This step is necessary so they can achieve that unique texture and exterior surface that they're loved for.
Therefore, the next step of preparation is to heat up some water in a sauce pan. Fill a large pan about 1/2 full. Once the water is at a rolling boil, add the baking soda.
Warning!
Be warned! When you add the baking soda to the hot water, it will bubble and foam. This is why it is crucial not to overfill the pot with water to give the foam some space to expand.
Once the water is ready, it's time to boil the dough bites! Working in batches, boil the dough for around 30 seconds, turning them over halfway through the boiling process. When the time is up, take the bites out of the water with a slotted spoon.
Place the boiled dough bites right into the prepared basket of the preheated air fryer. Remember to leave space between the bites to allow for expansion and good air circulation.
If they are too close together they are likely to stick together into a clump while cooking. Cook the pretzel bites in the air fryer for around 6-7 minutes, flipping at the 4 minute mark for even browning.
Keep a close eye on the pretzel bites around the 5 minute mark. Remember, they will turn that classic dark brown color but you want the biscuits to cook through in the center.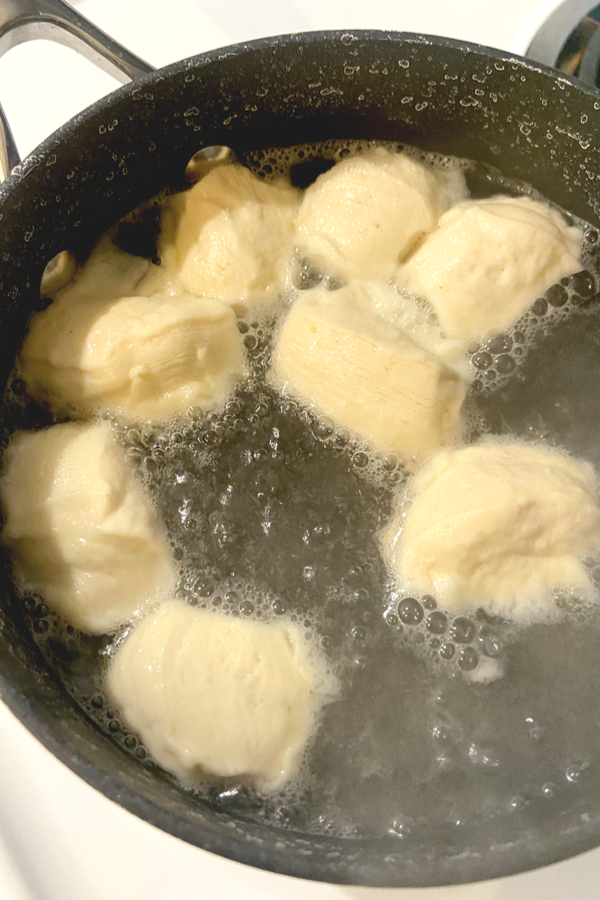 While the soft pretzel bites are in the air fryer, melt the butter. This can be done in seconds in a microwave, or on the stove. When the pretzel bites are done, remove them from the air fryer and then brush them with the melted butter.
While they are still wet from the butter, sprinkle the tops with Kosher salt. Then serve warm with your favorite dipping sauce! Then simply repeat the entire process with the next batches if needed.
Helpful Tips
Heat the pot of water before you begin to cut the biscuits. This way the water will be boiling by the time the pretzel bites are formed.
Because the dough will be soft when added to the basket of the air fryer, it is best to use parchment paper or an air fryer silicone baking mat.
Use a spatula to flip the air fryer soft pretzel bites rather than tongs. This will help loosen any stuck bits of dough from the air fryer basket.
Although these pretzel bites are best served warm, they can also be served at room temperature.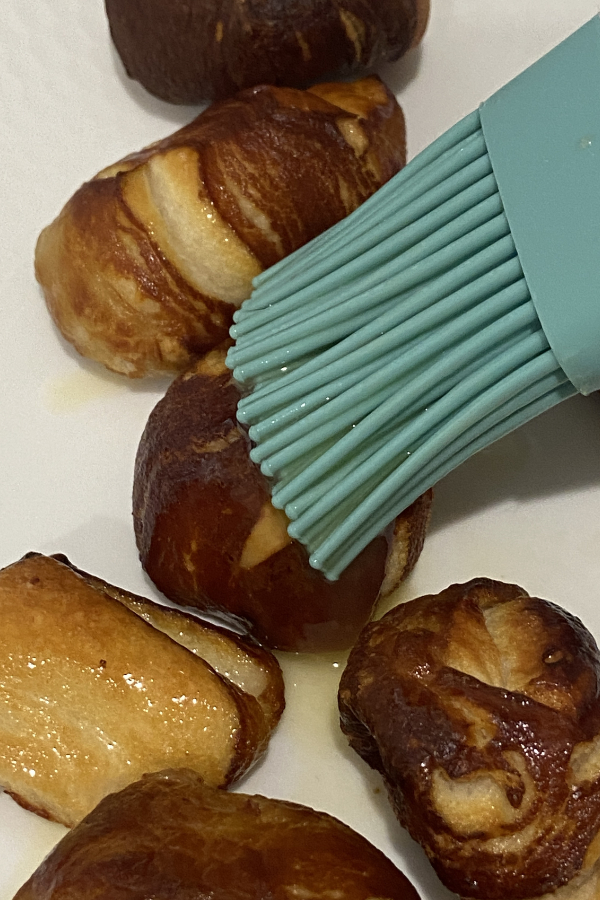 Storage instructions
Although it is unlikely that you will have any leftovers, if you do they can be stored in an air-tight container at room temperature or in the refrigerator for up to 3 days.
To reheat, place in the air fryer at 350°F for 5 minutes. Or pop them in the microwave for 20-30 seconds.
Air Fryer Soft Pretzel Bites are quick and easy to make and are extremely tasty. They are the perfect snack or appetizer to share with your friends and family!
Enjoy! Mary

To receive our 3 Recipe Articles in your inbox each week, sign up for our free email list located in the middle of each recipe or email me at contact@makeyourmeals.com. You can also follow us on Facebook and Pinterest. This article may contain affiliate links where a small commission is paid if you purchase a product at no additional cost to you.
Yield: 32 pretzel bites
Air Fryer Pretzel Bites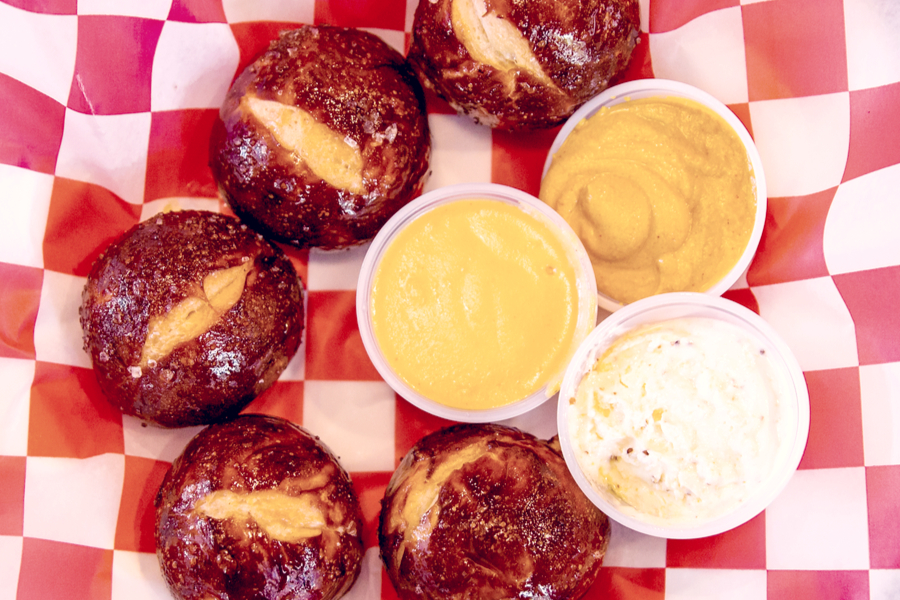 Easy soft pretzel bites made from refrigerator biscuit dough and cooked in an air fryer.
Ingredients
1 package of refrigerated biscuit dough, 8 count
1/4 cup baking soda
2 TBSP unsalted Butter, melted
Kosher salt
Instructions
Preheat air fryer to 390°F (200°C) for at least 5 minutes. Line the air fryer basket with parchment paper or silicone air fryer mat, or generously spray or brush olive oil on the metal basket. Fill a large pan half full of water and place over high heat.
Cut each biscuit into 4 sections. Then form each piece into dough bites (circle, oval, or rectangle shape). Set aside.
Once the water is boiling, add the baking soda. Be aware that the water will bubble up considerably here.
Working in batches, boil the biscuit pieces for about 30 seconds each, turning halfway. Remove from the boiling water with a slotted spoon and place in the prepared basket of the preheated air fryer, being sure to leave room between each pretzel bite.
Cook the bites for about 6-7 minutes then carefully remove the pretzel bites from the air fryer basket and immediately brush with melted butter and sprinkle with Kosher salt.
Serve warm with your favorite dipping sauce.
Notes
Recipe provided by Make Your Meals
Nutrition Information:
Yield:
8
Serving Size:
4 pretzel bites
Amount Per Serving:
Calories:

44
Total Fat:

3g
Saturated Fat:

2g
Trans Fat:

0g
Unsaturated Fat:

1g
Cholesterol:

8mg
Sodium:

1996mg
Carbohydrates:

4g
Fiber:

0g
Sugar:

0g
Protein:

1g
Nutritional Information is to be used as a general guideline only . Nutritional calculations will vary from the types and brands of the products used.