Did you know that you can make Apple Fritters in the Air Fryer? With just 5 basic ingredients and no yeast, these sweet treats can be on your table in under 25 minutes!
Now that apple season is among us, we have been making apple recipes almost every day. From our Slow Cooker Apple Butter, Instant Pot Applesauce , Apple Coffee Cake to Grandma's Apple Crisp, there is always a way to use those fresh picked apples.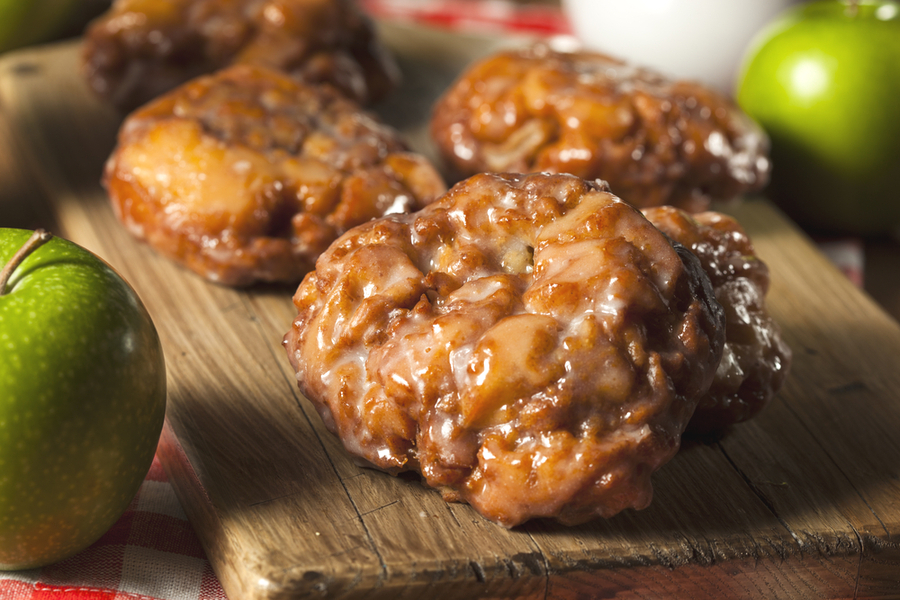 So when I was left with a few extra apples this past weekend and a craving for something sweet, I knew that I had to make my Air Fryer Apple Fritters.
No eggs, no yeast…
I absolutely love donuts! But unfortunately, I am allergic to eggs. And that makes it difficult for me to order any type of donut at most restaurants.
Although there are some wonderful specialty bakeries that make vegan donuts that I can eat, we don't live close to any of them. So when I am craving a donut I can either jump in the car for an hour long drive or make them at home in my own kitchen.
Because these Apple Fritters can be made so quickly, and with just 5 ingredients, I prefer to stay in my pajamas and drink a cup of coffee while I watch them 'bake'.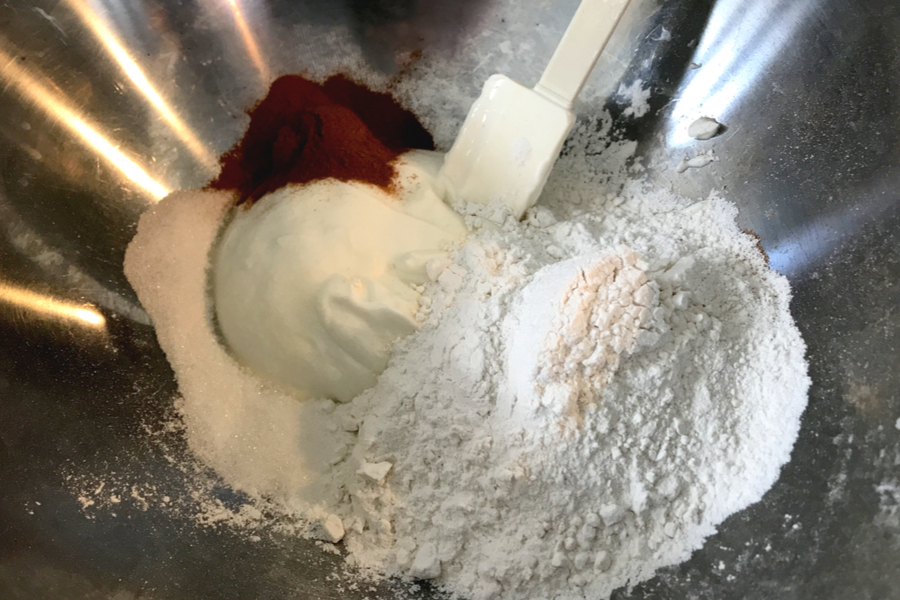 The inspiration for this recipe actually comes from a popular 2 ingredient bagel recipe that has been all the rage the last few years. I figured if you could use both self-rising flour and Greek yogurt to make a bagel, why not an apple fritter?
So I added a little sugar, cinnamon and of course diced apples to the ingredient list and made a delicious, easy to make sweet treat. Of course, the glaze on top adds two more ingredients, but what is an apple fritter without a little icing on top!
Air Fryer Apple Fritters
This recipe is extremely easy to make. The first step is to peel and chop your apple. It doesn't matter what type of apple that you use for this recipe.
I prefer to use Gala or Fuji apples, because those are the varieties that I like to eat the most. However, you can use any variety that you have in your kitchen.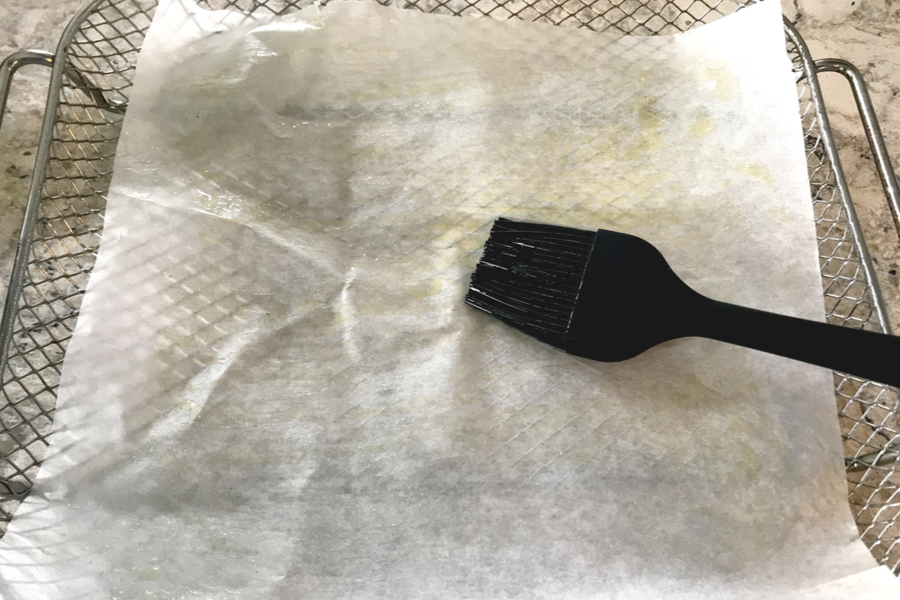 Just be sure to chop them into small, bite size pieces. Then add all the ingredients into a medium size mixing bowl and mix by hand until a dough forms.
Next, knead the dough 3-4 times to activate the self-rising flour. Let the apple fritter dough sit while you prepare your Air Fryer.
Line the basket of your air fryer with parchment paper. You can buy parchment paper rounds that fit nicely inside your basket. Or simply cut a piece of standard parchment paper to fit the inside of your basket.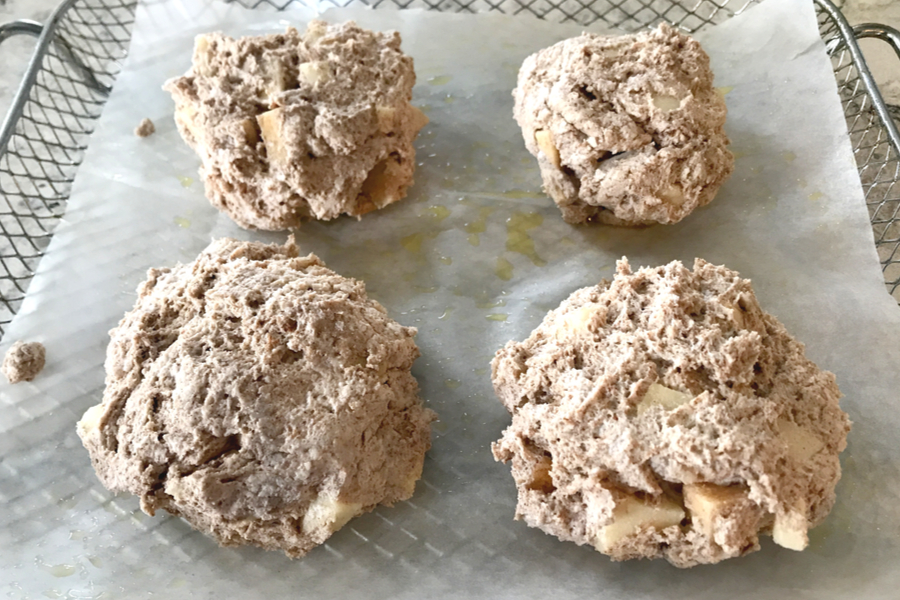 Next, use a pastry brush and spread olive oil on top of the parchment paper. This may seem like we are going overboard on making sure the apple fritters don't stick to the basket. But believe me, if you skip the oil, the fritters may stick to the paper when you try to turn them over.
Now that the Air Fryer basket is ready, it is time to form your Apple Fritters.
Divide the dough into 4 sections. Roll each portion into a large ball. Then using the palm of your hand, flatten the dough so it resembles a thick pancake. Repeat.
Place the dough on the parchment paper, leaving enough room between each one so that they don't touch. Spray the tops of the air fritters with vegetable oil.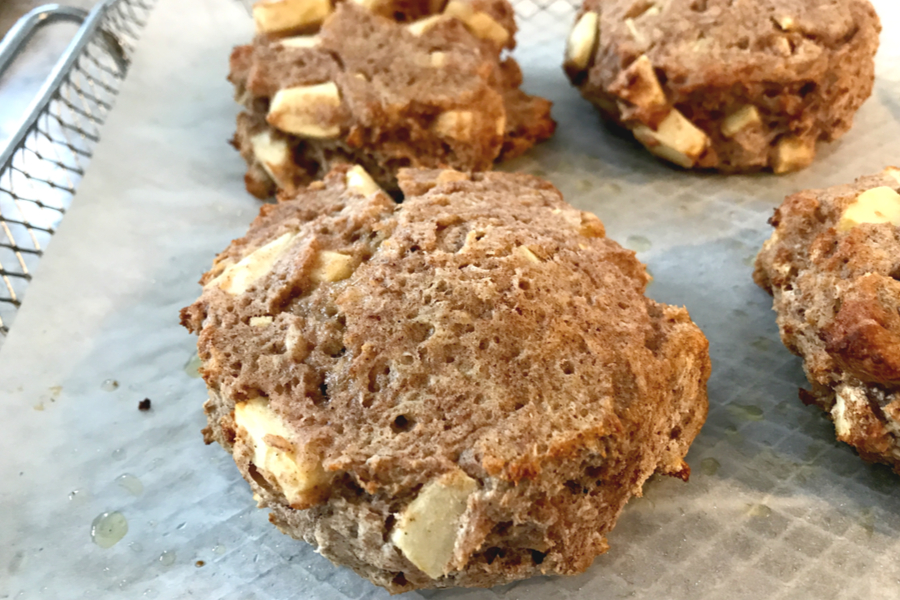 Air Fry for 7 minutes, then carefully flip each apple fritter over. Once you flip them over, spray the tops with vegetable oil and continue to Air Fryer for another 7-8 minutes.
While the air fritters are 'baking' prepare the icing. In a small bowl, mix the milk and powdered sugar together until there no clumps. The mixture will be thin. Set aside until the air fritters are cooked through.
You will know when they are done when you insert a toothpick in the center of each one and it comes out clean.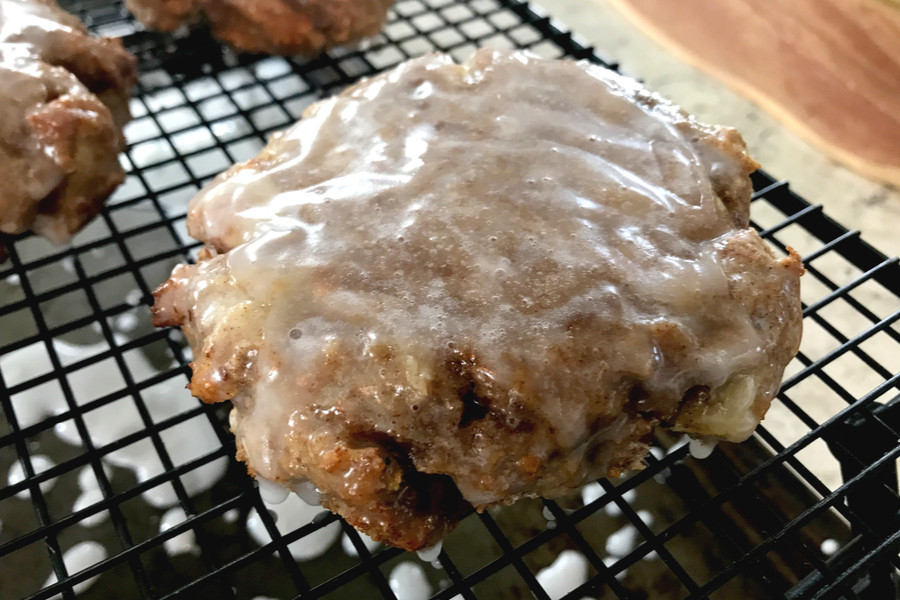 Remove the air fritters to a cooling rack and drizzle the glaze over top of each one. Or you can dunk the top of the air fritters into the glaze and then let cool on the cooling rack. Either way works.
Give a little time to allow the glaze to harden before sinking your teeth into your Air Fryer Apple Fritters. Or if you really can't wait, go for it!!
Enjoy!
To receive our 3 Recipe Articles in your inbox each week, sign up for our free email list located on the side and bottom of each recipe. You can also follow us on Facebook and Pinterest. This article may contain affiliate links where a small commission is paid if you purchase a product at no additional cost to you.
Yield: 4
Air Fryer Apple Fritters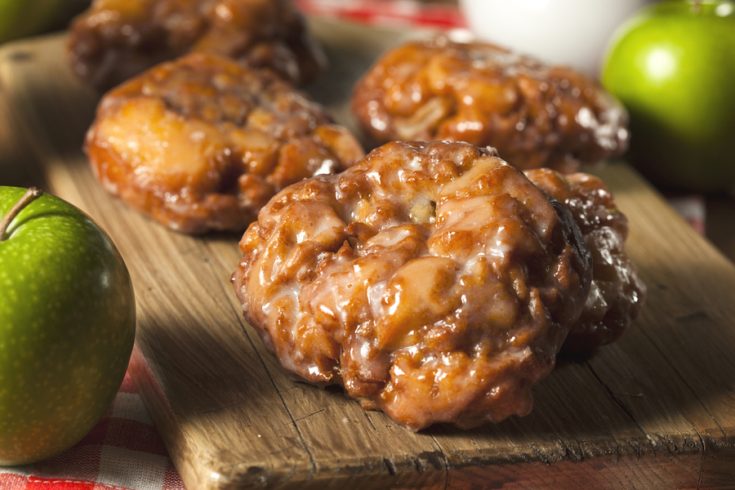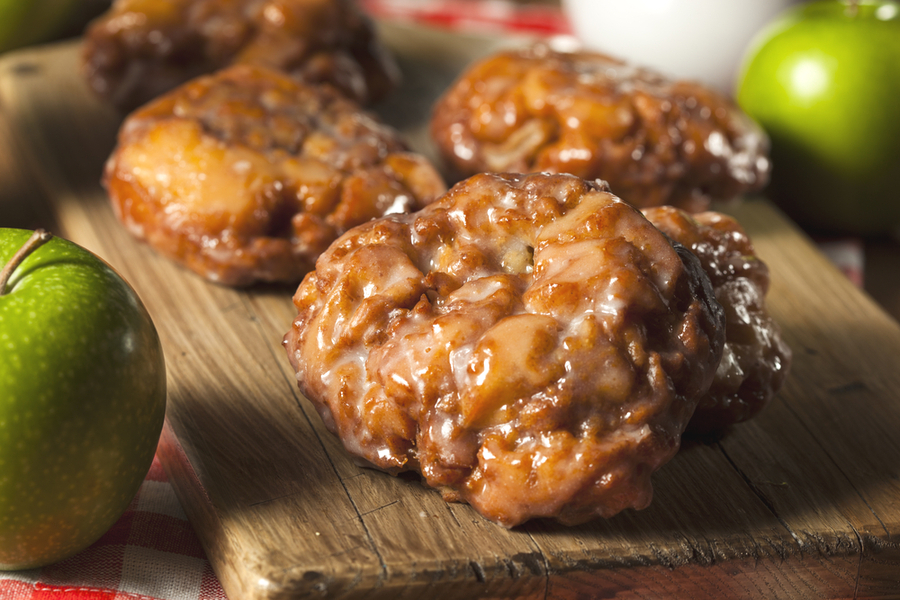 Ingredients
1 cup self-rising flour
1 cup plain Greek yogurt
2 tsp sugar
1 tbs cinnamon
1 apple, large size, peeled and chopped
Glaze
1 cup confectioners sugar
2 tbs milk
Instructions
In a medium bowl, add the flour, yogurt, sugar, cinnamon and chopped apple and mix. Once the mixture forms a dough, knead 3-4 times.
Line the bottom of the air fryer with a parchment round. Spray the parchment liberally with oil (NOT non-stick spray).
Divide the fritter batter into 4 balls about the size of a handball. Flatten slightly and place in the fryer basket. Spray the tops with vegetable oil.
Air fry at 375°F for 13-15 minutes, turning half way through. After turning, spray the tops with oil. Insert a toothpick in the center to check for doneness.
While the fritters are in the air fryer, mix glaze ingredients together. This mixture will be on the thin side. Set aside.
Once the apple fritters are cooked through, drizzle the glaze over top and then place fritters on a wire rack to cool and allow the glaze to harden.
Notes
Recipe provided by Make Your Meals
Nutrition Information:
Yield:
4
Serving Size:
1 grams
Amount Per Serving:
Calories:

314
Total Fat:

2g
Saturated Fat:

1g
Unsaturated Fat:

0g
Cholesterol:

4mg
Sodium:

28mg
Carbohydrates:

65g
Fiber:

3g
Sugar:

39g
Protein:

10g