If you are wanting the taste of State Fair Corn Dogs the easy way to do that is to cook frozen corn dogs in an air fryer! They are much crispier corn dogs than when cooked in the microwave. And are much healthier than when cooked in a deep fryer!
Although we love our Homemade Corn Dog recipe, wet batters do not cook up well in an air fryer. In addition, there are times when you need an easy snack, quick lunch or dinner recipe. And that is where frozen corn dogs come in handy!
Where To Find Frozen Corn Dogs
You can easily find them in the frozen food aisle of your grocery store. And they typically come in two different sizes.
First, you will find the standard, larger size corn dogs that have a batter coating that surrounds the hot dog that is hidden inside. They are easy to spot as they have wooden skewers that comes out of the bottom for holding when eating.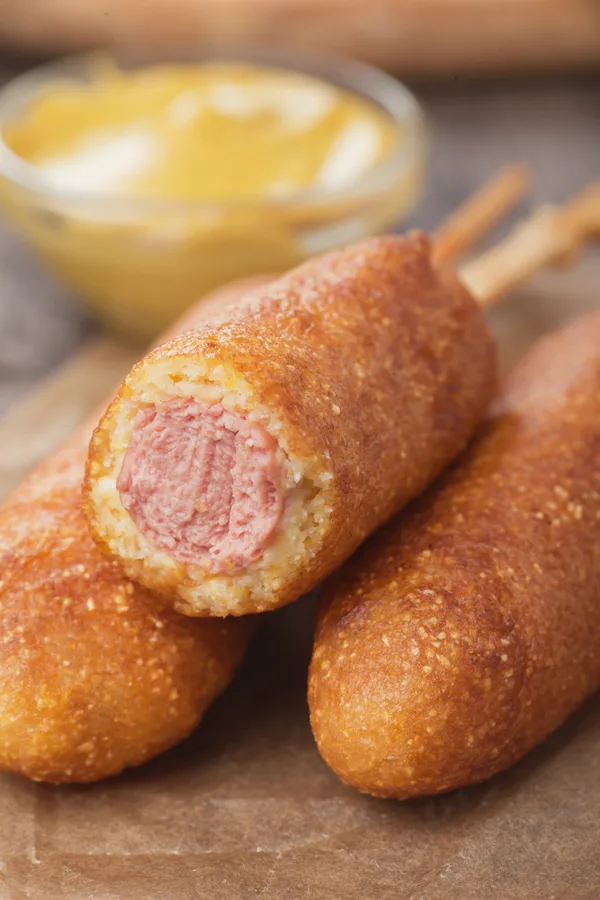 Then there is the popular frozen mini corn dogs. They are a smaller version of a corn dog without the stick and cook in a little less time.
These are definitely one of our favorite snacks to make in the air fryer. They are easy to eat and can be made in just a few minutes.
Air Fryer Corn Dogs Recipe
So what is the best way to make air fryer corn dogs? First, we will go over the best cooking method for full-size, regular corn dogs.
The first thing that you need to determine is if they will fit into your air fryer basket. I have no problem fitting a whole box of them in my Power 360 Air Fryer Oven. However, in y 6.5 quart Ninja Foodi Pressure Cooker/Air Crisper I can only fit 3 in the basket without me trimming off some of the sticks.
Next determine how many that you can fit in the basket without crowding them too much. When air frying frozen foods you want to make sure that there is enough space between each one to allow the air to flow freely.
If you leave too little space, the corn dogs will cook uneven. Therefore, if you are cooking for your whole family or a large gathering, you may need to cook them in batches. Just be aware that the second batch will cook quicker than the first.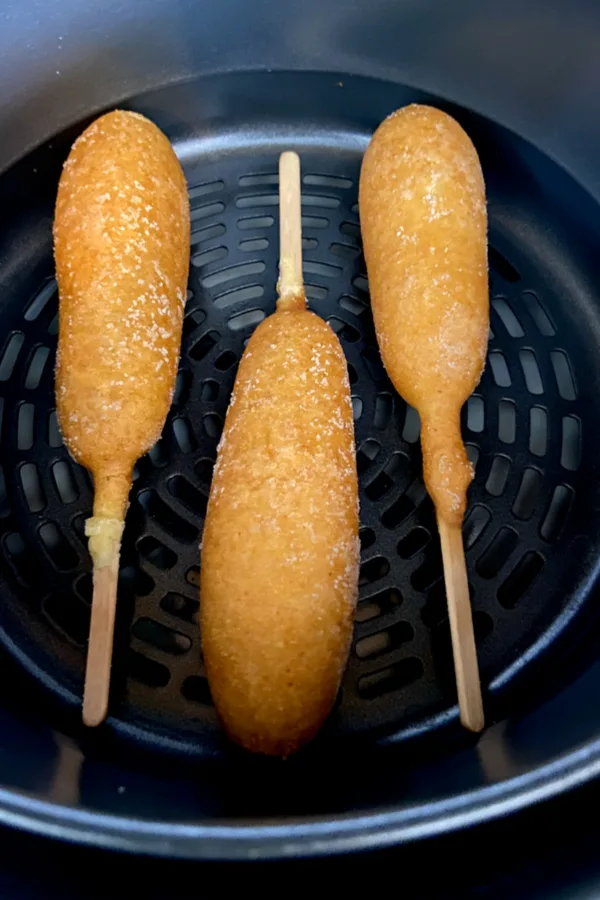 Now that you have determined how many you can fit in the air fryer, it is time to get cooking!
First, there is no need to preheat the air fryer or add cooking spray to the basket. That is right, no need to coat the air fryer basket with additional oil! Which is another reason that the air fryer cooks the perfect corn dogs!
To Preheat or Not Preheat?
Although many brands of air fryers recommend preheating before adding the food, this step is not necessarily to make Corn Dogs. Simply add the frozen corn dogs into the air fryer basket and set the temperature and cook timer.
That is the best part of this recipe! Absolutely no preparation is required. Open your freezer door, open the package and the air fryer cooks them in just 9-10 minutes!
Air Fryer Mini Corn Dogs
And the same holds true for mini corn dogs. Put them in frozen, in a single layer of your air fryer basket. Again, be sure to leave a little space between each one.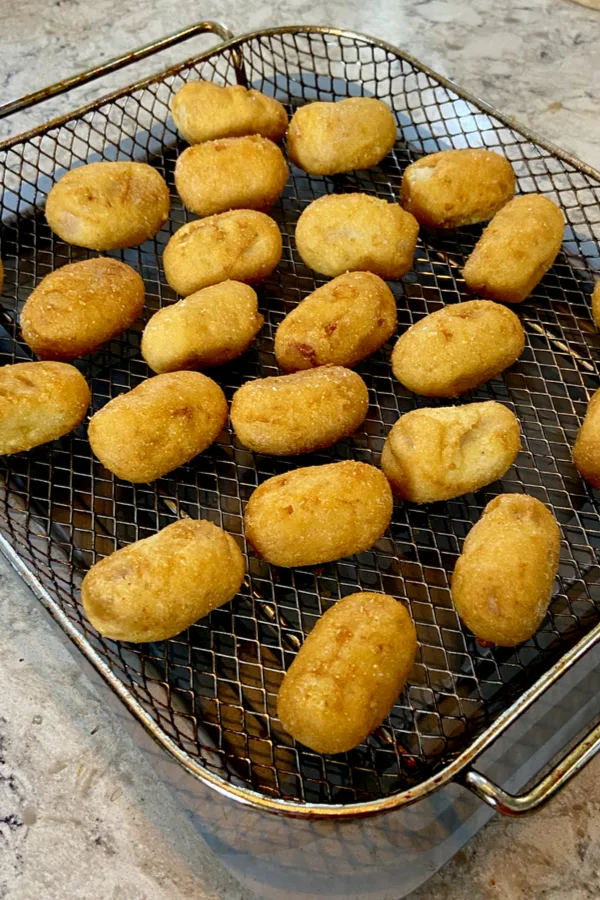 Set the air fryer to the same temperature as when making regular corn dogs. The recipe card below has the specific recommend temperature.
However, this time reduce the cook time by 1-2 minutes.
Although I would love to give you an exact time on when the corn dog bites will be cooked to perfection, cooking times vary based on the make and model of your air fryer. Your first time cooking them you will need to keep a close eye on them.
If you like a crispier corn dog let them cook a little longer. However, if you like them a little softer, take them out sooner.
What To Serve With Corn Dogs
No corn dog would be complete without a little ketchup or mustard served on the side. Although, my kids love to dip them into ranch dressing as well.
As for what to serve along with the corn dogs for dinner, I would have to first suggest French fries. Two fair type foods that go perfectly together. Other suggestions: apple sauce, potato salad, macaroni salad, or onion rings.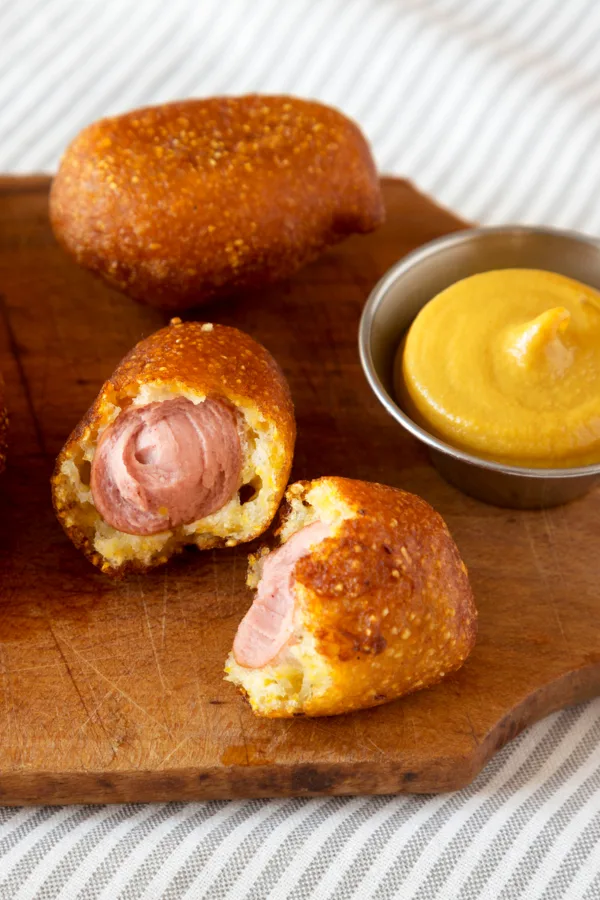 Whatever you do, be sure to skip the regular oven and make the frozen corn dogs in an air fryer! You will save a ton of time and the whole family will love the taste of them!
Other Easy Air Fryer Recipes
For all of our other tasty Air Fryer Recipes be sure to check out our complete list on our Recipes tab.

To receive our 3 Recipe Articles in your inbox each week, sign up for our free email list located in the middle of each recipe or email me at contact@makeyourmeals.com. You can also follow us on Facebook and Pinterest. This article may contain affiliate links where a small commission is paid if you purchase a product at no additional cost to you.
Yield: varies
How To Cook Frozen Corn Dogs In Air Fryer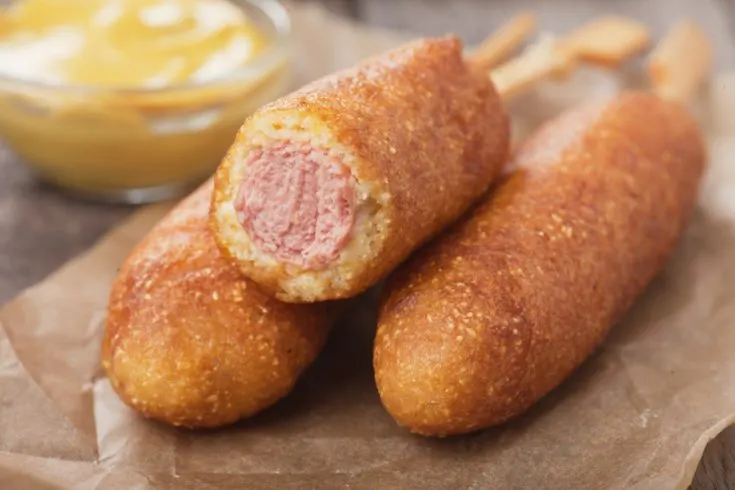 Corn dogs that taste just like the ones that you get at the state fair. But you can have them in minutes when you cook frozen corn dogs in your air fryer!
Instructions
Full Size Corn Dogs With Stick
Place frozen corn dogs lying flat in air fryer basket (using no oil or cooking spray) so that there is space between each one. Depending on the size of your air fryer, you may need to trim the stick. Air Fry at 390°F (200°C) for 9-10 minutes.
Mini Corn Dogs
Place mini corn dogs in a single layer in the basket of the air fryer (using no oil or cooking spray). Do not overcrowd the basket. Air Fry at the same temperature as the full size corn dogs for 8 minutes, flipping after the 4 minute mark.

Notes
All Air Fryers cook at different rates and times. The first time that you make frozen corn dogs in your air fryer, keep a close eye on them to prevent them from over cooking.
Air fryer ovens require longer cooking times than air fryer baskets. Adjust time accordingly.
Recipe provided by Make Your Meals
Nutrition Information:
Yield:
4
Serving Size:
1
Amount Per Serving:
Calories:

200
Total Fat:

5g
Saturated Fat:

2g
Trans Fat:

0g
Unsaturated Fat:

3g
Cholesterol:

7mg
Sodium:

110mg
Carbohydrates:

39g
Fiber:

5g
Sugar:

6g
Protein:

7g
Nutritional Information is to be used as a general guideline only . Nutritional calculations will vary from the types and brands of the products used.