With Thanksgiving just a little over one week away, I thought it would be the perfect time to share 40 of my favorite Thanksgiving Side dish recipes.
From classic mashed potatoes, green bean casserole and stuffing recipes, to some unique recipes that you may have never heard of, I have them all here for you.
Not only will you be sure to find something to make this year, but you may just find that special recipe that will become the new family favorite.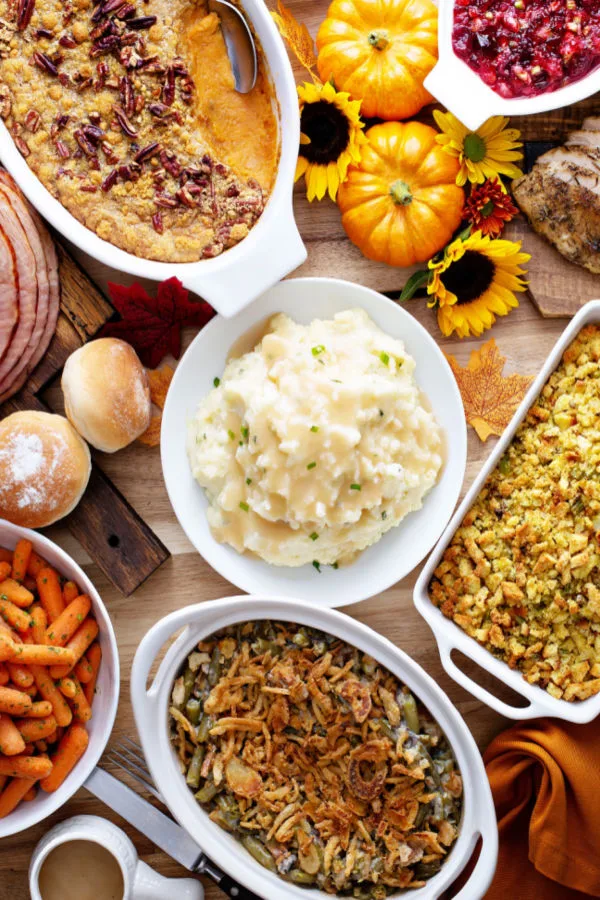 And to make things easier, I have the recipes categorized by the cooking method required. This way you can scroll through the recipes to see which one meets your needs.
For instance, when making an Oven Roasted Turkey, the actual space inside the oven may be limited. Therefore, you may need to pull out your slow cooker and make a Thanksgiving side dish in there instead.
And for those who want to put your Air Fryer or Instant Pot to good use, I have included some recipes to use those small cooking appliances as well.
For each recipe listed I have included a small description of the dish. However, feel free to click on the actual name of the recipe to get step by step, complete instructions and specific ingredients for each recipe.
Each individual recipe also includes a picture of the final dish and photos in progress. So take a look and I hope you find something delicious to make to share with your family and friends.
40 Thanksgiving Side Dish Recipes
Oven Baked Side Dish Recipes
Take advantage of those inexpensive bags of potatoes and make scalloped potatoes. A simple homemade cream mixture is poured over layers of peeled and thinly sliced potatoes and baked until light golden brown.
Skip the marshmallow topping this year and make a healthier version of sweet potato casserole. Mashed sweet potatoes are mixed with a few basic ingredients and then topped with an easy to make crumb topping.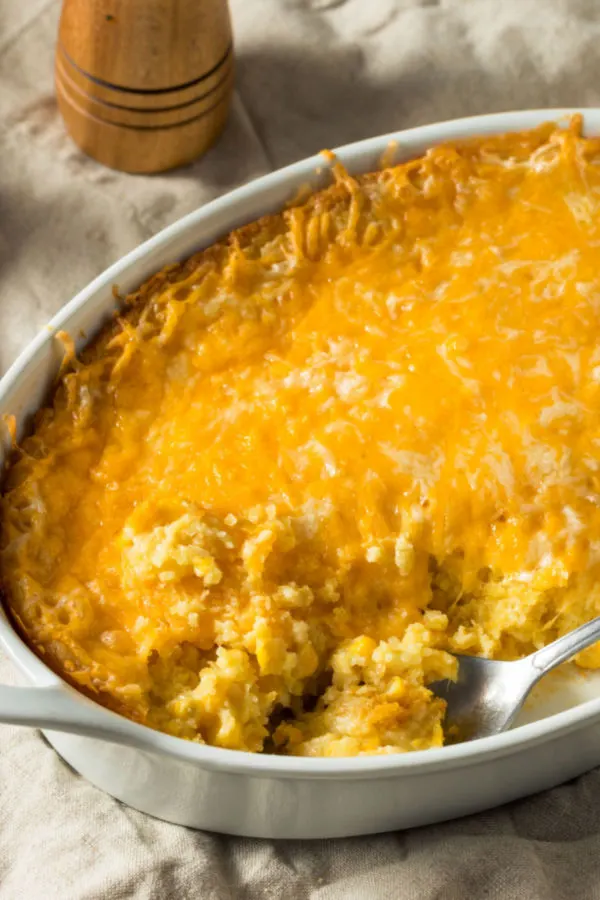 For those who are looking for a quick and easy side dish to prepare this is it! It takes only 5 minutes to make and requires only 7 common ingredients.
Not to mention that is an inexpensive recipe to make. It is always a huge hit at Thanksgiving and a recipe that even the novice cook can master.
Not only is this an extremely popular side dish recipe, it is also served at most gatherings. From holiday dinners, potlucks, backyard barbecues and even funeral luncheons, these cheesy hash brown potatoes are extremely popular.
Shredded hash browns are mixed in a cheesy cream sauce and poured in a casserole dish. They are then topped with cheese and/or breadcrumbs and baked until golden brown and hot and bubbly.
They are a favorite among both the kids and adults.
Take the standard corn casserole recipe to a new level with the addition of bright colored, diced vegetables. It has become the new favorite side dish recipe in our family, and it couldn't be easier to make!
If you like the taste of Green Bean Casserole consider making this one that doesn't include any canned cream of mushroom soup. The taste is so much better, not to mention that it is much healthier as well!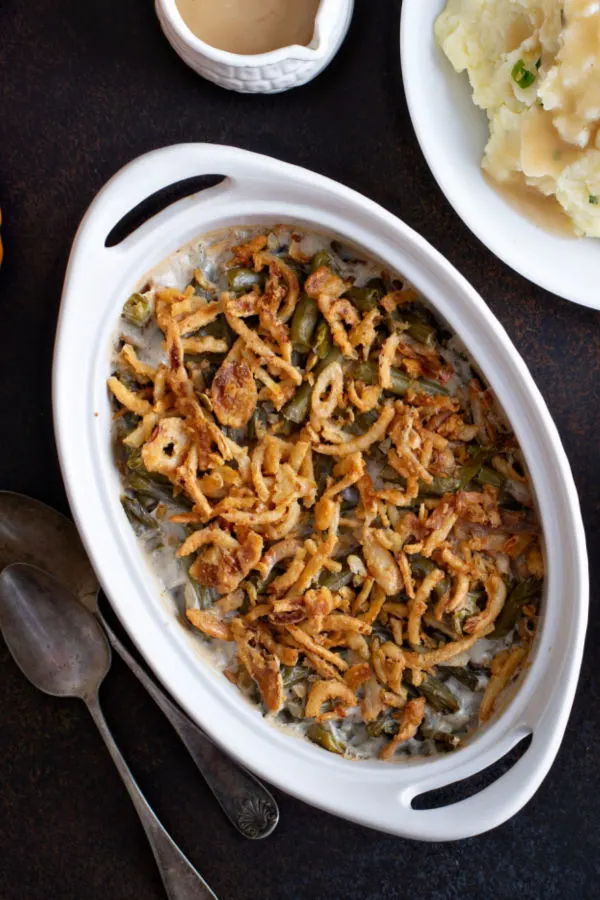 Here comes the big debate. Does Mac & Cheese deserve a place at Thanksgiving dinner?
To me, there is no debate at all. If you like this creamy side dish recipe and want it at your table, by all means there is no one stopping you.
Although some don't consider it a classic Thanksgiving Side Dish recipe, my large family Thanksgiving dinner celebration would be lost without it.
With over 65 people eating in the same house together, it has been a favorite side dish for many!
All the flavors of twice baked potatoes made easy! Instead of placing the filling back into the shells of hollow potato skins, it is made into a delicious and easy to make casserole.
Take baked potatoes to a new level by cutting thin slices in the potatoes before baking. The flesh of the potato will absorb the seasonings and crisp up nicely.
Please your low-carb family and friends with this delicious loaded cauliflower casserole. It is so delicious that even your carb eating friends will devour the side dish in no time!
One of my favorite potato recipes of all time! Par cooked potatoes smashed down and drizzled with an easy garlic butter sauce and baked until crispy on the outside and tender on the inside.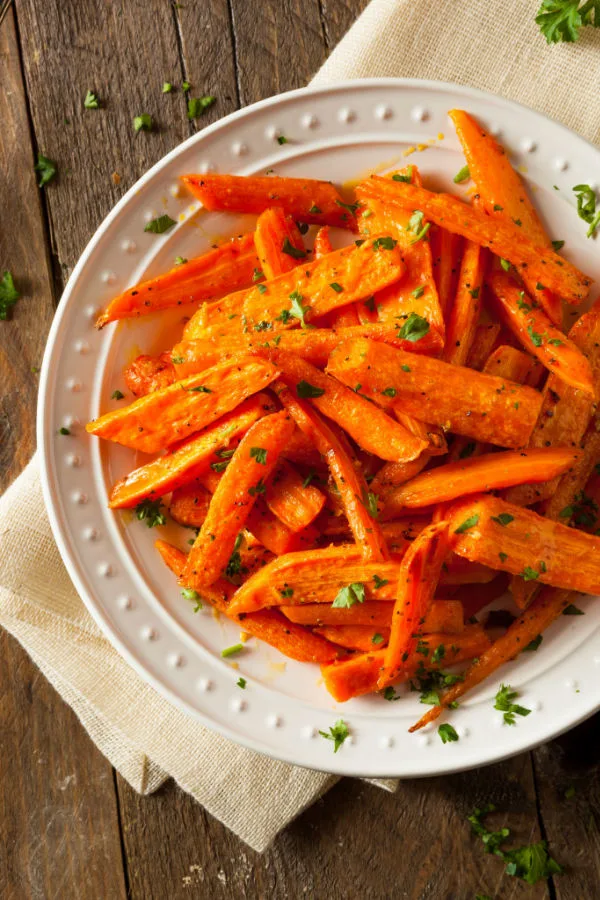 A classic Thanksgiving side dish recipe that balances a healthy vegetable with something sweet.
Who knew Brussels sprouts could be so good? Add in a little brown sugar and bacon and you will have your green leaf hating friends devouring these recipe.
Such a simple yet flavor potato recipe that requires only 5 minutes to prepare. Throw it in the oven and tender and flavorful potatoes are ready to eat in an hour!
Slow Cooker Recipes
When you need to cook a potato recipe to transport to Grandma's house, this recipe does the trick. Let the crock pot do the work to make creamy potatoes tender and delicious.
My absolute favorite Thanksgiving side dish recipe! Made with the same recipe that my parents used when I was a child.
However instead of stuffing it inside a turkey, it is cooked in a slow cooker. An easy, delicious, and classic recipe!
The same cheesy hash brown casserole recipe but instead of being baked in the oven, it is made in a slow cooker.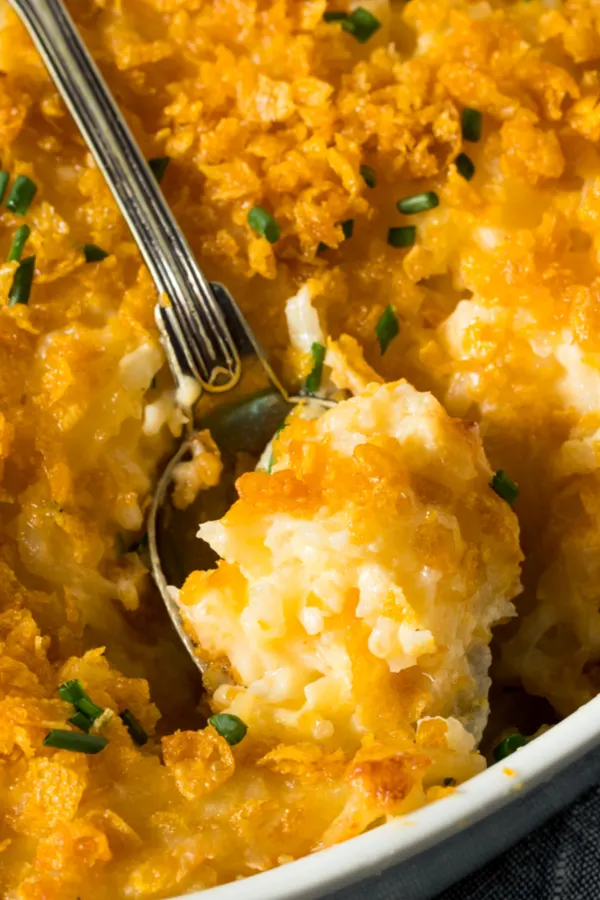 Cheesy and creamy slices of potatoes made in the crock pot and topped with more cheese.
If you are short on stove top space, why not make your mashed potatoes in a crock pot. Make them early in the day and keep them warm until ready to be served.
20. Slow Cooker Cornbread Dressing
In the south the Thanksgiving dressing is typically made out of corn bread or a mixture of white bread and corn bread. Make this classic side dish easy by letting the slow cooker do the work.
Other Popular Side Dish Recipes
The secrets to light and fluffy mashed potatoes. Because there is no time to serve gluey mashed potatoes to your in-laws.
If you want to serve mac & cheese but don't have oven space, stick to this easy stove top mac & cheese recipes. Creamy, delicious, and a favorite among the kids!
This creamy fruit salad recipe has been around for centuries and can be served as a side dish or salad. It will give you a whole new appreciation for seedless grapes!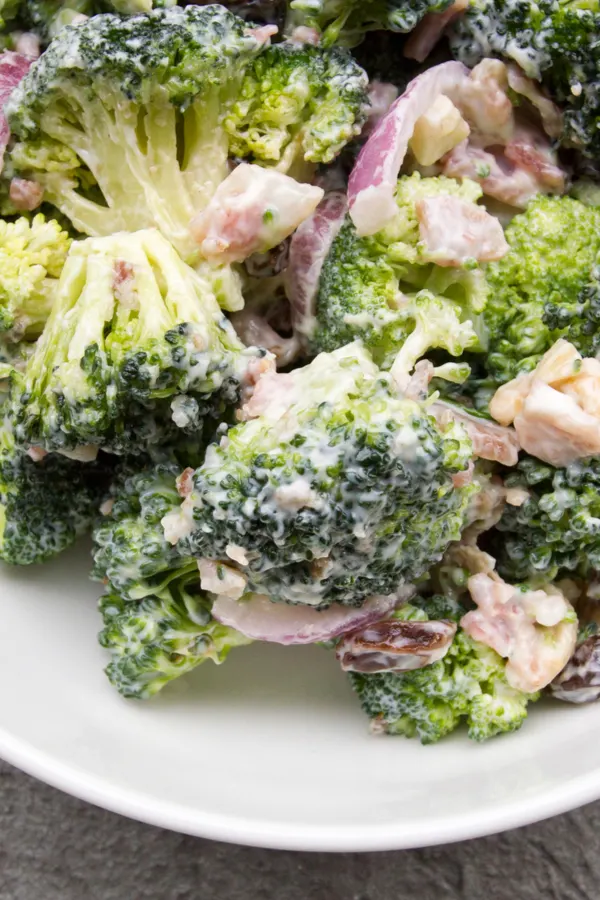 Although not a warm and comforting Thanksgiving side dish, broccoli salad appears on our buffet table every year. It is a low-carb side dish that your Keto dieting friends love!
Need a light and refreshing alternative? You can never go wrong with fruit salad!
Air Fryer Thanksgiving Side Dish Recipes
A quick and easy side dish recipe that doesn't take up any space in the oven. Cubes of seasoned butternut squash that are crispy on the outside and tender on the inside.
It doesn't get much healthier than asparagus! Another quick and easy Thanksgiving side dish recipe that is perfect for a small crowd.
Not having mashed potatoes this year? Make baked potatoes in the air fryer and save your oven space for Turkey.
One of my favorite weeknight side dish recipes that are so delicious that they can be served on the holidays as well.
Take those baby potatoes to a new level with the flavor of dry Ranch dressing. Crispy on the outside, light and fluffy on the inside.
Yes, you can even make mac and cheese in the air fryer. If you like a crispy top, this recipe is for you!
Just like Air Fryer Baked Potatoes, you can cook your sweet potatoes or yams in the air fryer as well.
Another delicious recipe for red or yellow new potatoes. Flavored with herbs that are commonly found on your Thanksgiving table.
Instant Pot Holiday Side Dishes
Use your multi-cooker to make a small batch of corn casserole. It is a great way to get a classic side dish on the table without a lot of fuss.
This recipe will allow you to cook the potatoes until they are fork tender without checking on them constantly. If you don't like to eat the skin of the potatoes, this is the recipe for you!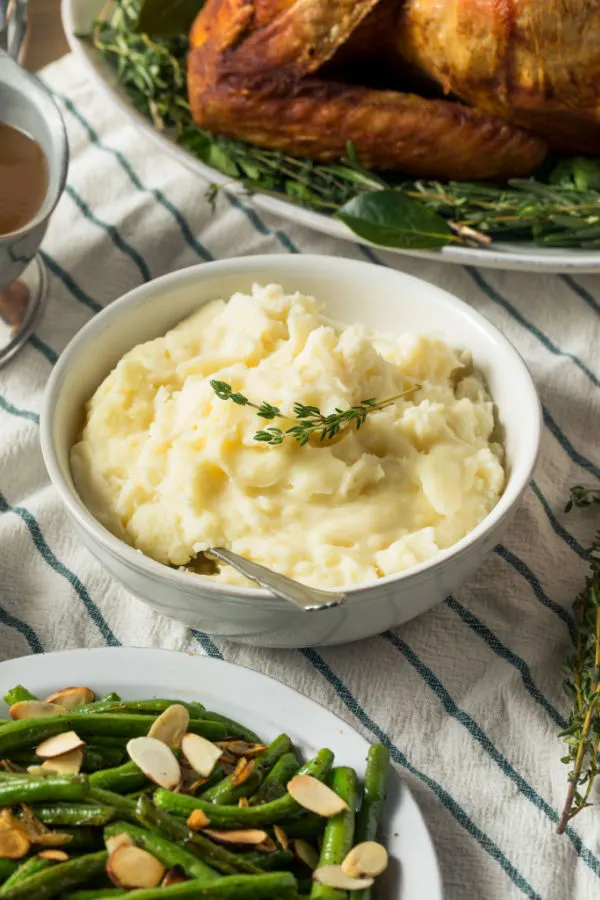 In my house mashed potatoes is a must have side dish at least once a week. Here is a quick and easy recipe that doesn't require you to stand by the stove waiting for the pot to boil over.
You may need to make more mashed potatoes than you thought. This 5 pound mashed potatoes recipe is easy to make with the use of a pressure cooker. If only you could get some help peeling those potatoes!
No need to make sweet potato casserole in the oven. You can make it in the Instant Pot in a fraction of the time. A great small batch recipe.
Yum! A quick and easy recipe that you can make while the turkey is resting. Fresh green beans flavored with garlic and butter and cooked until they are just tender.
Make your traditional bread dressing in Instant Pot instead of in the oven. A great recipe for those who like their dressing a little on the moister side.
So there you have it! 40 Thanksgiving side dish recipes that you can certainly find something that you and your family will love.
Enjoy! Mary

To receive our 3 Recipe Articles in your inbox each week, sign up for our free email list located in the middle of each recipe or email me at contact@makeyourmeals.com. You can also follow us on Facebook and Pinterest. This article may contain affiliate links where a small commission is paid if you purchase a product at no additional cost to you.