These Garlic Butter Smashed Potatoes are one of our favorite side dishes to make, especially for a special occasion or holiday meal.
They look absolutely gorgeous and taste even better! And they make a fantastic side dish for just about any meal, especially Prime Rib!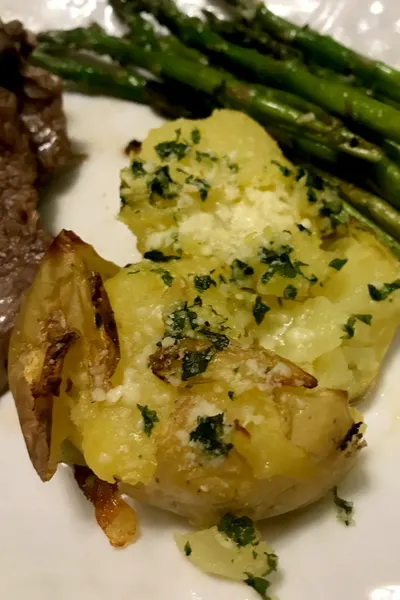 Plus they are so easy to make and require very little hands on time while they are cooking.
So how do you make Garlic Butter Smashed Potatoes?
First, you must pick out what type of potato to use. This recipe works best with small, Yukon Gold Potatoes.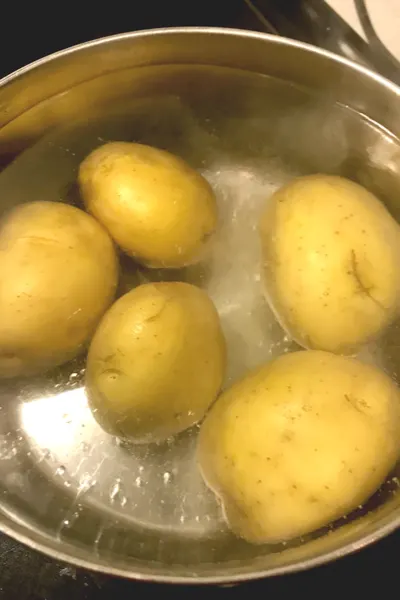 The skin of the golden potatoes is much thinner than the Russet variety. Plus, the consistency and flavor of Yukon Gold potatoes is much better to make Smashed Potatoes.
After you clean your potatoes, put them in a large pot with salted water. Bring the pot to a boil and then reduce the heat to maintain a light, rolling boil. Cover the pot and cook for about a half an hour, or until the potatoes are fork tender.
Then drain the potatoes and put them on a greased baking sheet.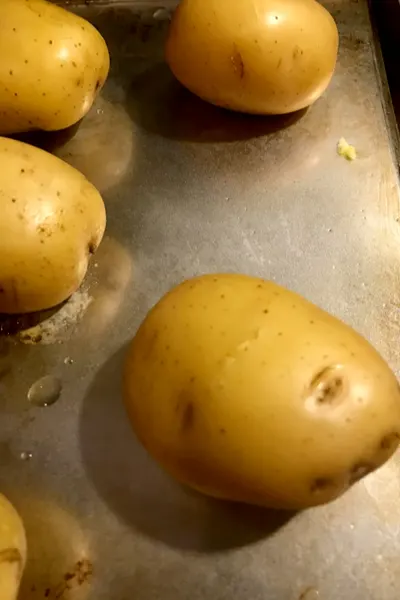 Now comes the tricky part – Smashing the Potatoes.
I only say it is tricky because you don't want to smash them too much.
Use a non-stick potato smasher or the back of a slotted spatula to press down on the potato. But you only want to press down hard enough that the potato remains in one piece.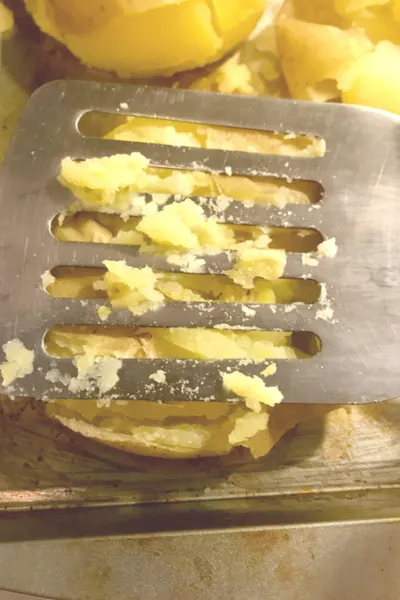 If you press too hard or forceful, the potato will crumble apart.
Next, top each potato with the garlic, butter, and parsley mixture. Then bake in the oven for 10-15 minutes until golden brown.
Finally, sprinkle the tops with Parmesan cheese and place back in the oven until the cheese has melted.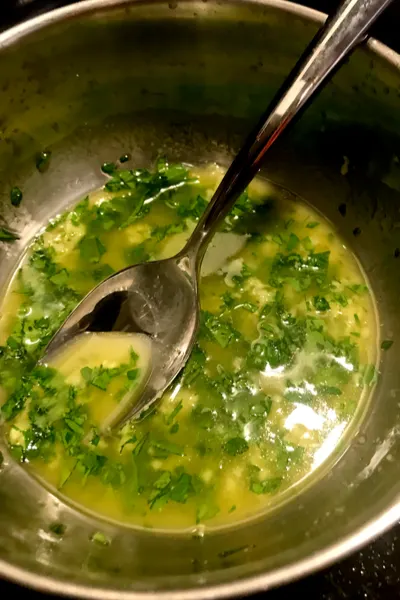 Now you are ready to serve your Garlic Butter Smashed Potatoes!
And if you love these Garlic Butter Smashed Potatoes, you will love our Colcannon (Irish Mashed Potatoes) recipe.

To receive our 3 Recipe Articles in your inbox each week, sign up for our free email list located in the middle of each recipe or email me at contact@makeyourmeals.com. You can also follow us on Facebook and Pinterest. This article may contain affiliate links where a small commission is paid if you purchase a product at no additional cost to you.
Garlic Butter Smashed Potatoes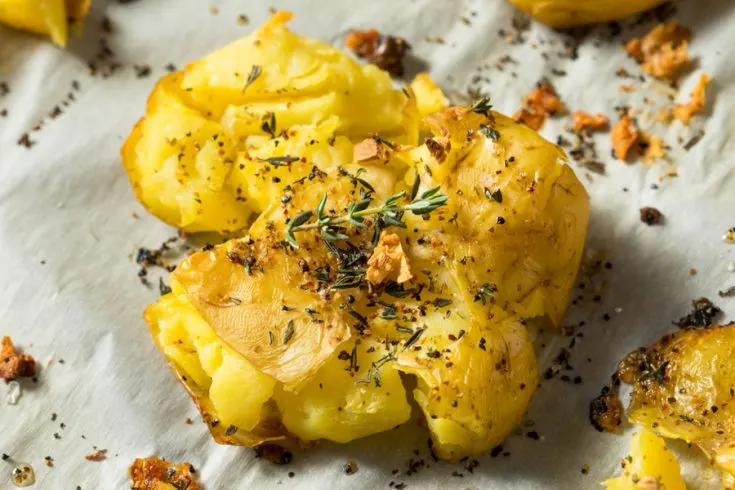 Soft and tender boiled potatoes smashed and topped with a garlic butter sauce and parsley and topped with Parmesan cheese. A delicious side dish for any meal!
Ingredients
2 lbs Yukon Gold Potatoes
Olive oil spray
3 tablespoons butter
4 cloves garlic, minced
1 tablespoon fresh chopped parsley, plus more for garnish as desired
Kosher salt and ground black pepper to taste
2 tablespoons Parmesan Cheese
Instructions
In a large pot, fill ¾ full with salted water and place the potatoes in the water. Bring the water to a boil and then turn down the heat to maintain a slow, rolling boil. Cover and cook for 30-35 minutes or until just fork-tender. Drain well.
Preheat oven to 400 degrees F.
Lightly grease a large baking sheet with cooking oil spray or use parchment paper.
Arrange potatoes onto the sheet and use a potato masher or a slotted spatula to lightly flatten the potatoes in one solid piece. *Don't smash them too hard or they will crumble apart.
In a small saucepan, melt the butter and add in the garlic and parsley, Mix until well combined. Spoon the mixture evenly over each potato and sprinkle with salt and pepper. Lightly spray the tops with olive oil spray.
Bake in the preheated oven for 10-15 minutes or until they are golden and crispy. Remove from the oven and sprinkle Parmesan cheese on top of each potato and return to the oven until the cheese is melted.
Sprinkle with additional chopped parsley and serve immediately.
Notes
Recipe provided by Make Your Meals
Nutrition Information:
Serving Size:
1 grams
Amount Per Serving:
Unsaturated Fat:

0g