When I learned how to make Instant Pot Baked Potatoes, I think my life changed forever! I had no idea that I could make light and fluffy potatoes in half the time that it took in the oven.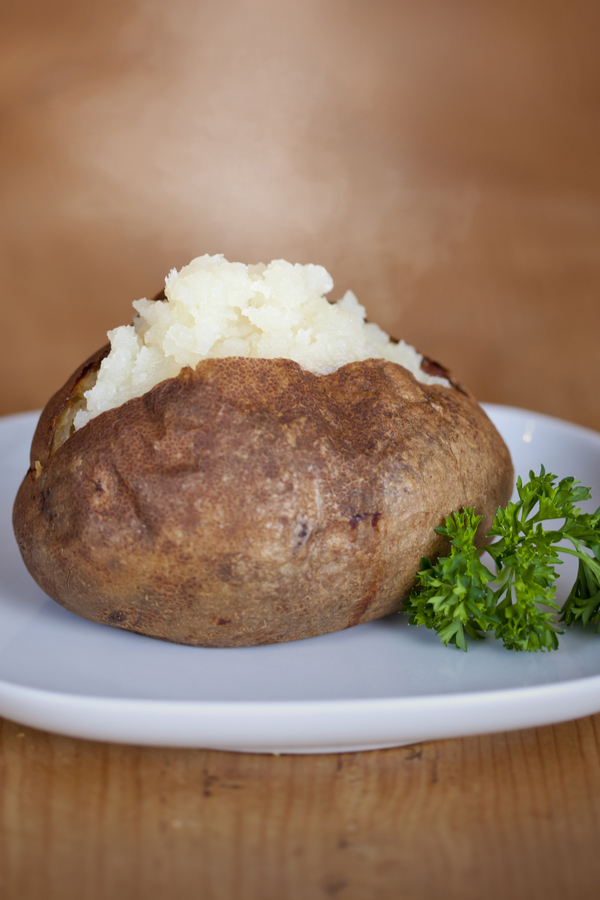 Although, I know that microwaving is the quickest cooking method and only takes about 10 minutes, I prefer not to use my microwave for extended periods of time. It is totally a personal choice but I try to avoid using it as much as possible.
And as much as I love Air Fryer Baked Potatoes, there are times when dinner needs on the table even quicker. Or most likely, the Air Fryer is busy making Chicken Breasts, Salmon or some other delicious main dish and there is no room for the potatoes.
So that is when I pull out my Instant Pot 6 quart Duo (or my 3 quart Mini if I am eating alone) and get to work!.
Instant Pot Baked Potatoes
Ingredients
Russet Potatoes
You can use other varieties of potatoes, however, Russet potatoes make the best Instant Pot Baked Potatoes.
Instructions
Prepare your potatoes to be cooked by washing and scrubbing them until they are clean. There are vegetable brushes that you can use, however, because I personally don't eat the skins, I simply scrub them with a cloth.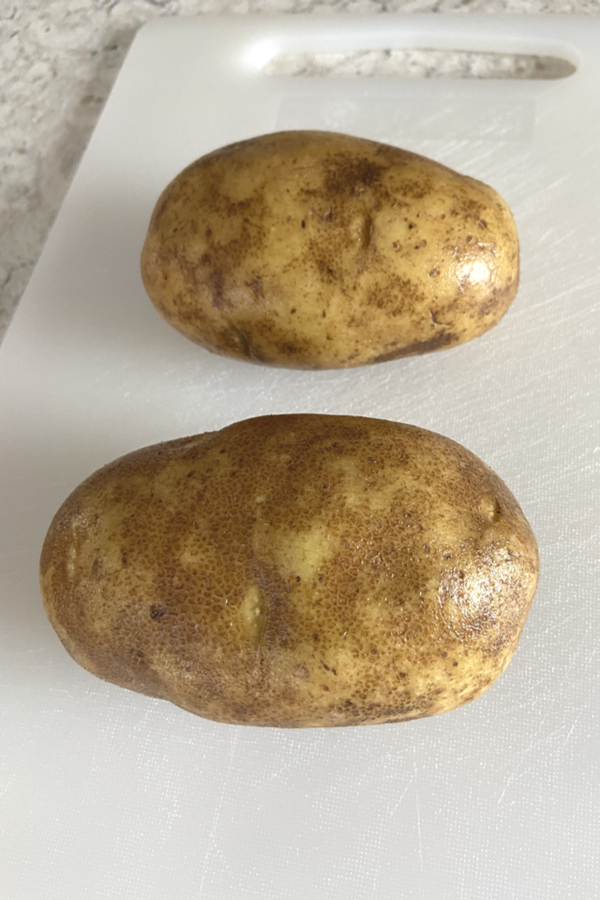 You can cook as many potatoes that will fit inside the Instant Pot with the trivet in place. However, it is best to 'dry fit' the potatoes inside the pot so you know how many will fit.
Keep in mind, if you are making a lot of potatoes, it is best to line them up end on end, rather than stacking them on top of each other.
Once you ready to cook the potatoes poke 6-8 holes in each one with a sharp knife. No, I didn't say to pierce with a fork. Although that will work, I find it much easier to poke holes with a knife so that I don't struggle getting the fork out of the raw potatoes.
Next, add a cup of water and the trivet inside the pot. Then place the potatoes inside the Instant Pot.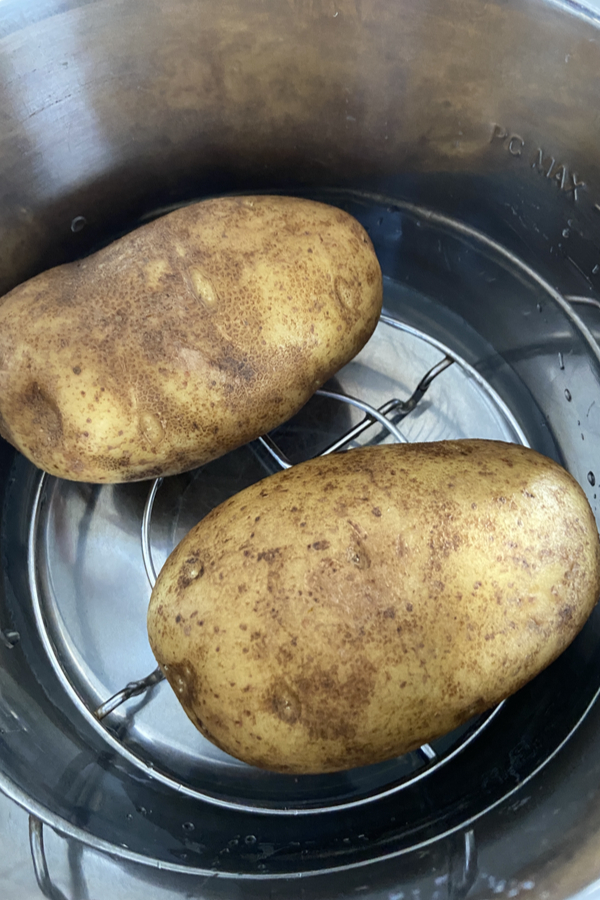 Lock the lid in place, and move the valve to the SEALING position if your model has that option. Press Manual or Pressure Cook and be sure that it is set to HIGH pressure. Set the cook timer to 20 minutes.
Size DOES Matter
*Please note – this specific cooking time was tested for potatoes that were 8 inch round in circumference at the thickest point of the center of each potato with the intent that the potatoes would be super soft on the inside. If you have larger or smaller potatoes, the cooking time will need to be adjusted according.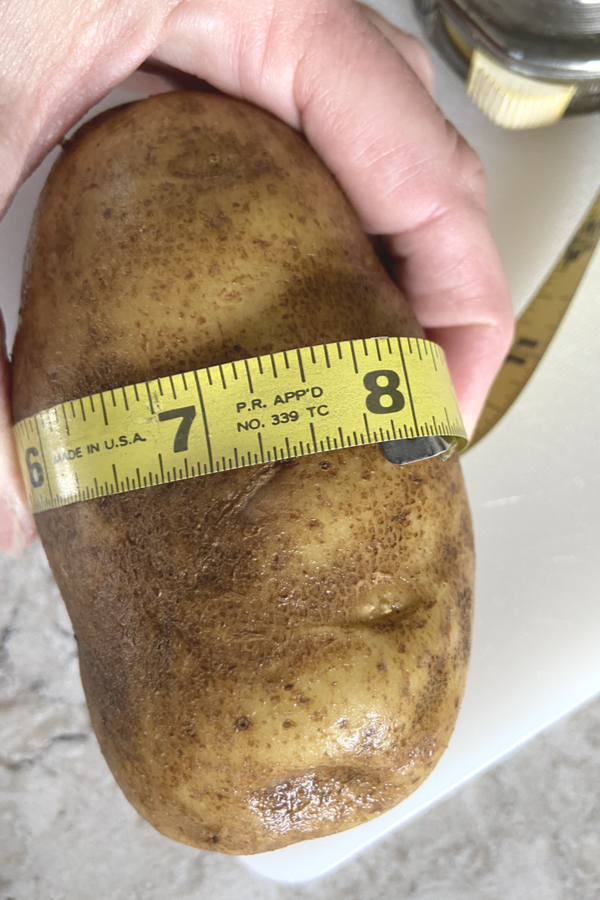 Just with all electric pressure cooker recipes, additional time will be required for the pot to come to pressure and the cook time to begin. For these baked potatoes, it took my 6 quart Instant Pot Duo 7 minutes to come to pressure.
Once the actual cook time expires, allow for 10 minutes of Natural Pressure Release. This simply means that you do nothing until the display on your screen reads L0:10.
Now carefully move the valve to the VENTING position to release any remaining pressure. Test to make sure that the potatoes are cooked through to your desired tenderness level by inserting a fork into each potato.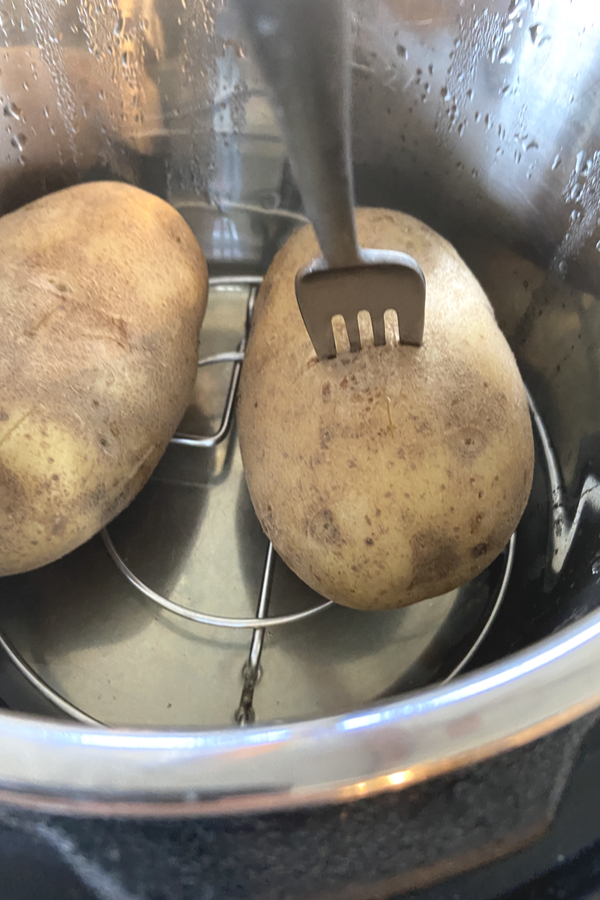 If they are done, remove them immediately from the Instant Pot using tongs and serve. You can also place the potatoes in foil until ready to be served. Just be aware that the potatoes will continue to cook in the foil and become even softer.
Enjoy!
To receive our 3 Recipe Articles in your inbox each week, sign up for our free email list located on the side and bottom of each recipe. You can also follow us on Facebook and Pinterest. This article may contain affiliate links where a small commission is paid if you purchase a product at no additional cost to you.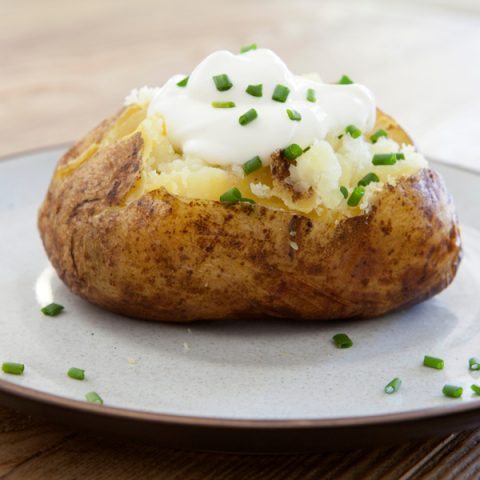 Instant Pot Baked Potatoes
Additional Time:
15 minutes
How to make light, fluffy and perfectly cooked 'Baked' Potatoes in a pressure cooker.
Instructions
Wash and scrub the potatoes clean and then poke 6-8 holes in them with a sharp knife.
Add 1 cup of water to the Instant Pot and place the trivet inside.
Place the potatoes on the trivet, stacking if required.
Lock the lid in place and move the valve to the SEALING position. Pressure Cook/Manual on HIGH pressure for 20 minutes.
Once the cook time expires, allow for 10 minutes of Natural Pressure Release before releasing any remaining pressure by moving the valve to the VENTING position.
Remove the potatoes and serve immediately. Or place the potatoes in foil until ready to be served.
Notes
These cooking instructions are for potatoes that are medium in size (8 inch circumference at the center of the potato). I like my potatoes nice and soft on the inside. Therefore, you may need to adjust the cook time based on the size of your potatoes and your personal preference on doneness.
Recipe provided by Make Your Meals
Nutrition Information:
Yield:

2
Serving Size:

1
Amount Per Serving:
Calories:

168
Total Fat:

0g
Saturated Fat:

0g
Trans Fat:

0g
Unsaturated Fat:

0g
Cholesterol:

0mg
Sodium:

24mg
Carbohydrates:

37g
Fiber:

4g
Sugar:

2g
Protein:

5g
Nutritional Information is to be used as a general guideline only . Nutritional calculations will vary from the types and brands of the products used.