If I hadn't made this Air Fryer Macaroni and Cheese recipe myself, I wouldn't have thought it was even possible.
Who ever thought that you could make creamy mac and cheese in the air fryer? But it's true!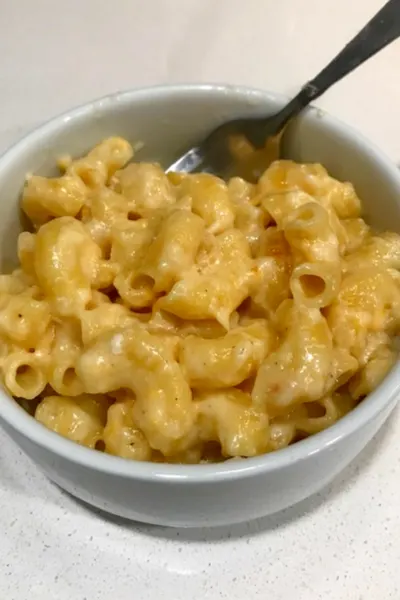 I was shocked at how the noodles cooked perfectly and how delicious this recipe turned out.
In fact, ever since I made mac and cheese in the air fryer, I haven't made it any other way!
And I used to make it quite often as a quick and easy side dish for the family!
My preferred method to making homemade macaroni and cheese has always been on the stove top. And then I switched to making Instant Pot Macaroni and Cheese.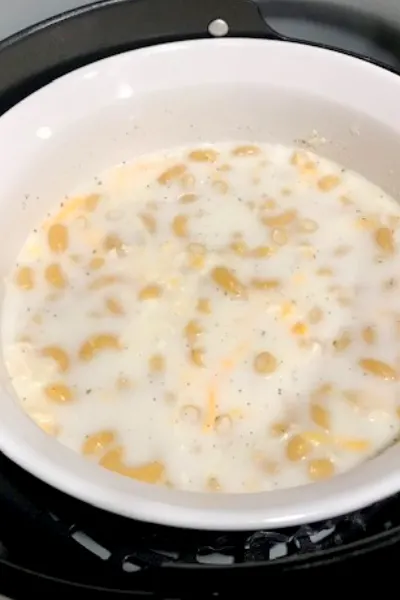 However, now that I have made it in the Air Fryer, this is my preferred method of cooking macaroni and cheese.
Air Fryer Macaroni and Cheese
The advantage of cooking macaroni and cheese in the air fryer is two-fold.
First, the majority of the cheese is cooked along with the noodles. On the contrary, when making it in the Instant Pot, you cook the noodles and then after the cooking process the cheese is added.
The second advantage of making Air Fryer Macaroni and Cheese is that the cheese takes on an additional layer of flavor by being 'baked'.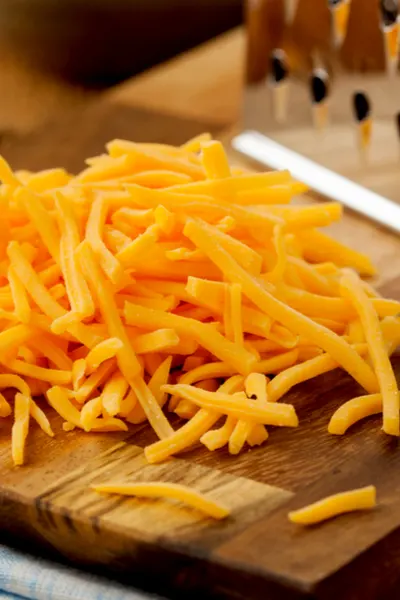 So how do you make Macaroni and Cheese in the Air Fryer?
First of all, when making Macaroni and Cheese in the Air Fryer you must place the noodles in an oven safe dish that fits down in the basket of your air fryer.
And if you are using the Air Crisp function on your Ninja Foodi, you can either use the air fryer basket or place the dish on the trivet provided.
The important part is that the air has room to circulate under the dish as well as over top during the cooking process.
What type of cheese to use?
Now comes the question of what is the best type of cheese to use to make macaroni and cheese.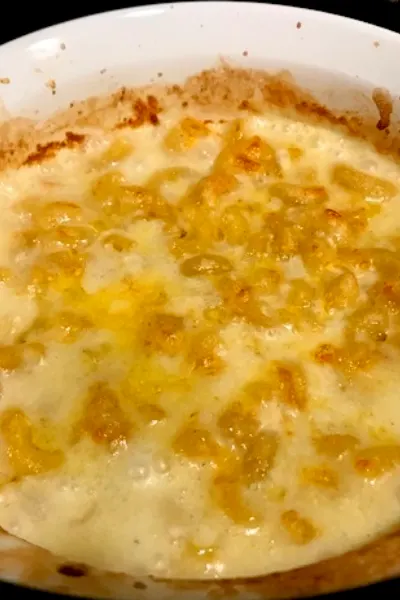 The answer is quite simple. Use whatever cheese that you and your family prefer.
We like to keep it simple and use Sharp Cheddar Cheese. However you can use Gouda, Fontina, White Cheddar, or Gruyere. Or even better yet, use a combination of cheeses!
However, no matter what type of cheese that you decide to use, it is important to shred the cheese yourself instead of buying packaged shredded cheese.
Before packaging, there is an anti-coating agent added to the cheese for extending shelf-life storage. When this coating is cooked, it develops into stringy pieces that aren't ideal for macaroni and cheese.
So do yourself a favor and use a box grater or food processor to shred your own cheese. The results will be that much better!
Once Your Macaroni and Cheese Is Done Cooking…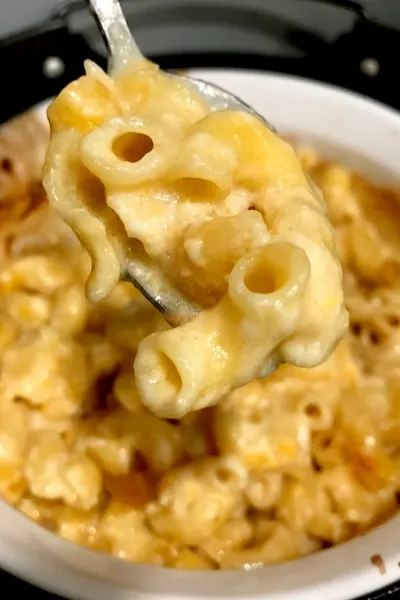 After the cooking time is done, it is important to let your Air Fryer Macaroni and Cheese sit for 5-10 minutes. Once you open your air fryer, there will still be a lot liquid in the dish. Don't panic!
This additional resting time will allow the sauce to thicken. Right before you are ready to serve, stir the mixture and your noodles will be cooked to perfection!

To receive our 3 Recipe Articles in your inbox each week, sign up for our free email list located in the middle of each recipe or email me at contact@makeyourmeals.com. You can also follow us on Facebook and Pinterest. This article may contain affiliate links where a small commission is paid if you purchase a product at no additional cost to you.
Air Fryer Creamy Macaroni and Cheese Recipe
Yes, you can make mac and cheese in your air fryer, and it turns out creamy and delicious in less than 20 minutes!
Ingredients
1 ½ cup elbow macaroni
1 cup water
½ cup heavy cream
8 oz block sharp cheddar cheese, shredded and divided
1 tsp dry mustard
½ tsp garlic salt
½ tsp black pepper
Instructions
In a deep, oven safe dish that will fit inside your air fryer (I used a 7 inch dish) add the elbow macaroni, water, heavy cream, ½ of the cheese, dry mustard, garlic salt, and black pepper. Stir to combine.
If your air fryer recommends preheating, do so at 360 degrees F for 3 minutes.
Place the dish in the basket of the air fryer and cook at 360 degrees F for 18-20 minutes.
Halfway through the cooking time, add the remaining cheese and stir. Close and continue cooking.
Once the cooking time is up, stir the mac and cheese and carefully remove the pan from the basket and allow it to cool for 5-10 minutes. It will thicken while it cools.
Serve immediately.
Notes
Recipe provided by Make Your Meals
Nutrition Information:
Serving Size:
1 grams
Amount Per Serving:
Unsaturated Fat:

0g