Cheesy Hash Brown Casserole is one of the most popular side dishes served during the holidays. Shredded frozen potatoes tossed in a creamy cheese mixture and then topped with crunchy Panko breadcrumbs.
Then it is baked until the mixture is hot and bubbly and the topping is golden brown. It is a super easy side dish to make, and you never have to worry about bringing leftovers home.
In fact, it is so easy to make that even the novice chef can master this recipe. All that is required is to mix together a few basic ingredients and bake it in a casserole dish.
And in under an hour, it is ready to serve!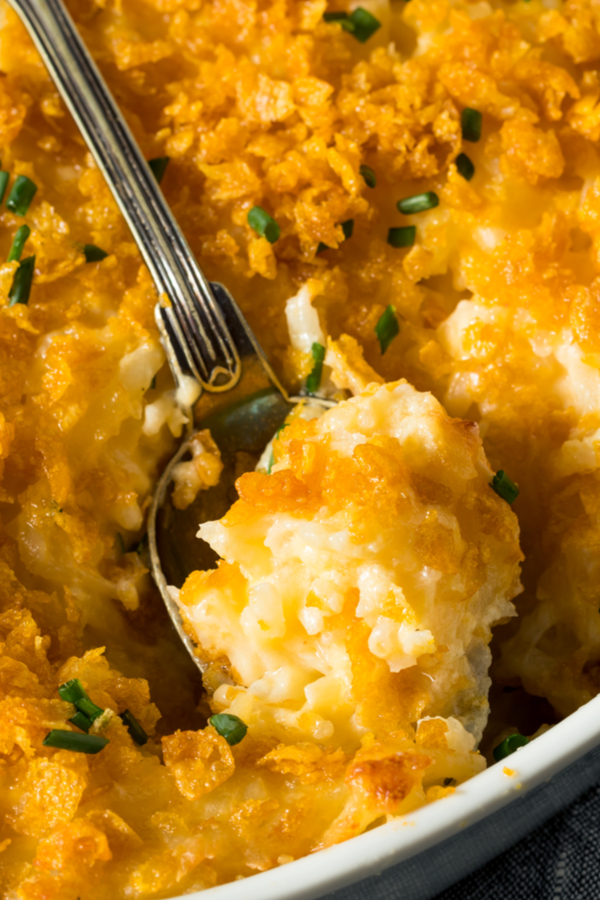 Cheesy Hash Brown Casserole Recipe
*For a smaller batch to feed 2-4 people check out this Small Batch Hash Brown Casserole Recipe.
INGREDIENTS
Sour Cream
Condensed Cream of Chicken Soup
Unsalted Butter
Garlic Salt
Ground Black Pepper
Onion
Bag of Frozen Country Style Shredded Hash Brown Potatoes
Shredded Sharp Cheddar Cheese
Panko Breadcrumbs
Tips About The Ingredients
Sour Cream – You can use full fat or reduced fat sour cream in this recipe.
2. Condensed Cream of Chicken Soup – I always use a low-sodium variety of the cream of chicken soup. However you can use whatever brand or variety that you have on hand.
3. Frozen Hash Browns – Depending on the brand you can purchase country style hash browns, southern hash browns or plain shredded hash brown potatoes. Any of these varieties are acceptable.
The important thing to consider is that the potatoes need to be partially thawed before mixing them with the other ingredients. This will help prevent clumping and uneven baking during the cooking process.
4. Shredded Sharp Cheddar Cheese – Although it is always best to shred your own cheese for baking purposes, I most often use store-bought pre-shredded cheese for this recipe.
5. Panko Breadcrumbs – I highly suggest using Panko breadcrumbs as the topping. They are larger and more coarse than standard breadcrumbs and hold up nicely when baked. If you can't seem to find them alongside standard or Italian breadcrumbs in the grocery store, you might find them in the Asian food aisle.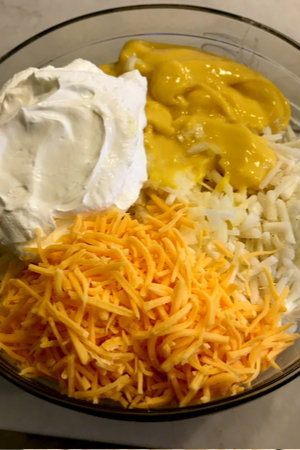 INSTRUCTIONS
There are two different options for cooking this Cheesy Hash Brown Casserole. The preferred method is to use the oven and bake the casserole.
However, if oven space is a concern, you can cook this casserole in your slow cooker. I have included both sets of instructions below.
Oven Instructions
The first step in making this casserole is to partially thaw your shredded hash browns. Although they don't have to be completely thawed, you must be able to separate the strands of potatoes easily so that they can be mixed with the other ingredients.
This is done easily by setting the bag of frozen hash browns on the counter for 20-30 minutes. To speed up the process, open the bag of potatoes and place them in a large bowl so they are exposed to the air.
While you are waiting for the potatoes to thaw preheat the oven and gather a 9 x 13 inch baking dish. If you don't have a large, rectangular baking dish you can use a 3 quart oval casserole dish instead.
Then dice the onion and melt the butter and set aside.
When the clump of frozen potatoes can easily be separated by your hands you are ready to start preparing your Cheesy Hash Brown Casserole.
Place the potatoes in a large mixing bowl. Then add the remaining ingredients to the bowl, except the Panko breadcrumbs. Stir until the potatoes are evenly coated.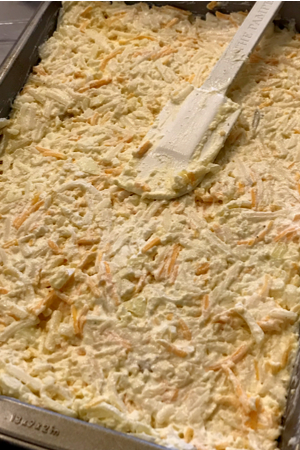 Evenly spread the mixture in the casserole dish. Then sprinkle the top with the Panko breadcrumbs.
Once you are ready to bake, place in the preheated oven and bake for 45 minutes. The casserole is done with the sides are bubbly and the top has turned light golden brown in color.
Remove the baking dish from the oven and let sit 5 minutes before serving.
Slow Cooker Instructions
If you prefer to use your slow cooker to make the Cheesy Hash Brown Casserole, follow the instructions above for mixing the ingredients together.
Then place the coated potatoes in a 6 quart Crock Pot. Cook on low for 4-5 hours.
During the last hour of cooking sprinkle the Panko Breadcrumbs on top of the potatoes. Although the breadcrumbs will not be as crispy as compared to putting the casserole in the oven, they still add a nice texture to the casserole.
Make It Your Own – Possible Recipe Variations
The best part about this Cheesy Hash Brown Casserole is that you can add in a few extra ingredients if you prefer.
Most often I like to add in a diced red bell pepper to the mix. Not only does the slight taste of sweetness add great flavor, the pop of red color is impressive as well.
You could also use jarred roasted red peppers if you have those in your cupboard.
However one of my favorite ways to adapt this recipe is to add a little tang or heat to the creamy casserole. A 4 ounce jar of diced green chiles adds great flavor without increasing the heat level too much.
But if you want to make it a little spicier for the heat lovers in your family, add in a diced jalapeno, red pepper flakes or a pinch or two of cayenne pepper powder.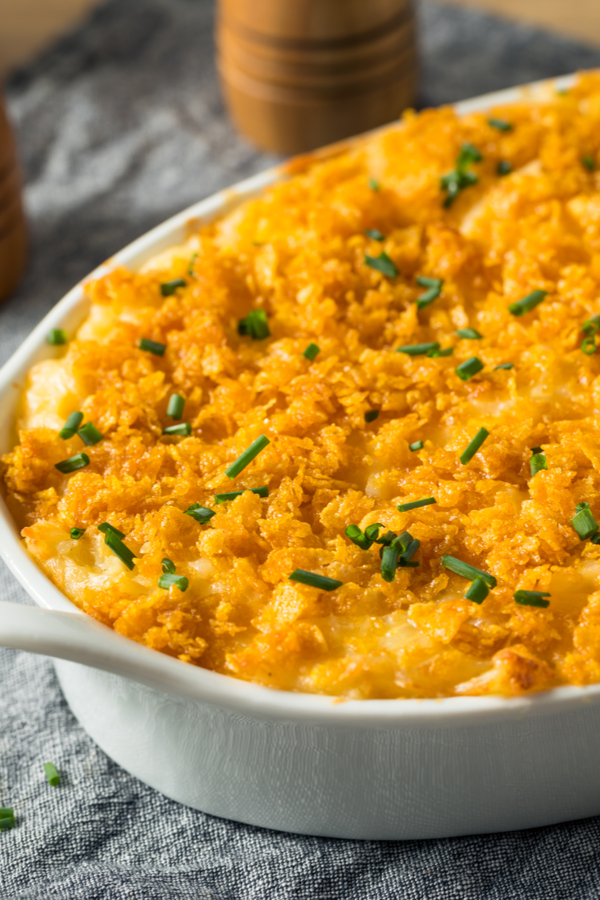 Garnish Options
Once your Cheesy Potato Casserole is ready, garnish the top with chopped parsley, chives, or green onions. Not only does the addition of the garnish look impressive it also add an additional layer of flavor and/or crunch.
Enjoy! Mary
Other Holiday Side Dish Recipes


To receive our 3 Recipe Articles in your inbox each week, sign up for our free email list located in the middle of each recipe or email me at contact@makeyourmeals.com. You can also follow us on Facebook and Pinterest. This article may contain affiliate links where a small commission is paid if you purchase a product at no additional cost to you.
Yield: 12 servings
Cheesy Hash Brown Casserole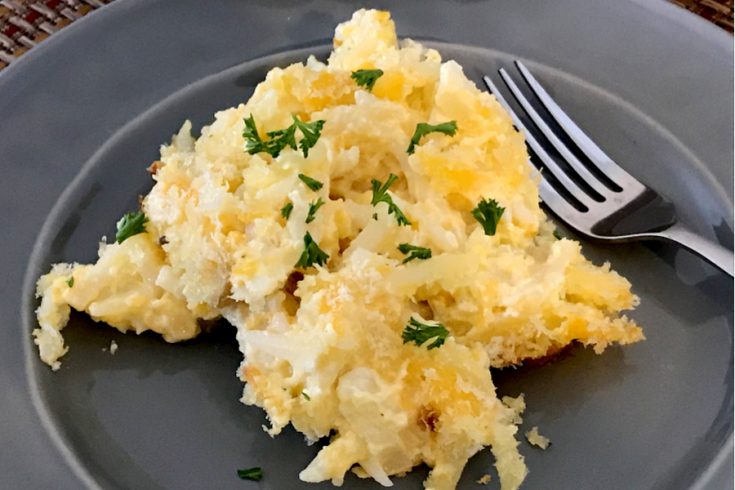 A classic hash brown casserole that is perfect to feed a crowd!
Ingredients
1 16 oz. container sour cream
1 10 3/4 oz can of condensed cream of chicken soup
1/2 cup butter, melted
1 tablespoon garlic salt
1 teaspoon ground black pepper
1 cup chopped onions
1 30 oz bag of frozen country style shredded hash brown potatoes, partially thawed
2 cups shredded sharp cheddar cheese
3/4 cup Panko breadcrumbs
Instructions
Oven Instructions
Pre-heat oven to 350°F (177°C).
In large bowl combine all the ingredients except the breadcrumbs and stir until the ingredients are well incorporated.
Spread the mixture into an ungreased 9 x 13-inch baking dish.
Sprinkle the top with the Panko breadcrumbs.
Bake 45 minutes or until golden brown and bubbly.
Let sit 5 minutes before serving.
Slow Cooker Instructions
Prepare all the ingredients and place in a slow cooker on low for 4-5 hours, stirring occasionally. Top with the Panko breadcrumbs during the last hour of cooking.
Notes
Recipe provided by Make Your Meals
Nutrition Information:
Yield:
15
Serving Size:
1 grams
Amount Per Serving:
Unsaturated Fat:

0g