One of the the things that I look forward to every Thanksgiving is eating a big helping of Slow Cooker Stuffing.
Whether you call it stuffing or dressing, this iconic Thanksgiving side dish is one that shouldn't be missed.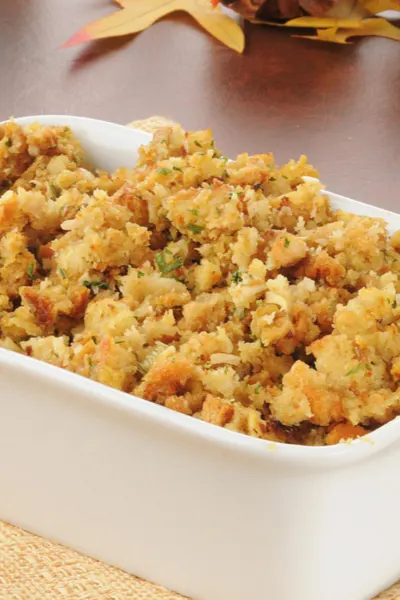 However, if you ask 10 different people on how to make the best Thanksgiving stuffing, you are likely to get 10 different answers.
Some people continue to make it the traditional way. Although some people frown upon putting the stuffing inside the turkey, it has been cooked this way for years.
As long as you make sure that everything is cooked at a safe temperature for eating, it is a great way to make your turkey and stuffing at once. Not to mention, in one pan!
Although the stuffing tastes delicious when cooked this way, there is never enough to feed our extended family.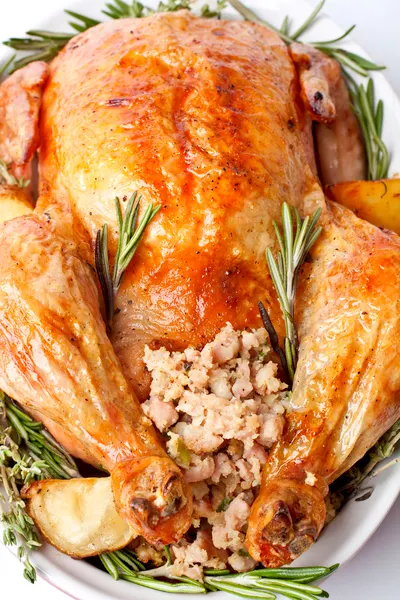 And because the turkey is taking up all the space in the oven, we had to turn to a different method for making stuffing.
So that gave us two obvious options: the stove top or slow cooker. (Updated: we now have also made Instant Pot Thanksgiving Dressing)
However, because we use our stove top to finalize our Thanksgiving side dishes for cranberry sauce, gravy, and corn, the obvious answer for us is to make Slow Cooker Stuffing .
Slow Cooker Thanksgiving Stuffing
I love that you can prepare the stuffing and put it in the slow cooker until it is time for dinner.
There are so many things that need to get prepared for Thanksgiving dinner. And it is extremely helpful to know that your stuffing is cooking away in the slow cooker.
But it does take a little planning to make this classic side dish.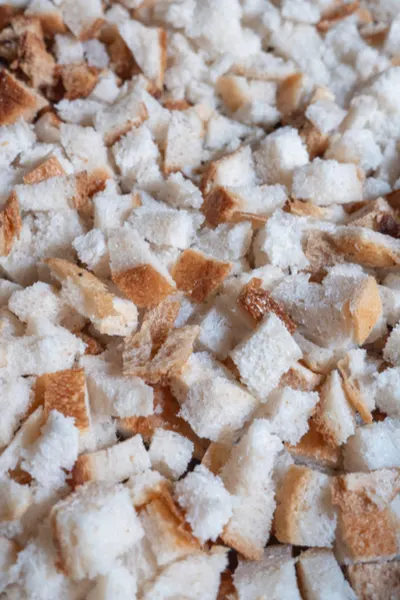 First of all, there is no need to buy bags of cubed bread. Instead, purchase a cheap loaf of bread and make the cubes yourself.
We actually tear the bread apart the night before Thanksgiving. We place it in a large bowl and let it get stale overnight.
It is the perfect, no fuss way to start your homemade stuffing.
Next, about 5 hours before you plan to serve dinner saute your celery and onions in the butter until softened.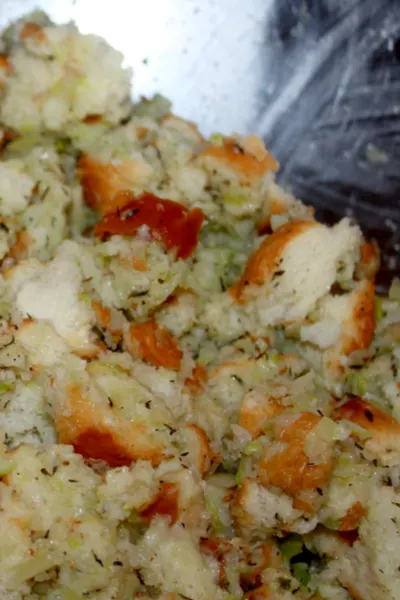 Then add in your seasonings. Most Thanksgiving stuffing recipes are flavored with sage. However, you can also add thyme to make the depth of flavor stronger.
Next, mix the butter mixture in with the bread cubes. Toss until everything is coated.
To Add Stock or Not?
Finally, before turning on your slow cooker, you must determine whether or not that you want to add any stock to your dressing.
Depending on how you like your stuffing, you may not to want to add any additional liquid.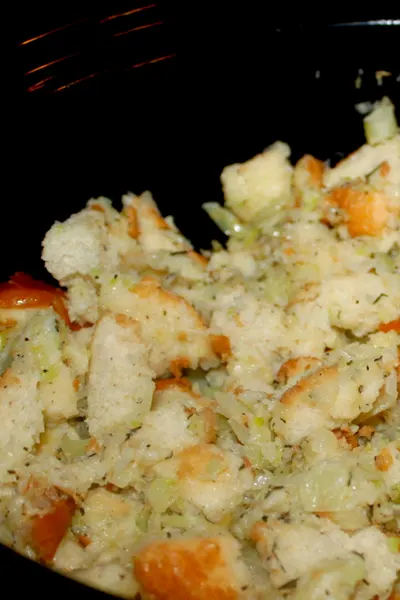 If you like your stuffing on the drier side, I would recommend leaving the stock out of the recipe at the beginning. Therefore, you can determine later during the cooking process if you want to add more moisture or not.
However, if you like your stuffing on the softer side, I would add just a little bit of stock before it goes in your slow cooker.
Just remember, that during the cooking process, there will be moisture released and trapped inside the slow cooker. This will automatically add natural moisture to your stuffing.
So there is a delicate balance of the perfect amount of stock to add to your recipe.
For us, we add just enough stock to make sure that the bread crumbs are slightly damp prior to cooking.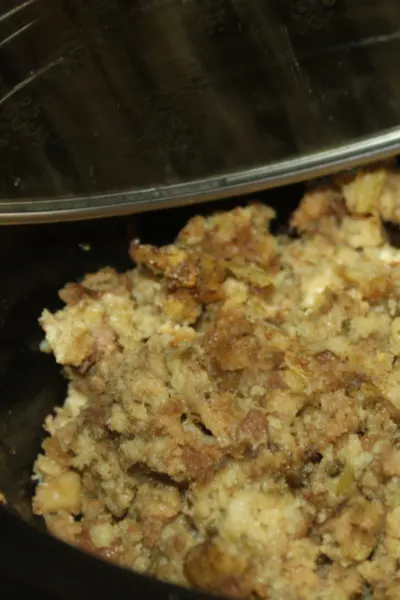 Then, if we need to, we can add additional stock when we check and stir the stuffing.
Keep Warm Until Ready To Serve
When the stuffing is cooked through, place your slow cooker on the Keep Warm setting until ready to be served. We have found this function on our Crock Pot Programmable 6 quart slow cooker to be extremely valuable.
However, you could also place the cooked stuffing in a large serving tray and cover. If you need to heat it back up, simply add it to the stove when you remove your turkey to rest.
Slow Cooker Homemade Stuffing Recipe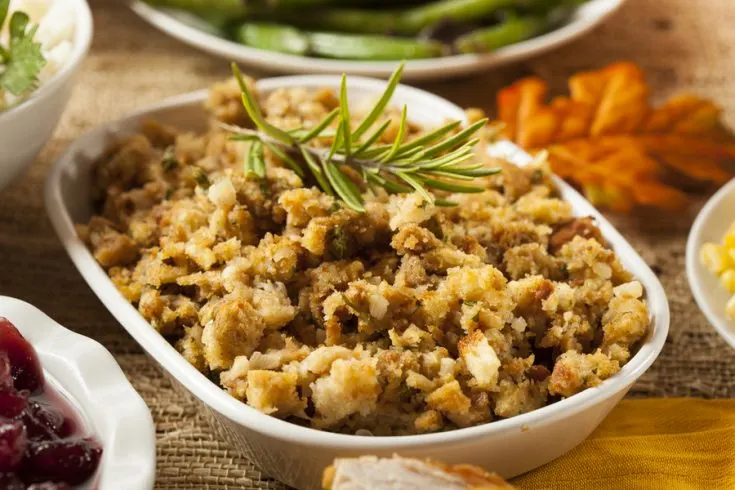 How to make classic, homemade stuffing in the slow cooker. A great recipe and an easy way to transport this classic Thanksgiving side dish.
Ingredients
12 cups of soft bread cubes, approximately 18 slices of standard bread
1 cup unsalted butter
1 1/2 cup chopped celery, about 3 large stalks
1 large onion, diced
2 teaspoons salt
1 teaspoon ground pepper
1 tablespoon ground sage
1/2 teaspoon dried thyme, optional
Additional chicken or vegetable stock
Instructions
The night before you cook your stuffing, tear the bread into small cubed pieces. Place the bread cubes in a large bowl and cover with a towel. Let it sit overnight, stirring 1-2 times. If you forget to do it the night before, place your bread cubes on a rimmed baking sheet in an oven set at 200 degrees. Keep the bread pieces in the oven until they begin to dry out, but do not toast.
In a large skillet over medium heat melt the butter.
Add the celery and onion and sauté until tender.
Add salt, pepper, and sage and cook an additional 3 minutes.
Add 1/3 of the mixture to the bread cubes. Toss lightly to coat. Repeat until butter mixture is gone. Add additional stock as needed to make sure the bread cubes are lightly damp.
Place in the slow cooker and cook on low for approximately 4 hours, stirring occasionally.
Add additional stock or seasoning as needed.
Notes
Recipe provided by Make Your Meals
Nutrition Information:
Serving Size:
1 grams
Amount Per Serving:
Unsaturated Fat:

0g