If you are looking for a great side dish, Instant Pot Corn Casserole may be just what you are looking for.
No, this isn't an every day, healthy sort of side dish. Instant Pot Corn Casserole is what we would consider a special occasion recipe.
The type that you would cook for Easter, Thanksgiving and/or Christmas.
And because this recipe would classify under the comfort food category, making this one extra time in the middle of a cold winter stretch may be necessary as well.
However, we all need to have a few special occasion recipes on hand when we need one. This is especially true when it comes to side dishes.
Every year when we head off to a family holiday dinner, it seems like everyone always brings the same food as the previous years.
Uncle Joey will bring the green bean casserole, Aunt Betty will surely bring her favorite pecan pie, and Grandma will be in charge of the ham or turkey.
The newlyweds usually get stuck bringing the rolls, vegetable tray or cheese and cracker platter until they have been given the okay to bring another dish.
Everyone that I talk to has a similar experience in their own families.
Not that there is anything wrong with predictability. But sometimes, I get bored making the same thing over and over again.
So this year, I am switching things up and making Instant Pot Corn Casserole instead of traditional Corn Casserole to surprise the family!
The Benefit of Bringing Instant Pot Corn Casserole
It is always hard to transport a warm side dish to gathering located across town. First you have to try and keep it warm. And then you always run the risk of it spilling in the car.
But that is no longer a worry when you use an Instant Pot!
Most of our gatherings start about an hour before the actual meal time. Sometimes on purpose, but most of the time, because that one family member is always running a little late.
So that makes it perfect for us to actually cook the side dish at the host house.
I premix all of the ingredients at home before we leave. Once we arrive, I clear off a little counter space and the let the cooking take care of itself!
I then get to enjoy the company of my family without having to check the oven or stir a hot pot on the stove.
When the timer goes off, I release the pressure and remove the side dish just in time for everyone to start gathering around.
The corn casserole is nice and hot and I didn't get in anyone's way while cooking it.
A Couple of Hints When Making Instant Pot Corn Casserole
When making this recipe in the 6 quart Instant Pot you will want to use a 7 inch springform pan. Be sure to cover the bottom and half way up the sides with aluminum foil.
This will help prevent any leaking if your springform pan isn't tightly secured.
I also cover the top of the springform pan with tented aluminum foil that is sprayed with non-stick cooking spray. Otherwise a lot of moisture builds up and sits on top of the casserole.
And finally, if your trivet does not come with handles, you can make a foil sling to easily lower and remove the pan from the liner.
Take a 30 inch piece of aluminum foil and fold it in thirds. Place the plan on the center of the foil strip and use the two sides as handles.
You can also purchase a silicone sling for easy handling.
So this year when someone asks you what you are bringing to the holiday dinner, surprise them and say my Instant Pot!
Check out the printable recipe below and all of our recipes and let me know what you think!
To receive our 3 Recipe Articles in your inbox each week, sign up for our free email list. You can also follow us
on Facebook, Twitter, Pinterest, and Instagram. This article may contain affiliate links.
Yield: 10
Instant Pot Corn Casserole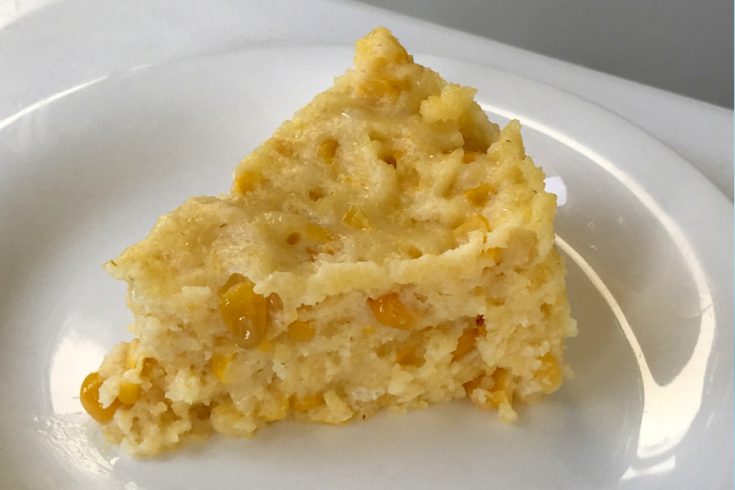 Corn casserole made with cornbread mix in the Instant Pot. A great side dish for any day of the week!
Ingredients
1/2 cup butter, softened
1/4 cup sugar
1 large egg
1 cup reduced fat sour cream
1 box cornbread/muffin mix
1/2 cup milk
1/2 can of whole kernel corn, drained
1/2 can of creamed corn
Instructions
Grease a 7 inch spring form pan and set aside.
In a large mixing bowl add butter and sugar and beat until creamed.
Add in the egg and beat until well incorporated.
Add the sour cream and beat well.
Slowly add in half of the cornbread until the dry ingredients are mixed in with the wet ingredients.
Add the milk and then the remainder of the cornbread mix.
Fold in the corn and the creamed corn until distributed evenly throughout the batter.
Cover the bottom and half way up the sides of the spring form pan with aluminum foil.
Pour the batter in the greased pan. Cover the top with tented foil to prevent moisture from building up on top.
Pour 1 cup of water in the liner of a 6 or 8 quart Instant Pot. Place trivet in the water.
Lower spring form pan onto the trivet.
Pressure Cook/Manual on High Pressure for 50 minutes and Quick release the pressure. The mixture will look jiggly but will firm up once it has time to rest
Remove lid and carefully lift the trivet and pan out of the water. Remove top foil and let rest for 15 minutes before serving.
Notes
During the cooking process the casserole will balloon up and some my drip down the sides of the pan. Once it is removed from the heat the top will collapse down to the top of the spring form pan. You can opt to remove some off the batter if you wish prior to filling up your pan. This recipe was made in a 6 quart Instant Pot and a 7 inch springform pan. It took 5 minutes for the pot to come to pressure. Recipe provided by Make Your Meals
Nutrition Information:
Yield:
10
Serving Size:
1 grams
Amount Per Serving:
Unsaturated Fat:

0g