One of the easiest, and most delicious side dish recipes that you can make in your Instant Pot is Garlic Green Beans.
This time of year, we get a lot of email requests about what recipes to bring to holiday potlucks and family meals.
From questions on how to cook a Moist Turkey Breast to how to make the Best Pumpkin Pie, we get them all.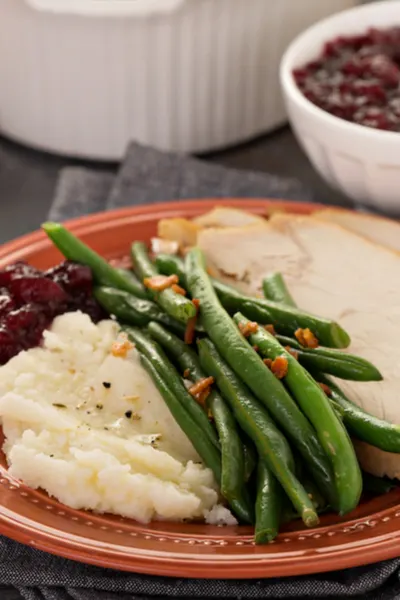 But there is no easier side dish recipe that you can make than these Instant Pot Garlic Green Beans.
That is because they take 1 minute to cook. However, because we are making them in the Instant Pot, you must also consider the time that the pot requires to come to pressure.
In our 6 quart Instant Pot, it took 7 minutes for the pot to come to pressure, and 1 minute of cooking time. That is a total of 8 minutes to make the perfect side dish for any meal.
And if you are looking for a full meal, try our Instant Pot Green Beans, Sausage and Potatoes recipe.
Preparing the Green Beans
However, there is a little bit of preparation that is required before throwing your Green Beans in the Instant Pot.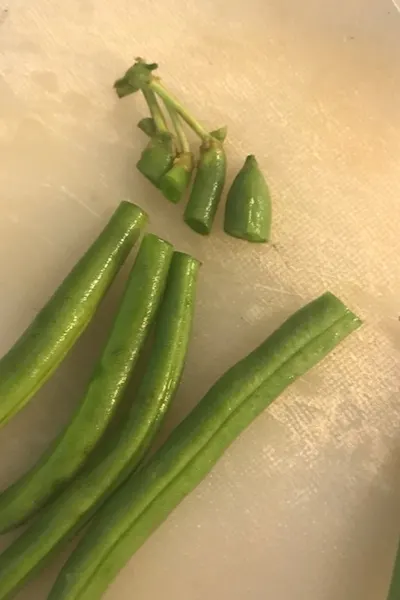 First of all, this recipe is for fresh green beans. You can easily find them in the produce section of grocery store in a large bin.
The most time consuming part of this recipe is the time that it takes to trim off the ends of the green beans.
However, I recently have found fresh green beans in pre-packaged sealed bag where the ends are already trimmed. Which might be a great alternative if you are in a hurry.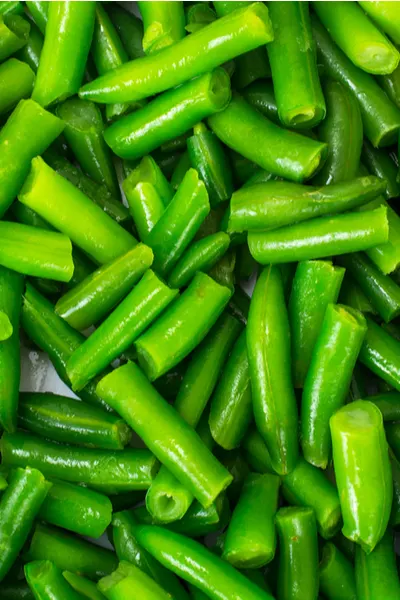 Next, you can choose to cut your green beans in manageable, bite size pieces. Or if you prefer, you can keep them whole.
Either way, the cooking time will remain the same.
Instant Pot Garlic Green Beans
Now that your green beans are ready, it is time to get them in the Instant Pot.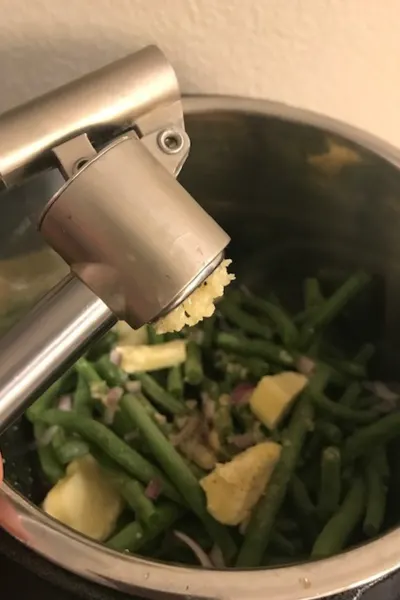 In the liner of the Instant Pot, add the green beans, stock, salt and pepper and stir.
Now it is time to add the garlic. Using a garlic press or a fine mesh grater, mince the garlic right on top of the green beans.
Then add the dots of butter on top of the green beans.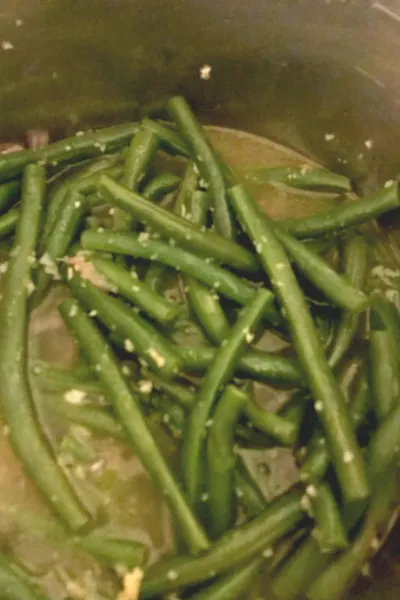 All that is left to do is to lock the lid in place and pressure cook for one minute.
Yes, just one minute!!!
One the pot comes to pressure and the cook time expires, immediately unplug the pot and release the pressure.
This will allow the beans to cook appropriately without becoming mushy.
With that in mind, if you like your green beans mushy you will want to increase your cooking time by 1-2 minutes.
Carefully open the lid and stir to coat the green beans in the garlic and butter infused liquid.
Remove the green beans to a serving dish and serve immediately.
That is all there is to making Instant Pot Garlic Green Beans!

To receive our 3 Recipe Articles in your inbox each week, sign up for our free email list located in the middle of each recipe or email me at contact@makeyourmeals.com. You can also follow us on Facebook and Pinterest. This article may contain affiliate links where a small commission is paid if you purchase a product at no additional cost to you.
Instant Pot Garlic Green Beans
How to make fresh green beans in the Instant Pot and seasoned with fresh minced garlic. A great side dish for any meal.
Ingredients
1 lb green beans
1/3 cup chicken stock or vegetable stock
1/2 tsp sea salt
1/2 tsp ground black pepper
5 cloves garlic minced
2 Tbsp butter
Instructions
Wash and trim the ends of the green beans and cut them into bite size pieces.
Add the beans to the liner of the Instant Pot.
Pour in the stock and sprinkle with salt and pepper.
Add the minced garlic and tabs of butter on top of the green beans.
Lock the lid and place the valve in the Sealing position. Pressure Cook/Manual on HIGH pressure for 1 minute.
As soon as the cooking time expires, unplug or cancel the Keep Warm function and Quick Release Pressure.
Open the lid and remove the green beans from the liner of the Instant Pot to a serving bowl. Add additional salt and pepper if desired.
Notes
Serve immediately. If using frozen green beans, increase cooking time to 2 minutes Recipe provided by Make Your Meals
Nutrition Information:
Serving Size:
1 grams
Amount Per Serving:
Unsaturated Fat:

0g