Easy Sweet Potato Casserole
When you think about Thanksgiving side dishes, you might think of a variety of delicious recipes that fill your table.
Thanksgiving dressing, mashed potatoes, green bean casserole and of course easy sweet potato casserole.
Every year when it was time to fill our plates with a plethora of food, I would always skip the sweet potato casserole.
As a child, sweet potatoes were not a common side dish served at our house. And the mixture of browned marshmallows and chopped nuts didn't appeal to me at all.
Instead, I would fill my plate with turkey, mashed potatoes and dressing and call it a meal.
So when I was asked to make sweet potato casserole to bring to a Friendsgiving celebration I began to panic. All I knew was that I needed to find an easy sweet potato casserole recipe.
No More Marshmallows
I couldn't stand the thought of marshmallows topping the plate of such a decadent side dish. So I decided to focus on a casserole with a nut crumble topping instead.
Because I didn't want to admit that I didn't know how to make even an easy sweet potato casserole, I gave it a few practice trials beforehand.
I was shocked to find out how long it took for the sweet potatoes to cook and become tender. I baked them in the oven and 50 minutes simply took too long.
So I turned to my pressure cooker to get the potatoes to cook in the fraction of the time as it took in the oven.
To make it even faster, I peeled the potatoes and sliced them to allow for a faster cooking time. From start to finish the sweet potatoes were ready to be mashed in just 15 short minutes.
Of course, you can also boil the potatoes in a stockpot and achieve the same results.
I just prefer to not stand over a hot pot of boiling water and constantly checking it to make sure it doesn't boil over.
Easy Sweet Potato Casserole
I then opened my pantry to see what I could add to the sweet potatoes to make them extra delicious. I knew that baked sweet potatoes are typically topped with butter, brown sugar and cinnamon.
Because I was out of cinnamon, I decided to use the pumpkin pie spice that was still in the cupboard from the various pumpkin recipes that I made the month before.
Of course, when mashing potatoes, milk is typically used to make a creamier base. I added some cream and egg as a binder since we were making a casserole.
Now all that was left was to make the topping.
I adapted my crumble topping that I typically make for Apple Crisp. A little butter, sugar, and flour. Instead of oats, I mixed in chopped pecans.
Into the oven it went!
Once it came out of the oven it looked great. There was only obstacle left – the friend's taste test.
And the results are in….
When we arrived at our friend's house I confidently set the dish on the counter with the rest of the side dishes. No one could sense how nervous I was about the easy sweet potato casserole.
Would it taste good? Would it be awful? The jury was out.
I sighed a breath of relief when I saw the first person go back for seconds. And then there was another, and another until the dish was empty.
Since then, I have been asked for the recipe several times. Subsequently I have been asked to bring the easy sweet potato casserole to our annual Friendsgiving celebration.
Sometimes the easiest and simplest recipes are the best!
Check out the printable recipe below and all of our recipes and let me know what you think!
To receive our 3 Recipe Articles in your inbox each week, sign up for our free email list. You can also follow us
on Facebook, Twitter, Pinterest, and Instagram. This article may contain affiliate links.
Yield: 10
SWEET POTATO CASSEROLE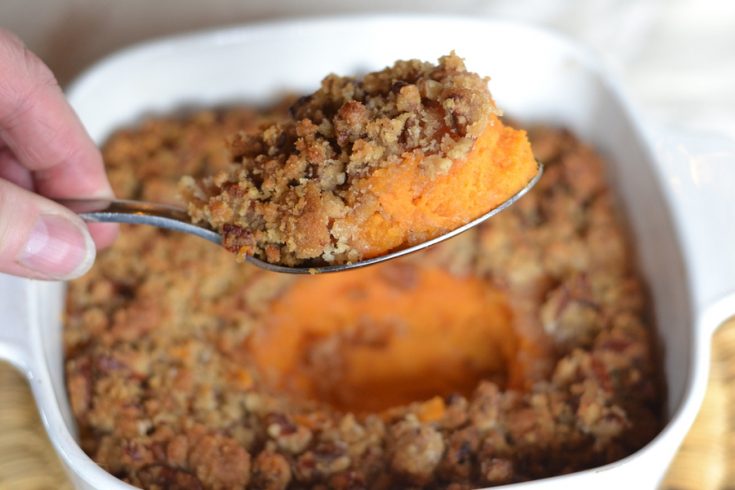 Classic sweet potato casserole topped with a nutty crumble and is perfect to serve for any holiday meal!
Ingredients
2 large sweet potatoes, about 2 lbs.
1/2 cup brown sugar
2 tablespoons butter, melted
1/2 teaspoon vanilla
2/3 teaspoon pumpkin pie spice
1 egg
2 tablespoons heavy cream
TOPPING:
1 tablespoon butter, melted
1/3 cup brown sugar
1 tablespoon flour
1/3 cup pecans, chopped
Instructions
Peel sweet potatoes and cut into 1/4-inch slices.
Cooking the potatoes in the Instant Pot:
Add 1 cup of water to the liner of the Instant Pot. Put a steamer basket on top of the water. Add the sliced potatoes in the steamer basket. Lock lid in place in the sealed position. Pressure cook/Manual on High Pressure for 8 minutes.
When timer beeps, turn off pressure cooker and do a quick pressure release. When the pressure is released, carefully remove the lid.
Cooking the potatoes on the Stovetop:
Add peeled and cut sweet potatoes in a large stockpot and cover with water. Bring pot to a boil and reduce to simmer for 15 minutes or until the potatoes are very tender.
Making The Casserole
Place sweet potatoes in a mixing bowl and add brown sugar, butter, vanilla, and pumpkin pie spice and beat with an electric mixer until smooth. Add egg and cream, mix well.
Pour into greased casserole dish. (If coking the casserole in the Instant Pot be sure the dish will fit down into the liner of the pot).
For the topping, in a small bowl, mix together butter, brown sugar, flour and nuts and sprinkle over top of casserole.
Instant Pot Cooking Instructions:
Put the trivet and 1 cup of water in the liner of the Instant Pot. *Make a sling with a 20 inch piece of aluminum foil, folded three times length wise.
Place the casserole dish in the center of the sling and use the handles of the sling to lower the dish on top of the trivet.
Lock lid in place in the sealed position and Pressure cook/manual on High Pressure for 15 minutes.
Quick Release Pressure and remove the dish using the sling handles. Let cool 5 minutes before serving.
Oven Cooking Instructions:
Preheat oven to 325 degrees.
Bake for 25 minutes.
Let cool 5 minutes before serving.
Notes
Recipe provided by Make Your Meals.
Nutrition Information:
Yield:
10
Serving Size:
1 grams
Amount Per Serving:
Unsaturated Fat:

0g