After I first made Baked Sweet Potatoes in the Air Fryer, I swore that I would never make them any other way!
I used to make sweet potatoes in the oven. Although they turned out great every time, it took so long to bake them.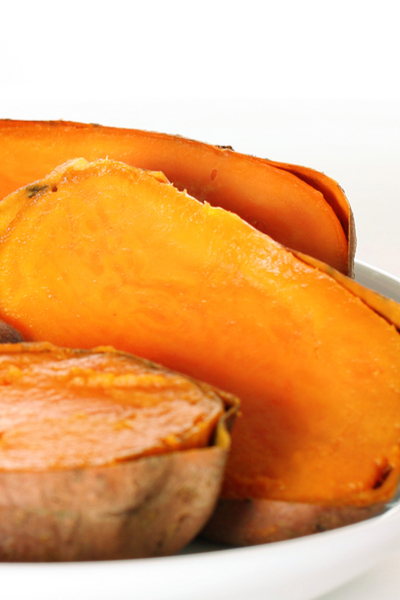 So then I turned to my Instant Pot to make sweet potatoes. They cooked in about half of the time and were delicious. However, I missed the taste of the crispy skin and sweet caramelized flavor that you get with a true baked sweet potato. See how to make Instant Pot Sweet Potatoes in our video:
Although they were perfect to make Sweet Potato Casserole!
That is when I turned to my Air Fryer to see how Baked Sweet Potatoes would turn out.
Because we had such great success with making Air Fryer Baked Potatoes, I thought it was worth a shot!
Air Fryer Baked Sweet Potatoes
So using the same theory, I began the process of experimenting with the temperatures and cooking time for Air Fryer Baked Sweet Potatoes.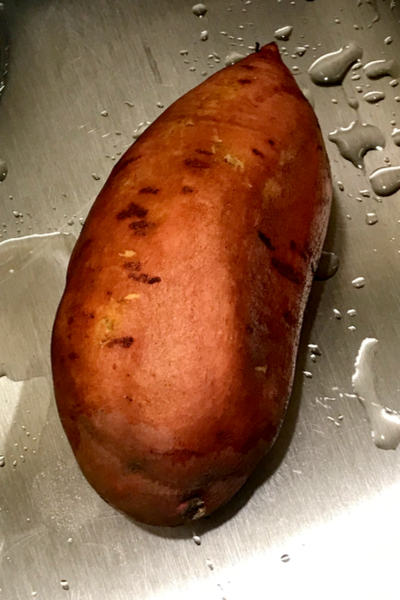 However, there is one more factor that you need to consider. The size of the sweet potatoes matter!
In fact, it is one of the most important factors when considering how long you should bake your sweet potatoes.
When you purchase sweet potatoes at the store, they vary significantly in size. It is actually sometimes difficult to find ones that are reasonable in size.
Most of the time the sweet potatoes are so large that one could easily feed two people.
However, we have found that these large potatoes do not cook well in the Air Fryer.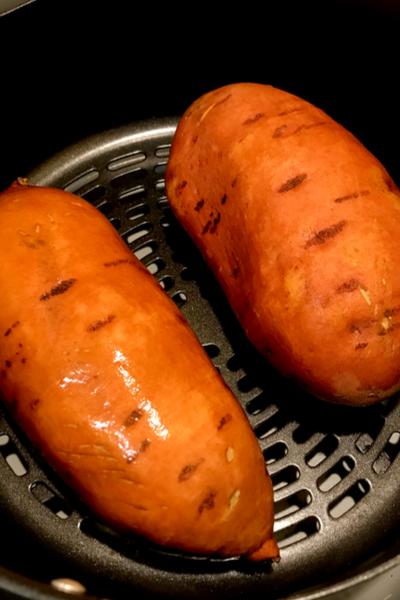 By the time that they can cook on the inside, the skins get too dark and crispy.
The Perfect Sized Sweet Potato
Therefore, choose sweet potatoes that are small to medium in size. That way they can cook properly, leaving you with a soft and fluffy interior and a crispy exterior.
Although every brand of Air Fryer cooks differently, the instructions below work with most basket type air fryers.
We tested this recipe in both our BCP 5.5 quart Air Fryer and or Ninja Foodi Multi-Cooker.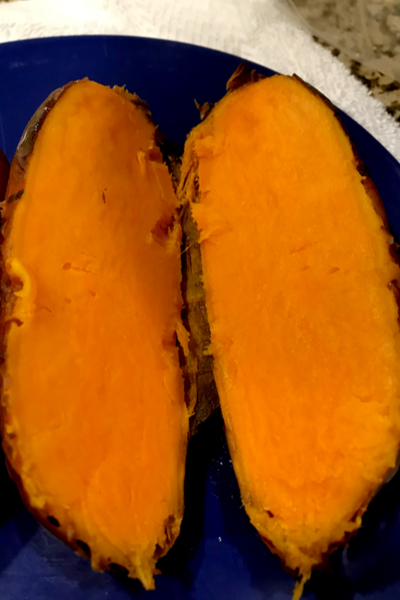 And with the each brand, it took between 30-40 minutes when cooked at 390 degrees F, depending on the size of the sweet potatoes. Obviously, the smaller ones will cook in less time, and the medium sized potatoes took the full 40 minutes.
To Pierce or Not To Pierce
I have always been taught to pierce both Russet and Sweet Potatoes prior to baking them.
However, just like everyone else, sometimes I get in a hurry and forget.
And half way through the baking process, I panic that I am going to end up with Baked Sweet Potatoes that explode.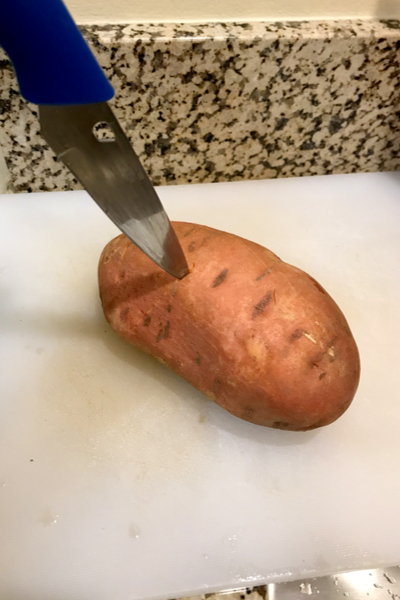 I am happy to report that I have never had one explode on me. But to be honest, I don't like to take the risk and I try to remember to pierce them prior to baking.
All I can tell you for sure is that these baked sweet potatoes come out perfect every time that I cook them in the Air Fryer.
Plus, they are done in less time than using the oven!


To receive our 3 Recipe Articles in your inbox each week, sign up for our free email list located in the middle of each recipe or email me at contact@makeyourmeals.com. You can also follow us on Facebook and Pinterest. This article may contain affiliate links where a small commission is paid if you purchase a product at no additional cost to you.
Air Fryer Baked Sweet Potatoes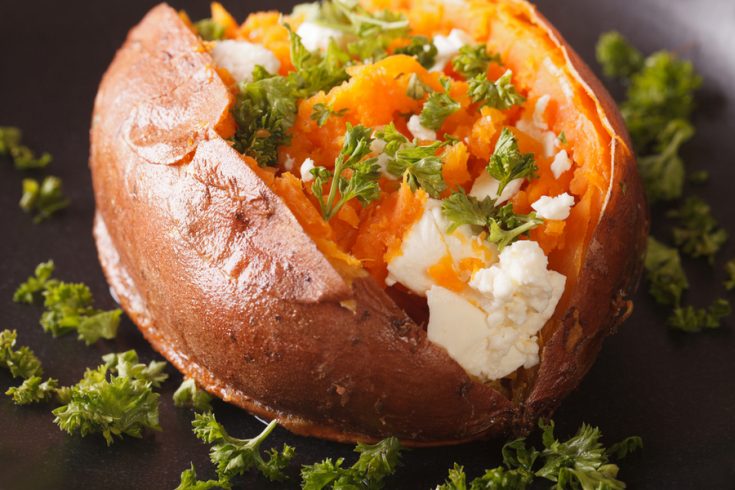 How to make Baked Sweet Potatoes in the Air Fryer – the best method to result in perfectly cooked sweet potatoes with a light and fluffy interior and a crispy exterior.
Ingredients
2-4 small-medium size sweet potatoes
1 tablespoon olive oil
Instructions
Wash your sweet potatoes and pierce with a fork or sharp knife.
Rub each sweet potato with olive oil.
Place them into the basket for the Air Fryer and cook at 390 degrees F for 35-40 minutes or until fork tender.
Notes
Depending on the size of your sweet potatoes, the time may need to be adjusted. Begin checking your potatoes at the 30-minute mark if using smaller sweet potatoes.

Recipe provided by Make Your Meals
Nutrition Information:
Serving Size:
1 grams
Amount Per Serving:
Unsaturated Fat:

0g