Fruit Salad Recipe – With A Delicious Vanilla Honey Dressing
Last week I was asked to bring a side dish to a family gathering. An event that was sure to have many other side dishes brought to it as well.
So when I began to go through my list of side dishes that I often bring: scalloped potatoes, corn casserole, green bean casserole, chicken and noodles, etc. I realized that I needed to make something different.
At most large family gatherings and at the pot luck at work, there are so many wonderful dishes that cause me to go into a food coma shortly after eating them.
I knew that I needed to come up with something light and refreshing, yet still delicious.
That is when I decided to bring something a little on the healthier side, fruit salad.
Of course, I could have made a beautiful fruit tray with honey vanilla fruit dip. But that is more of an appetizer rather than a side dish.
Plus, I think that takes a lot more time and creativity!
So I gathered an assortment of easy to eat fruit and began to assemble a healthy fruit salad bowl. However, if we were celebrating Memorial Day or Independence Day I would have made my Red, White & Blue Fruit Salad.
What is in a Fruit Salad?
With any fruit salad, you can add whatever fruit that you and your family enjoy. However, there are some things you need to keep in mind.
There are many types of fruits that brown when exposed to the open air. If you aren't serving this dish right away, I would stay away those that brown quickly, such as apples.
Bananas are also a fruit that I stay away from if the dish is not going to be served right away. They tend to get overripe and mushy with the exposure of natural sugars that are expelled from the fruit in the bowl.
Fruit that is somewhat firm when cutting tend to hold up best in a fruit salad. Blueberries, strawberries and blackberries work better than their softer counterpart, raspberries.
But most of all, make sure that all the fruit is in bite size pieces. There is nothing worse than getting a huge chunk of fruit that you have to cut when eating a serving of fruit salad.
Check out the recipe below and all of our recipes and let me know what you think!
To receive our 3 Recipe Articles in your inbox each week, sign up for our free email list.
You can also follow us on Facebook, Twitter, Pinterest, and Instagram. This article may contain affiliate links.
Yield: 10 people
Fruit Salad Recipe - With A Delicious Vanilla Honey Dressing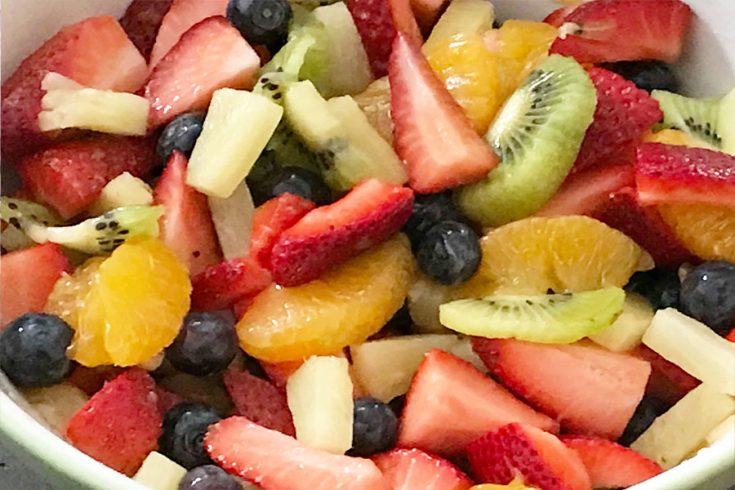 A delicious and healthy fruit salad that is easy to prepare and perfect for a pot luck or family gathering.
Ingredients
1 pound strawberries, hulled and cut into quarters
1/2 whole pineapple, cut in small bite sized pieces
1 package fresh blueberries
4 kiwi, peeled and cut into slices
1 can mandarin oranges, and juice
1/4 cup honey
2 teaspoons pure vanilla extract
Instructions
In a large bowl, add the strawberries, pineapple, blueberries, and kiwi.
Drain the juice from the mandarin oranges into a small bowl for later use. Add the mandarin oranges to the fruit bowl.
In a small bowl, whisk together ¼ cup of the reserved mandarin juice with the honey and vanilla.
Pour the sauce over the fruit. Gently stir to coat the fruit with the sauce.
Refrigerate for at least an hour for best results.
Notes
Recipe provided by Make Your Meals
Nutrition Information:
Yield:
10
Serving Size:
1 grams
Amount Per Serving:
Unsaturated Fat:

0g