This recipe contains all the flavors of a traditional twice baked potato, but in an easy to make, easy to eat casserole. It makes a great addition to any potluck or holiday gathering.
I first made this recipe when I was gifted a bunch of leftover baked potatoes. We had attended a Cowboy dinner which consisted of steak, baked potatoes, and cowboy beans.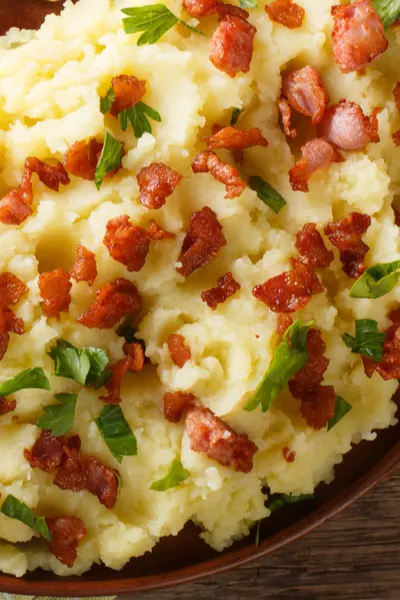 After dinner we sat around the campfire enjoying the company of both friends and strangers. And as we got up to leave, the host of the cookout asked if we would take home some leftovers.
Not wanting anything to go to waste, I agreed to take home a doggy bag. I figured I could heat up the meal tomorrow for quick and easy lunch.
However, what I didn't realize was that I was going to be given a dozen baked, potatoes, and several containers of steak and beans.
So the next day, I had to get creative on what to make with each item that I was gifted. Therefore, I decided to make steak fajitas and French Dip Sandwiches with the leftover steak.
Then I froze the beans. Basically, I couldn't think of anything to do with them at the moment.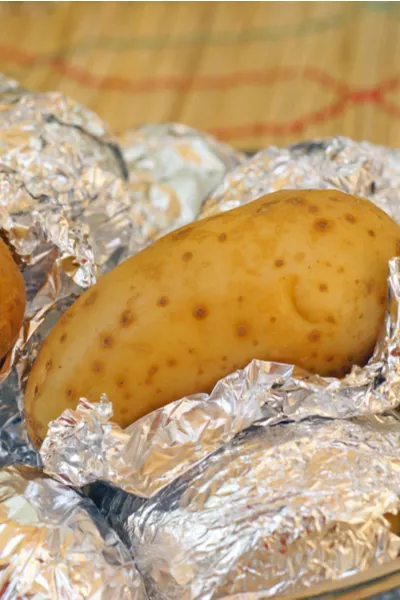 And finally, I turned some of the baked potatoes into Crispy Home Fries and the remainder were transformed into this Twice Baked Potato Casserole.
Make Ahead and Freeze
Ever since then, I have been asked to make this casserole dish for every potluck and holiday meal. I don't mind at all because this recipe can be prepared ahead of time. Simply make it and put in the refrigerator for up to two days before you are ready to bake it!
It has become a huge time saver when the holiday cooking rush is in full force!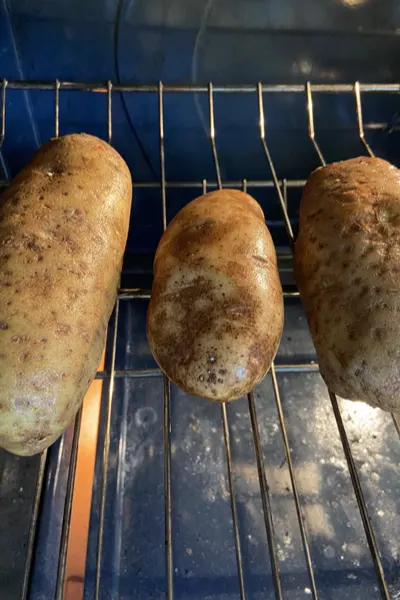 Twice Baked Potato Casserole
Although I used leftover baked potatoes the first time I made this recipe, it is best to use fresh baked potatoes. The baked potatoes can be made in the oven, Air Fryer, or even in the microwave.
As the potatoes are cooking, fry the bacon. I prefer to pre-cut the bacon before frying so that it requires less time. And less time in a hot skillet means less splattering and therefore, less clean up!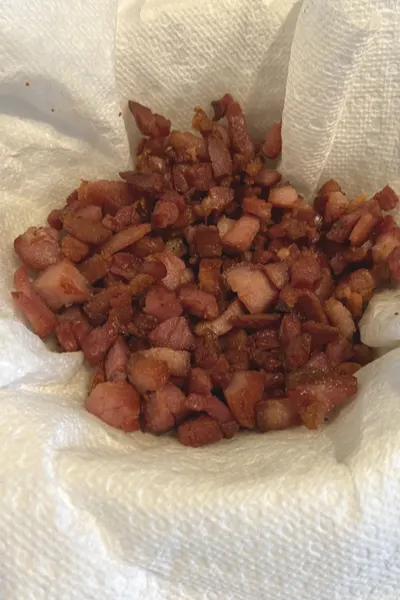 Once the potatoes are fork tender, let them cool just enough so that they can be handled. Then remove the skins of all but two of the potatoes.
Next cut each potato into 4-8 sections. Place the potatoes in a large bowl and add the butter, sour cream and milk. However, be sure that the dairy products are at room temperature.
If you add cold dairy products to hot potatoes, the starches will bind together, leaving you with lumpy potatoes.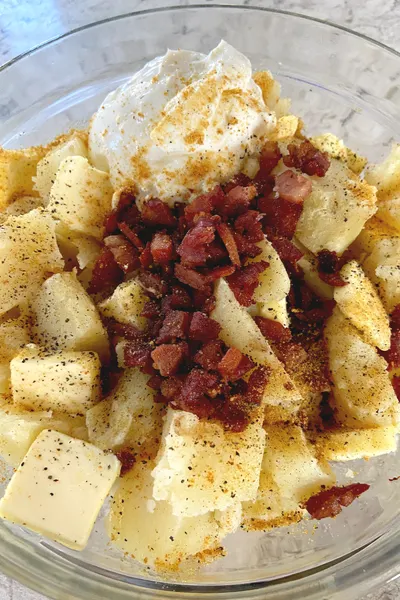 Now add 1 cup of the shredded cheese and seasonings to the bowl. Use a potato smasher to mash the Twice Baked Potato Casserole until smooth and creamy.
Then pour the mixture in a 9 x 13 baking dish that has been sprayed with non-stick spray. Spread the potatoes out evenly across the pan.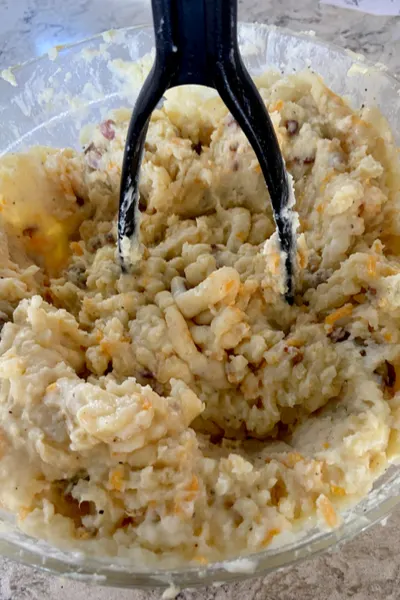 Next, sprinkle the remaining cheese and bacon crumbles on top.
Bake for 20-25 minutes and then garnish with green onions, if desired.
Make Ahead Baking Instructions
As mentioned before, if you make this Twice Baked Potato Casserole, do not bake it prior to storing it in the refrigerator. When you are ready to bake it, cover and bake for 10-15 minutes to warm it up. Then bake it uncovered for 20-25 minutes before serving.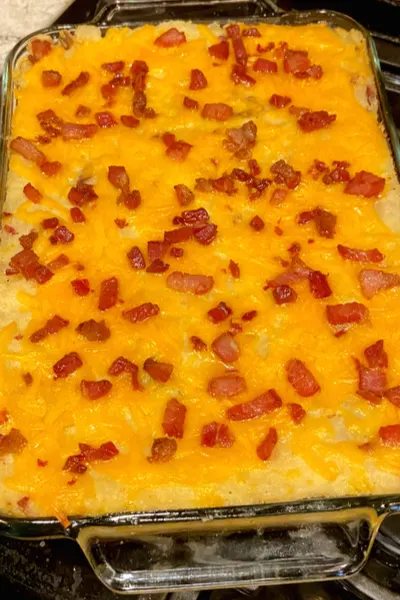 Enjoy!

To receive our 3 Recipe Articles in your inbox each week, sign up for our free email list located in the middle of each recipe or email me at contact@makeyourmeals.com. You can also follow us on Facebook and Pinterest. This article may contain affiliate links where a small commission is paid if you purchase a product at no additional cost to you.
Yield: 10
Twice Baked Potato Casserole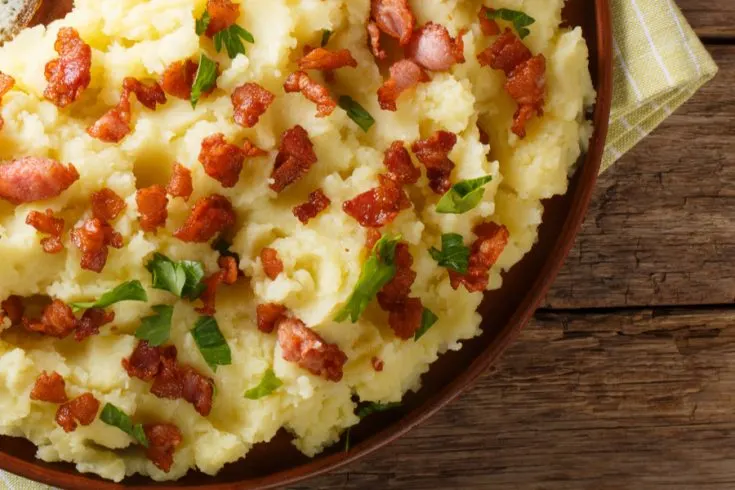 All the flavors of a traditional twice baked potato, but in an easy to make, easy to eat casserole. A great addition to any potluck or holiday gathering.
Ingredients
½ pound bacon, precooked and crumbled
8 russet potatoes, medium size, approximately 6 lbs.
3 TBSP olive oil
1/2 cup unsalted butter, room temperature and sliced into cubes.
1 cup sour cream, room temperature
1 cup milk, room temperature
2 cups shredded cheddar cheese, divided
2 tsp. seasoned salt
Salt and pepper, to taste
Garnish
Instructions
Preheat the oven to 400°F. Spray a 9 x 13 baking dish with non-stick spray and set aside.
Wash and dry the potatoes and poke them with a knife several times. Rub each one with olive oil and place them on a baking sheet and bake for 40 minutes or longer so that you can poke them with the fork easily.
Remove the potatoes from the oven and decrease the heat to 350°F.
Leave the skins on two of the potatoes. When cool enough to handle peel the remaining potatoes. Cut each potato into four sections and add them to a large mixing bowl.
Add 3/4ths of the cooked and crumbled bacon to the potatoes and set the rest aside for the topping.
Add the butter, sour cream, milk, 1 cup grated cheese, seasoned salt, salt and pepper to the bowl and smash with a potato smasher until well combined and creamy.
Top the casserole with remaining bacon and 1 cup of shredded cheese.
Bake, uncovered, for 20-25 minutes. Garnish with sliced green onions and serve!
Notes
This recipe can be made 2 days in advance (without the final baking) and stored in the refrigerator. Leftovers can be refrigerated or frozen.
Recipe provided by Make Your Meals
Nutrition Information:
Yield:
10
Serving Size:
1 grams
Amount Per Serving:
Calories:

608
Total Fat:

49g
Saturated Fat:

23g
Unsaturated Fat:

0g
Cholesterol:

84mg
Sodium:

596mg
Carbohydrates:

33g
Fiber:

2g
Sugar:

3g
Protein:

11g