Creamy broccoli salad is a classic side dish that is typically made and eaten in the summer months.
However, this past week I went to a barbecue restaurant and they offered creamy broccoli salad as a side dish.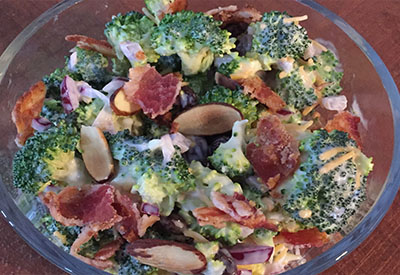 It tasted so good that I was determined to recreate the dish at home.
Broccoli salad offers a variety of flavors all in one bite. The crunchy broccoli is coated in a creamy, yet slightly sweet dressing. The addition of red onions provides a burst of tangy flavor while the raisins gives you that sweet punch.
When making this dish it is important to let the dressing soak into the broccoli mixture for at least 2 hours before serving. This will allow the mixture to penetrate the vegetables and soften and meld the flavors together.
And the best part…….
And of course, the absolute best addition to any broccoli salad – BACON! Not only does the bacon provide the broccoli salad with another depth of flavor, it also adds a slight crunch and a hint of salt to dish.
This recipe calls for slightly toasted slivered almonds as an additional crunchy topping. In order to toast the almonds add them to a non-stick skillet placed on medium heat. Continually stir and flip the almonds until you smell the toasted aroma and they are light golden brown.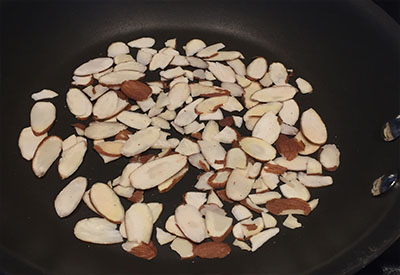 There is no need to add oil before toasting as the oils from the nuts will provide enough coating. DO NOT leave the almonds unattended as they go from white to heavily toasted within minutes.
You could also substitute chopped cashews or shelled sunflower seeds for the almonds if you prefer.

For best results, add both the bacon and almonds right before serving so they remain crispy don't become soggy from the dressing.
Check out the recipe below and let me know what you think!
To receive our 3 Recipe Articles in your inbox each week, sign up for our free email list.
You can also follow us on Facebook, Twitter, Pinterest, and Instagram. This article may contain affiliate links.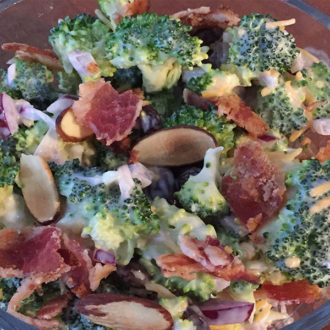 Creamy Broccoli Salad
A classic and tasty broccoli salad recipe including onion, raisins and cheese mixed in a creamy, mayonnaise-vinegar based dressing and topped with bacon and slivered almonds. A terrific side dish that can easily be doubled for parties.
Ingredients
1/2

cup

mayonnaise

1 1/2

tablespoons

sugar

1

tablespoons

white vinegar

3 1/2

cups

chopped fresh broccoli florets

1/4

cup

red onion

diced

1/4

cup

raisins

1/4

cup

shredded cheddar cheese

1/4

cup

almond slivers

lightly toasted

4

slices

bacon

crisp-cooked and crumbled
Instructions
In a small bowl combine mayonnaise, sugar, and vinegar and set aside.

In a medium serving bowl add broccoli, red onion, raisins and cheddar cheese.

Add the dressing mixture to the broccoli mixture and stir well to coat.

Cover and chill in the refrigerator for at least 2 hours.

Right before serving, stir in almond slivers and bacon.
Notes
Recipe can be doubled or tripled.
Recipe provided by Make Your Meals
Creamy Broccoli Salad, A Classic Side Dish For Dinner or Parties