Now that the cooler weather has arrived, it is time to share my favorite Winter Soup recipes that will be sure to keep you warm and satisfied. From classic comfort food soup recipes, chilis, and chowders, I have included the most popular recipes below.
To keep things simple, I have organized them by the cooking method that is listed in the recipe card. Click on the name of the recipe and you will be taken to the specific soup recipe which includes the ingredients and instructions.
However, the majority of the recipes can easily be adapted to whatever cooking method that you prefer. For example, instead of preparing chicken noodle soup in a pot on the stove, you can use your slow cooker instead.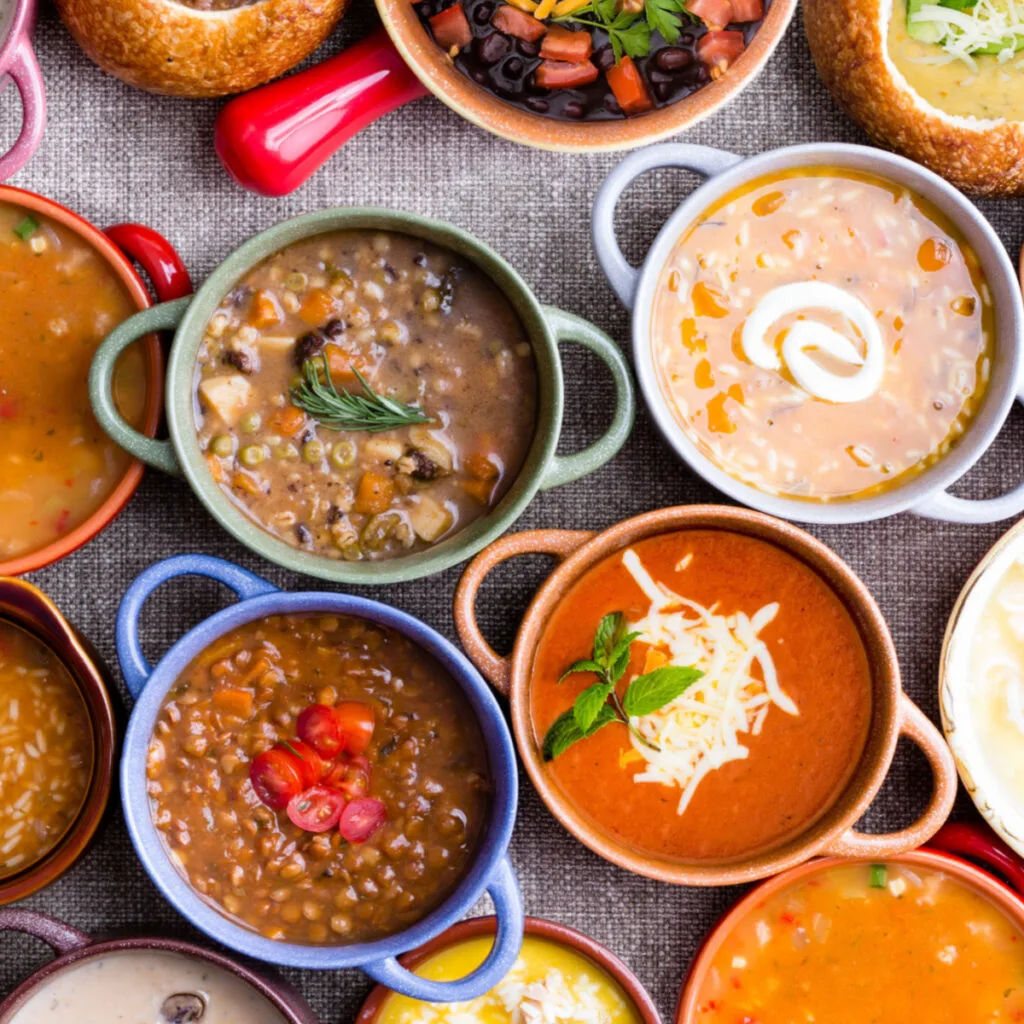 In addition, I have also included my favorite stew recipes, because they are classified as soup recipes in many parts of the country. So take a look at the 37 winter soup recipes that I have listed below and I am sure you will find one, or several that you will want to try to get you through the cold winter months ahead.
Stove Top Winter Soup Recipes
Classic Chicken Noodle Soup – There is nothing better or more comforting on a cold winter day than a bowl of homemade chicken noodle soup. Hot chicken broth filled with bits of chicken, vegetables and noodles that will make you feel warm from the inside out.
Stuffed Pepper Soup – Stuffed Pepper Soup is a great way to enjoy the taste of the iconic comfort food meal, without all the work.
Broccoli Cheddar Soup – Bits of broccoli and shredded carrots floating in a creamy cheese sauce that is seasoned to perfection. I have been told that it is even better than Panera Bread's soup!
Easy Taco Soup – If you are looking for a great weeknight meal that the entire family will love, then this Easy Taco Soup Recipe is for you! It is not only delicious, but it is super easy to make and will be on the table in less than 30 minutes.
Ham and Corn Chowder – This Ham and Corn Chowder Recipe has become one of my favorite leftover ham recipes. A creamy chowder soup filled with ham, corn and potatoes. It is the perfect soup to serve any day of the year and especially when you have leftover holiday ham.
Low Carb Cheeseburger Soup – Low-Carb Cheeseburger Soup is a great way to enjoy the flavor of a classic cheeseburger without all the carbohydrates.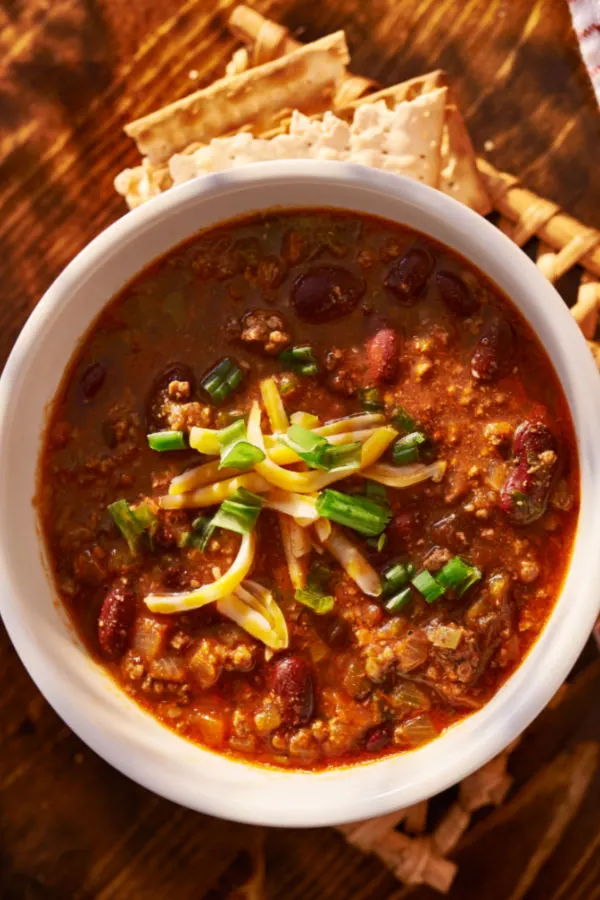 Stove Top Chili Recipes
Stove Top Chili – This popular winter soup recipe is ready to eat in just 30 minutes. However, it tastes like it has been simmering on the stove all day.
Award Winning Pumpkin Chili – This chili recipe includes a few extra flavors that makes this recipe so delicious! Surprisingly there are no tomato products in this recipe.
Texas Chili – Texas chili is known for its rich flavor and hearty texture and is made with beef, chili peppers, and spices. There are no beans or tomatoes in traditional Texas Chili.
Crock Pot Soup Recipes
Loaded Potato Soup – Potato Soup is one of my favorite Winter Soup recipes. Tender chunks of potatoes nestled in a thick, creamy and cheesy broth. Best of all it takes only 15 minutes to prepare.
Beef and Barley Soup – Tender chunks of beef, plump pearls of barley, and tender, perfectly cooked vegetables all cooked together in a rich and delicious broth.
Crock Pot Chili – Thick and hearty chili that will help warm your belly on those cool autumn and winter days.
Lentil Chili – Lentils get cooked down perfectly in a homemade chili sauce for a thick and hearty meal that will satisfy you for hours!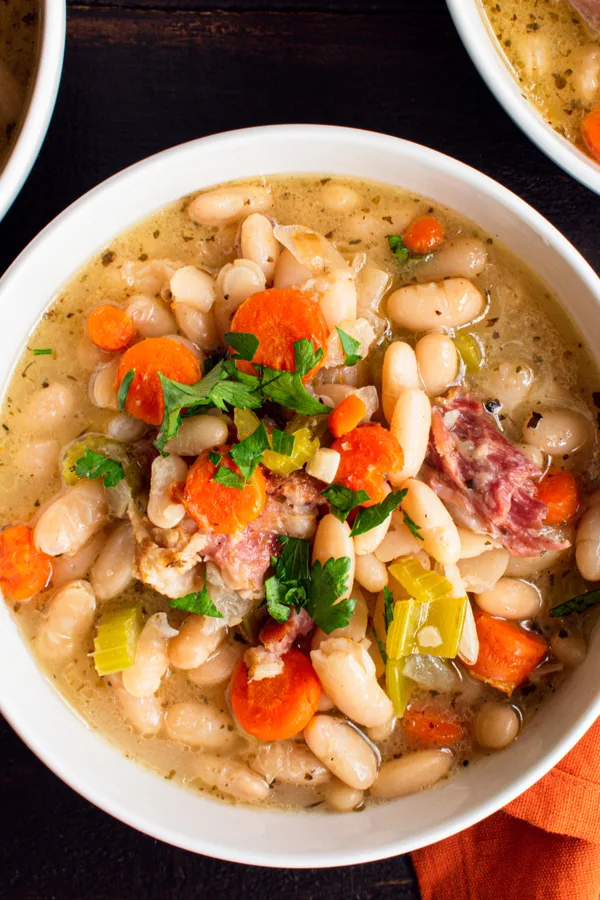 Ham and Bean Soup – The soup is super easy to make and will only take a few minutes to prepare. Cooked and diced ham, vegetables, and beans cooked in a savory broth all day.
Taco Soup – This Crock Pot Taco Soup has become a family favorite. It is a thick and hearty soup recipe that is similar to chili but includes ingredients that have more of a taco influence.
Electric Pressure Cooker Soup Recipes
There is no better way to cook winter soup recipes than in an electric pressure cooker! They cook in a fraction of the time but taste like it has been simmering all day.
In fact, this is the main reason that I purchased an Instant Pot years ago. And during the winter months you can guarantee I will make soup in it every week!
Chicken Soup Recipes
Chicken Noodle Soup – The flavors of the soup meld together perfectly during the pressure cooking process. Just add the noodles and this one-pot meal is complete!
Chicken Gnocchi Soup – If you love the taste of the famous soup at Olive Garden, you are going to love this recipe!
Instant Pot Chicken Tortilla Soup – Each bowl is filled with shredded chicken, diced tomatoes, corn, and black beans that is cooked in a deliciously seasoned broth. Then when it is served it is topped with crunchy tortilla strips which makes it a hearty soup full of not only amazing flavor but a variety of textures as well.
Chicken Chile Verde – A thick and hearty Mexican-American soup or stew. It is made from roasted tomatillos, peppers and chicken and tastes like it has been slow cooked for hours.
Chicken Pho – Vietnamese noodle soup made with chicken broth, rice noodles, chicken, and a variety of herbs and spices. It is a popular dish in Vietnam and now around the world.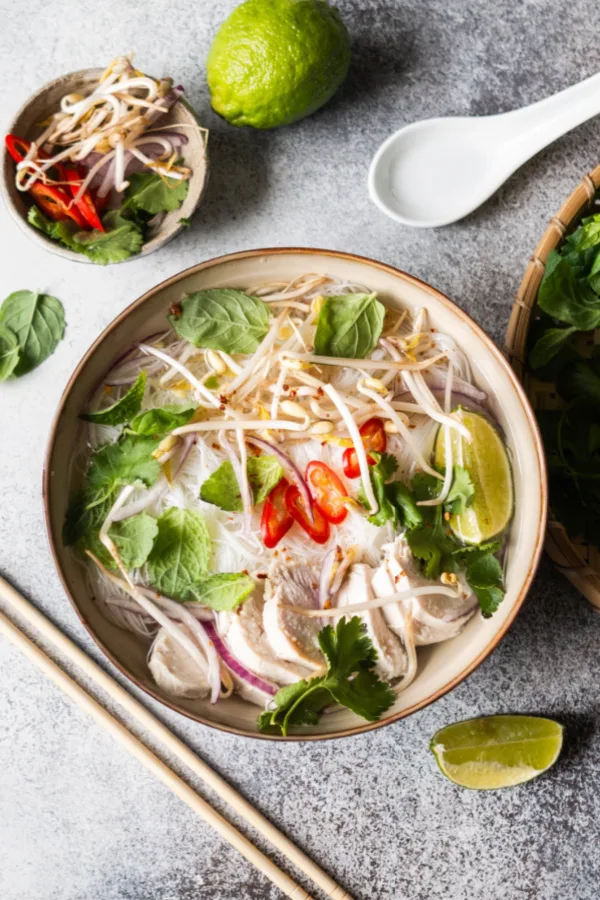 Beef Soup Recipes
Chili Soup – Thick and hearty chili that takes only 10 minutes to prepare. Mix all the ingredients together, set the pressure cooker and dinner is ready when you are!
Lasagna Soup – Instant Pot Lasagna Soup is an easy way to enjoy the taste of lasagna without all the work of preparing a layered casserole. It is the perfect winter soup recipe that will leave you full and satisfied.
Vegetable Beef Soup – A delicious soup filled with a variety of vegetables and chunks of beef. A healthy soup recipe that is a classic.
Vegetable Soup Recipes
Minestrone Soup – A thick Italian soup made with vegetables and pasta. It is even better than the soup served at Olive Garden!
Tomato Soup – Rich and creamy tomato soup that pairs perfectly with a thick grilled cheese sandwich. A classic meal that brings back fond memories of when you were a child.
Potato Leek Soup – Potato leek soup has a mild, creamy flavor with a hint of sweetness. The leeks give the soup a slightly oniony flavor, but it is not overpowering. The potatoes add a starchiness and richness to the soup, and the creaminess comes from milk.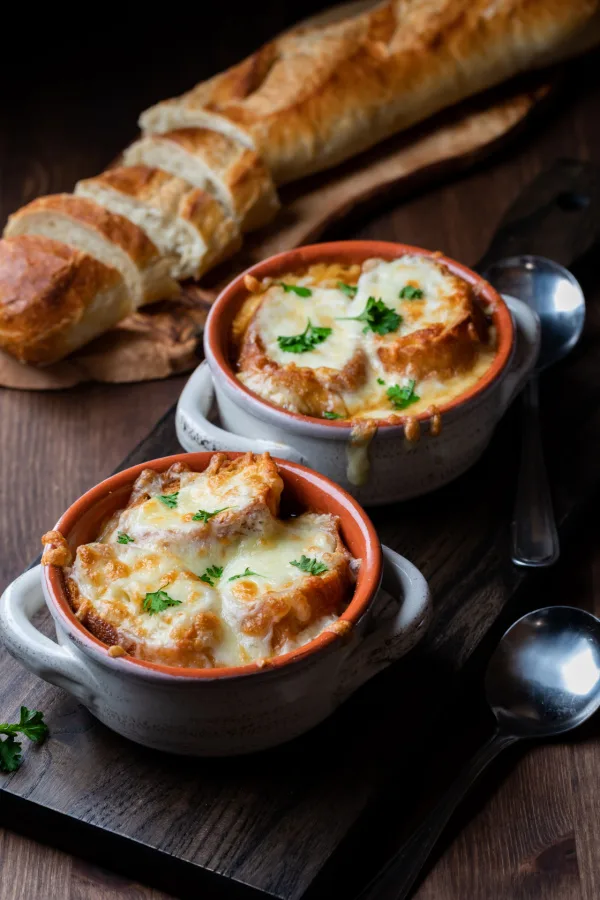 French Onion Soup – Sweet, caramelized onions cooked in a rich and thick broth. And who can resist the topping of a slice of French baguette and cheese that is melted on top?
Weight Loss Soup – Although you might consider a weight loss soup a Winter soup recipe, many of us will be making this in January when the diet starts. This flavorful cabbage and veggie soup is not only healthy but it will help you warm up on those cold, snowy days.
Beer Cheese Soup – A rich and delicious cheese soup made with beer and topped with bacon. Make it an Irish version by using Irish cheese and Guinness stout. (Use imitation bacon bits for vegetarian version).
Loaded Potato Soup – There is just something about a warm bowl of thick and chunky potato soup. And it's even better when it is loaded with bacon and cheddar cheese! (Use imitation bacon bits for vegetarian version).
Other Instant Pot Soup Recipes
Ham and Bean Soup – The perfect way to use that leftover ham and ham bone! A delicious and warming soup recipe that is made in a fraction of the time when cooked using traditional methods. You don't even need to soak the beans in this recipe.
Southwestern Turkey Soup – Southwestern Turkey Soup is one of my favorite recipes to use leftover turkey from Thanksgiving or Christmas.
Low Carb Zuppa Toscana Soup – All the flavor of traditional Zuppa Toscana soup, without all the carbohydrates! Be sure to save this recipe for your new year resolution.
Clam Chowder– Fork lore states that shellfish should be eaten in any month that includes the letter 'r'. Based on this theory, you should enjoy clam chowder from September – April.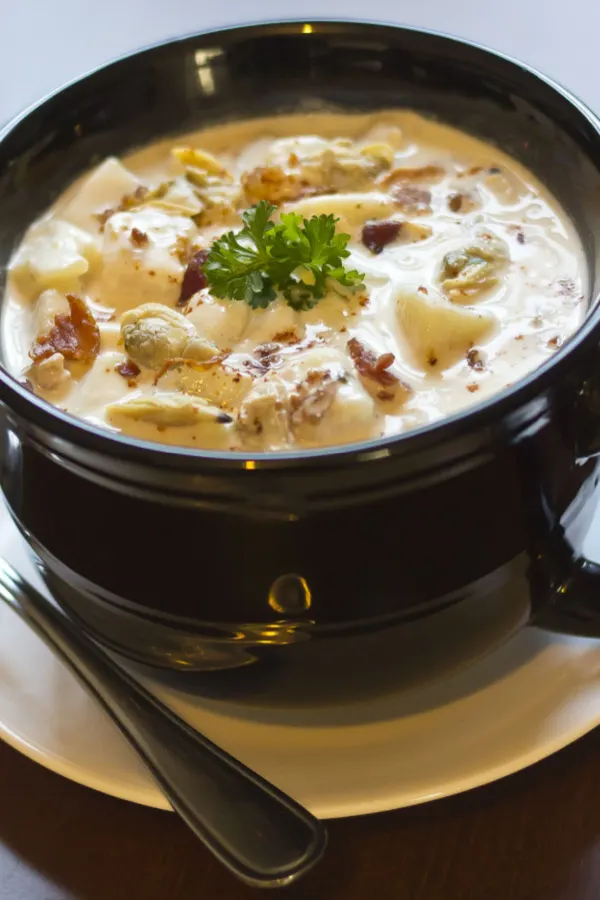 Thick and Hearty Stew Recipes
Leftover Turkey Stew – If you are searching for a delicious way to use leftover turkey, you are going to love this turkey stew recipe. A thick and hearty, easy to make stew that is ready to eat in under 30 minutes. It is the perfect winter soup recipe to make after Thanksgiving.
Chicken and Dumplings – Creamy stew filled with shredded chicken and vegetables. And then topped with homemade drop dumplings that cook in minutes in the hot liquid.
Irish Beef Stew – Every bite is full of tender, fall apart bits of beef that literally melt in your mouth and seasoned vegetables that are coated in a thick and tasty sauce.
There you have it! 37 Winter Soup Recipes that you can make all winter long. Choose your favorites and share them with your family and friends.
Enjoy! Mary

To receive our 3 Recipe Articles in your inbox each week, sign up for our free email list located in the middle of each recipe or email me at contact@makeyourmeals.com. You can also follow us on Facebook and Pinterest. This article may contain affiliate links where a small commission is paid if you purchase a product at no additional cost to you.