After I published the recipe for Homemade Salsa Verde, I received many requests to share my recipe for Instant Pot Chicken Chile Verde.
I absolutely love Chile Verde! It is a thick and hearty Mexican-American stew that is made from roasted tomatillos, peppers and a pork shoulder and has been slow cooked for hours.
My first taste of traditional chile verde came when I was visiting Las Cruces, New Mexico. We went to a small little restaurant in the middle of town and ordered tamales and Chile Verde based on the server's recommendation.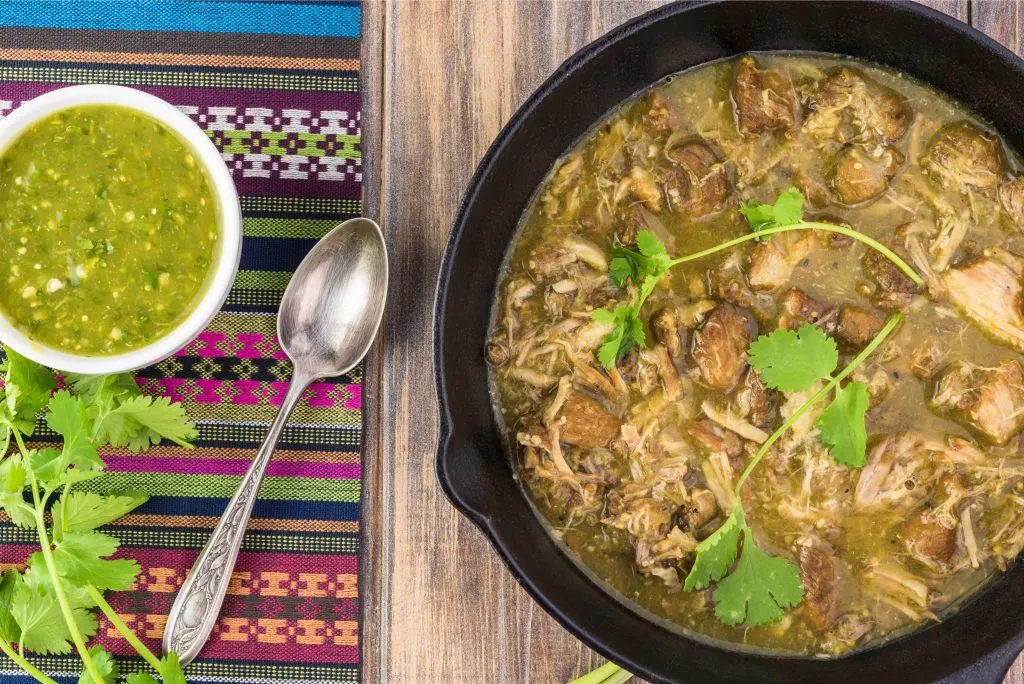 I was familiar with tamales, but I had never tried pork or chicken chile verde before. I was a little hesitant about the looks, because I was used to 'regular' chili. The type of chili made from ground beef cooked with a little tomato sauce, onions, peppers and depending on where you live, chili beans.
So when they brought the cup of Chile Verde out to me, I was staring at a cup filled with a green sauce with chunks of pork peering out from the top.
Not the most visually appealing dish, but I decided to dive in anyway. And with just one bite I was wishing I had ordered an entire bowl and not a just cup of the delicious stew. I enjoyed it so much that I asked for a bowl 'to go'! But that was after I asked a million questions on how it is made.
No Time For That!
After learning about the slow cooking process of the pork to make this dish, I knew that it would have to be a special occasion recipe. Very rarely do I have time to cook for several hours in my kitchen.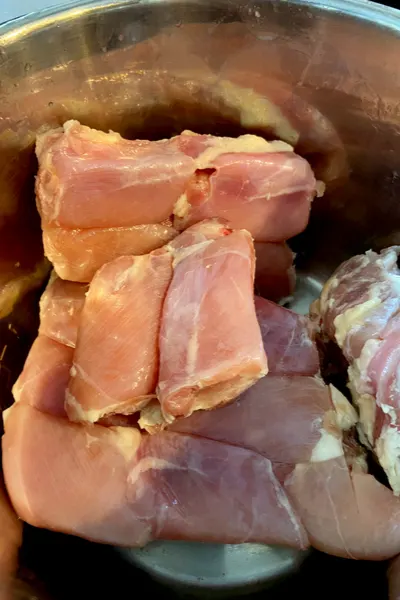 Instead, I am always looking at ways to make quick and easy recipes that everyone will love. And that is when I decided to make Instant Pot Chicken Chile Verde instead!
There are several members of my family that can't eat pork. And although I will sometimes make Pulled Pork, Baby Back Ribs, or Pork Tenderloin for the other family members, I decided to make this recipe with chicken thighs instead.
Instant Pot Chicken Chile Verde Recipe
The base of any Chile Verde recipe is the green sauce. Traditionally it starts with roasted tomatillos and peppers. This is exactly how I make Salsa Verde.
You will find a lot of recipes that skip the roasting process and throw the raw tomatillos and peppers in the Instant Pot instead. I believe this is a HUGE mistake.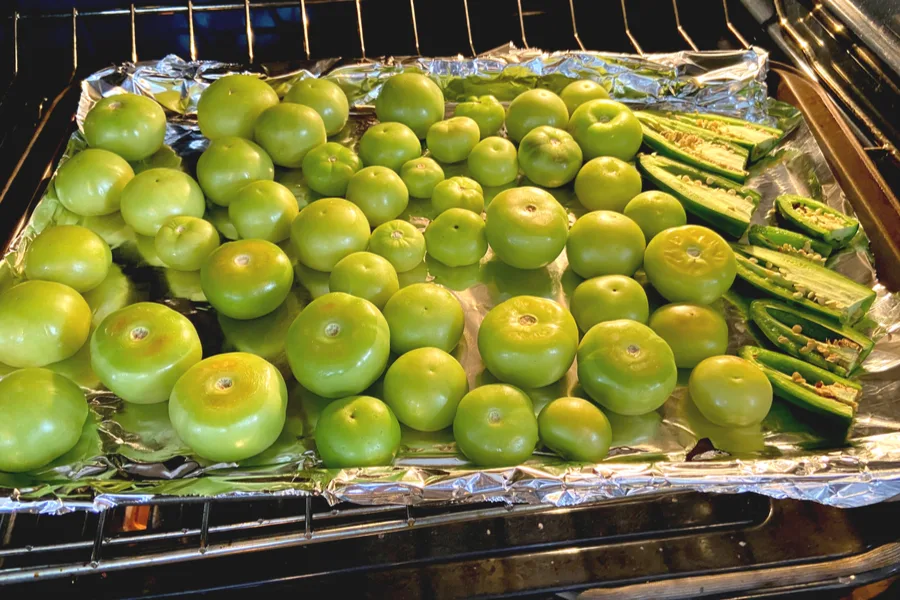 I know most of you are short on time and are looking for a quick and easy recipe. However, when you allow them the time to roast, your chicken chile verde will have so much more flavor. Plus, it only takes 15 minutes to roast them. It's not like you are waiting hours for them to become tender.
Once you take the tomatillos and peppers out of the oven, place them in a large capacity Food Processor. Add the remaining sauce ingredients and blend until smooth.
Fresh or Frozen Chicken
Now place your chicken in the Instant Pot. Yes, you can use frozen chicken thighs. Just remember, when you use frozen meat, it will take longer for the pot to come to pressure.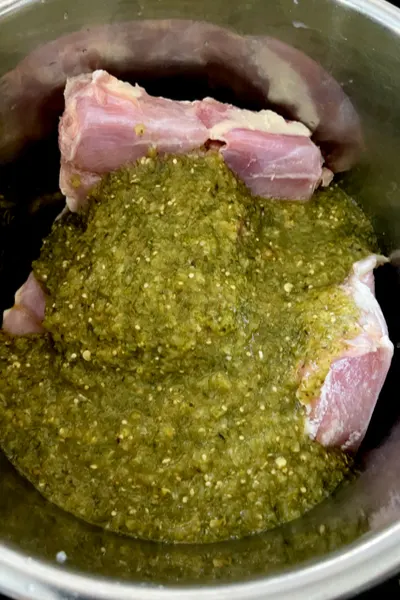 Then pour the green sauce and chicken broth over the chicken. If you are using thawed chicken thighs, be sure to stir the chile verde sauce and broth so that the chicken gets coated.
Next, lock the lid in place and move the valve to the SEALING position. Press the Soup Button. This allows the chicken thighs to break down perfectly and taste like it has been cooking all day long.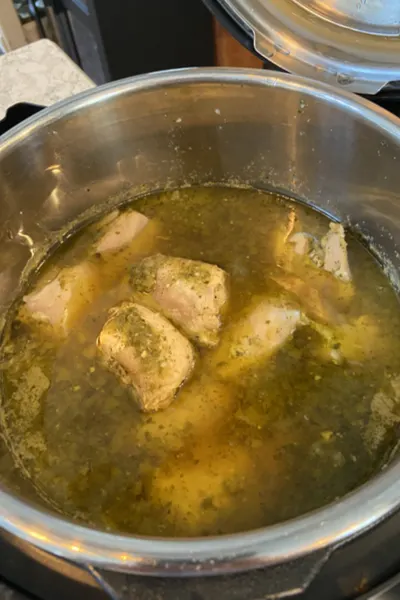 Once the cook time is up, allow for 10 minutes of Natural Pressure Release. Then release any remaining pressure and remove the lid. Shred the chicken either while it is still in the Instant Pot or shred it on a cutting board.
When the chicken is shredded, toss it back in the Instant Pot with the chile verde sauce and serve.
We most often eat this dish as a stew. However, we also serve it over rice for a thick and hearty meal. Enjoy!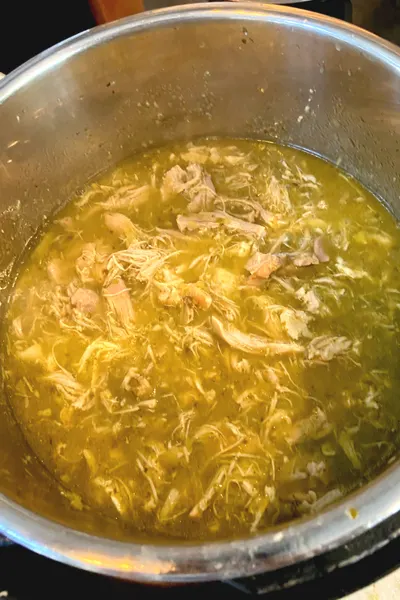 To receive our 3 Recipe Articles in your inbox each week, sign up for our free email list located in the middle of each recipe or email me at contact@makeyourmeals.com. You can also follow us on Facebook and Pinterest. This article may contain affiliate links where a small commission is paid if you purchase a product at no additional cost to you.
Yield: 6
Instant Pot Chicken Chile Verde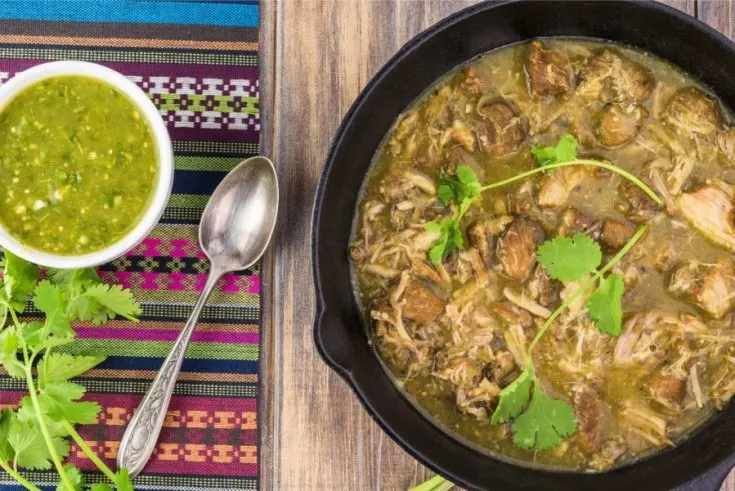 Also known as Green Chili, this dish is flavored with roasted tomatillos and peppers and then combined with broth, spices and chicken thighs for an amazing stew/soup that can be served any time of the year!
Ingredients
1 1/2 pounds tomatillos
3 jalapeno peppers
2 poblano peppers
4 cloves garlic, peeled
1/2 cup onion, diced
1/3 cup cilantro, chopped
1 1/2 TBSP lime juice
1/2 teaspoon cumin
1 1/2 teaspoons Kosher salt
2 cups chicken broth
3 pounds chicken thighs, boneless and skinless
Instructions
Line a large baking sheet with aluminum foil and set aside. Preheat oven to 425°F.
Rinse and dry the tomatillos and place on the prepared baking sheet. Cut the jalapeños and poblano peppers in half lengthwise and place on the baking sheet as well. Bake for 15 minutes.
Remove from the oven, and place the tomatillos and roasted peppers into a large capacity food processor or blender, being careful not to fill over half full. Work in batches if needed.
Add the garlic, onion, cilantro, lime juice, cumin and salt to the food processor or blender, and pulse the mixture is pureed.
In a 6 quart or larger Instant Pot, add the sauce from the food processor/blender, chicken broth and chicken thighs.
Lock the lid in place and move the valve to the SEALING position. Press the SOUP button.
Once the cook time is up, allow for at least 10 minutes of Natural Pressure Release. Then carefully move the valve to the Venting position to release any remaining pressure.
Shred the chicken thighs using two forks, either in the pot, or by removing it to a cutting board. Return meat to the pot and stir.
Serve as a stand alone stew/soup, or over rice/cauliflower rice.
Notes
*You can use frozen chicken thighs in this recipe without any adjustments. However, the pot will take longer to come to pressure. Recipe provided by Make Your Meals
Nutrition Information:
Yield:
6
Serving Size:
1 grams
Amount Per Serving:
Calories:

557
Total Fat:

39g
Saturated Fat:

10g
Unsaturated Fat:

0g
Cholesterol:

222mg
Sodium:

1047mg
Carbohydrates:

12g
Fiber:

3g
Sugar:

6g
Protein:

39g