When comfort food is needed, our go to recipe is this Chicken and Dumplings Recipe.
It reminds me of the kind that my mother would make. Creamy stew filled with shredded chicken and vegetables. And then topped with homemade drop dumplings that cook in minutes in the hot liquid.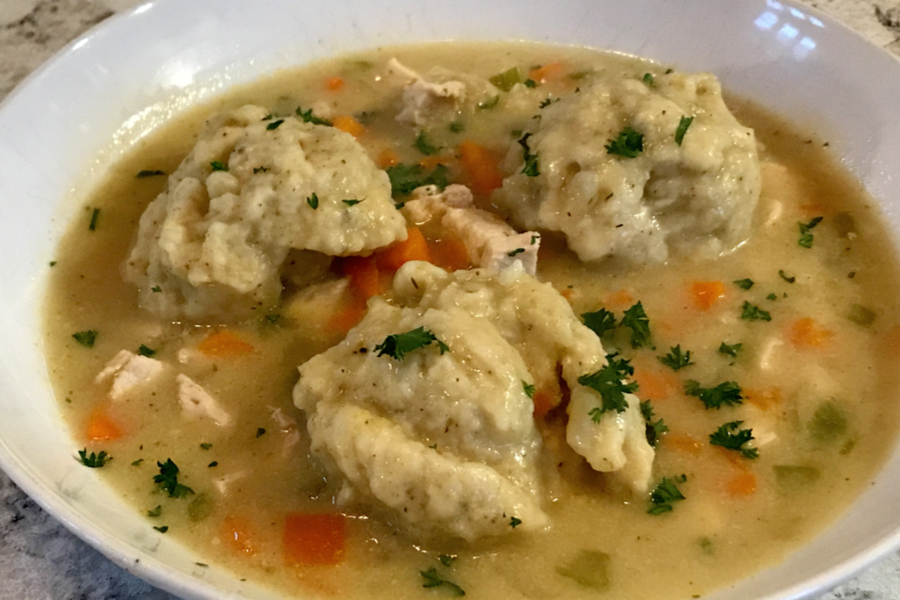 The type of comfort meal that tastes like it has been cooking all day and that everyone craves on a chilly and gray day.
However, the best part of all about this chicken and dumplings recipe is that it is easy to make!
I know that the the ingredients list in the printable recipe below looks fairly lengthy, but don't let that scare you.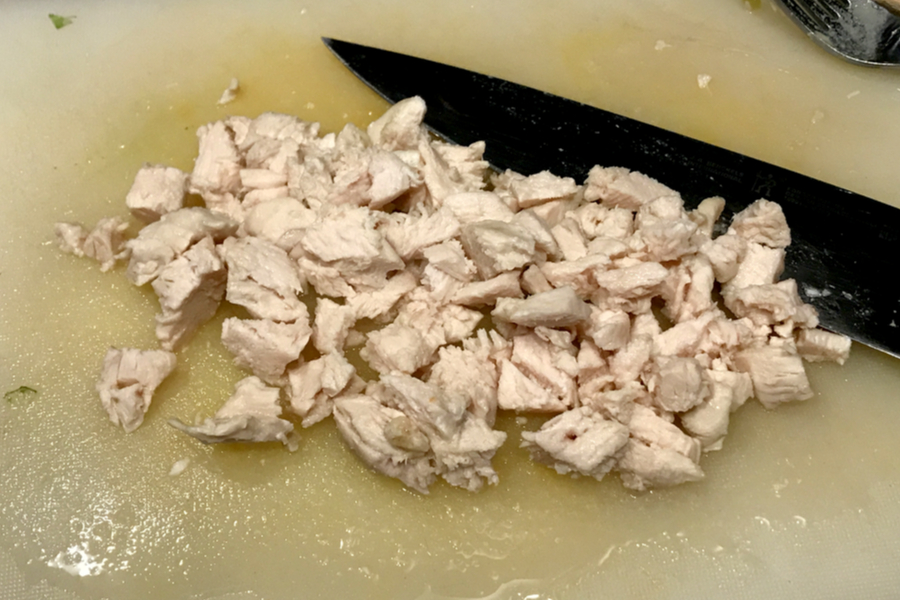 In fact, most of the items listed are common items found in your refrigerator or pantry. And because we are using precooked chicken, this recipe comes together in under an hour.
And if you are looking for an even faster way to make this recipe, try our Instant Pot Chicken and Dumplings recipe.
How to Make Homemade Chicken and Dumplings
The base of this soup begins with a classic Mirepoix combination. The sautéing of diced onion, carrots, celery in butter is the first step in this chicken and dumplings recipe.
Once the vegetables soften, add the garlic until they become aromatic. Then add the flour to thicken the mixture.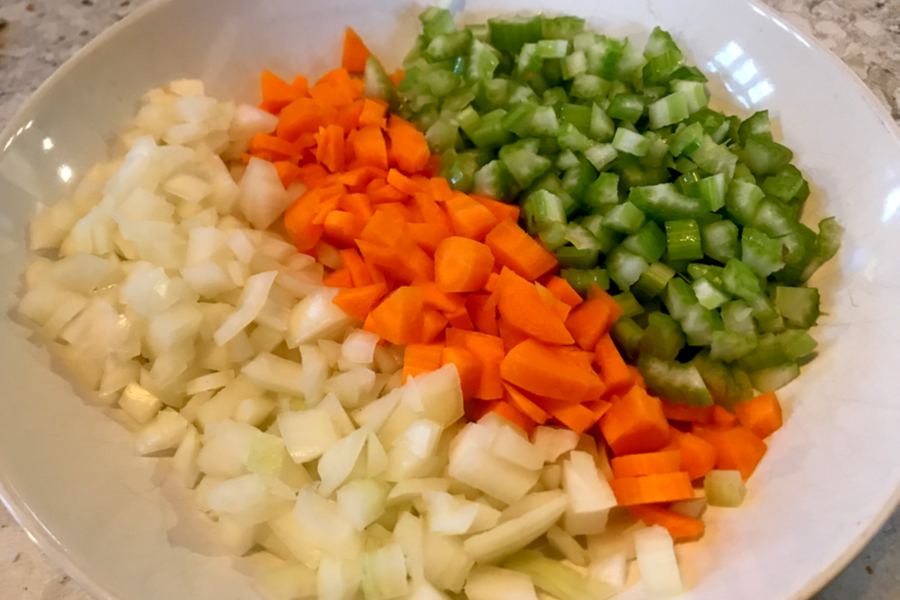 Cook for one minute and then add the milk and chicken stock and smooth out any clumps that the flour may have caused. Bring the pot to a boil and add the cooked shredded chicken, along with the seasonings.
*NOTE – save yourself time and buy a Rotisserie chicken from the grocery store. Simply shred the meat and add it to the pot at this point in the Chicken and Dumplings Recipe.
Bring the pot back up to a boil and lower the heat so that the mixture maintains a low simmer.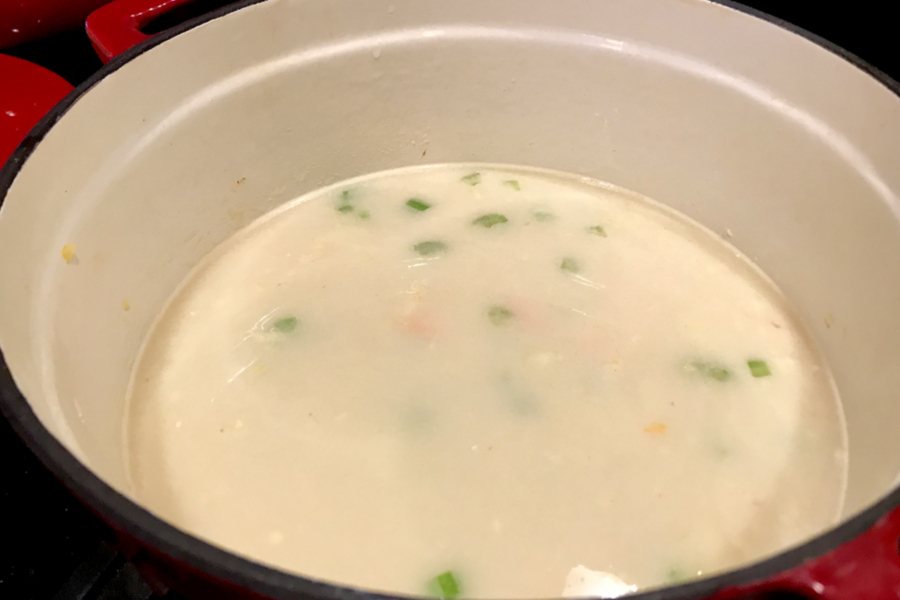 Make the Homemade Dumplings
While the pot is simmering it is time to make the Homemade Dumplings.
First pour all of the dry ingredients into a large mixing bowl. Then make a well in the center and add the milk and butter.
Combine the mixture until a dough ball forms. If the mixture seems too dry, add a little more milk.
Once it all comes together use a medium or large cookie scoop and form dumplings. Then drop each one in the hot pot with the chicken and vegetables.
As soon as you get all the dumplings in the pot, flip each one over and press down so that the tops have liquid running over them.
Next, be sure that the pot maintains a low simmer and place a lid on top.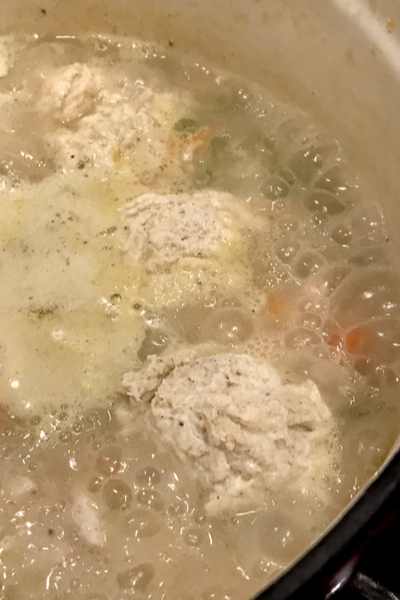 After about 15 minutes, remove one of the dumplings and place it on a plate. Cut it in half to check to see if the center is cooked through.
If not, return the dumpling back to the pot and continue to simmer for an additional 2-3 minutes.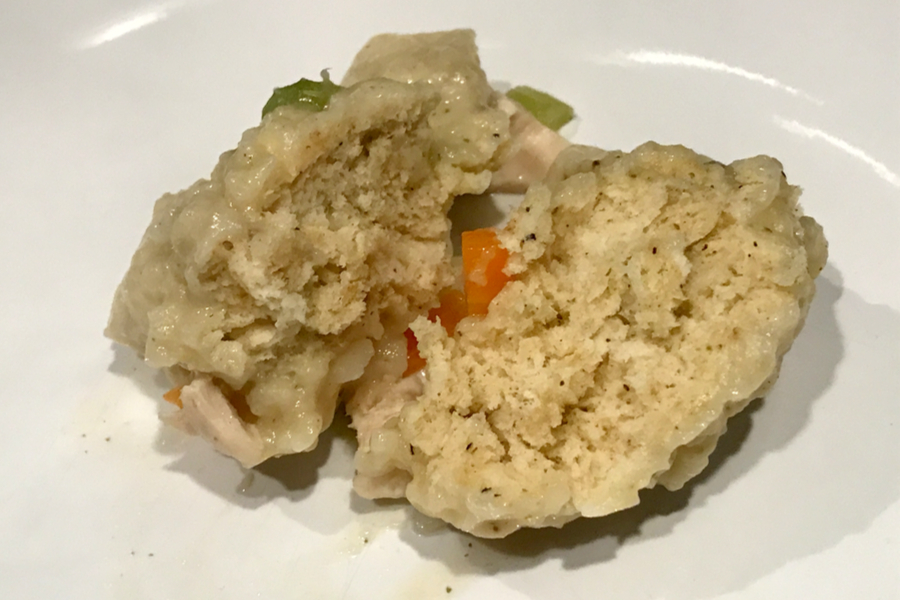 Once the chicken and dumplings are cooked, ladle into bowls and serve immediately.

To receive our 3 Recipe Articles in your inbox each week, sign up for our free email list located in the middle of each recipe or email me at contact@makeyourmeals.com. You can also follow us on Facebook and Pinterest. This article may contain affiliate links where a small commission is paid if you purchase a product at no additional cost to you.
Yield: 6
The Best Homemade Chicken and Dumplings Recipe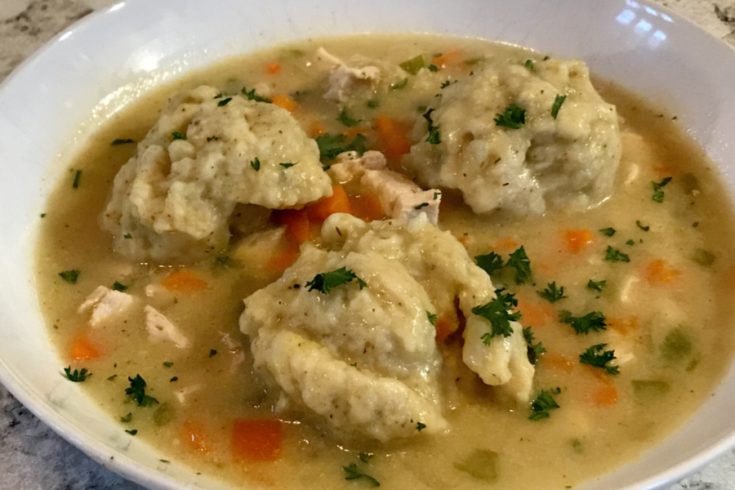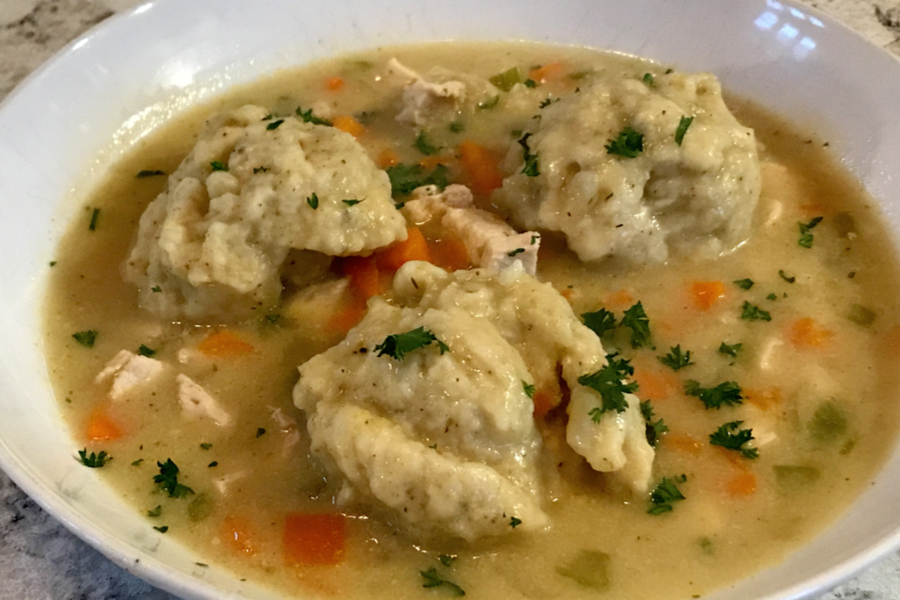 Creamy chicken and vegetables cooked until tender with homemade dumplings that are easy to make. The perfect comfort meal that the entire family will love!
Ingredients
6 tablespoons butter
1 cup diced yellow onion
1 cup diced carrots
1 cup diced celery
4 cloves garlic, minced
3 tablespoons all purpose flour
1 1/2 cups milk
4 cups chicken stock
4 cups shredded cooked chicken
1 teaspoon dried ground thyme
2 teaspoons fresh ground black pepper
salt, to taste
HOMEMADE DUMPLINGS:
2 cups all purpose flour
5 teaspoons, baking powder
1 teaspoon fresh ground black pepper
1 teaspoon salt
1 teaspoon dried thyme
3/4 cup whole milk
4 tablespoons butter, melted
Instructions
In a Dutch oven or a large stockpot, melt butter over medium-high heat.
Add onion, carrots and celery. Cook for 5 minutes, until vegetables become tender. Add garlic and cook for 1 additional minute.
Add flour and stir to combine and cook for 1 minute.
Add milk and chicken stock and quickly stir to combine until smooth.
Bring the mixture to a boil and add cooked chicken, thyme, black pepper and salt. Let soup simmer, uncovered.
While the mixture is simmering, make the dumplings by whisking together the dry homemade dumplings ingredients into a large bowl. Then pour the milk and butter into the center of it.
Using a silicone spatula, stir the mixture together until dough ball forms. If your dough seems too dry, you can add a little extra milk.
Using a medium or large cookie scoop, scoop dough and drop directly into the simmering pot, scattering them around in different areas.
Once all dumplings have been added, gently flip them over and press them down so that the tops of the dumplings get submerged.
Lower the heat so a minimal simmer is maintained and place a lid on your pot.
Cook the dumplings in the soup for 15 minutes, stirring occasionally. Cut one dumpling in half to check doneness.
If the dumplings are cooked through, serve immediately! If not, cook an additional 2-3 minutes and check again.
Notes
Recipe provided by Make Your Meals
Nutrition Information:
Yield:
6
Serving Size:
1 grams
Amount Per Serving:
Unsaturated Fat:

0g