I never thought that this slow cooker lentil chili would become my favorite chili of all time, but it has. It has the perfect blend of flavors that would rival any traditional chili recipe.
The lentils get cooked down perfectly in a homemade chili sauce for a thick and hearty meal that will satisfy you for hours!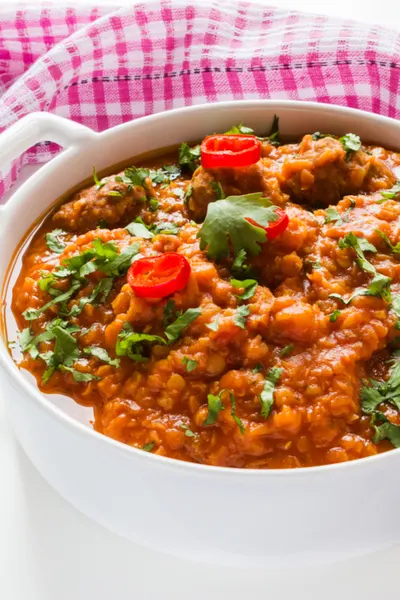 But the funny thing is, that this recipe was created by pure accident. Last winter, I was looking to clear out my pantry and found a bag of lentils on the shelf.
I had accidentally bought green lentils instead of red when I was creating my Slow Cooker Red Lentil Curry Recipe. Because red lentils are much more tender than the other varieties, I knew that I had to return to the store to buy the correct one.
However, that left me with a bag of green lentils that I had no idea what to do with. Because lentils weren't a part of our typical menu rotation, I turned to the internet for inspiration.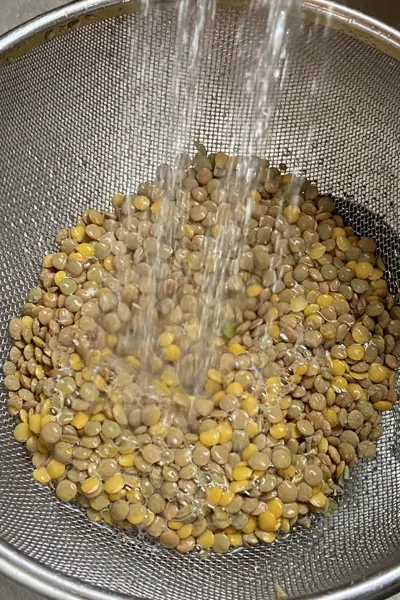 And I was shocked at how many different recipes that I found. From curry, dal, soups, stews, and even sloppy Joes, you could use lentils in just about anything!
Although there were many unique recipes that I could try, I decided to take a familiar route and make lentil chili in my slow cooker.
Slow Cooker Lentil Chili Recipe
Even though I was using lentils and could make this recipe completely vegan, I decided to use turkey as the main protein in this recipe.
It all started out when I had leftover smoked turkey breast in my freezer. I was looking for a way to add it to a recipe. However, because it had a strong smoky taste, I was limited in what dishes that it would go well with.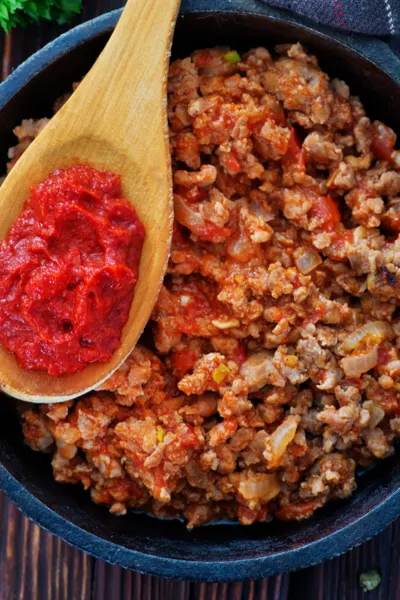 But as soon as the idea of making chili came into my head, I knew this was the perfect recipe for the turkey! Since then, I have used ground turkey, ground chicken, and have even left the meat out of this lentil chili recipe. And they have all turned out wonderful!
If your meat is not pre-cooked, start by browning the meat in a large skillet. Then, when the turkey is half cooked, add in the diced onions, minced garlic, tomato paste and salt.
Continue to cook until the meat is browned through. Then add it to a 4 quart or larger slow cooker.
Next, rinse your lentils in a fine mesh colander and remove any debris or bad lentils. Then drain and pour the lentils in with the meat and onion mixture.
Add the water, tomato sauce, and diced tomatoes, undrained. Now here is the secret ingredient to this slow cooker lentil chili recipe, diced green chiles!
The Secret Ingredient
I have always had a little spice to my chili recipes. Although the spice is typically in the form of a diced jalapeno pepper. However, I made this recipe in the middle of winter using 'on hand' ingredients. And there were no fresh peppers in the refrigerator or freezer.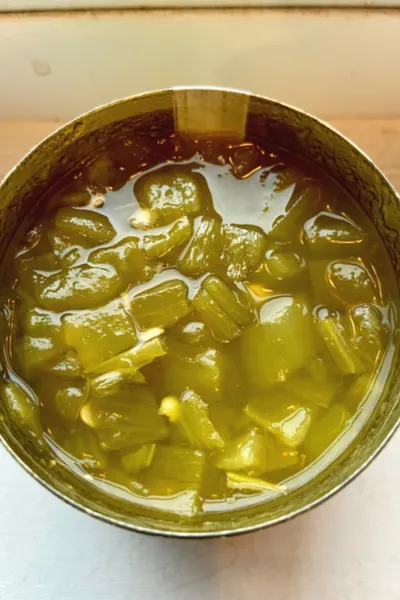 So I turned to one of my pantry staples, diced green chiles! I use these little mild diced peppers in a variety of recipes, including my easy Sausage Cream Cheese Dip, White Chicken Chili and even in my Instant Pot Barbacoa Beef Recipe.
Add the entire 4 ounce can to the slow cooker and your lentil chili will have just a hint of a mild and tangy pepper taste. Next, stir in the remaining spices and you are ready for the slow cooker to do the cooking!
Cook on HIGH for 3-4 hours or LOW for 5-6 hours. Depending on the brand of your slow cooker, the cook time may vary to ensure that the lentils are nice and tender.
We have a 6 quart programmable Crock Pot slow cooker, and it took the full cook time for the lentil chili to be perfect.
Garnish your chili with sour cream and cilantro if desired.
Enjoy!

To receive our 3 Recipe Articles in your inbox each week, sign up for our free email list located in the middle of each recipe or email me at contact@makeyourmeals.com. You can also follow us on Facebook and Pinterest. This article may contain affiliate links where a small commission is paid if you purchase a product at no additional cost to you.
Yield: 6
Slow Cooker Turkey Lentil Chili Recipe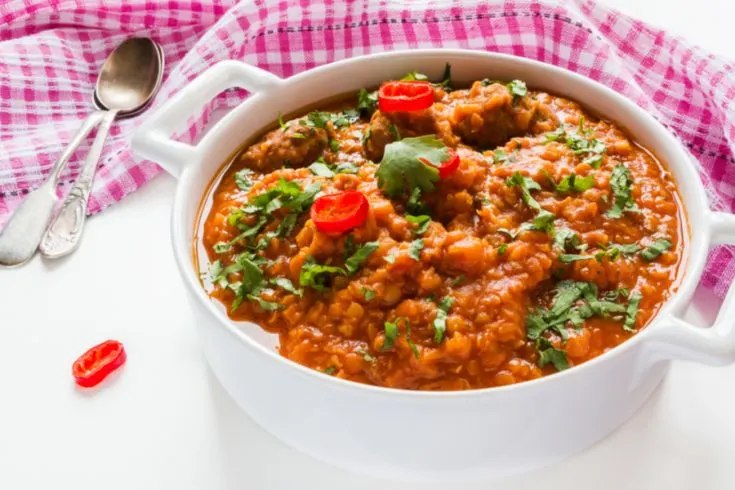 A thick and hearty chili recipe made with ground turkey and lentils for a healthy meal that will leave you feeling full and satisfied.
Ingredients
1 lb ground turkey
1 medium yellow onion, diced
2 garlic cloves, minced
2 Tbsp tomato paste
1 1/2 tsp salt
1 cup green lentils, dry
2 cups water
8 ounce can tomato sauce
14.5 ounce can petite diced tomatoes
4 ounce can diced green chiles
2 tsp chili powder
1 tsp cumin
1/2 tsp ground black pepper
Garnish
Cilantro and sour cream, optional
Instructions
In a skillet over medium heat brown the ground turkey. When the turkey is half cooked, add the diced onions, garlic, tomato paste and salt to the pan and cook until meat is completely browned.
Add the mixture to the slow cooker.
Add lentils, water, tomato sauce, diced tomatoes, green chiles, chili powder, cumin and black pepper to the turkey mixture and stir.
Cover and cook on HIGH for 2-3 hours or on LOW for 4-6 hours, or until lentils are tender.
Serve warm and garnish with cilantro and sour cream, if desired.
Notes
Instant Pot Instructions: Pressure Cook on HIGH for 10 minutes and allow for 10 minutes of Natural Pressure Release Recipe provided by Make Your Meals
Nutrition Information:
Yield:
6
Serving Size:
1 grams
Amount Per Serving:
Calories:

249
Total Fat:

2g
Saturated Fat:

1g
Unsaturated Fat:

0g
Cholesterol:

42mg
Sodium:

1044mg
Carbohydrates:

31g
Fiber:

13g
Sugar:

7g
Protein:

28g