Instant Pot Chicken Tortilla Soup is a fast, delicious, and easy way to get this famous, Mexican inspired soup on the table in just minutes. However, with just one taste you will think that it has been simmering on the stove all day long.
Each bowl is filled with shredded chicken, diced tomatoes, corn, and black beans that is cooked in a deliciously seasoned broth. Then when it is served it is topped with crunchy tortilla strips which makes it a hearty soup full of not only amazing flavor but a variety of textures as well.
Although this soup would traditionally take hours to make, using this method it will be on your table and ready to eat in under 45 minutes! Best of all, it only requires 15 minutes of actual hands on work. Then dump all the ingredients in the pressure cooker and let the magic happen!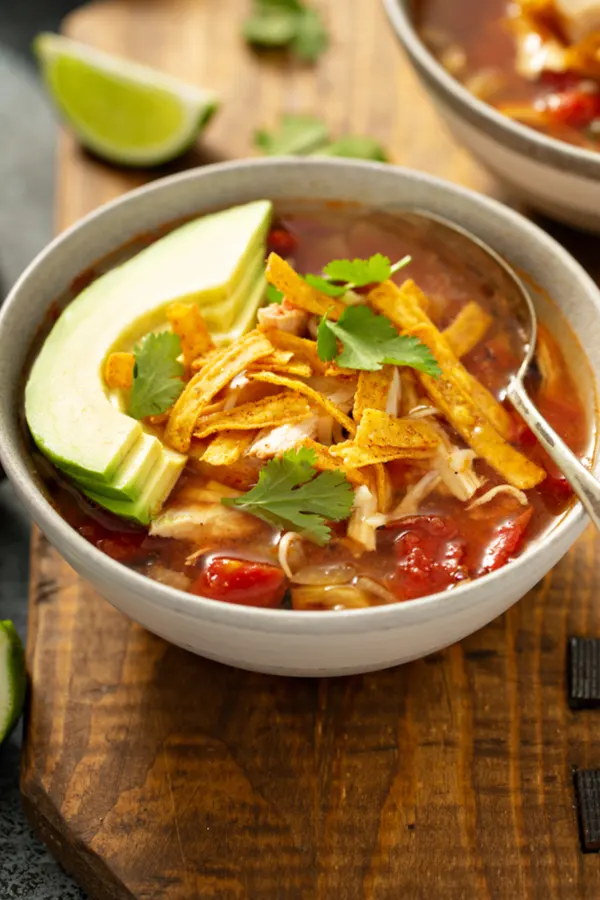 Why The Instant Pot Is So Good
One of the biggest benefits of owning an electric pressure cooker, such as my beloved Instant Pot 6 Quart Duo, is that the food that typically takes a long time to cook can be made in a fraction of the time. And there is no sacrificing flavor when it comes to pressure cooking.
Soups in particular cook in minutes as compared to hours that it takes to obtain the same depth of flavor when cooking on the stove top or in a slow cooker.
This multi-cooker can do it all! It has various functions to make your life in the kitchen easier. From being able to saute vegetables directly in the pot, to making a pot roast in under 2 hours to proofing bread dough, this kitchen appliance has truly been a huge time saver for me.
Only 15 Minutes of Hands on Time Required
The best part about using the Instant Pot for this Chicken Tortilla Soup recipe is that after 15 minutes in the kitchen, I can walk away and do whatever task that is next on the list. There is no need to stand over a hot, simmering pot stirring every few minutes.
Instead, saute the vegetables, add the remaining ingredients and lock the lid in place. All that is left to do is to set the cook time and walk away.
For this recipe I use a part of that extra free time to toast tortilla strips to garnish the top of the soup when served. However, you don't even have to do that because you can purchase toasted tortilla strips at the grocery now.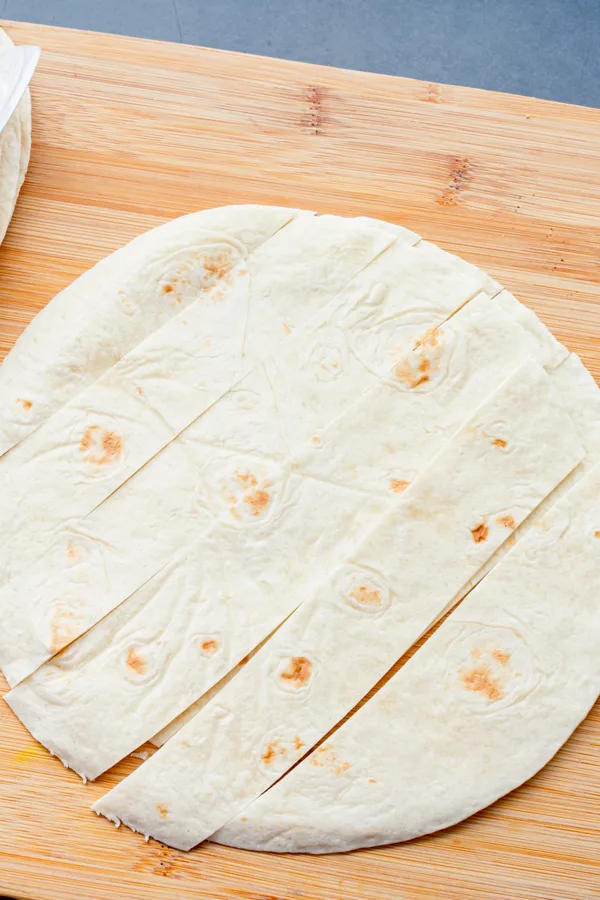 Although I find it easier to make my own. I use my Pizza roller to cut tortilla shells into thin strips. Then I place them on a parchment lined baking sheet, spray with them with a little oil and bake for 8-10 minutes at 350°F. It's that easy!
This soup is the perfect meal to make on a cool day when you just need a little warmth in your life. In fact, don't be afraid to add a few extra spices or some diced jalapeños if you like it hot!
However this recipe has also become one of my favorite weeknight meals. Everyone loves it and it there is usually enough leftover for a quick lunch the next day. And we all know that soups taste even better after sitting overnight in the refrigerator!
Instant Pot Chicken Tortilla Soup Recipe
*Specific measurements and complete recipe instructions are located in a printable recipe card at the bottom of this article. However, be sure to continue to read the tips and tricks to making this recipe below.
INGREDIENTS
Olive oil
Onion, diced
Celery, chopped
Carrots, diced
Jalapeno pepper, seeds/ribs removed, diced
Garlic cloves, minced
Ground cumin
Ground coriander seed
Chili powder
Salt
Chicken stock
Crushed fire roasted tomatoes
Corn
Black Beans
White corn tortillas, cut into thin strips, 6-inch
Chicken breast
Chopped fresh cilantro leaves
Lime
INSTRUCTIONS
The first step in making this recipe is to press the Sauté button on the Instant Pot. While the pot is heating up, dice the onions, carrots, celery and jalapeno pepper.
When the front display on the Instant Pot says HOT add the olive oil. Then add the diced onion, celery, carrots and jalapeno into the oil.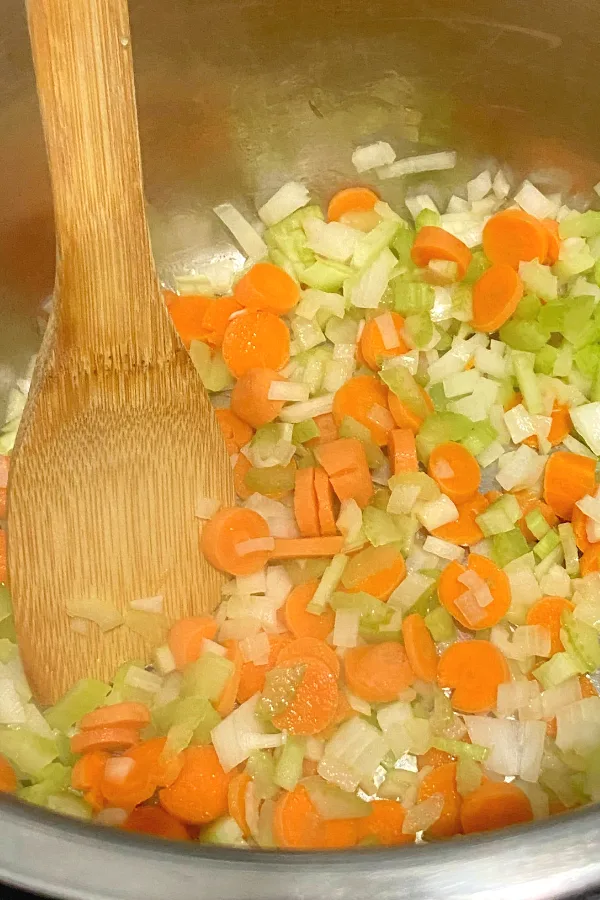 Sauté for 3-4 minutes until the vegetables start to soften. You won't have to get them super tender because they will continue to cook when the soup is being pressure cooked.
Next, stir in the minced garlic, cumin, ground coriander, chili powder and salt. Continue to sauté for one additional minute, stirring the entire time so that the garlic doesn't brown too much.
Press Cancel to stop the Sauté mode. Quickly add the chicken stock and use a wooden spatula to scrap off any stuck bits on the bottom of the pot.
Deglaze the Bottom of The Pot
This is an important step! You must make sure that the bottom of the pot is free and clear of any stuck bits so that you don't get the BURN notice while the Chicken Tortilla soup is cooking.
Next add the diced tomatoes, corn, black beans and chicken breast. Although many pressure cooker recipes will have you add the tomatoes as the last ingredient and will warn you not to stir, it is okay to stir them in this recipe because it is a soup.
Place the lid on the Instant Pot and move the valve to the Sealing position. Press Manual or Pressure Cook (it depends on the model that you have), and set the cook time for 7 minutes on HIGH pressure.
Just like with all pressure cooker recipes, additional time is required to allow the pot to come to pressure before the actual cook time begins. For soup recipes, this can take up to 20 minutes, but most often will be around 12 minutes or so.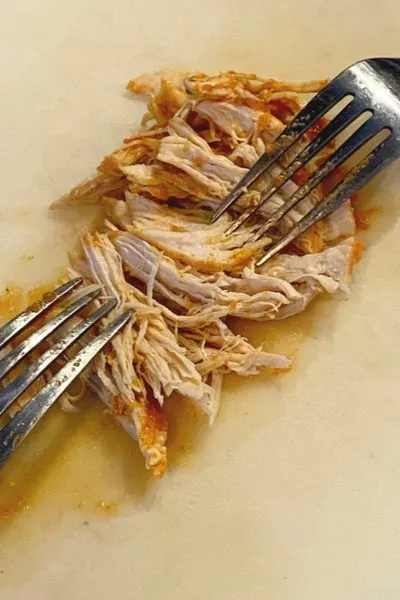 Natural Pressure Release For 10 Minutes
When the cook time is up allow the pot to natural pressure release for 10 minutes. This means that you do nothing and just wait until the time on the front displays reads: L0:10.
At that time perform a slow, quick release of any remaining pressure. The key word here is SLOW. If you move the valve too quickly, you risk the chance that there will be liquid spewing out of the valve itself.
Instead, use the handle of a wooden spoon to slowly release pressure. Then as steam starts to slow down, move the valve completely over to the venting position until the pin drops.
Carefully remove the lid. Then use tongs to remove the chicken breast to a cutting board and shred the meat with a fork.
Place the chicken back into the Instant Pot with the rest of the tortilla soup. Then stir in the cilantro and lime juice.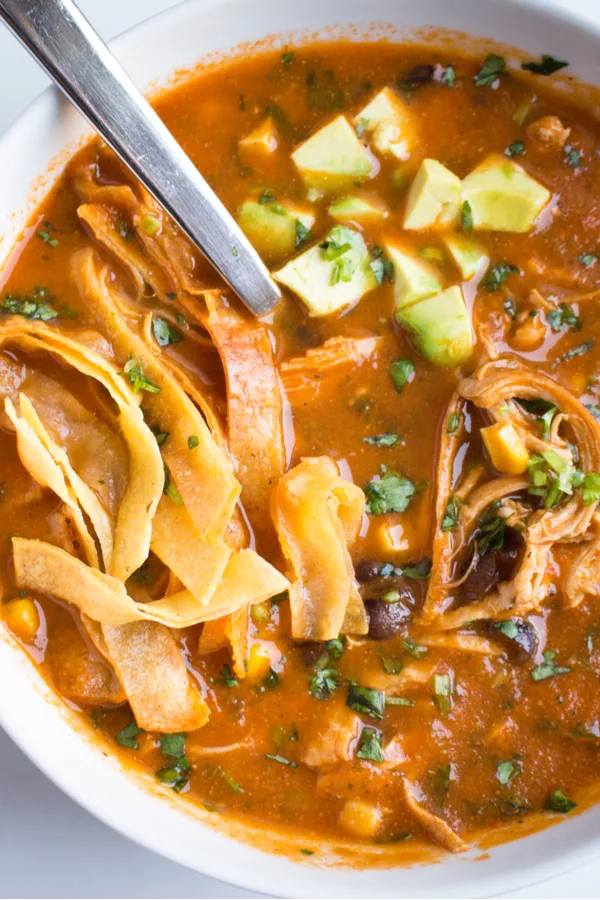 Serve with crispy tortilla strips and other toppings of choice. Suggested toppings: avocado slices, cilantro, diced jalapeños.
If you like this recipe, be sure to check out my Instant Pot Chicken Fajitas Recipe which includes the secret to making it with perfectly cooked peppers and onions!
Enjoy! Mary

To receive our 3 Recipe Articles in your inbox each week, sign up for our free email list located in the middle of each recipe or email me at contact@makeyourmeals.com. You can also follow us on Facebook and Pinterest. This article may contain affiliate links where a small commission is paid if you purchase a product at no additional cost to you.
Instant Pot Chicken Tortilla Soup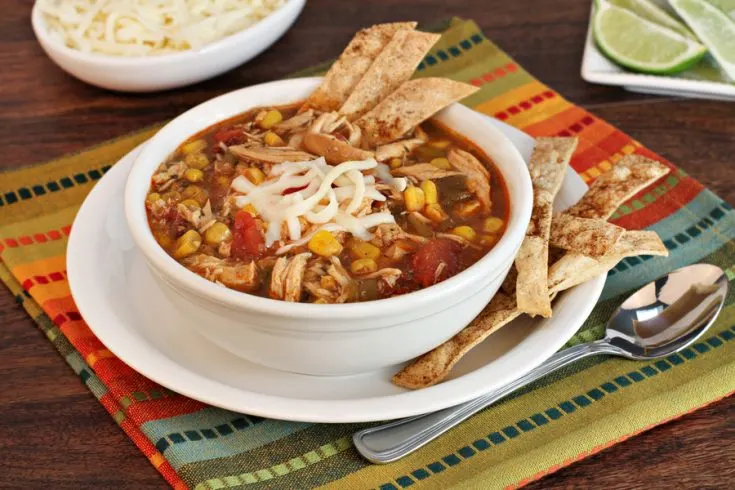 All the delicious flavors of a chicken tortilla in a thick and hearty soup. Serve with crispy tortilla strips, avocados, sour cream and/or cheese for a full and satisfying meal.
Ingredients
2 tablespoons olive oil
1 medium onion, diced
2 large stalks celery, chopped
2 large carrots, diced
1 small jalapeno pepper, seeds/ribs removed, diced
2 cloves garlic, minced
1/2 teaspoon ground cumin
1/2 teaspoon ground coriander seed
1/2 teaspoon chili powder
1/2 teaspoon salt
1 quart chicken stock
14.5 oz canned crushed fire roasted tomatoes
1 cup corn, frozen or drained
1 cup black beans, drained
1 large chicken breast
1/4 cup chopped fresh cilantro leaves
Juice of 1 lime
6 white corn tortillas, cut into thin strips, 6-inch
Instructions
1. Press the sauté button on the instant pot until it reads HOT. Add the olive oil, onion, celery, carrots and jalapeno. Sauté for 3-4 minutes until the vegetables start to soften.
2. Stir in the garlic, spices and salt and sauté for an additional minute.
3. Cancel sauté mode. Add the chicken stock, tomatoes, corn, black beans, and chicken. Close the instant pot, seal and pressure cook/manual on high pressure for 7 minutes. When the time is up allow natural pressure release for 10 minutes.
4. Then quick release any remaining pressure. Remove the chicken breast and shred with a fork, and then add it back to the soup. Stir in the cilantro and lime juice.
Serve with crispy tortilla chips and toppings of choice.
Notes
Recipe provided by Make Your Meals
Nutrition Information:
Yield:
8
Serving Size:
1 grams
Amount Per Serving:
Calories:

249
Total Fat:

8g
Saturated Fat:

2g
Trans Fat:

0g
Unsaturated Fat:

6g
Cholesterol:

21mg
Sodium:

673mg
Carbohydrates:

32g
Fiber:

7g
Sugar:

7g
Protein:

14g
Nutritional Information is to be used as a general guideline only . Nutritional calculations will vary from the types and brands of the products used.