This Ham and Corn Chowder Recipe has become one of my favorite leftover ham recipes. A creamy chowder soup filled with ham, corn and potatoes that is perfect to serve any day of the year.
Every year, after Easter and Christmas, I have not only leftover ham, but also a meaty ham bone that I need to put to good use. And as much as I love Ham and Bean Soup, not everyone in the family feels the same way.
So I decided that this year, I would transition my Loaded Potato Soup recipe, which is one of my most requested recipes, into a delicious leftover ham recipe.
So that is where I came up with the idea of making chowder. Not only did I have leftover ham and a leftover ham bone. I also had a few extra potatoes that I didn't use when I made mashed potatoes.
And I also had a bag of frozen corn sitting in my freezer, begging to be used. Therefore, I gathered my ingredients and used the basics of what I learned from making clam chowder and got to work.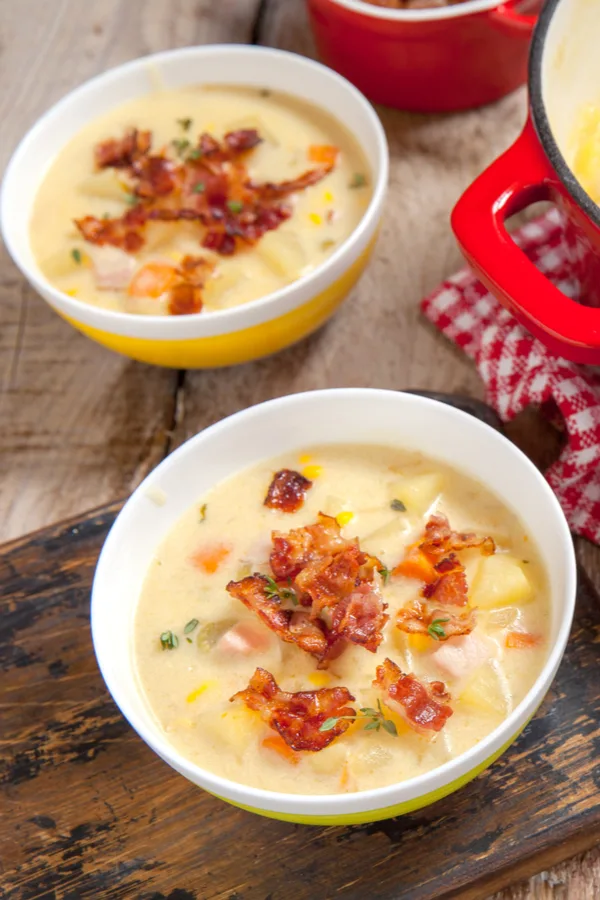 Other Leftover Ham Recipes
Ham and Corn Chowder Recipe
INGREDIENTS
Bacon
Onion
Celery chopped
Flour
Garlic
Chicken broth
Heavy whipping cream
Frozen corn
Cooked ham
Yukon gold potatoes
Salt & pepper
Italian seasoning
Cayenne pepper, optional
Shredded Cheddar cheese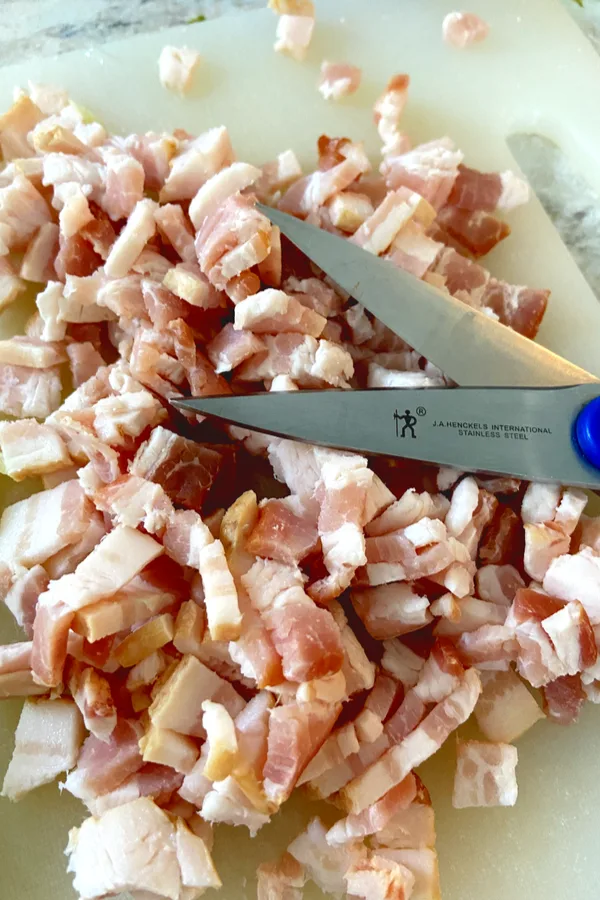 INSTRUCTIONS
The first step in making ham and corn chowder is to prepare all of the ingredients. Start by dicing the uncooked bacon, onion and celery. Then peel and dice the potatoes and set aside.
Although you could cook the bacon in full strips and dice it after cooking, I would highly recommend dicing it before it goes in the pan.
The reason that I prefer to cook the bacon in smaller pieces is because it cooks much quicker and creates less grease splatter. And to make thing even easier I use my kitchen shears as opposed to a knife when cutting the bacon.
Once your bacon is cut add it to a large pot that is placed over medium-high heat. Continue to cook, stirring occasionally until the bacon is crispy.
When the bacon is crispy, scoop it out of the pot with a slotted spatula or spoon, leaving the bacon grease in the pan. Then place the bacon bits on a paper towel lined plate and set aside.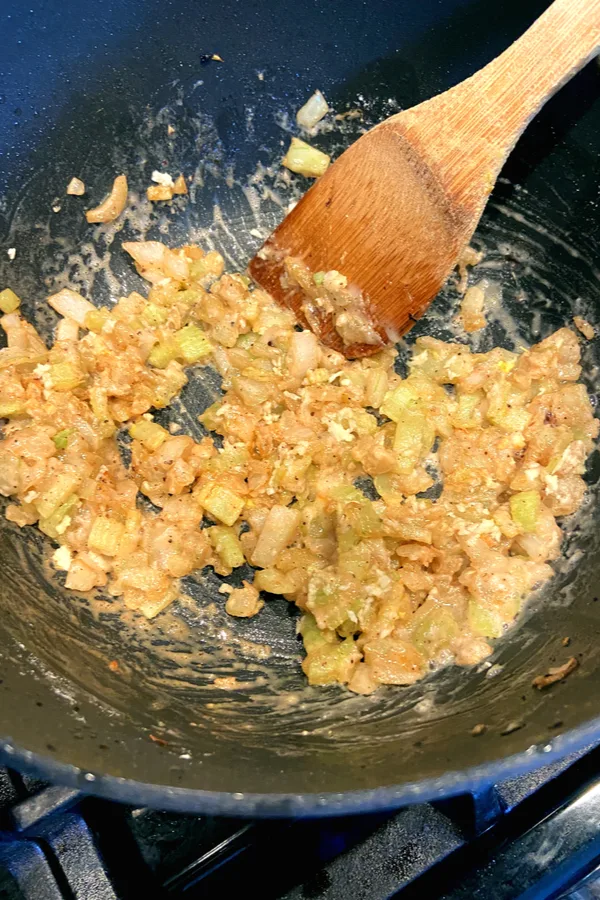 Saute the Vegetables
While the bacon is draining, add the diced onion and celery to the pot and sauté for 5 minutes until they just become tender.
Then stir in the flour and continue to cook just until the flour absorbs the grease and liquid from the vegetables. Continue to stir the mixture until all flour clumps are gone.
Now add the garlic and chicken broth to the pot and stir. Be sure to deglaze the bottom of the pot to remove any stuck bits on the bottom surface.
Continue to whisk or stir until the flour is absorbed in the liquid.
Once the liquid is nice the smooth, stir in the cream, corn, ham, potatoes, Italian seasoning, cayenne pepper (if using), and 3/4ths of the cooke bacon bits. Increase the heat and bring the ham and corn chowder to a boil, stirring occasionally.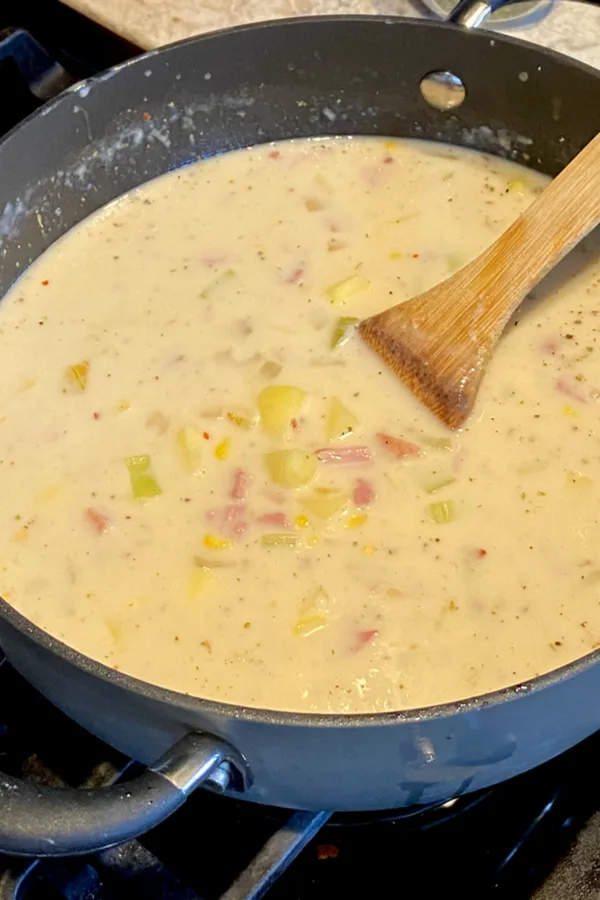 Boil and Reduce Heat To Simmer
After the mixture has reached boiling, reduce the heat to a simmer. Continue to cook until the potatoes are fork tender, stirring more frequently as the soup cooks.
As a reference, it should take the potatoes about 20 minutes to become nice and tender.
And finally, before you serve the ham and corn chowder, stir in the shredded Cheddar cheese. Continue to stir until the cheese has melted completely.
Season the soup with salt, pepper or additional cayenne pepper to taste. We will even throw some garlic salt in as well.
Serve and garnish with the remaining bacon bits, shredded cheese and/or sliced green onions.
Enjoy!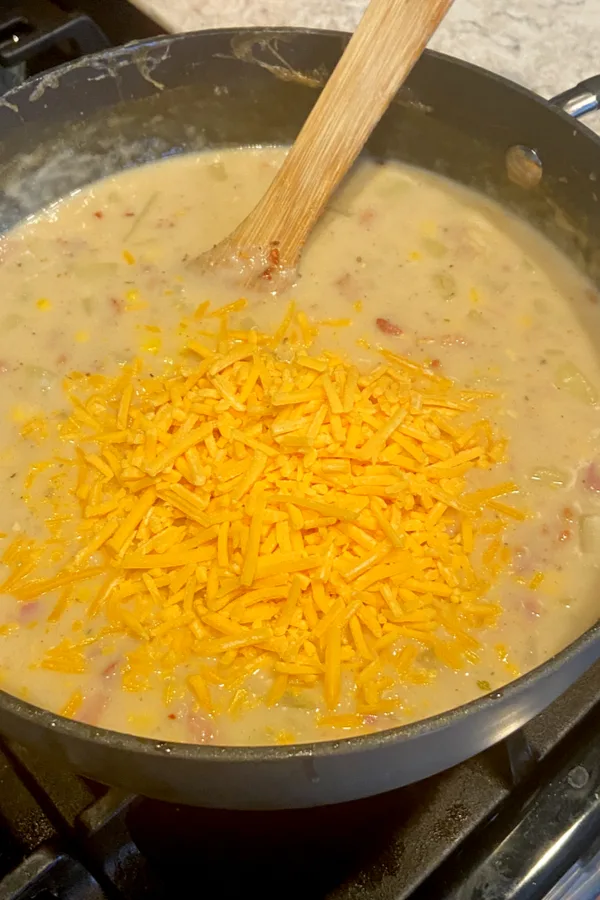 Frequently Asked Questions
Can I use a leftover ham bone in this recipe?
If you have a leftover ham bone from Easter or Christmas, you can definitely add it to this ham and corn chowder recipe to add more flavor. However, I definitely suggest adding diced ham in as well if your bone doesn't have a lot of meat left on it.
Can I use turkey bacon or pre-cooked bacon instead of pork bacon?
If you decide to use turkey bacon or pre-cooked bacon, you will need to add a little extra virgin olive oil to the pan in order to saute your vegetables.
Do I have to use Yukon Gold Potatoes?
Although we prefer the flavor and texture of Yukon Gold Potatoes, you can most certainly use Russet or Idaho potatoes instead. In fact, we have even used peeled and diced turnips as a low-carb substitute for the potatoes. And it tastes absolutely delicious!
Can I freeze Ham and Corn Chowder?
Although it is best to eat this chowder fresh, you can store it in an air tight container in the freezer as well. Just be aware that because there are potatoes in this recipe they will break down a bit during the freezing process and be less defined during the reheating process.

To receive our 3 Recipe Articles in your inbox each week, sign up for our free email list located in the middle of each recipe or email me at contact@makeyourmeals.com. You can also follow us on Facebook and Pinterest. This article may contain affiliate links where a small commission is paid if you purchase a product at no additional cost to you.
Yield: 8
Ham and Corn Chowder Recipe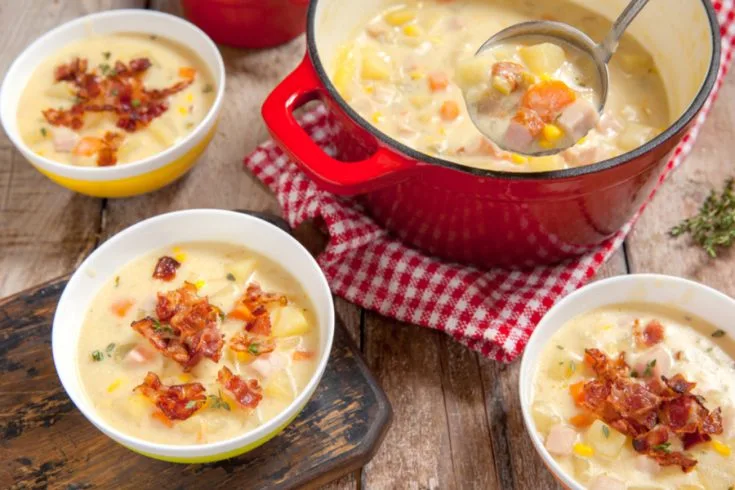 Creamy corn chowder with ham and potatoes. The perfect recipe for leftover ham!
Ingredients
4 strips bacon cut into small pieces
1/2 medium onion chopped
2 sticks celery chopped
1/4 cup flour
2 cloves garlic minced
4 cups chicken broth or stock
1 cup heavy/whipping cream
2 cups frozen corn
1 pound smoked ham chopped
2 large Russet potatoes peeled & diced
1 dash Italian seasoning
1 pinch cayenne pepper optional
Salt & pepper to taste
1 1/2 cups shredded Cheddar cheese
Instructions
Prep your bacon (I use kitchen shears to make cutting it up easy) and add it to a large pot over medium-high heat. Cook until crispy (about 10 minutes).
Meanwhile, prep your onion, celery, ham, and potatoes.
Once the bacon is crispy, take it out of the pot and remove to a paper towel lined plate. Leave the bacon fat in the pot.
Add the onion and celery to the pot and sauté for 5 minutes.
Stir in the flour and cook for about a minute, stirring nearly constantly.
Add in the garlic, followed by the chicken broth. Give it a good stir to ensure the flour has dissolved and the flavorful brown bits are scraped up from the bottom of the pot.
Add in the cream, corn, ham, potatoes, Italian seasoning, cayenne pepper, and most of the bacon (I save the rest for garnishing the bowls later on). Increase the heat to high and bring the soup to a boil. Once it's boiling, reduce the heat to a rapid simmer so it's gently boiling.
Cook until the potatoes are tender (about 15-20 minutes). Stir every so often. The soup will get thicker the longer you cook it.
Season the soup with salt & pepper if needed. Stir in the shredded cheese right before serving.
Garnish with the rest of the bacon, shredded cheese and/or green onions.
Notes
Recipe provided by Make Your Meals
Nutrition Information:
Yield:
8
Serving Size:
1
Amount Per Serving:
Calories:

457
Total Fat:

26g
Saturated Fat:

13g
Trans Fat:

1g
Unsaturated Fat:

10g
Cholesterol:

96mg
Sodium:

1454mg
Carbohydrates:

35g
Fiber:

4g
Sugar:

5g
Protein:

23g
Nutritional Information is to be used as a general guideline only . Nutritional calculations will vary from the types and brands of the products used.