When you are inundated with fresh tomatoes in the middle of summer, there is no better way to use them than this Instant Pot Tomato Soup Recipe.
Rich and creamy tomato soup that pairs perfectly with a thick grilled cheese sandwich. A classic meal that brings back fond memories of when you were a child.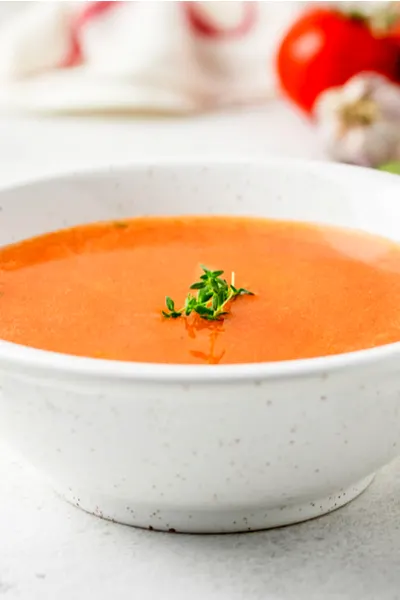 However, not all tomato soup is the same. My first exposure to tomato soup was the canned variety. Rich and creamy tomato soup made by Campbell Soup Company.
The kind where you empty the contents of the can in a pot. Then you use the empty can and fill it with milk. When heated up it turned into a thick and creamy soup. A soup so delicious that I would dip my entire grilled cheese sandwich in the bowl just to make sure I got every drop.
But little did I know, that wasn't exactly how homemade tomato soup turned out! When I first had a bowl of tomato soup made from fresh tomatoes, I was shocked.
It wasn't as creamy as I remembered. In fact, it had the consistency of broth. That is when I realized that it wasn't made with milk or cream. It was made by pureeing tomatoes and adding in a few spices.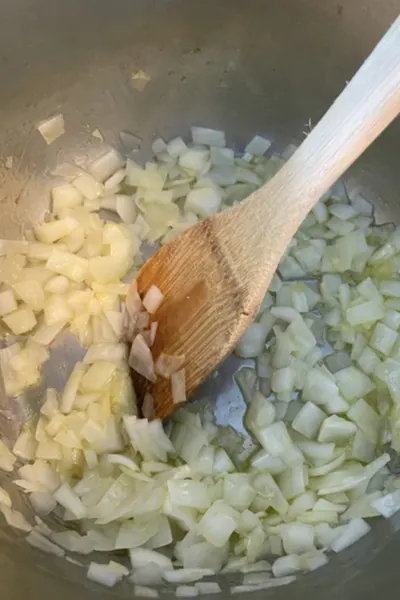 Although it was okay, I craved the creamy soup that I grew up with. However I no longer wanted to eat processed soup, so I knew that I would have to give my hand at making a homemade version.
Instant Pot Tomato Soup Recipe
Because tomatoes are fresh picked during the hottest days of Summer, I decided to use my 6 quart Instant Pot Duo. This allows me to make homemade soup without heating up the kitchen!
And it is perfect to cook all sorts of tomato recipes during garden season.
We make the following recipes using fresh tomatoes every summer.
However, the best part about making this tomato soup recipe, is that there is no need to peel or remove the seeds from the tomatoes before cooking.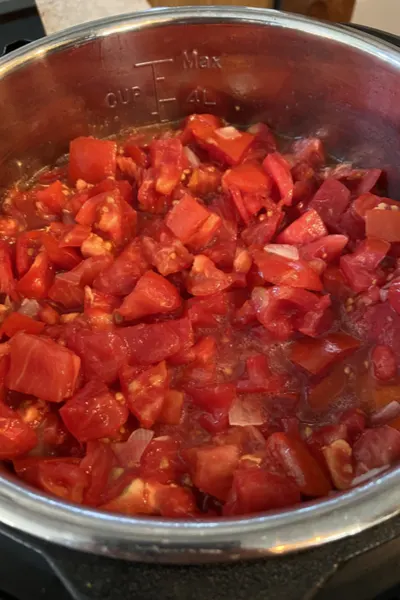 Just core the tomatoes, remove any bad spots and dice them up. Then set them aside until it is time to add them to the pot.
Once your have your tomatoes diced, it is time to get cooking! Turn the Instant Pot on Saute mode and wait until the display reads HOT. Then add the oil and onions and cook until tender.
Next, add in a little garlic and continue to saute for 30 seconds, or until the garlic is fragrant. Push CANCEL and add the diced tomatoes into the pot. Mix the tomatoes with the sautéed onions and garlic.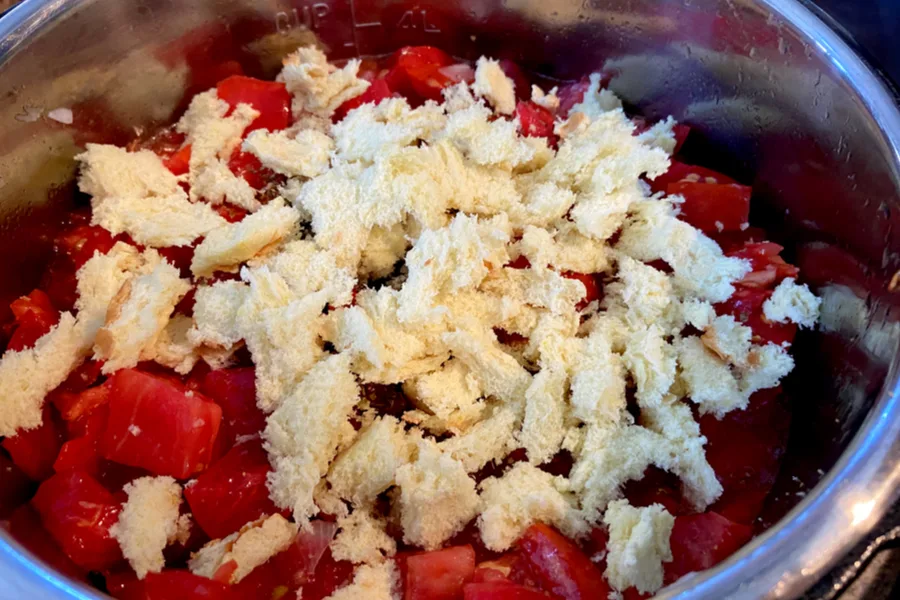 Make The Soup Dairy-Free
Now it is time to add the spices and bread pieces. And I am sure you are thinking that bread is an odd ingredient to add to tomato soup. The reason that we use bread is because we have family members that can't tolerate dairy products.
The bread is a great substitute to milk or cream in this recipe. It will allow the soup to turn creamy without any dairy at all!
Mix one final time and lock the lid in place. Move the valve to SEALING and pressure cook for 20 minutes on HIGH Pressure. Once the cook time expires, allow for 10 minutes of Natural Pressure Release.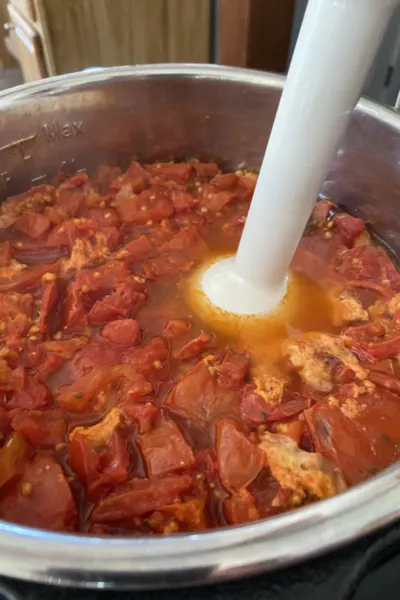 Slowly release any remaining pressure. Now remove the lid carefully and add the remaining extra virgin olive oil to the pot. Using an immersion blender, puree the soup until it is nice and smooth.
Serve immediately or let cool to refrigerate or freeze for later use. Enjoy!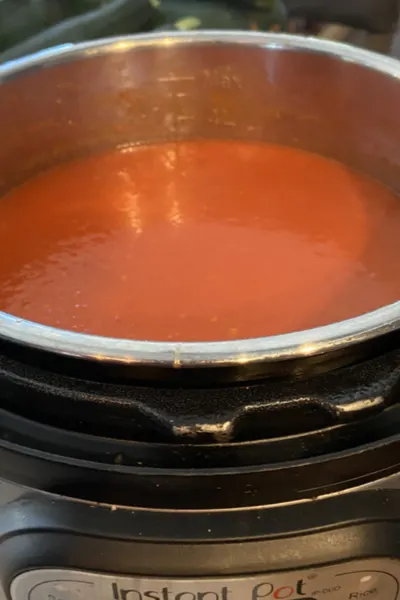 To receive our 3 Recipe Articles in your inbox each week, sign up for our free email list located in the middle of each recipe or email me at contact@makeyourmeals.com. You can also follow us on Facebook and Pinterest. This article may contain affiliate links where a small commission is paid if you purchase a product at no additional cost to you.
Yield: 6 quarts
Instant Pot Tomato Soup Recipe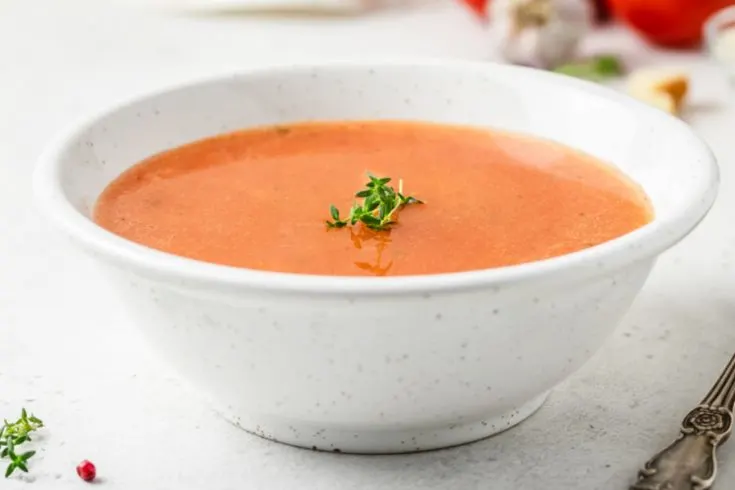 Rich and creamy, dairy-free tomato soup made with fresh tomatoes in a pressure cooker.
Ingredients
1/2 cup extra-virgin olive oil, divided
1 cup onion, diced
2 cloves garlic, minced
1 teaspoon oregano, dried
1/2 teaspoon red pepper flakes
2 slices white bread, crusts removed, torn into 1/2-inch pieces
20-24 tomatoes, medium size tomatoes diced, any variety or substitute two 28-ounce cans whole peeled tomatoes packed in juice
Kosher salt and freshly ground black pepper – to taste
Instructions
Turn Instant Pot to Saute. Once the display reads HOT add the 2 tablespoons oil and onions. Saute until the onions become tender, 6-7 minutes.
Add the garlic and saute for an additional 30 seconds. Press CANCEL
Add the diced tomatoes to the pot and stir.
Then add the oregano, red pepper flakes and bread to the pot and stir.
Lock the lid in place and move the valve to the SEALING position. Pressure Cook/Manual on HIGH pressure for 20 minutes. When the cook time expires, allow for 10 minutes of Natural Pressure Release.
Add the remaining oil to the pot then use an immersion blender to blend the ingredients together until smooth.
Add salt and pepper to taste.
Eat immediately or cool and freeze into desired portion sizes.
Notes
If you don't have an immersion blender, transfer half of soup to a large blender (making sure to fill the blender no more than half full) Blend soup, starting at low speed and gradually increasing to high- opening the vent and holding a kitchen towel over the lid to prevent an explosion. With blender running on high, gradually trickle in half of remaining olive oil.
Transfer to a large bowl and repeat with remaining half of soup and olive oil.
Recipe provided by Make Your Meals
Nutrition Information:
Yield:
6
Serving Size:
2 cups
Amount Per Serving:
Calories:

269
Total Fat:

19g
Saturated Fat:

3g
Unsaturated Fat:

0g
Sodium:

66mg
Carbohydrates:

23g
Fiber:

6g
Sugar:

12g
Protein:

5g