Instant Pot Ham and Bean Soup – the perfect way to use that leftover ham and ham bone! A delicious and warming soup recipe that is made in a fraction of the time when cooked using traditional methods.
Best of all, there is no need to soak the dried beans before adding them to the pressure cooker. Simply throw everything in the pot and when it is time to eat, you will taste the most flavorful and delicious soup that you have ever had!
In fact, it tastes like it has been simmering on the stove all day! But instead, it is ready to eat in under 2 hours!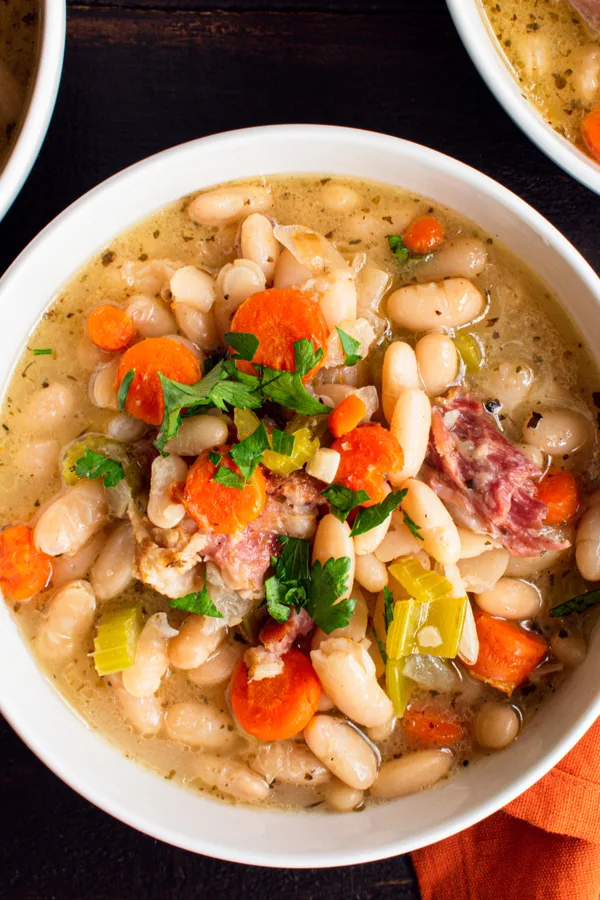 What To Make With Leftover Ham?
Every year, the day after Easter and Christmas, I receive a ton of questions asking for suggestions on what to make with leftover ham.
Although I have a few recipes that I always recommend, which I will list below the instructions for this Instant Pot Ham and Bean Soup recipe, I always suggest saving some of the ham and definitely the ham bone for later use.
That is because most of us have had our fill of ham from the holiday dinner. Not to mention, we have spent enough time in the kitchen preparing a large meal for our family.
So besides the occasional piece of ham that I nibble on as I am scrounging through the refrigerator, and the obvious grilled ham and cheese sandwich, I am typically not in the mood for another complete ham dinner over the next couple of days.
Instead, after a big ham dinner, I always throw the bone and any bits of meat falling from it in a ziplock bag and place it in the freezer. Then when the urge hits me for a hearty bowl of soup, or an easy, dump and go recipe, I make ham and bean soup!
Although you can make Ham and Bean Soup in a Slow Cooker, I prefer to make it in my 6 quart Instant Pot Duo. All that you have to do is throw the ingredients in the pot, add the lid and press start.
And in under 2 hours, as compared to 8 hours that is required if cooked in a Crock Pot, dinner is on the table. But I have to be honest, there is one more reason that I love to make this recipe in the pressure cooker.
Why Bean Soup Is Better To Make In An Instant Pot
As a child I was never a fan of bean soup. Not because it didn't taste good, but because I couldn't stand the smell of the soup as it simmered on the stove.
Although I had never even taken a bite of ham and bean soup before, the smell immediately had me begging for my neighborhood friends to invite me over for dinner that night.
I have since learned to love all types of beans, especially if they are made in the Instant Pot. The texture and flavor are more tolerable to me than when they are made on the stovetop or in a slow cooker.
But the real added bonus for me in regards to this specific recipe is that the smell is kept within the pressure cooker until it is time to remove the lid. And since it has completely cooked, the smell of beans cooking on the stove isn't the predominant smell.
Instead, you are presented with the desirable smell of ham and veggies that are cooked in a delicious and flavorful broth along with fully cooked and tender beans.
So next time you have leftover ham or a ham bone and aren't sure what to do with it, you must give this soup a try! It is easy to make and is absolutely, mouth-watering delicious!
Instant Pot Ham and Bean Soup Recipe
*Specific measurements and complete recipe instructions are located in a printable recipe card at the bottom of this article. However, be sure to continue to read the tips and tricks to making this recipe below.
INGREDIENTS
Ham Hock/Ham Bone with meat attached
Leftover Ham
Navy or Pinto Beans, dried
Chicken broth, low-sodium
Large yellow onion, diced
Celery, diced
Carrots, diced
Garlic, minced
Bay leaves
Thyme
Cumin
Kosher salt
Ground black pepper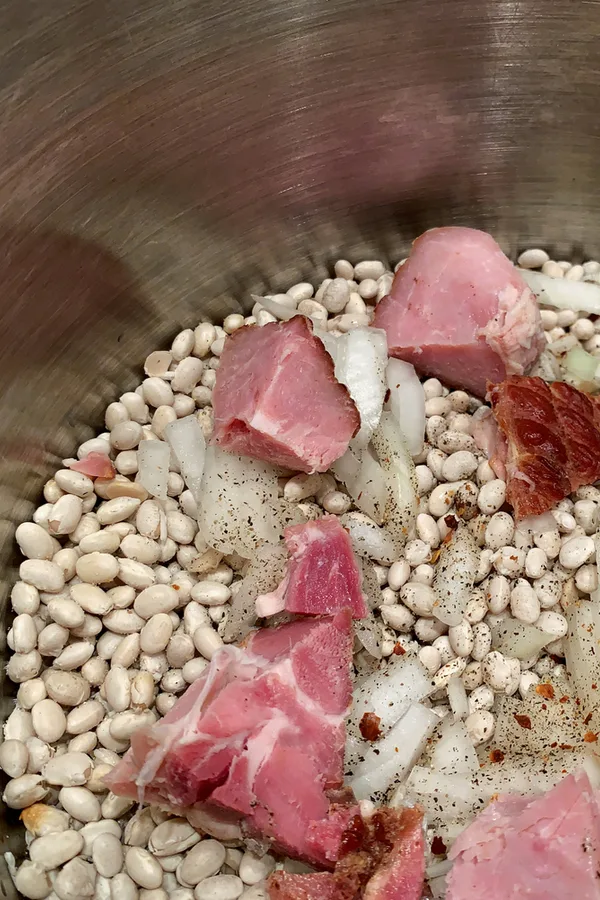 *If you have a ham bone with a significant amount of meat still left on the bone, you do not have to add any additional leftover ham. Although, you can if you prefer your soup to be extra meaty.
On the contrary, if you made a boneless ham for the holiday and don't have a ham bone, use that instead. Although you will have more flavor in your Instant Pot Ham and Bean Soup when it is cooked with the bone, it will still be delicious.
COOKING INSTRUCTIONS
As mentioned before, this recipe couldn't be easier to make. In fact, it is one of my favorite 'dump and go' recipes.
All this means is that you literally add all the ingredients into the pot at the same time, without anything more than dicing and measuring the ingredients. Then the only thing left to do is cover the pot and press start.
There is no standing over the stove, sautéing vegetables or browning meat. And there is no transferring ingredients from one bowl to another.
Simply throw everything in the Instant Pot and your Ham and Bean Soup will be done in under 2 hours! Who couldn't use more recipes like this?
However, because this is an Instant Pot recipe, and there may be a few newbie pressure cooker users, I will add a few more details. First, rinse and drain the beans.
Do this to get any sediment off the surface and remove any bad beans. Then add them to the pot with the the other ingredients and stir.
Lock the lid in place and move the valve to the sealing position. For those of you that have a newer Instant Pot, this is automatically done for you. Just make sure that the valve is in the upright position when you lock the lid in place.
Once the lids is locked and the valve is in the Sealing position, press the Beans/Stew button. If your brand of pressure cooker doesn't have that setting use press the Pressure Cook/Manual button.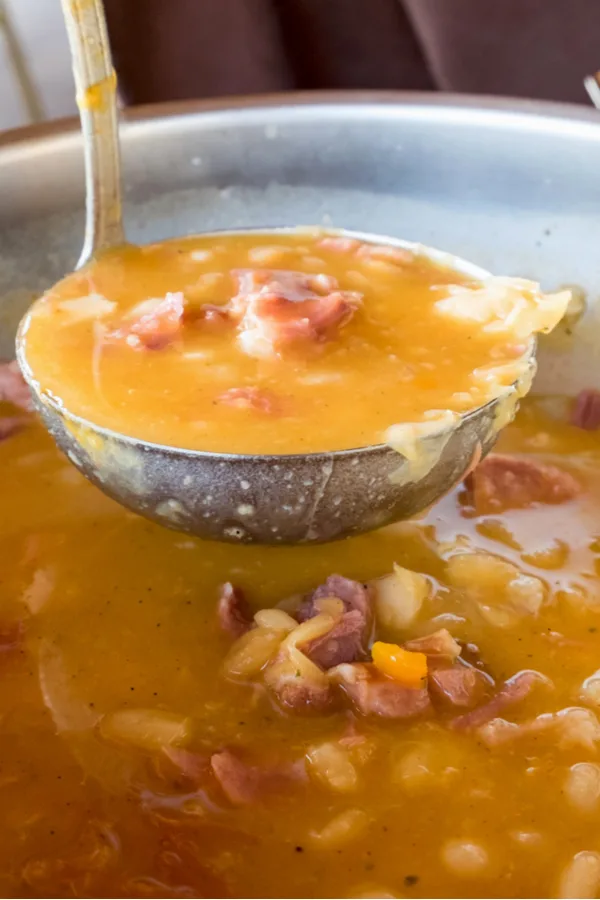 Cook Time
Set the cook time for 50 minutes on HIGH pressure. Like with all pressure cooker recipes, additional time is required for the pot to come to pressure. Plan for an additional 10-20 minutes for this to happen.
When the cook time is up, press the cancel button to turn off the Keep Warm setting. Then let the pot sit undisturbed for 20-30 minutes. This time will allow the pot to begin to cool and naturally release some of the pressure.
After the wait time, carefully quick release any remaining pressure. Do this slowly so that the Ham and Bean Soup liquid does not spew out of the top of the Instant Pot's valve.
Then carefully remove the lid, being sure that you open it up with the bottom of the lid facing away from you. Now remove the bay leaves and ham bone, scraping off any excess meat still on the bone, and stir.
Serve immediately.
Other Leftover Ham Recipes
As promised above, here are some other recipes to use leftover ham:
Enjoy! Mary

To receive our 3 Recipe Articles in your inbox each week, sign up for our free email list located in the middle of each recipe or email me at contact@makeyourmeals.com. You can also follow us on Facebook and Pinterest. This article may contain affiliate links where a small commission is paid if you purchase a product at no additional cost to you.
Ham and Bean Soup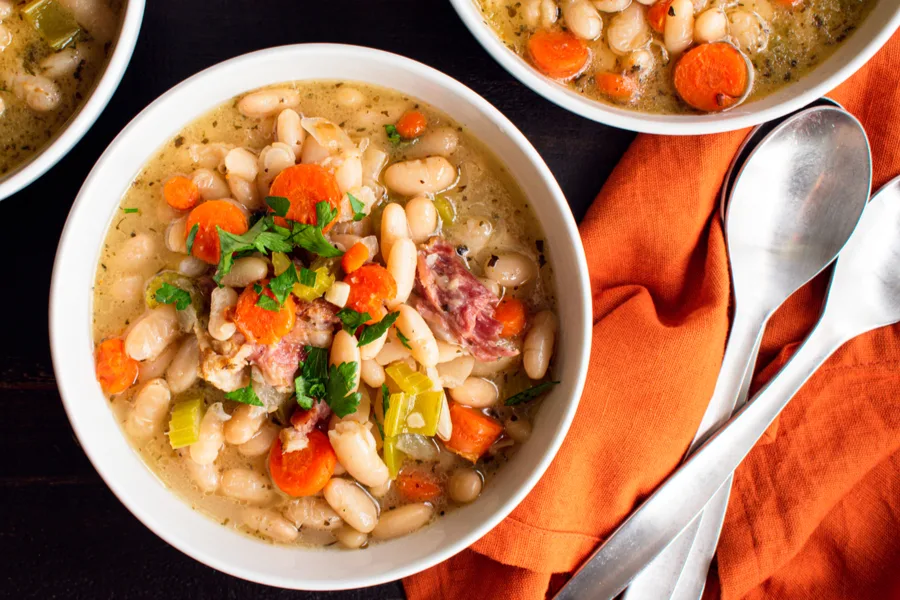 Delicious ham and bean soup made with leftover ham bones/meat in the Instant Pot.
Total Time
1 hour
40 minutes
Ingredients
1 1/2 lbs Ham Hock/Ham Bone with meat attached
1 lb Navy or Pinto Beans, dried*
6 cups chicken broth, low-sodium
1 large yellow onion, diced
3 ribs of celery, diced
3 large carrots, diced
4 cloves garlic, minced
2 bay leaves
1 tsp thyme
1 tsp cumin
1/2 tsp kosher salt
1/2 tsp ground black pepper
Instructions
Add all ingredients to the liner of the Instant Pot. Stir.
Put the lid on, and knob to sealing.
Press the Beans/Stew button or Pressure Cook/Manual on high for 50 minutes.
When the cooking time is up, push cancel to turn off the pot and natural pressure release for 20-30 minutes.
Quick pressure release any remaining pressure with a controlled release done in short spurts.
Remove ham bones and bay leaves and stir.
Notes
You can substitute dried Cannellini beans, however you will need to increase the cook time by 10 minutes.
Recipe provided by Make Your Meals
Nutrition Information:
Yield:
8
Serving Size:
1 grams
Amount Per Serving:
Calories:

428
Total Fat:

20g
Saturated Fat:

6g
Trans Fat:

0g
Unsaturated Fat:

11g
Cholesterol:

115mg
Sodium:

403mg
Carbohydrates:

21g
Fiber:

6g
Sugar:

2g
Protein:

42g
Nutritional Information is to be used as a general guideline only . Nutritional calculations will vary from the types and brands of the products used.