Now that it is Fall, it is time to share our favorite Instant Pot Chicken Noodle Soup Recipe. As the weather begins to turn cooler it seems like all of us are searching for a variety of soup recipes to help warm the soul.
Over the last few weeks, as the weather has dipped close to freezing temperatures, we have received a lot of requests for soup recipes.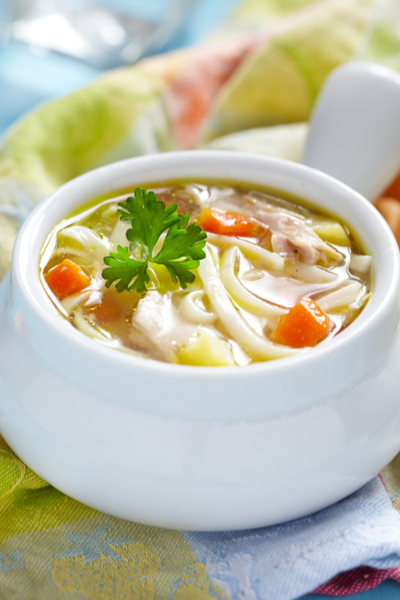 Although there are several soup recipes on our website, it really depends on what you like before I can recommend a specific one to you.
Some people want a true comfort feeling when eating soup. If that is the case, I always turn to our Loaded Potato Soup recipe. It is our go to recommendation when you need to warm up and feel loved.
However, some people want a healthier, low-carb meal. That is when we turn to our Healthy Chicken Soup or our Zuppa Toscana Low-Carb soup recipe.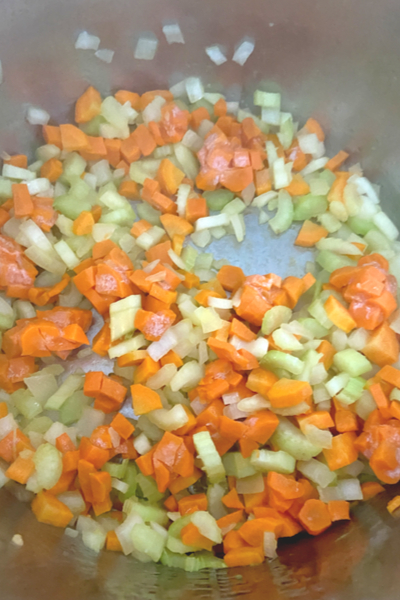 Either way, when are you looking for the best way to make soup, the Instant Pot is here to help! And there is no better way to make a classic Chicken Noodle Soup Recipe than in the Instant Pot!
The flavors of the soup meld together perfectly during the intense pressure cooking process. Then all that is left to do is to add the noodles and saute until this one-pot meal complete!
Instant Pot Chicken Noodle Soup Recipe
The first step in making this recipe is to cut and dice the vegetables. The backbone to this recipe is the flavor trio of what is commonly termed mirepoix.
This is a French term that means a mixture of evenly diced onions, carrots and celery where the onion volume is twice that of the other two vegetables. It is a common combination used in a variety of recipes, especially in classic soups like this Chicken Noodle Soup Recipe.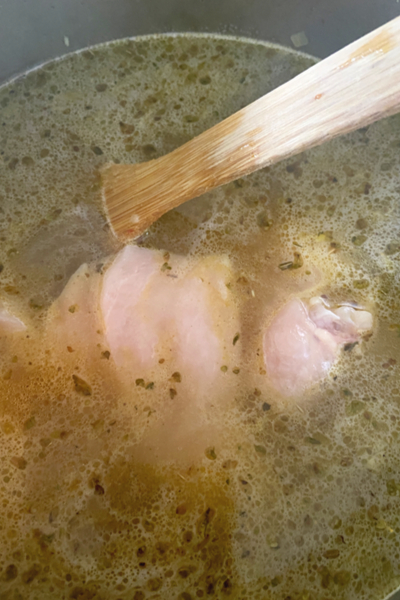 Once everything is diced, turn the Instant Pot on SAUTE mode and add the oil. When the display reads HOT, add the onions, carrots and celery and allow the vegetables to become tender.
Next, add the garlic and push CANCEL. Then add the spices, broth and water and stir. If there were any browned bits stuck to the bottom of the pan, be sure to deglaze it so that you don't get the BURN notice.
Next, add your thinly sliced chicken breasts to the mixture and stir. Now lock the lid in place and move the valve to the SEALING position. Pressure Cook/Manual on HIGH pressure for 7 minutes.
Time Required For The Pot To Come To Pressure
Please note that it will take close to 20 minutes for your pot to come to pressure when you have this chicken noodle soup inside. And if you are using an 8 quart Instant Pot or larger, it could take even longer.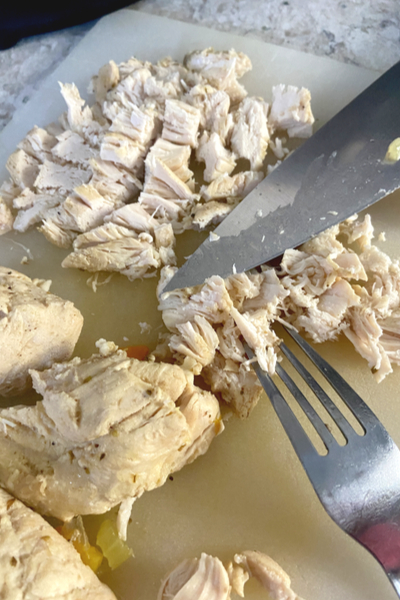 Once the cook time is up, allow for 10 minutes of Natural Pressure Release. Then carefully release the remaining pressure by moving the valve slowly to the VENTING position.
Once the pin drops, carefully remove the lid. Using tongs or a long fork, remove the chicken breast pieces to a cutting board and place the Instant Pot on SAUTE.
While the pot comes to a boil, cut or shred your chicken pieces. Then, when the liquid begins to boil, add the noodles and stir frequently to prevent sticking.
What Noodles Should You Use?
Depending on what type of noodles that you choose, they will need to boil anywhere from 6-12 minutes. Although many people prefer wide egg noodles, we find that fettuccine noodles work best for our family.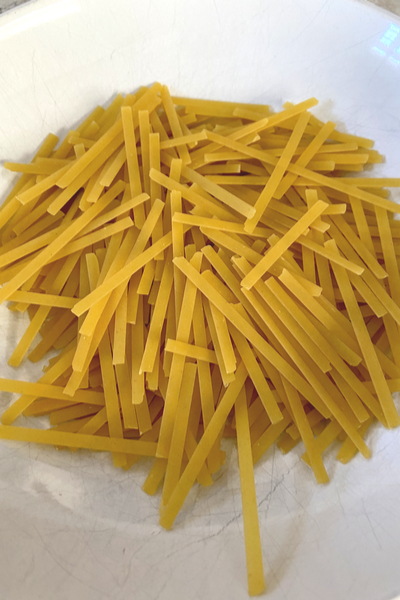 However, the noodle choice is simply a matter of preference. My family grew up on canned chicken noodle soup and is used to small, thin noodles.
When I first made this recipe with wide egg noodles, the feedback was conflicting. Although the flavor was delicious, the chicken noodle soup seemed more like a stew than a traditional soup.
So I went back to the drawing board to see what I could do different. After a few trials, we ended up voting for fettuccine noodles to be the ideal noodle choice.
Gather a handful of fettuccine noodles and snap them into 4-6 pieces. Then place them in the boiling liquid until al dente. Next, add the diced or shredded chicken back into the pot and stir.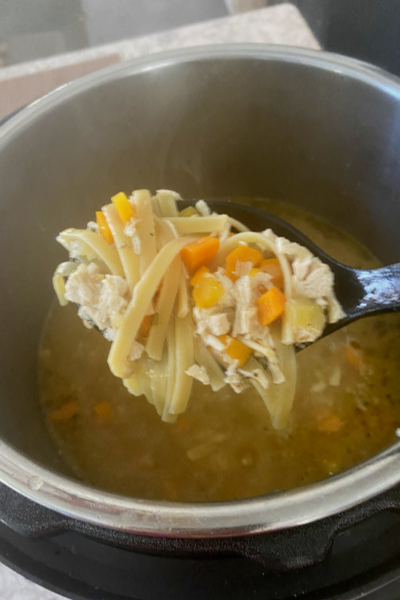 Serve immediately with a garnish of parsley as desired. Refrigerate any leftovers and use within 5 days. The noodles will continue to absorb the liquid as it cools. Therefore you may need to add water to the mixture before reheating.
If you are planning to freeze this soup, do so before adding the noodles. In general, noodles do not hold up well to the freezing process and will turn to mush when reheated.
Enjoy!
To receive our 3 Recipe Articles in your inbox each week, sign up for our free email list located on the side and bottom of each recipe. You can also follow us on Facebook, and Pinterest. This article may contain affiliate links where a small commission is paid if you purchase a product at no additional cost to you.
Instant Pot Chicken Noodle Soup Recipe