Homemade French Fries in the Air Fryer is a great way to satisfy that craving without consuming all the oil and grease of restaurant French Fries.
When I first purchased my Ninja Foodi Air Crisper the first things that I wanted to make was Potato Chips and French Fries.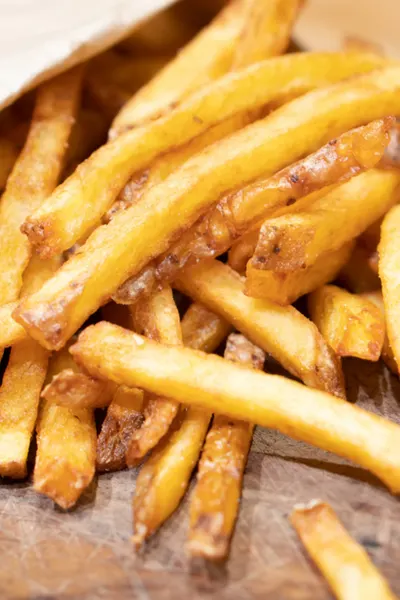 But after searching the internet for instructions, I became hesitant to give them a try. It took me awhile to master Homemade Potato Chips.
And every Air Fryer Facebook group had multiple posts on failed attempts when making homemade French Fries.
So I did what every person would do, make store-bought frozen French Fries.
And to be honest, they turned out perfect!
But I wasn't yet convinced that making homemade ones were out of the question.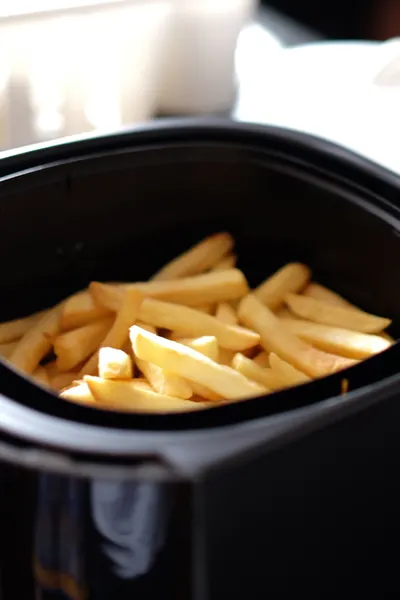 Although I had read the same reviews about Air Fryer Onion Rings, I was able to successfully make them using fresh, not frozen onion rings.
So I knew that I could do the same with whole potatoes.
Air Fryer Homemade French Fries
So I pulled out my new Ninja Foodi, which has what they call an Air Crisp function, and started to experiment.
After a few failed attempts, I had finally made the perfect batch of Air Fryer Potato Wedges from fresh potatoes!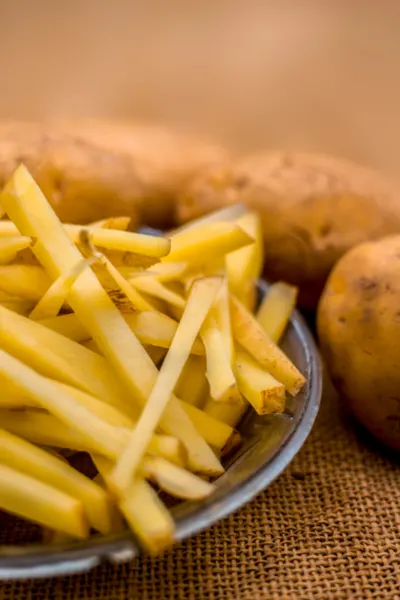 So I repeated the process, over and over again, just to make sure it wasn't a fluke.
Since then I have made multiple batches of French Fries and couldn't be happier with the results!
But there are a few key steps to follow to make sure that they come out perfect.
The Potatoes
The type of potato that you use does matter. We have tried making French Fries from Yukon Gold, Golden Yellow, and Russet potato varieties.
In order to achieve crispy and golden brown fries the only one that worked consistently was the Russet potato.
And it is best to keep the skins on the potato. Just scrub the outside of your potatoes and slice.
Cutting the Potatoes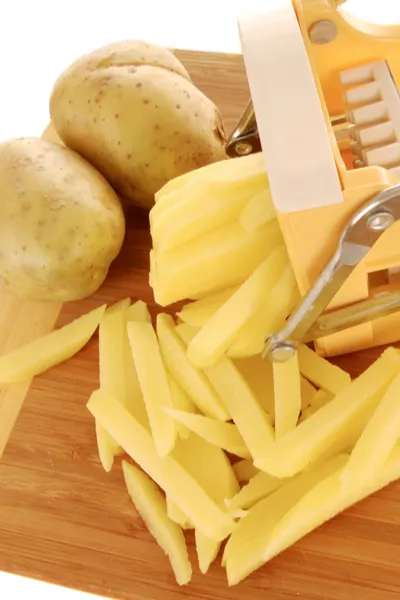 We love our Air Fryer Potato Wedges recipe. However, for French Fries, we want our potatoes cut on the thinner side.
And for even cooking, it is best that the cut potatoes are consistent in size. You can use a sharp knife to cut the potatoes in 1/4 inch sections.
However, we have found that the fries turn out much better when cut with a mandoline or French fry cutter.
Plus, it will save you a lot of time and frustration trying to hand cut them.
Just be sure to use the cutting guard if using the mandoline slicer. Believe me, I speak from experience.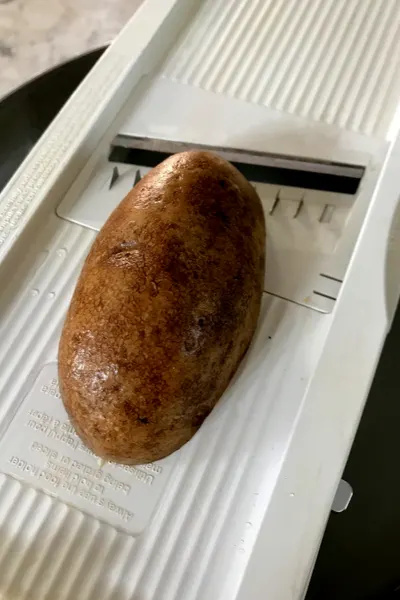 Those sharp blades not only cut through a thick potato. They also slice the skin off your thumb very easily!
Soak The Potatoes
Now comes the part that requires a little patience. You must soak your potatoes in cold water for an hour before putting them in your Air Fryer.
This will help release the starches from the potatoes. If you skip this process, the potatoes will not cook properly.
And to take it one step further, it is best to drain the water after the 30 minutes so that the potatoes aren't sitting in starchy water.
Then soak them one more time for a total of one hour.
Cooking Homemade French Fries
Now the Homemade French Fries are ready to be cooked!
Drain the potatoes and dry them completely. We place them on paper towels and pat them dry.
Then we let them sit for 10 minutes before we continue to the next step.
Remember – wet potatoes equal soggy French Fries.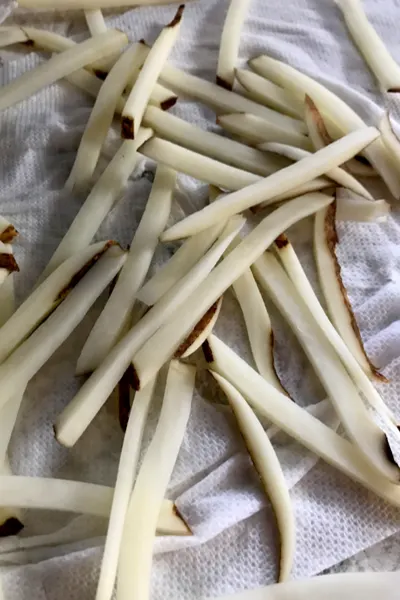 Once the potatoes are nice and dry, place them in a large bowl. Then add the olive oil and seasoning.
Next, add the potatoes in a SINGLE LAYER in the basket or racks of your air fryer.
Unlike frozen potatoes, homemade french fries can't be cooked in a huge batch.
Half way through the cooking process, shake or flip the fries. Then for the remaining cooking time, keep a close eyes on the fries.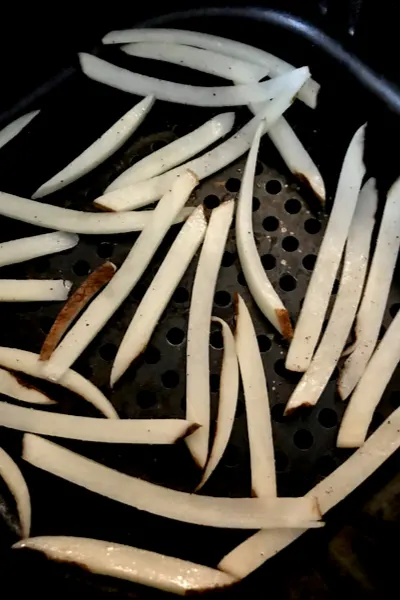 Every Air Fryer cooks differently. So be sure to watch the end of the cooking process carefully.
Our Ninja Foodi cooked the homemade French Fries perfectly in 13 minutes.
Repeat the process until all of the fries have been cooked.
NOTE – if serving all at once, keep the cooked fries warm in low-heated oven. It is best to put them on a cooling rack over a baking sheet so they don't steam and get soggy.
And if you want to keep things simple, make Air Fryer Tater Tots – they come out perfect every time!

To receive our 3 Recipe Articles in your inbox each week, sign up for our free email list located in the middle of each recipe or email me at contact@makeyourmeals.com. You can also follow us on Facebook and Pinterest. This article may contain affiliate links where a small commission is paid if you purchase a product at no additional cost to you.
Air Fryer Homemade French Fries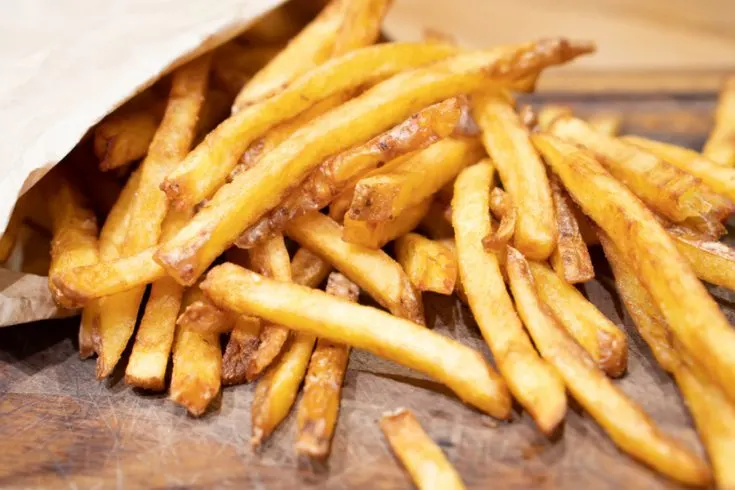 Crispy, golden brown French fries made in the Air Fryer using whole potatoes. Much healthier than the deep-fried version!
Ingredients
2 large russet potatoes, washed
2 tablespoons olive oil
Salt and pepper, to taste
Instructions
Using a mandoline, slice the potatoes into fries. If you don't have a mandolin slice the potato into ¼ inch sections.
Next, place the fries in a large bowl and cover with water.
Let the cut potatoes sit in the water for 30 minutes. Drain the water and repeat the soaking process with new water for an additional 30 minutes.
After the full hour of soaking, drain the water, and pat fries dry with a paper towel.
Toss with a couple tablespoons of olive oil, salt and pepper.
Preheat Air Fryer to 375°F if required based on the air fryer model that you have.
Add fries to bottom of air fryer basket, making sure they are in a single layer, with a little room between each one.
Cook for 7 minutes, then shake the basket or flip the fries. Continue to cook for an additional 5-7 minutes until crispy and golden brown.
Serve immediately.
Notes
Repeat process as necessary until all fries have been cooked.
If you are working in batches place cooked fries in a 200°F preheated oven on a cooking rack placed over a baking sheet.
Recipe provided by Make Your Meals
Nutrition Information:
Serving Size:
1 grams
Amount Per Serving:
Unsaturated Fat:

0g